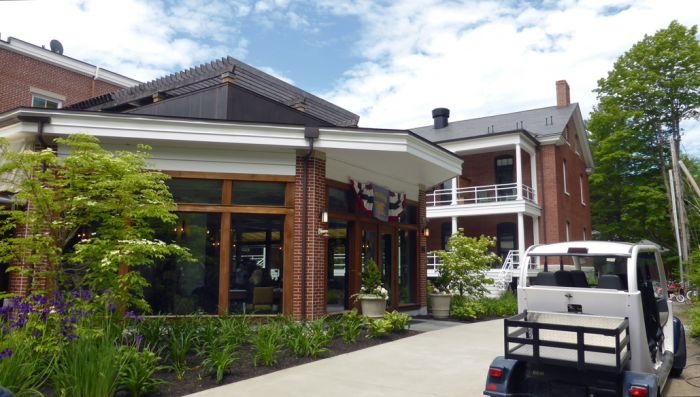 Roger Fasteson
Maine is known as Vacationland with good reason. The Pine Tree State evokes images of lobsters, lighthouses, sea breezes and a rugged rocky coast. It is a place known for rustic charm.
Portland, its largest metropolitan area, is also a place to experience a kind of casual elegance unique to Maine. It is a city with fine art, innovative cuisine, live performances, historical attractions and upscale accommodations.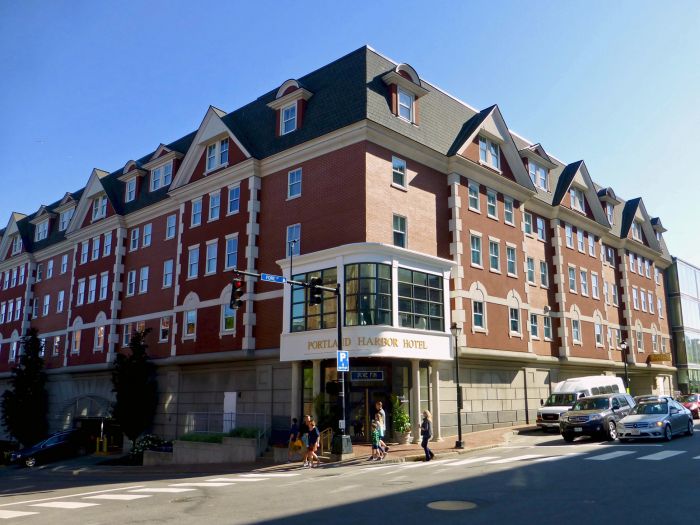 Roger Fasteson
Portland by Land and by Sea is a four day, three-night getaway package that includes a one night city stay on the mainland followed by two nights relaxing at a private island enclave in a unique historic setting.
It begins at the Portland Harbor Hotel, the city's only AAA Four Diamond Hotel. It is in the restored historic Old Port district, just a block from one of America 's oldest working seaports.
There is time to explore the city. Then hotel guests are taken by town car for a cruise on Casco Bay to the car-free Great Diamond Island. Golf carts await to escort passengers to the Inn at Diamond Cove.
The Portland Harbor Hotel
The Portland Harbor Hotel was renovated in 2017 with distinctive nautical design elements to reflect Portland's heritage as a New England port city. It begins with the lobby's kinetic sculpture of fish that appear to swim with the breeze.
Guest rooms and public spaces feature art by well-known Maine artists and artisans, from the Thomas Moser custom furniture to the framed nautical flags above the beds that were hand-crafted by Angela Adams. Monochromatic maritime photography by Jim Dugan hangs in public spaces of the hotel.
Should you want a refreshing drink, there is a pantry on each floor with a faucet that produces both plain and sparkling water. A variety of complimentary hot beverages -- including Starbucks coffee, hot chocolate, and Tazo chai latte -- may be selected from the large touchscreen.
There is casual fine dining at the hotel's BlueFin North Atlantic Seafood Restaurant. When the weather permits, dining can be al fresco in the outdoor garden courtyard. The fire pit is a popular spot to relax with cocktails or a glass of wine.
Maine native and Executive Chef Tim Labonte has created a menu inspired by fresh locally-caught seafood and ingredients from local dairies and farms. The traditional and innovative dishes change seasonally.
Signature items include Maine Crab Cakes and a Lobster Roll Popover with lemon-thyme dressing. Halibut with kelp noodles, plankton and pulverized uni (sea urchin) was recently featured.
Chef Labonte recently won Maine Restaurant Week's Incredible Breakfast Cook-Off with his Lobstah Hash.
Portland, Maine: where the action is
There are unique specialty shops and restaurants along the Old Port's Commercial Street. The Arts District is centered on Congress Street, a culture center with museums, galleries, and historic sites like the Portland Observatory.
Portland is a place to enjoy ballet, opera, symphony orchestra, and theater. Museum houses reflect Colonial times through Victorian and Industrial Age opulence. Visit early in the month for a First Friday Art Walk.
From the freshest seafood to the most innovative creations Portland is known for its culinary scene. Bon Appétit named Portland the foodiest small town in America and there are tours to prove it.
Maine became the first dry state in 1851, well before Prohibition began in 1920. Speakeasy-style bars still exist here.
Portland is also known for the craft breweries, wineries and distilleries with tasting rooms and tours. Companies like the Brew Bus offer a variety of tours to places like D. L. Geary's, the first post-Prohibition craft brewery east of the Rockies, and Ned Wight's New England Distilling, where there's a family history of producing rye whiskey, bourbon, gin, and rum that goes back to Wight's great-great-great-grandfather, John Jacob Wight, during the 1850's.
Points of Interest
Enjoy a range of American, European and contemporary works at Portland Museum of Art. Reserve in advance for an exclusive tour of Winslow Homer's home and studio on Prout's Neck.
Climb the 86' tall Portland Observatory, America&rs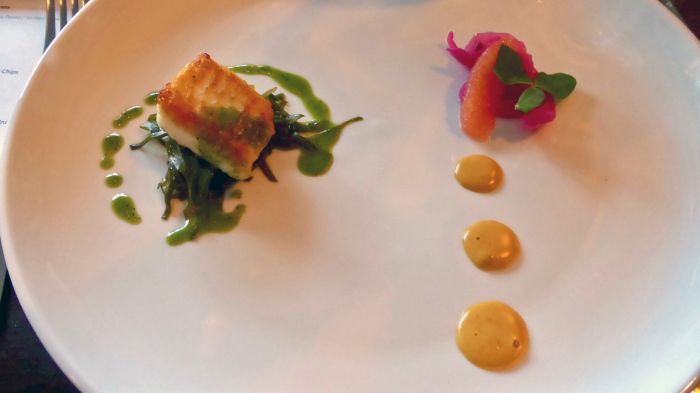 Roger Fasteson
A sample of Halibut with kelp noodles, plankton butter and pulverized uni (sea urchin) at the BlueFin Restaurant at the Portland Harbor Hotel, part of a six-course tasting menu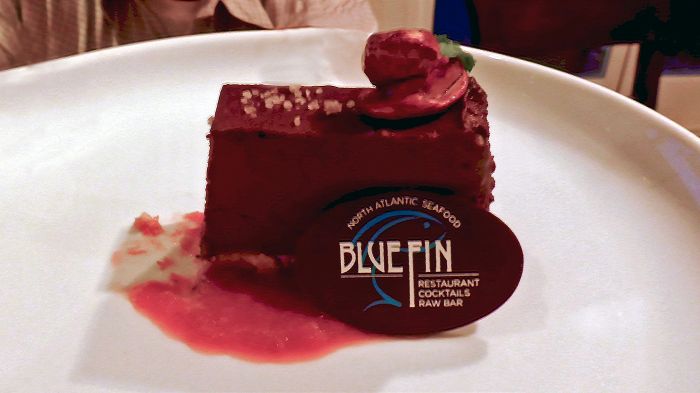 Roger Fasteson
One of the fabulous desserts at The BlueFin Restaurant at the Portland Harbor Hotel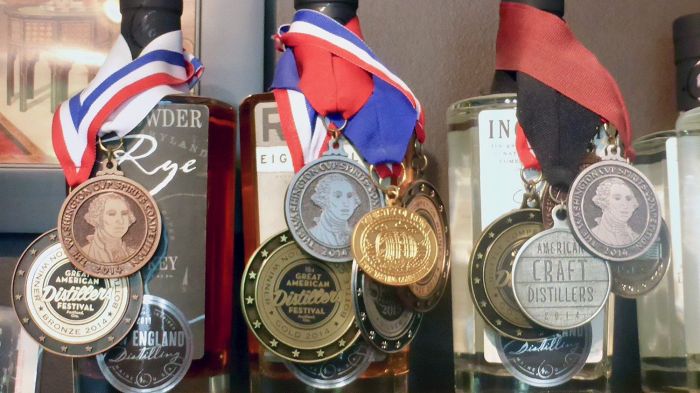 Roger Fasteson
Some of the award-winning rye whiskey, bourbon, gin, and rum at New England Distilling, Portland, Maine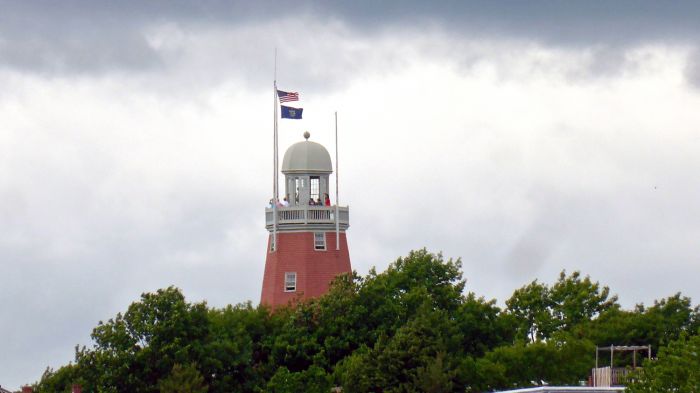 Roger Fasteson
Portland Observatory, Portland, Maine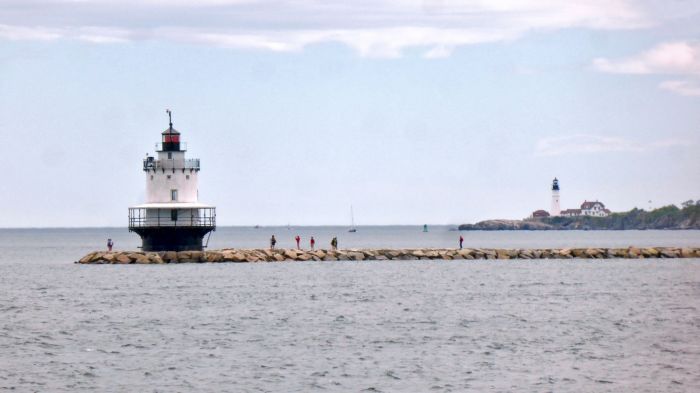 Roger Fasteson
Spring Point Ledge Lighthouse with Portland Head Lighthouse and Cape Elizabeth in the background, Casco Bay.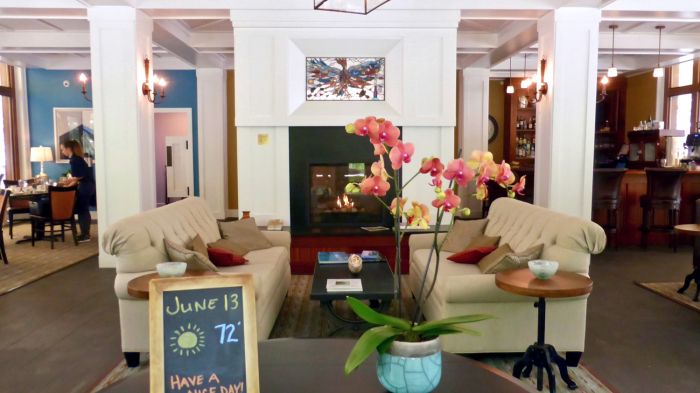 Roger Fasteson
Lobby of the Inn at Diamond Cove, Great Diamond Island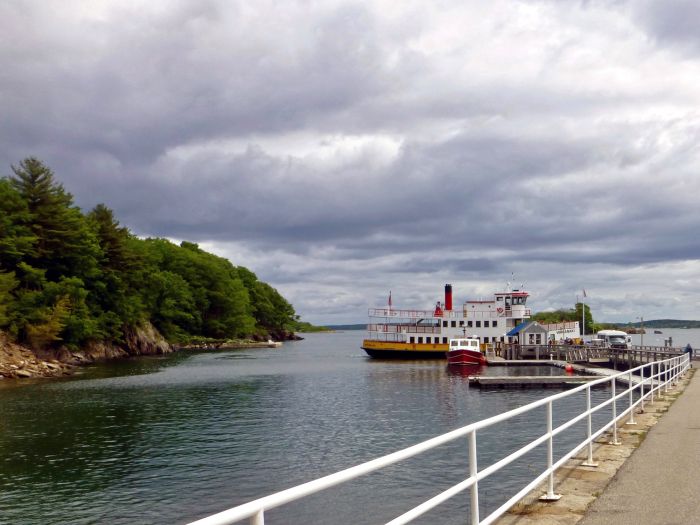 Roger Fasteson
Casco Bay Island Ferry at Great Diamond Island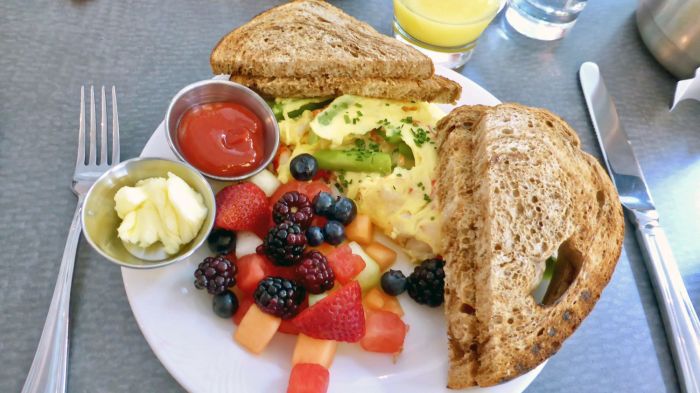 Roger Fasteson
Lobster omelet at the Inn at Diamond Cove, Great Diamond Island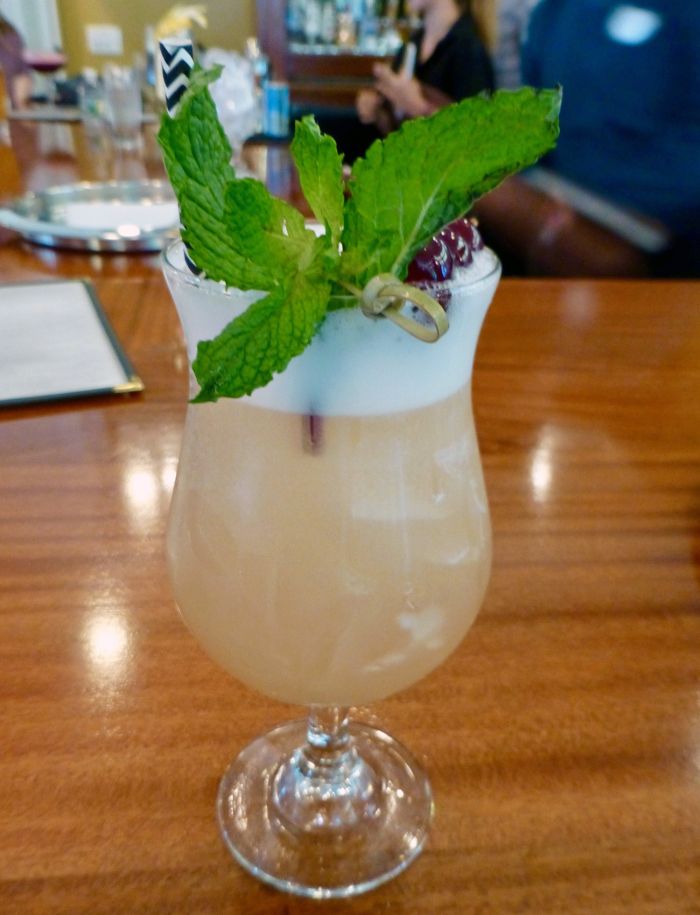 Roger Fasteson
Moon Garden Punch at the Inn at Diamond Cove, Great Diamond Island
Roger Fasteson
Phoenix, the symbol of Portland, at the Inn at Diamond Cove, Great Diamond Island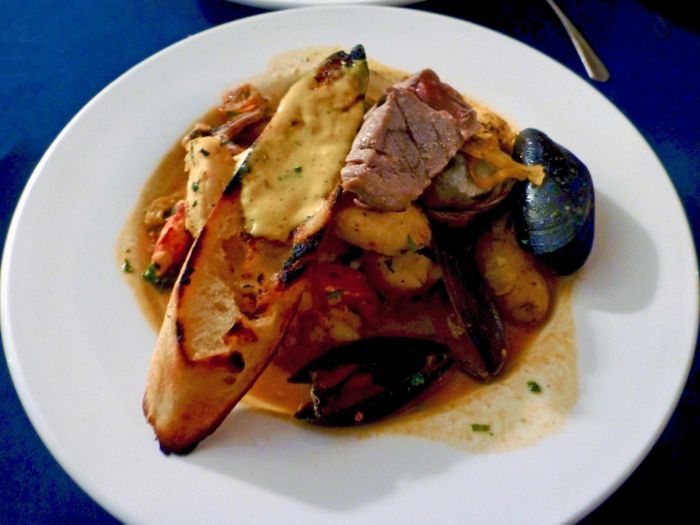 Roger Fasteson
Bouillabaisse, Diamond's Edge Restaurant & Marins, Great Diamond Island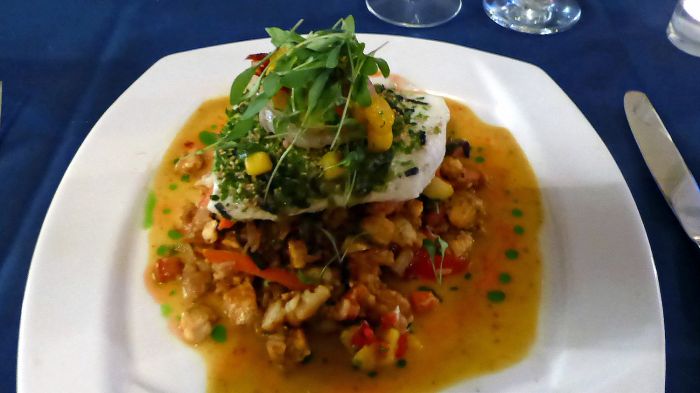 Roger Fasteson
Halibut special at Diamond's Edge Restaurant & Marina, Great Diamond Island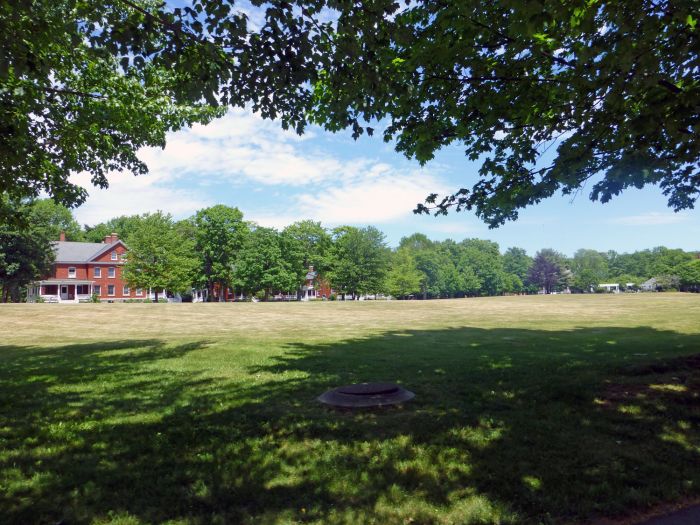 Roger Fasteson
Private residences at the former Fort McKinley, Great Diamond Island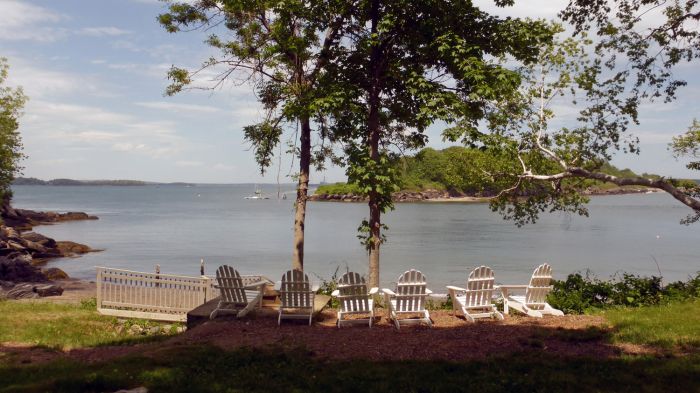 Roger Fasteson
Pleasant Cove Beach, known as Sea Glass Beach for the abundance of fragments that wash up, Great Diamond Island