Photo by Pueblo Bonita
The premier hotel group Pueblo Bonito is preparing to welcome staff and guests back with new safety and cleanliness protocols. As the spread of COVID-19 is beginning to ease, the Mexican Federal Government recently announced that the stay at home quarantine is scheduled to end on May 31, 2020. Pueblo Bonito's is diligently preparing all of their hotels and resorts to reopen on June 1, 2020. "We understand how crucial it is to establish new standards of cleanliness, hygiene and social distancing," said Alberto Coppel, CEO of Pueblo Bonito Resorts. "To ensure a safe environment for our guests and staff, we have partnered with various medical specialists and PREVERISK, a global leader in hotel consulting." PREVERISK is certified in preventive protocols for COVID-19 disinfection, hygiene, general sanitation and food safety.
"In addition to tapping the expertise of our consultants, the hygiene practices at the resorts will meet or exceed the recommendations of local and international health authorities," Coppel stated. "At all times, our priority is the health and safety of our owners, guests and coworkers."
Pueblo Bonito Resorts has also instituted its own CARE Pledge.
CARE translates to:
Conscientious Service
Advanced Standards
Rigorous Sanitation
Elevated Hygiene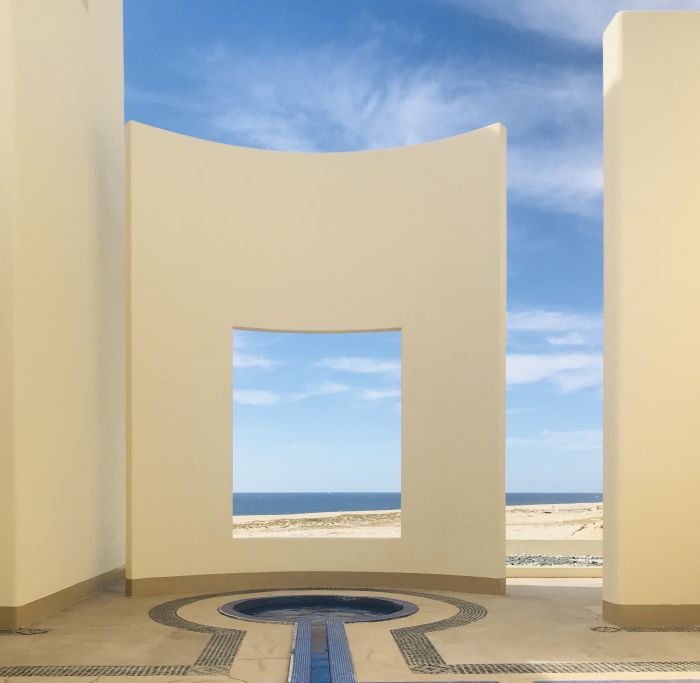 Photo by Jill Weinlein
Upon arriving to the resort, guest will enter a sanitization cabin and have an infrared digital thermometer check their temperature. Any guest with a temperature over 38° C/100.4° F will be checked by a doctor and may not be allowed access.
Mobile check-in is available and screens will be placed to separate the check-in area. Guests will receive a document with COVID-19 hygiene and social distancing recommendations upon arrival or as a tent card in their room. Guest can secure a mask upon request. Continuous cleaning and sanitization of all surfaces at front desk and concierge, include pens, terminals and room keys.
General sanitization and nebulization of rooms through a certified provider, will be performed once every six months. Daily room cleaning and housekeeping will be performed with certified sanitization products (or water and chlorine solution). A strong focus will be on high-touch areas, including kitchenettes, furniture, remote controls, phones, electric outlet, light switches and door handles. Guests can request to opt-out of housekeeping if they prefer to minimize the number of people to enter their room.
Sheets and towel washing will be at a higher temperature (min. 60° C/140° F), and all housekeeping staff are required to use masks and gloves.
Paper amenities, pens, and magazines will be removed from rooms and available on request. Housekeeping carts will be cleaned and sanitized daily. Decorative towel figures will no longer be performed to minimize contact.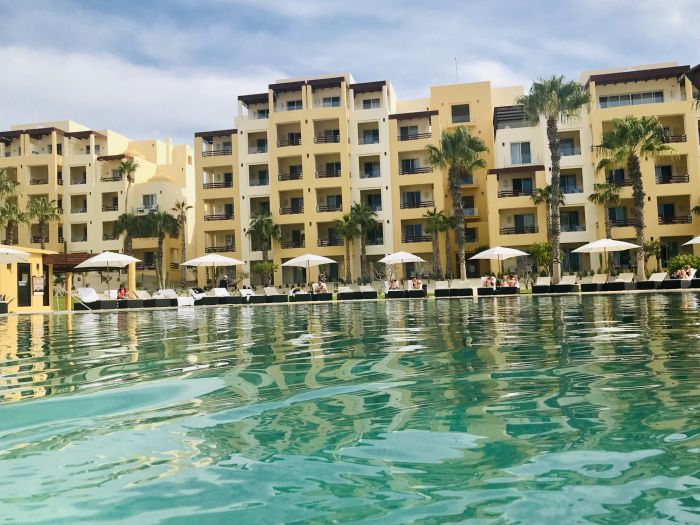 Photo by Jill Weinlein
Social Distancing enforced is a maximum of 2 people in elevators, excepting family members. There will be information panels set in strategic locations, indicating preventive measures for health and hygiene, reminding guests to avoid touching the faces, wash hands thoroughly, and use an antibacterial gel.
An informational video will be shown in each guest room and elevator detailing the hygiene and sanitization measures implemented throughout the hotel. All public areas and high touchpoints will be sanitized constantly, including lobbies, desks, podiums, elevators, door handles to enter rooms, room keys, public benches, and chairs.
Hand sanitizing stations have been placed in strategic locations throughout the resorts, including the front desk, restaurant entrances, swimming pools, outside elevators, lobbies, spas, and public bathrooms.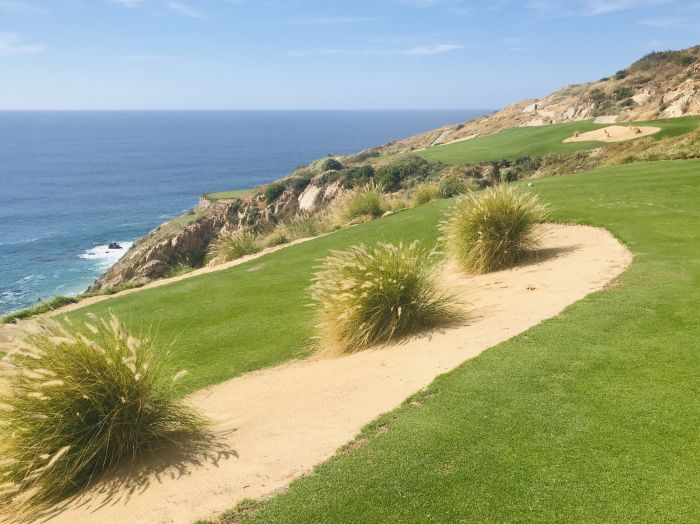 Photo by Jill Weinlein
At the Quivira Golf Club, golf carts will be sanitized before the use of a guest and afterward, continuously throughout the day. Golf bags will be sanitized upon check-in at the resort and will be delivered at the room door.
One golf cart per person, unless otherwise requested by family members or friends. New rules established to limit touch points during play: Flagsticks to remain in the hole and bunker rakes will be removed.
There will be hand sanitizing gel in the Pro Shop, and a member of the sanitation team will provide hand sanitizing gel to protect guests when handling the merchandise in the store.
At the pool areas, loungers will be set in groups of 2 or 4, which will then be separated by distances of 6 ft. The fitness centers will have their equipment sanitized more frequently, as will the wet areas in the Spa. Therapists and other Spa staff will wear masks.
All throughout the resort Increased frequency of the cleaning and sanitizing of air conditioning vents, fan and coils in rooms and public areas.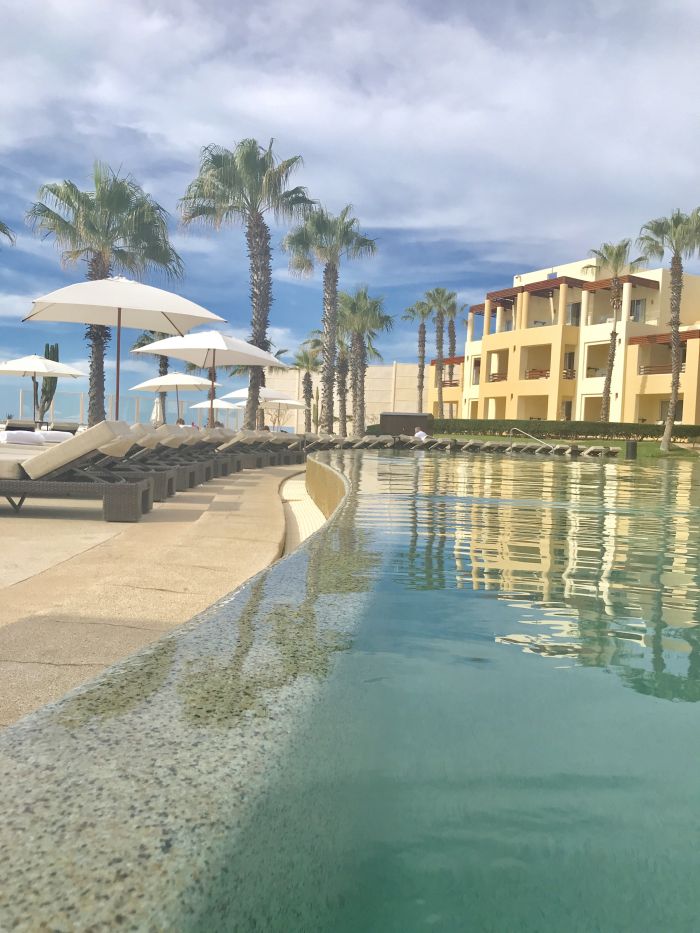 Photo by Jill Weinlein
Dining furniture will be rearranged in restaurants and bars at a 6 ft distance and maximum capacities will be established, per social distancing guidelines.
Flowers, salt and pepper shakers will be removed to reduce high-touch contact.
The chefs and wait staff will use masks and gloves, and the tables will be constantly sanitized with certified cleaning products. The temperature of staff will be taken twice per shift, once upon arrival and randomly throughout the day.
Those who choose to dine in their room can use menus available on mobile devices and receive contactless room service.
Dishwashers, washers and dryers will have their temperatures increased.
Resort management will continue to monitor guidelines and update procedures, as necessary. "We look forward to serving our guests again, and pledge to do so in the safest possible environment," Coppel said. "Until then, stay healthy and safe!"
For additional information on Pueblo Bonito Resorts visit www.pueblobonito.com.