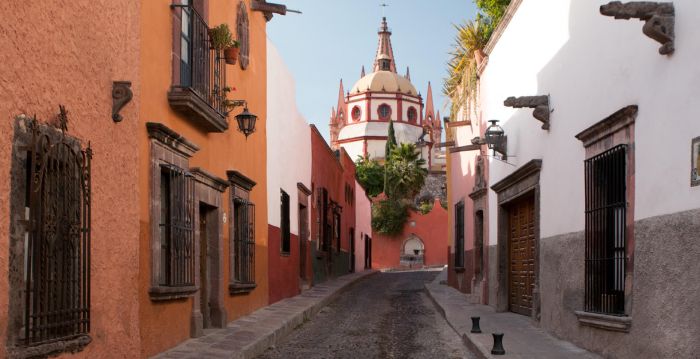 Visit Mexico
Located in Central Mexico, San Miguel De Allende is equally popular with Mexican tourists, foreign visitors, and U.S. expats. Reasons range from its postcard views, gothic architecture, relaxed pace, and cultural festivals. 60 miles from Guanajato, the temperature climate is characterized by gentle breezes. The vistas stem from the hilly nature of the terrain, and its inviting cobblestone promenades and more secluded streets lead to unique restaurants and trendy taverns. SMA has notes of San Francisco and Port au Prince, but with a classic Spanish central plaza- Jardin Allende. The population is 140,000- 15,000 of which may be Yanks.
San Miguel De Allende is known for the traditionally Spanish courtyards behind or between many of its stores or galleries. In El Centro, there is scarcely a need for a car, and taxis abound. The centerpiece is La Parroquia de San Miguel Arcangel, the cathedral in the cental plaza. During fiestas week in late September, Mexicans gather in the plaza from all over the country for a week highlighted by a ceremony called "el grito", which translates to "the shouting", or "the yell". There are some 150 hotels with more coming online. One of the newest is Casa Delphine, a guest styled inn of five ascending, very distinct deluxe suites, a rooftop garden, sunny kitchen area, and an artistically appointed common area between the front desk and kitchen. Suites feature wrought iron patio furniture adorned with boldly beautiful cushions, and cantera fireplaces. Balconies overlook private courtyards. The Casa Delphine is only a 10 minute walk to the central plaza, and shares a street with convenient markets and grocers. During your stroll you may also encounter street vendors selling sandwiches, treats and beverages. The property is introducing wellness retreats, and will have monthly Tarot dinners (hosted by a reader and a historian) with optional wine pairings. Pop up dinner are also hosted. Decor courtesy of L.A. designer Amanda Keidan, The Delphine is a calm respite from daily norms, close to the occasional bustle of town.
Five local hotels made "Conde Nast"'s list of the Top 10 in Mexico. A stately property in the historic center is the Hacienda Santuario, with its central courtyard, romantically private 33 suites spread amongst three buildings, culturally defined artwork, and quiet spa Wol-Ha. There's round the clock, highly professional desk service. Order your meals at the courtyard counter, or from your suite. Some room feature four-poster beds or ornate tile sinks. There is little sense of the other guests. The grounds are masterfully manicured, the rooftops are gardened with vegetables and herbs some of which are sourced for the menu, and the central plaza is five minutes close. The Rosewoood Hotel is yet another fine property in town.
SMA is very friendly and safe. You'll want to purchase local art or crafts for friends or loved ones. Off property dining selections include The Restaurant, and Hecho en Mexico. But be sure to try Luna Rooftop Tapas Bar at The Rosewood. What a view- you'll really appreciate the many residential rooftop gardens from there. Enjoy your stay in San Miguel de Allende, whether during festive times or more sedate. it combines the charm of fable with the sounds, tastes and sights of a museum.