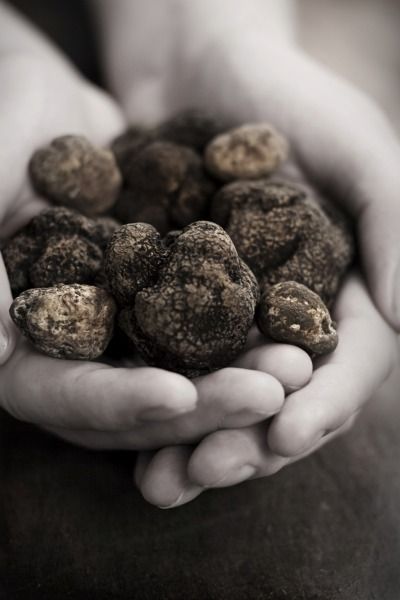 Napa Truffle Festival
Calling all truffle lovers! In case you're not aware of it, there's a new truffle kid in town. No longer will you have to spend endless hours, not to mention beaucoup bucks, flying to France or Italy for your truffle fix. The Napa Truffle Festival is returning (bigger and better than ever) for a repeat performance, which will include everything you've ever wanted to know (and taste) about Truffles: cooking classes, orchard tours, culitvation programs, how to pair with wines, and a multitude of scumptious meals culminating in a grand multi-course Truffles & Wine Dinner at La Toque. There will even be some truffle dogs attending.
Just to whet your taste buds, here are my notes from last year's inaugural event:
This weekend at theNapa Truffle Festival held at the Westin Verasa Hotel, it became clear that the world neatly divides into two distinct camps: those who would gladly trade their first born for their weight in truffles and the rest of the population. For two magical days, I was surrounded by the first--a group of spellbound gourmands who never tired of cooking, sniffing, tasting and learning about this highly treasured culinary product. It was a weekend filled with superb food and wine as we hobnobbed with Michelin chef heavyweights from California to NYC in loving celebration of the coveted truffle.
I left the festival packing a few prized fungi to practice my new moves on at home (as well as a couple extra pounds--a small price to pay for the ultimate gastronomic experience, a 13 Michelin starred truffle dinner at La Toque, hosted by Michelin star Chef Ken Frank) and a head full of newly acquired truffle lore gathered from top mycologists, chefs, sommeliers, growers and hunters.
Here are some interesting Truffle tidbits I garnered from Chef Frank:
-Frank bought his first truffles back in 1976 when he paid about $65 per pound. He stored them in a plastic container with fresh eggs and the next morning he made himself a simple omelet with lots of butter, topped with a shaved a truffle. He's been hooked ever since and now has about 4-5 kilos in La Toques restaurant during the season.
"Butter is really good with truffles, Frank explained during our cooking class. "Too much butter is never enough."
When asked the best way to keep a truffle, Chef Ken curtly replied, "Don't!"
He went on to say, "Truffles lose about 50% of their flavor within a few days out of the ground and then it's downhill from there. Find your freshest source and use them as soon as you can." With complete disdain he added, "No matter what, don't do something stupid like storing a truffle in raw rice. All it does is dry out the truffle."
-One deliciously easy way to showcase a truffle is to get a nice creamy cheese (Chef Frank recommends Mt Tam from Cowgirl Creamery) and carefully cut it in three layers. Shave fresh truffles over each layer, and then put back together. Be sure not to cover it completely or else the cheese layers won't adhere. Wrap the cheese tightly in saran and let it marinate for 48 hours to infuse the flavor.Tip: Chef Frank showed us a handy lil'gadget he made to cut the cheese. He wraps fishing line around two wine bottle corks and holds them firmly to slice even layers.
-His favorite truffle shaver is from German made and called a Gefu.
-If you have to store a truffle the best way is to put the shavings in a food processor with plenty of butter, blend and then freeze. Toss with hot pasta and cheese and the powerful perfume will come alive.
-Chef Frank is an avid proponent of local cultivated truffles. "I don't give a rat's ass if the truffle comes from France, Italy or Oregon. I just want them to taste good. I'm excited about our local orchards and believe that they can produce truffles every bit at good as their European counterparts."
Wine pairing tip by La Toque Wine Director Scott Tracy:
Fruity or earthy wines? Red or white? Young or old? Scott put together some very unique pairings for us all to debate. For all you home bodies, Scott says the traditional rule of thumb is:
"Try a Red Burgundy with black truffles and a Barolo with white truffles."
Tickets are still available but you'd better hurry before they sell out. Ticket information
Napa Truffle Festival
Chef Ken Frank