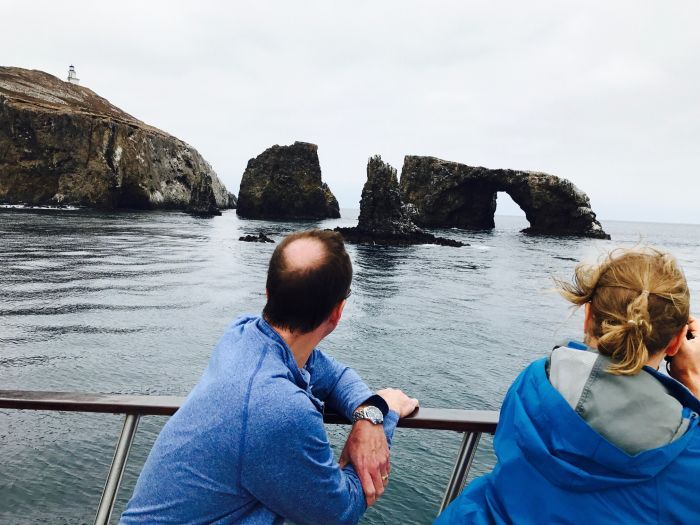 Photos Credit: Jill Weinlein
Touring the Presidential Suite at the Embassy Suites by Hilton Mandalay Beach Resort in Oxnard, I admired the 1,600-square-foot space that includes a spacious master bedroom complete with a king size bed and balcony looking out to the Pacific Ocean. There is an adjoining bathroom with a large, inviting whirlpool soaking tub. The second bedroom features two queen-size beds and a full bathroom with walk-in shower. The grand living room and dining area have another balcony looking out to the picturesque Channel Islands.
Admiring the views, I wanted to learn more about the Channel Islands chain that runs from Santa Barbara County down to Los Angeles County, dotting the Pacific Ocean. While meeting Christian Hellot, Director of Sales and Marketing at the Embassy Suites, I was informed that Island Packers offers boat rides to the islands daily. He also introduced me to the new Executive Chef Jacob Anthony Bernard as we enjoyed a California garden, farm and sea dinner at the onsite Coastal Grill.
Hellot told me that the Island Packers office and dock is less than five minutes from the resort. Their boats cruise to Anacapa Island and the other Northern Channel Islands. Anacapa Island is the closest island to the mainland. Though it's just 12 miles from the Channel Islands Harbor, it takes about one hour by boat, and is revered for its endemic plants and wildlife. Anacapa is known as the "Galapagos of North America."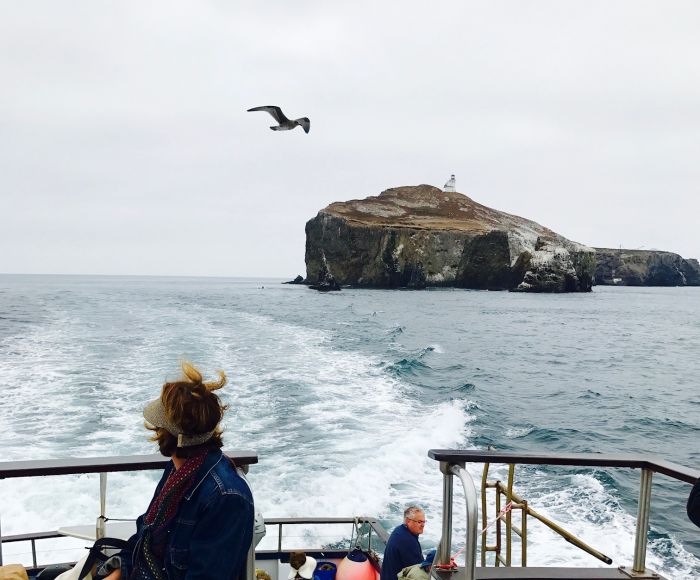 After dinner, I went to my two-room suite. I appreciated the size of the separate bedroom and living area. One room had a king-sized bed and adjoining granite bathroom with a tub and shower. There was a dining area with refrigerator, microwave and wet bar near another granite bathroom. My room on the second floor looked out to a tropical garden and pool area with two heated whirlpools. Opening my bedroom window, a cool coastal breeze and the distant sound of the waves on the beach lulled me to sleep.
The next morning I met my friend Janis and enjoyed a complimentary breakfast buffet inside the Coastal Grill. We discussed taking an Island Packers Wilderness Cruise to hopefully see some of the area's wildlife and learn more about Anacapa Island. After we checked in at the office, we stopped in at Honey Cup Cafe for sandwiches, chips and waters to enjoy on the boat ride.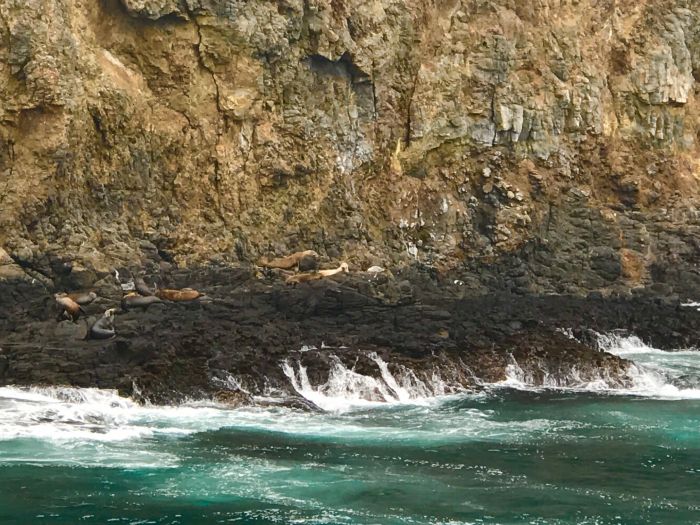 The sea was calm and the sun was peeking through the fog, as one of the boat crew members informed us that Jacques Cousteau said Anacapa Island was one of his top 10 diving destinations in the world. Looking down into the clear water, as we approached the island, we noticed kelp beds and spotted bright orange garibaldi fish at our first stop, Frenchy's Cove. The Captain docked at a landing area to let backpackers and day trippers off to explore the island for a half day. A park ranger met the passengers to escort them up an impressive winding stairway of over 157 steps for a two-mile hike to see island's native vegetation, wildlife, and cultural history.
Staying onboard we learned more about the history and significance of Anacapa Island. A historic lighthouse is located on one of the islets to prevent shipwrecks, as the island is sometimes covered in fog. Approximately 90 percent of the sea birds in Southern California are born on this island. Without predators, it's a nesting area for seagulls, California brown pelicans and cormorants. This island is five miles long with three islets that have 200 sea caves, towering sea cliffs, natural bridges and a 40-foot-high Arch Rock. It's a kayakers paradise and one of the most photographed spots of all the Channel Islands National Park. On the backside of the island were hundreds of California sea lions warming in the sun.
Learning more about the different Channel Islands, we discovered that Santa Catalina Island is the only inhabited island. Approximately 3,900 residents live in the city of Avalon, a Mediterranean looking town that is about one mile wide and one mile long. The best way to explore this Southern Channel Island is by another boat charter, the Catalina Express. It's about an one hour boat ride from Los Angeles County. Near Santa Catalina Island is San Nicolas Island and San Clemente Island. Both are controlled by The United States Navy and off limits to the public to visit.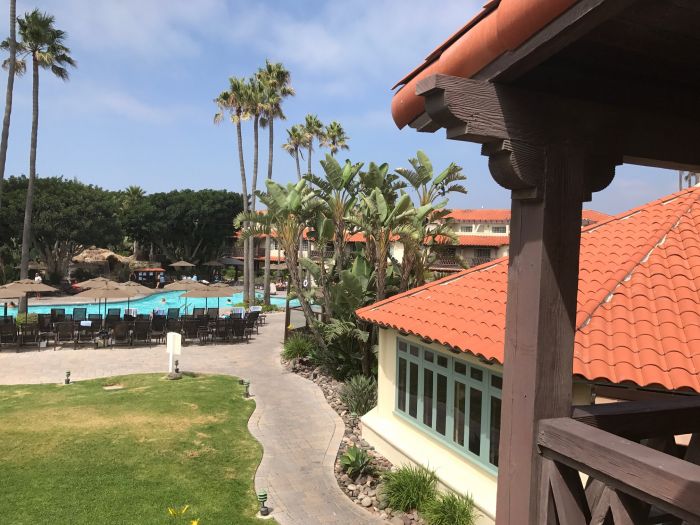 Santa Cruz Island is the largest of the eight islands and is partially owned and operated by the Channel Islands National Park Service and managed by the Nature Conservancy and other organizations and foundations as a preservation and research center. This island offers coastline cliffs, giant sea caves, pristine tide pools and expansive beaches. Those who take an Island Packers boat ride to this island, will learn about the island's rich cultural history that includes over 10,000 years of Chumash Indian habitation and over 150 years of European exploration. Visitors will see remnants of adobe ranch houses, barns, blacksmith and saddle shops, wineries and a chapel from the 1800 and 1900s. The outer islands include Santa Rosa Island, San Miguel Island and Santa Barbara Island. They are open to the public year round, however, Island Packers only travels to these distant islands when the weather is comfortable for boat travel. Ocean conditions can be rough for visiting these islands.
Cruising back to Oxnard, we followed two enormous blue whales (at a safe distance) which were swimming in the deepest part of the channel. Coming back to the hotel before sunset, hotel guests gathered by the lagoon-style pool for the complimentary Evening Manager's reception, offering an array of bar snacks and beer, wine, cocktails-of-the-day and non-alcoholic beverages for guests. With a glass of wine in hand, I walked to the beach admiring the silhouetted islands in front of the sun setting. Reflecting on what I discovered, Oxnard offers a beachfront resort along an uncrowded beach that is a great, before and after taking a ride to explore the unique Channel Islands.