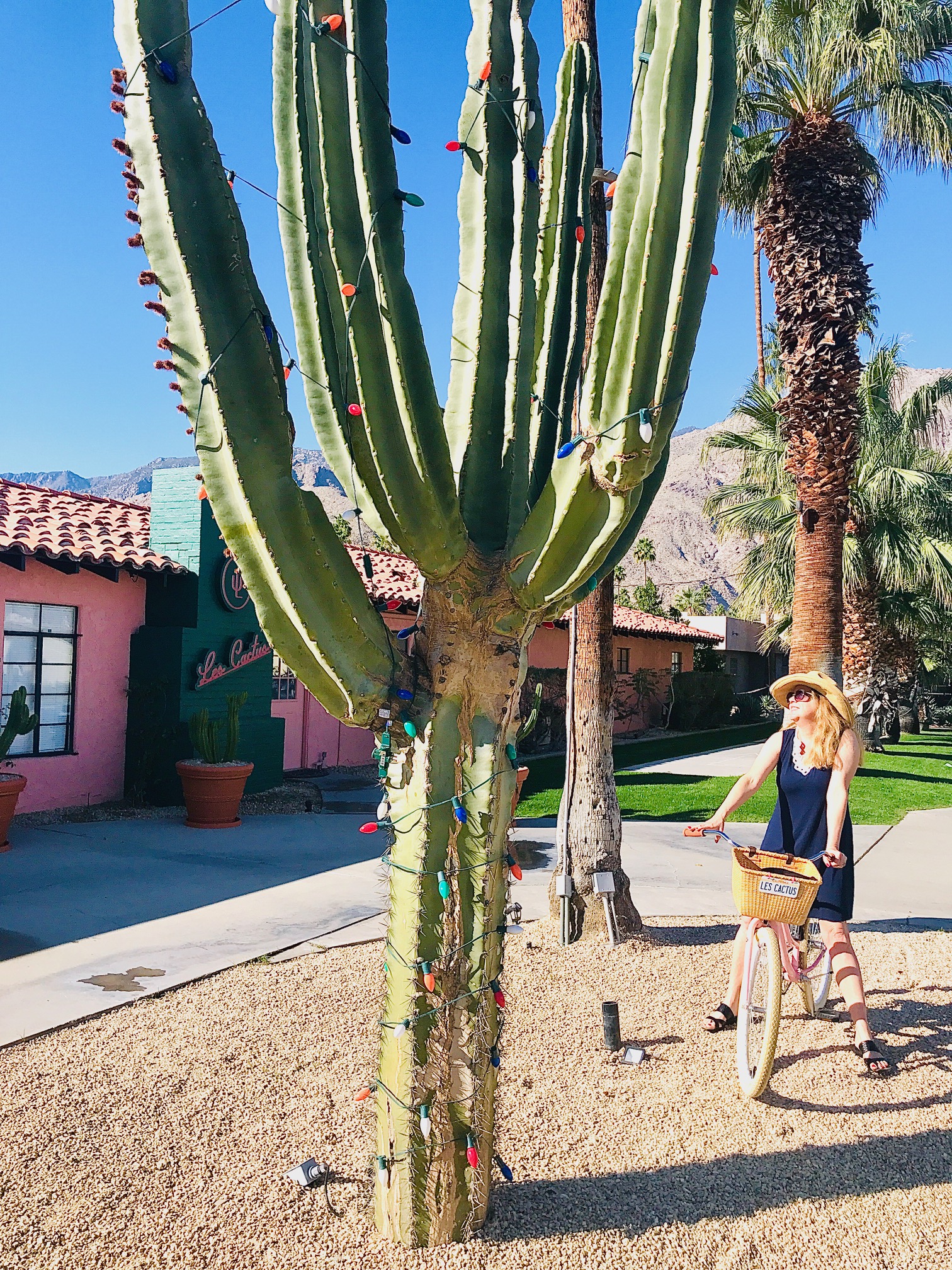 Rick Weinlein
In the welcoming Warm Sands neighborhood, one of the historic 1930's motor hotels in the area has been cheerfully refreshed by LA-based hotelier Matthew Kurtz in partnership with local hoteliers Richard Crisman and Jeff Brock. The warm pink exterior of this single-story building, with green and white accent colors, hints at the style of a much smaller version of the iconic Beverly Hills Hotel.
Motor Hotels were originally built for the adventurous travel in the 1930s and 1940s, as one or two-story buildings marketed for driver-friendly vacationers. Guest parking was available right next to or near guest rooms. Later motor hotel was shortened to motel.
Palm Springs is home to some of the best modernist architecture in the country, and many of the small boutique motels are being revitalized with dazzling new face-lifts. This resurgence of small boutique motels, is becoming a popular vacation destination in the sunny desert getaway.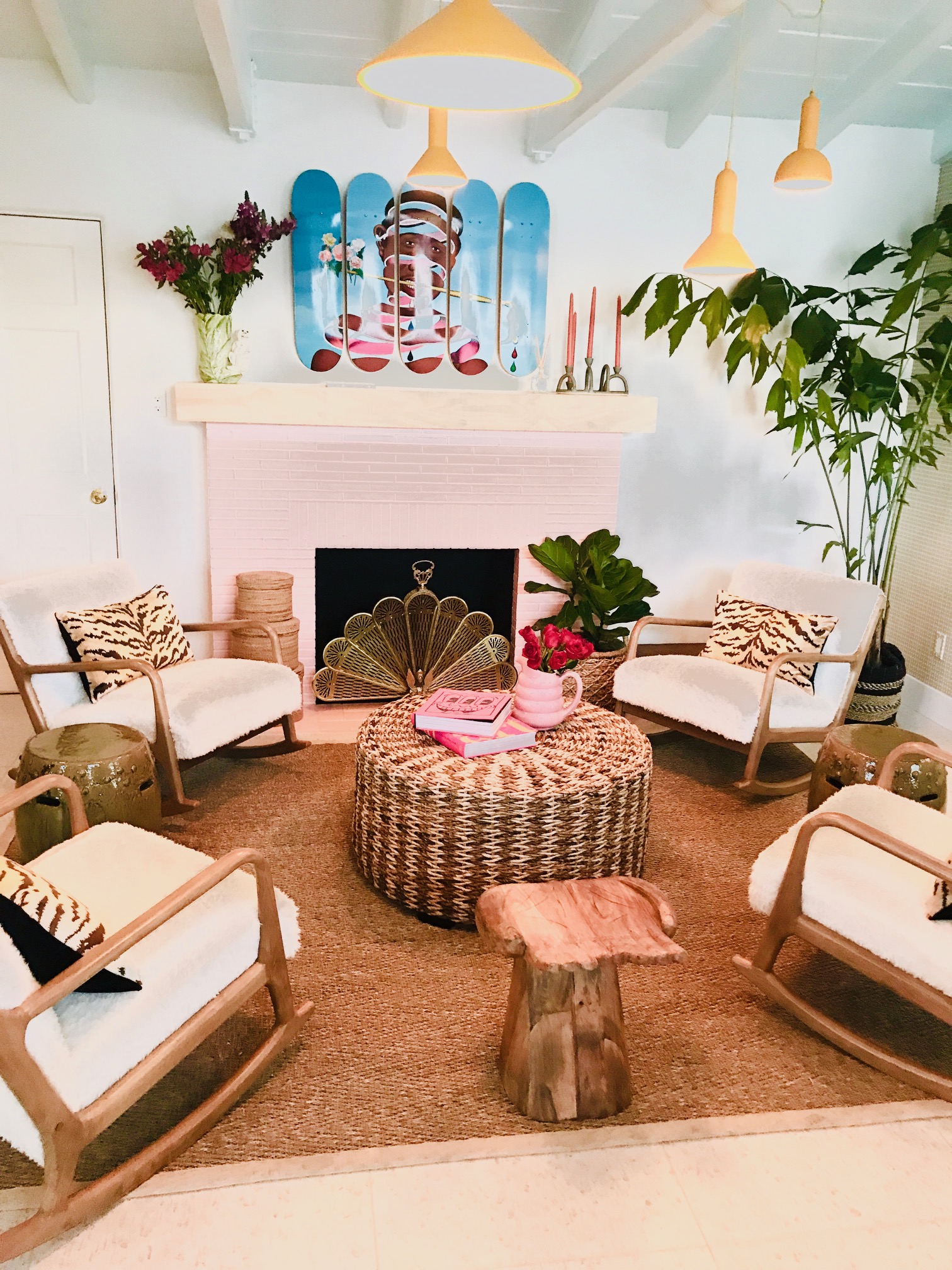 Jill Weinlein
Stepping inside, guests are transformed into another era in the tastefully designed, fun and colorful reception area. A large glass window looks out to greenery and a sparkling pool. Guests feel at ease checking-in, while being offered a Modelo beer, sparkling water or glass of wine with their room assignment.
Nearby is a grand piano for guests to play, and sitting areas with colorful books displayed on shelves and tables for reading pleasure. A pineapple theme dining room is attached to an open kitchen offering an array of complimentary grab-and-go items.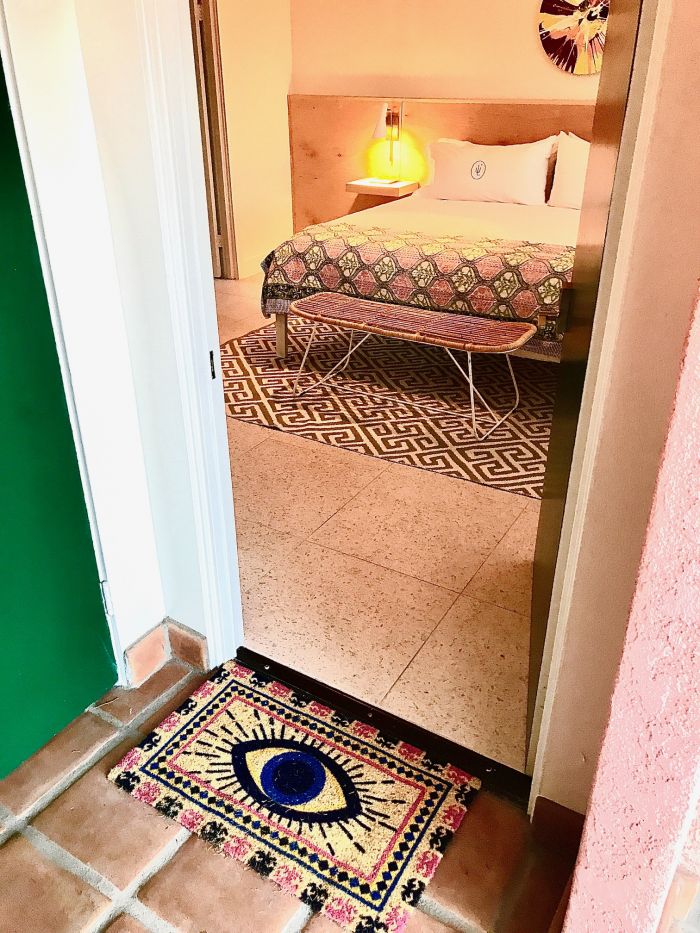 Jill Weinlein
What used to be a clothing-optional resort is now a clothing-required, cheerful adult-only property. Each of the 27 guest rooms have a vibrant multicolor 'evil-eye' doormat, symbolically warding the dangers of the world from crossing the threshold.
Guests don't receive keys or key cards, instead each of the guestroom doors are electronically programmed to a guest's favorite four-number sequence.
Each room offers a comfortable king or queen-sized bed, flat-screen television and refreshed bathroom offering 'Further' natural glycerin soap, body lotion, shampoo and conditioner. These products not only leave guests clean and hydrated, but the large bottles in the shower freshen your conscience and inspire conservation.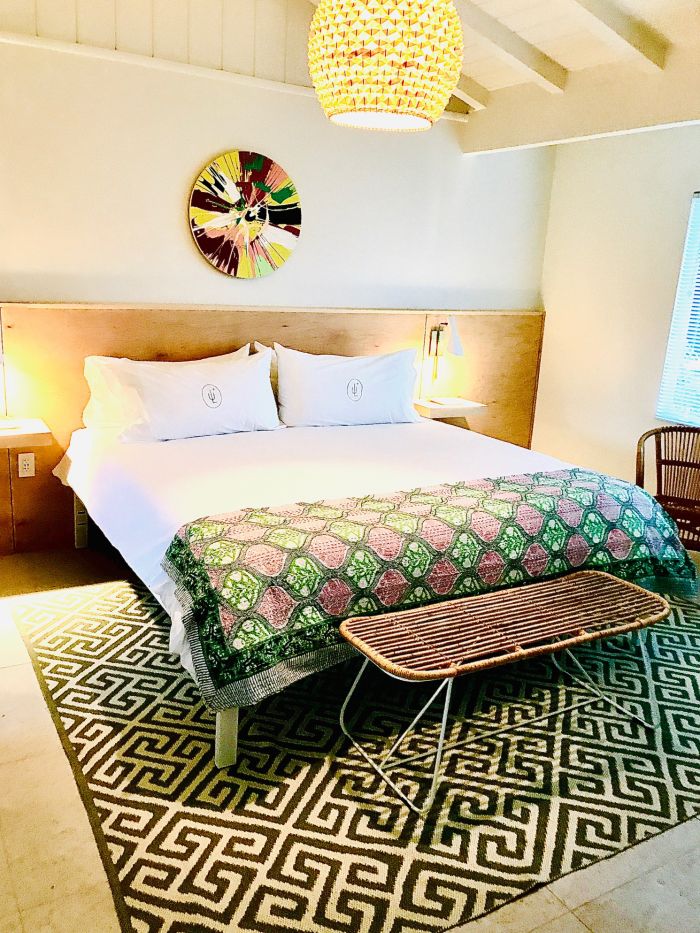 Jill Weinlein
Room number 16 is reminiscent of a historic motor lodge offering a small kitchen, and back door leading out to a rock garden and parking area. It's an ideal room for guests with a well-behaved dog 35 lbs. or less. Not only can four-legged friends be let outback to explore the rock garden, but they can hang out on the grassy lawn near the fire pit. There is a supplemental cleaning fee for pets per stay.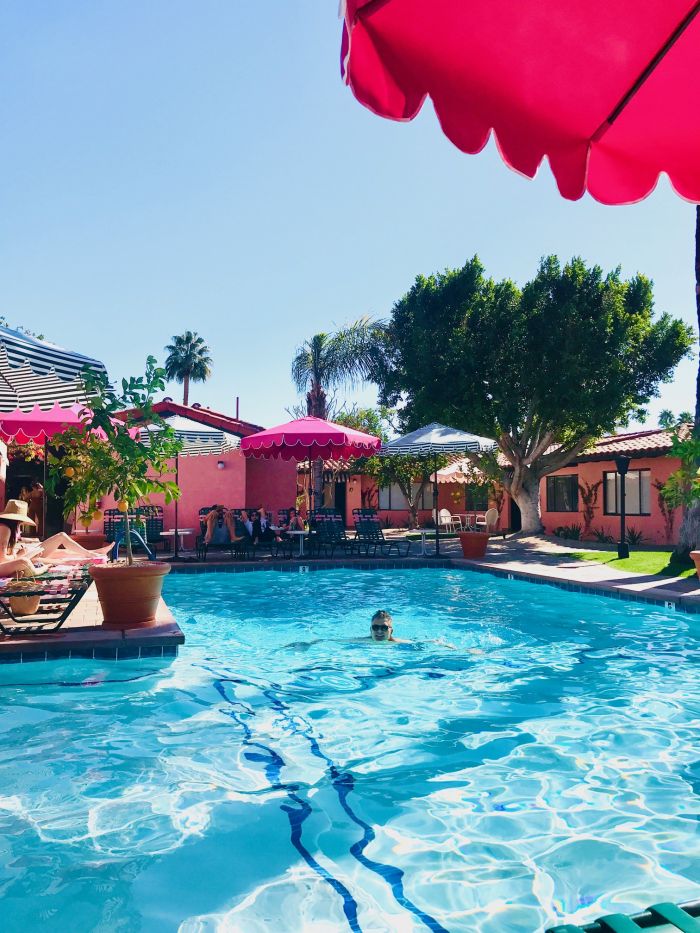 Jill Weinlein
Les Cactus offers plenty of space outdoors for guests to relax, unwind and soak up the Palm Springs sunshine. The heated swimming pool is ideal for laps or to cool down after a morning walk into town. There are plenty of lounge chairs, plush pink and white towels, and shade umbrellas in the center courtyard.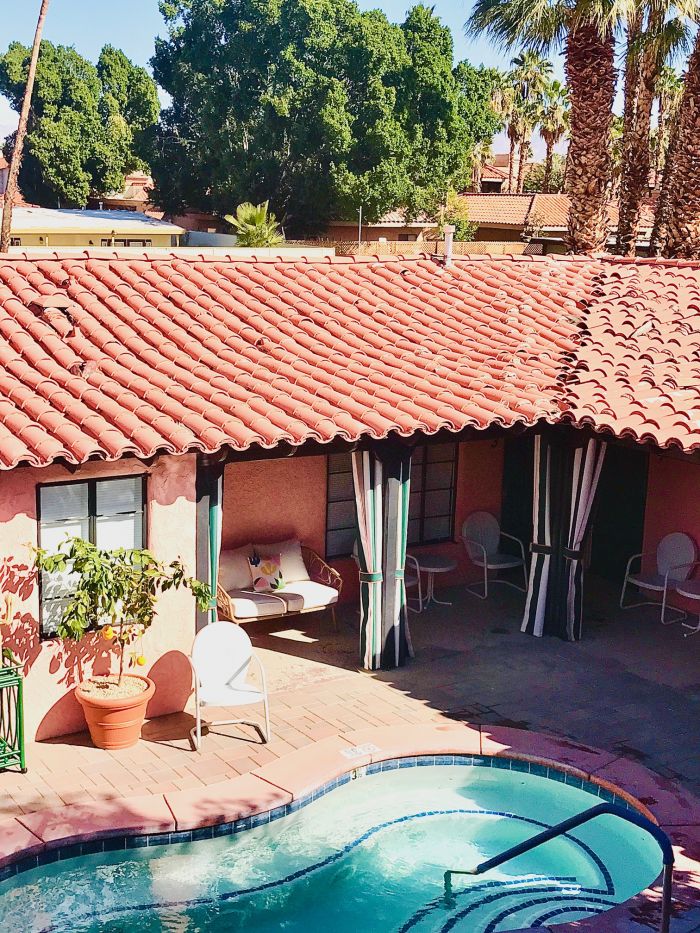 Jill Weinlein
Near the pool is a kidney shaped whirlpool next to a private massage room. Also in this area of the resort is a stairway leading up to a small rooftop deck offering picturesque views of Mount San Jacinto and the surrounding neighborhood.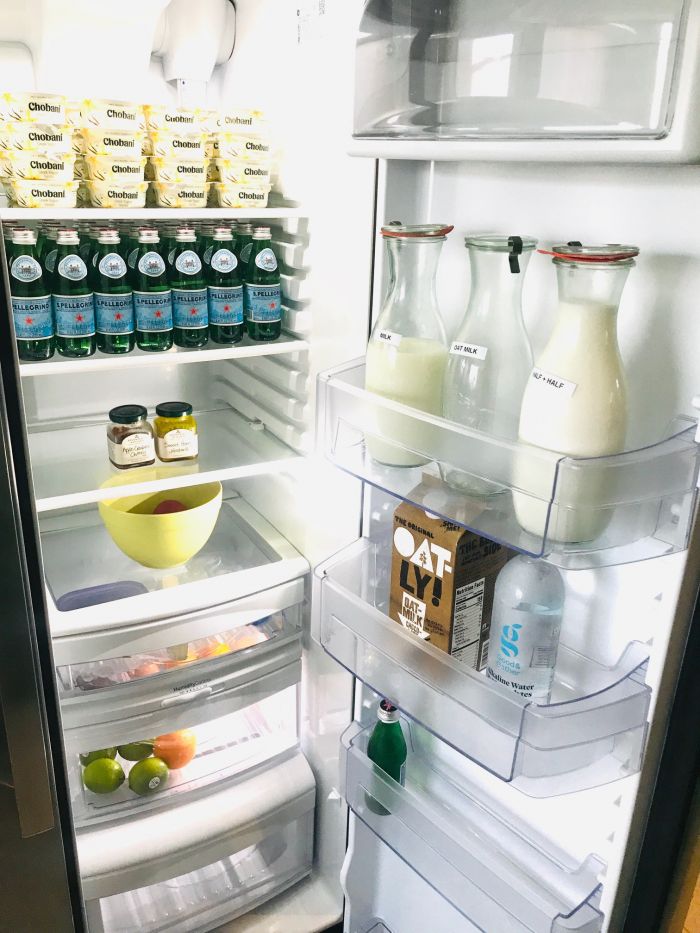 Jill Weinlein
In the morning from 8 to 10 a.m., a staff member sets out warm croissants, fresh fruit, coffee and tea. There is a bowl of oranges to cut and squeeze for fresh orange juice. Guests can take their continental breakfast outside and sit at one of the umbrella tables, or enjoy breakfast while sitting on one of the lounge chairs at the picturesque pool area, or back to their room.
Throughout a stay, guests can open the refrigerator to grab a Chobani vanilla Greek yogurt, bottle of sparkling water or pour a glass of chocolate oat milk. Next to the refrigerator are wicker baskets holding bags of chips and popcorn, and glass jars filled with gummy bears and cookies.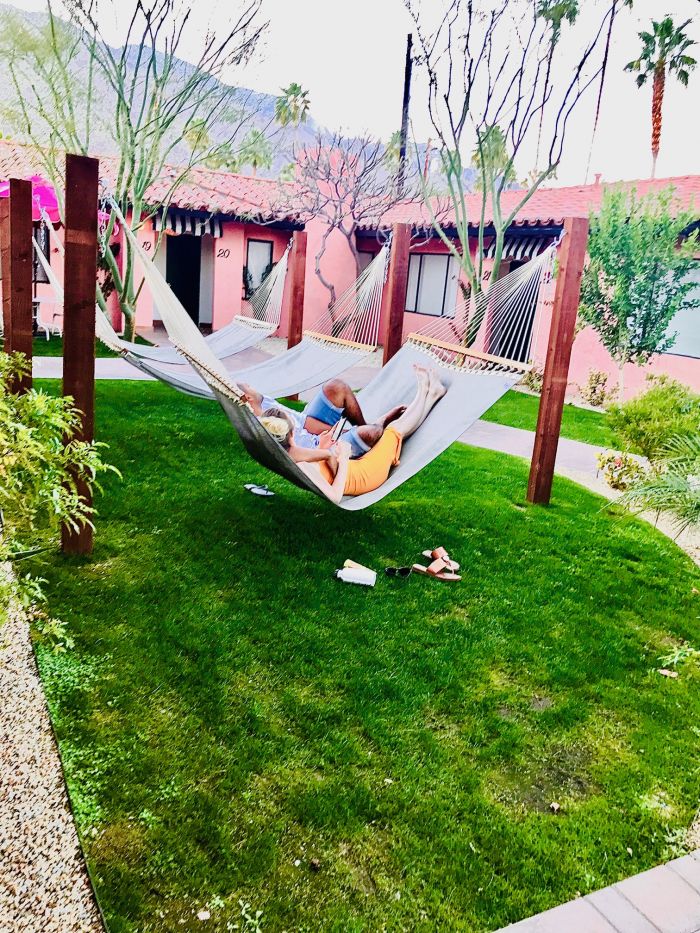 Jill Weinlein
Besides napping in one of the three hammocks, guests may also take one of the pink cruiser-style bicycles with a wicker basket and lock for a spin into town to enjoy a leaisure lunch or early dinner.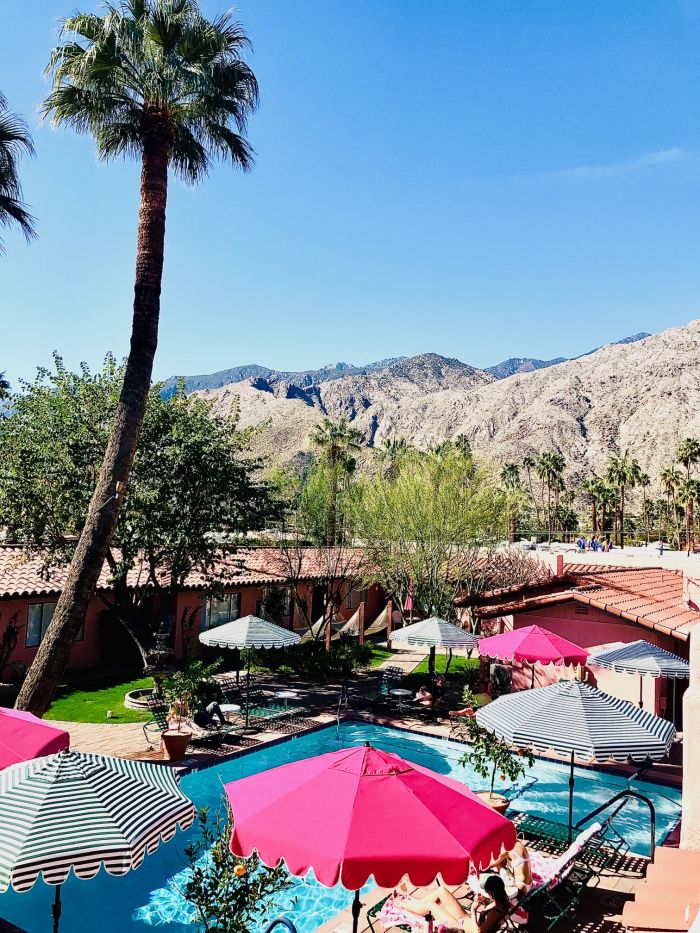 Jill Weinlein
Les Cactus is an ideal alternative to the larger resorts in Palm Springs. It's quiet and respectful guests make Les Cactus a romantic getaway, fun adult reunion trip or girlfriend road trip stop. The venue is also available for weddings and buyouts.
555 S. Warm Sands Drive, Palm Springs. Email: Hello@LesCactusPS.com. (760)422-5500.