Photo Credit: St. George Lycabettus Hotel
It's considered Athens' most elegant and fashionable district. The quarter of Kolonaki is home to high-end couture, quaint coffee shops, and delectable eateries. Looming large, perched on Athens' highest vantage points among the green pine forested Lycabettus Hill lays Athens most stellar landmark property, the St. George Lycabettus Boutique Hotel. The hotel is mired deep in history and folklore. During the early 20th century Lycabettus was referred to by Athenians as the Montmartre of Athens. The surrounding area of Kolonaki and Dexameni Square is intertwined with the complex history of the Greek capital's intelligencia.
Literary salons and cafes satiated the confines of Kolonaki as a home to the arts and free thinkers. It became a meeting place for thought provocateurs, rhapsodists, poets, novelists, politicians, artists and artisans. The celebrated novelist Nikos Kazantzakis and Greece's grand dame, actress Melina Merkouri frequented and frolicked in Kolonaki Square.
Photo Credit: St. George Lycabettus Hotel
Today St. George has become an Athenian home away from home to discerning, iconic guests from throughout the world. Actors, musicians, and even royalty have sojourned at the St. George Lycabettus including actresses Catherine Deneuve and Claudia Cardinale; actors Jeremy Irons and Kevin Spacey; musicians Carlos Santana, Bjork, and Elvis Costello.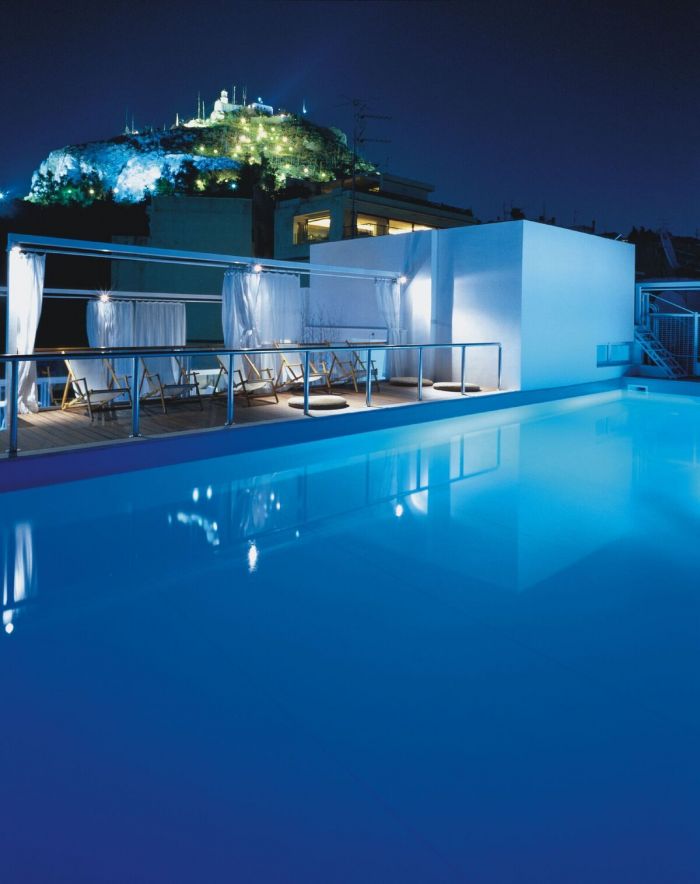 Photo Credit: St. George Lycabettus
The deluxe boutique hotel is immaculate and encompasses 154 individually renovated decorated rooms and suites, many with private balconies. Some even overlook the fabled Acropolis, creating the perfect solace from busy Athens days of sightseeing, shopping and meandering the cracks and crevices of the ancient cradle of western civilization. Each floor of the stellar benchmark lodging is unique with its décor including exhibitions of art and culture from local Greek artists.
Unrivaled and uninterrupted views of Athens can be found at Le Grand Balcon Rooftop, which serves as the property's breakfast room. There is no other stay in Athens with such impressive, sweeping views of the city, reaching out far to the Attica coast and the port of Piraeus. The vantage point, with its spellbinding views of the nearby Acropolis, makes for picturesque landscapes and burnt orange sunsets.

Photo Credit: St. George Lycabettus
Le Grand Balcon Restaurant, located on the 6th floor, is all dressed in white. Sliding doors emerge to a grand outdoor terrace area. As the evening appears, Athens is illuminated and there is no finer place to be.
The restaurant is open for dinner only and is well known for its perfectly grilled filet of Beef Charolais with mushroom risotto. American buffet breakfasts are also served here. Frame is the properties bar, restaurant and lounge. The bar in particular is the weekend hangout among young hipsters and glamorous Athenians. The multifarious decor is something out of a 70s revival, with animal skins, orange and earth tone fabrics and chrome furnishings.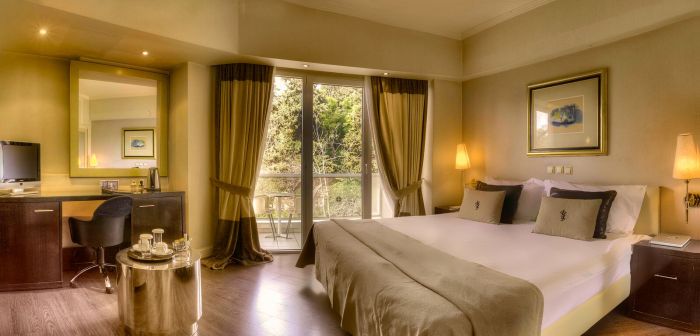 Photo Credit: St. George Lycabettus
Rejuvenate and replenish your senses at the hotel's new Sensia Spa and gym. The pool area is an escape from the rushed outside world of Athens and is open from May to October, where guests can spend the day at the open air rooftop swimming pool and bar.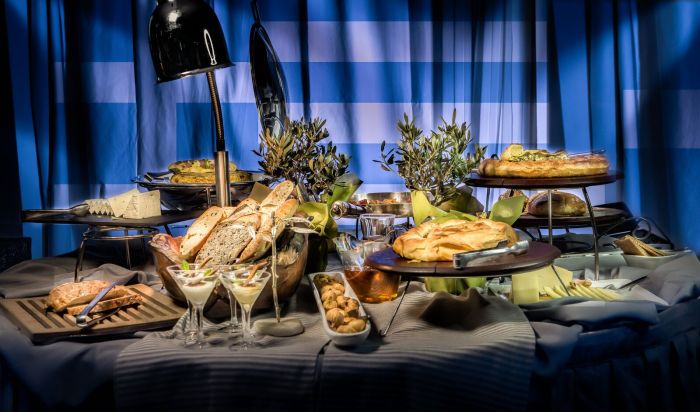 Photo Credit: Nicholas Kontis
Staying in Athens' most exclusive quarters has many advantages. As Greeks like to stay out late (especially on weekends) the neighborhood of Kolonaki comes complete with a vibrancy and mingling opportunities not found in many cities. Even in a trying economy, Greeks know how to live life better than most.
Just a short jaunt down the hill postures a plethora of eateries from quick nibbles, patisseries and coffee shops, not to mention an al-fresco vibe that one finds throughout the ancient city while blending seamlessly with some of Athens' finest boutiques and jewelers.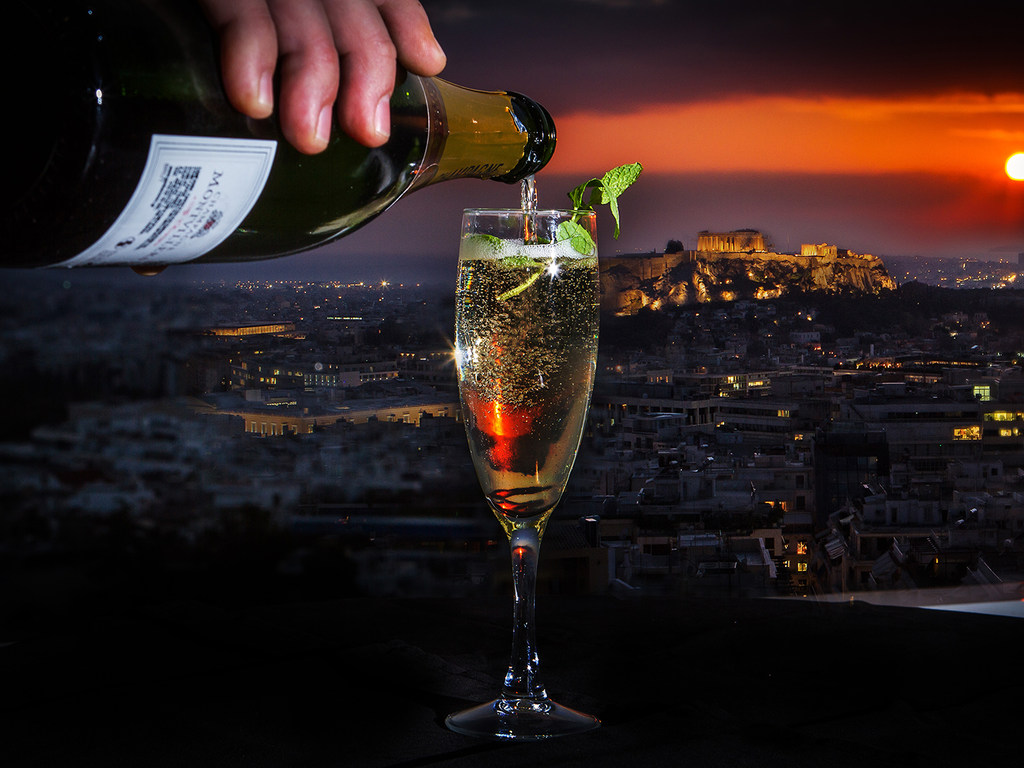 Photo Credit: St. George Lycabettus
Athens is one of the world's great walking cities. The distance to Syntagma Square (Constitution Square) is a 15-minute walk. The jaw-dropping sacred bedrock of the Acropolis, the old town maze of the Plaka district, and the cities preeminent flea market district of Monastiraki all are a mere half hour stroll outside the boutique property.
Photo Credit: Nicholas Kontis
The proximity to the airport is around a 30-minute ride away. Coming by boat is even easier, and the port of Piraeus is about a 15-minute cab ride or train into town. Don't miss a visit to the highest point of Athens, where panoramic views abound. Near the hotel, catch a funicular cable-car ride to the summit of Lycabettus Hill defined by the whitewashed church of St. George.