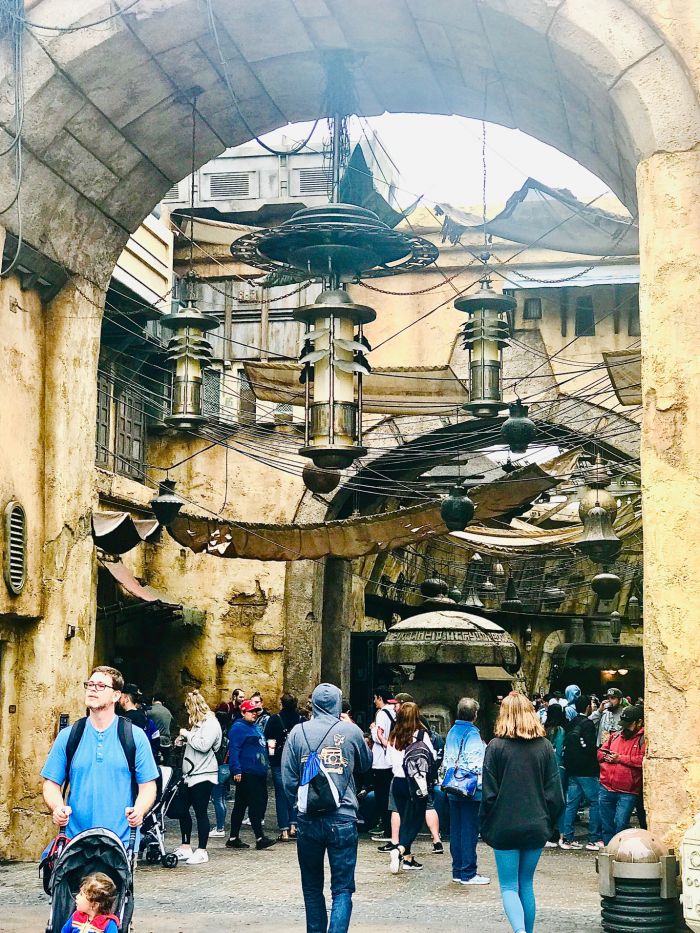 Jill Weinlein
The groundbreaking new Disney attraction, Star Wars: Rise of the Resistance, opened on Friday, Jan. 17, adding immersive adventures for guests inside the largest theme land at Disneyland Park. Guests joining the Resistance participate in an epic battle against the First Order on a new ride. This is the newest experience for Disneyland guests in the 14-acre expansion Star Wars: Galaxy's Edge that opened in May 2019.
When arriving at the planet Batuu, the inspiration for the design by the development team includes replicas similar to architectural locations in Turkey, Morocco and Israel. Visitors will be able to transform the Play Disney Parks app into Star Wars: Datapad to guide them into a deeper adventure in a galaxy far away.
Once the Star Wars: Datapad is activated, guests have the tools needed to translate a variety of languages from across the galaxy, including Aurebesh signs throughout Black Spire Outpost. Scan objects all around the spaceport to discover precious cargo, a tune and decrypt communications sent by the planet's many residents.
While waiting to board the most famous ship in the galaxy at Millennium Falcon: Smugglers Run, guests can take on a job for Hondo Ohnaka, the pirate turned "legitimate" businessman who operates Ohnaka Transport Solutions out of Black Spire Outpost. Reroute misplaced cargo, learn how to keep cover under pressure, and help prep the Falcon for flight.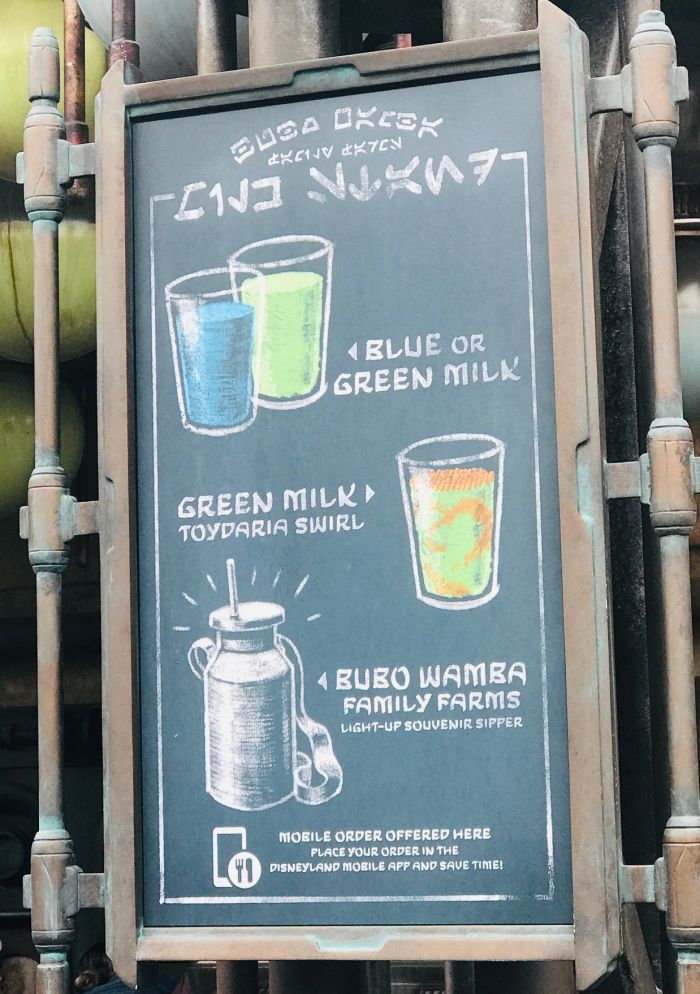 Jill Weinlein
Galactic food and drink options include the Milk Stand where visitors can sip frozen cups of Batuu's legendary blue or green beverages, similar to Luke Skywalker. These blue milk drinks were featured in Star Wars: Episode IV – A New Hope, and the green milk beverage in Star Wars: Episode VIII – The Last Jedi.
At a notorious local watering hole Olga's Cantina, fans can grab coffee, breakfast items and unique concoctions with and without alcohol for all ages.
Venture into the market to find grain merchant Kat Saka, a colorful snack shop, where grains from all over the galaxy are on display. Order a generous, piping-hot helping of popular and flavorful specialty popcorn and enjoy it as you explore Black Spire Outpost. Refreshing beverages are also sold here.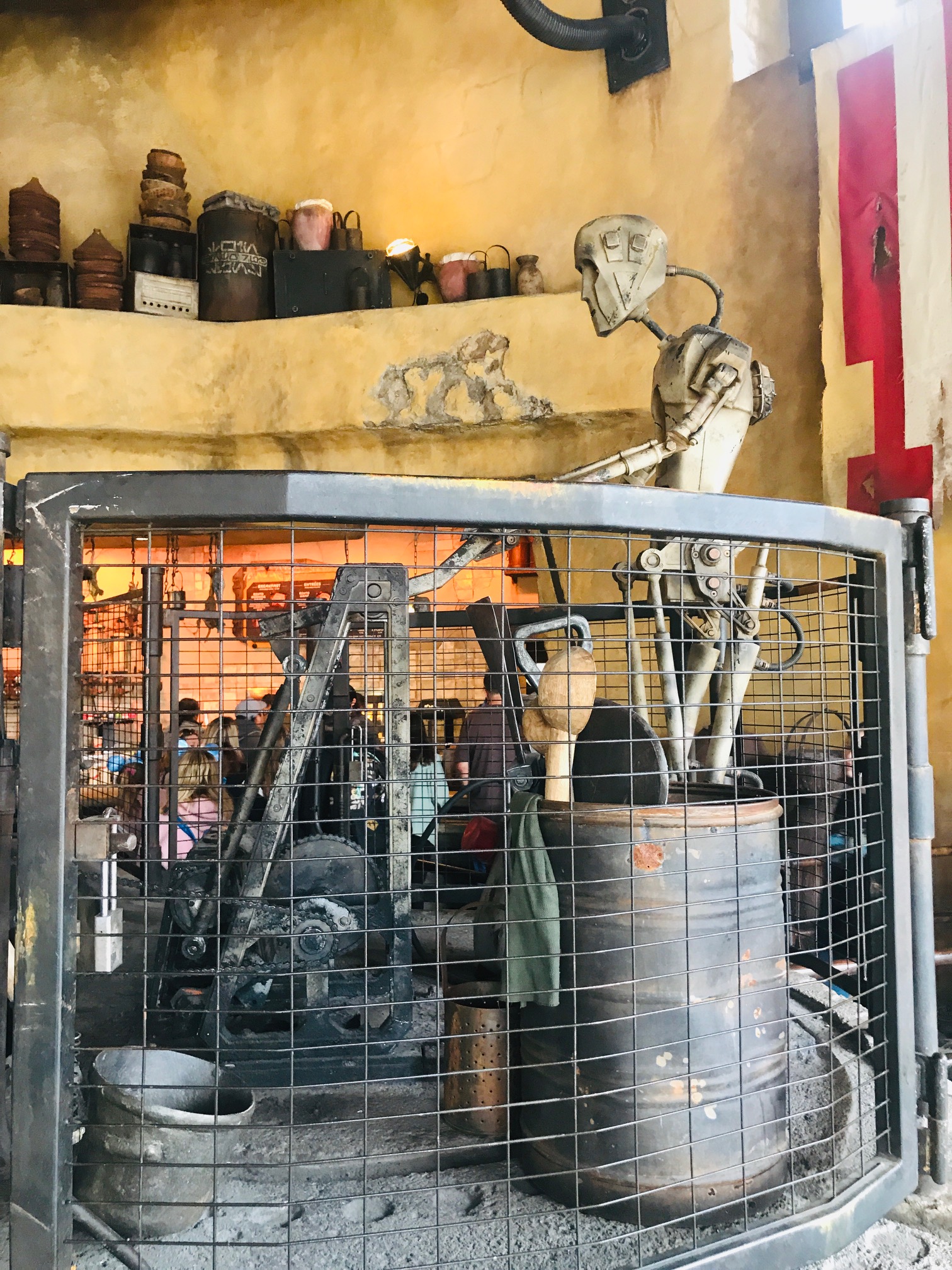 Jill Weinlein
Ronto Roasters offers the aroma of savory sausages and is becoming a favorite stop for crews prepping for their next mission. Inside, spot the hanging podracer engine heating up a spit of various meats. A pitmaster droid turns the mechanical spit, grilling a large side of ronto—a massive beast native to the planet Tatooine.
Roasted pork and grilled pork sausage is served with peppercorn sauce, tangy slaw and a thick flatbread pita. They also make a plant based vegan sausage option filled with spicy kimchi slaw, sweet pickled cucumber wrapped in a thick flatbread pita. Enjoy these tasty treats with a specialty beverage while you explore the rest of the market. They make a Tatooin Sunset, Sour Sarlacc, and Meiloorun juice.
Place your order in the Disneyland Mobile App and pick up to save time.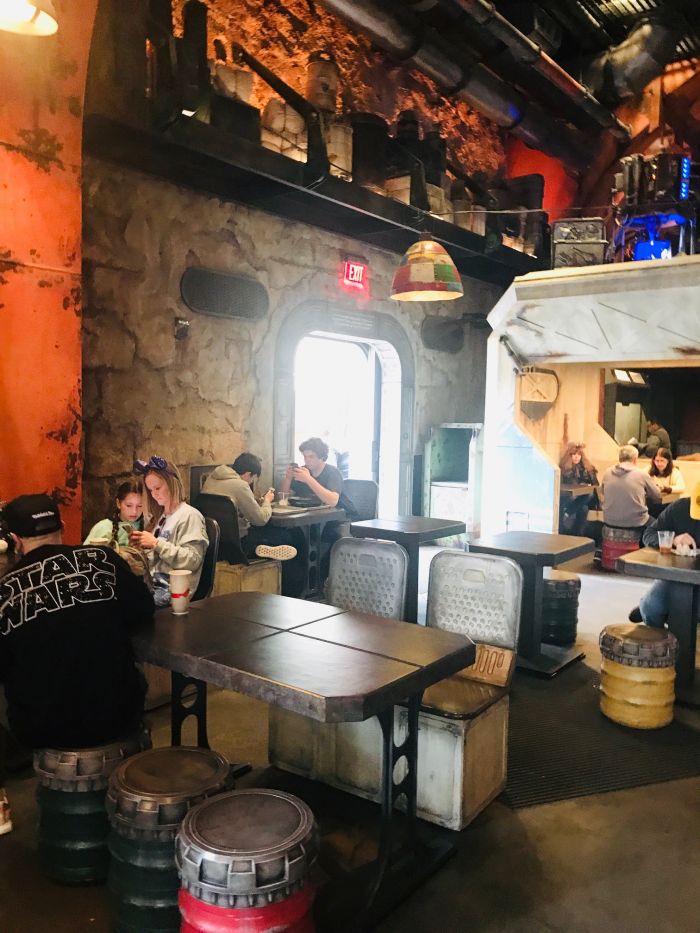 Jill Weinlein
Docking Bay 7 Food and Cargo is housed in a working hangar bay surrounded by crumbling walls of the old marketplace. This visually stimulating dining venue offers a variety of dishes prepared with ingredients from across the galaxy. Chef Strono "Cookie" Tuggs has docked a food freighter loaded with fresh supplies and he's ready to satisfy the appetites of visitors and locals alike with an array of exotic offerings. His planet-hopping travels allow him to prepare fare with unusual flavors that delight customers.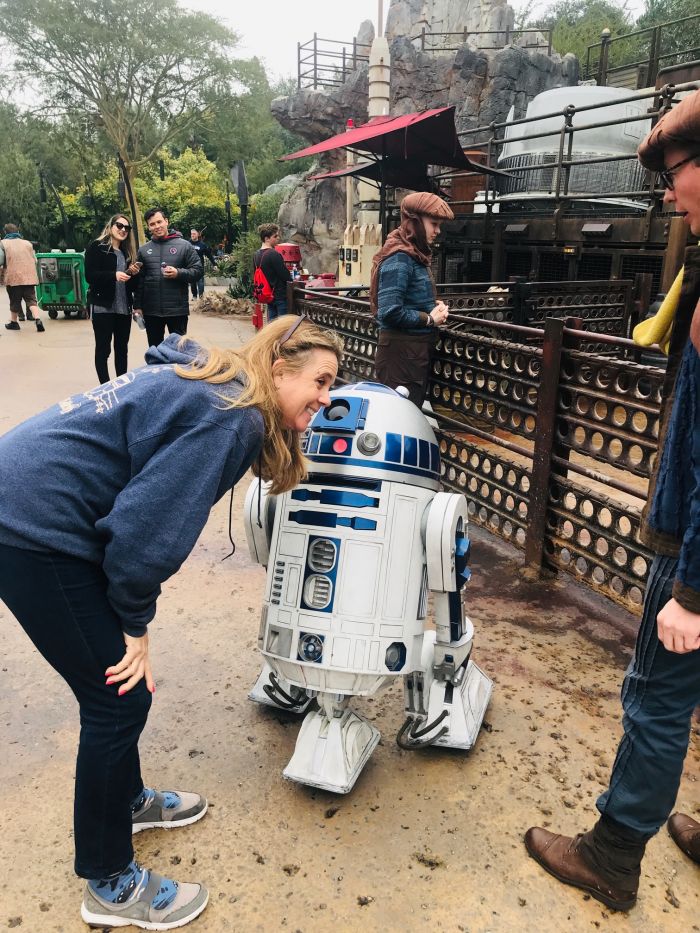 Jill Weinlein
Guests can encounter some of their favorite Star Wars characters, including the resourceful and loyal astromech droid R2-D2. Messages are whispered to share with 'Chewie' Chewbacca.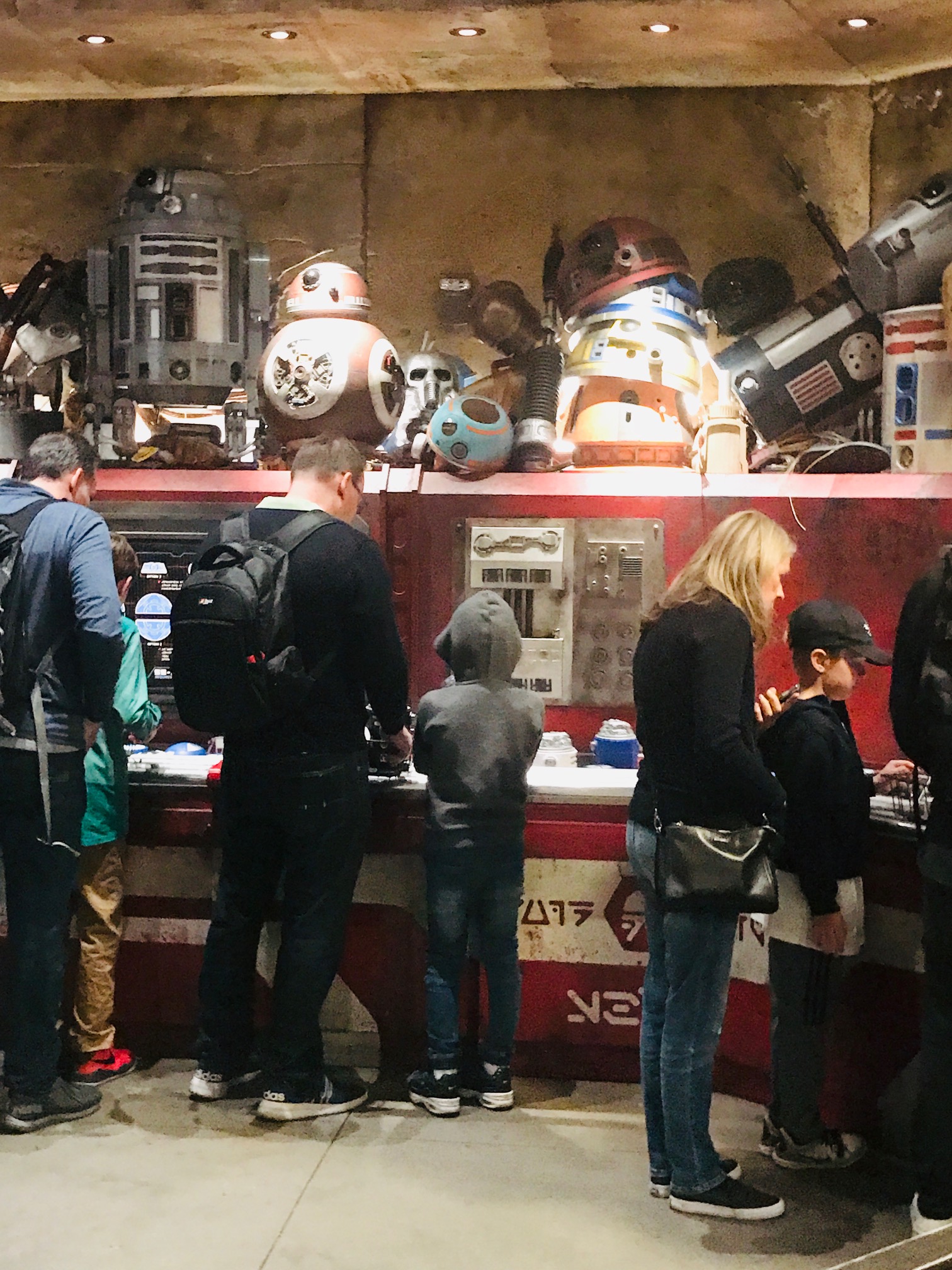 Jill Weinlein
The Build A Droid Workshop is stocked with colorful parts, chips, manuals and tech items. First register your choice of either the BB-series unit or R-series unit. The clerk, will provide a basket and blueprint for the parts and direct you to stations to begin your droid-building experience.
The price is $99.99 per astromech droid unit, plus tax. It includes a carry box and instructions, various personality-affiliation chips and other accessories are available for an additional charge.
The experience area is limited to the builder and one guest. At least one person in the party must be age 14 or older. Only the builder will be allowed to build a droid; the guest may watch. Parts include a dome connection plate, Body sphere and motivator. The R-Series includes a dome, body, center leg and set of side-legs.
Build a personal droid, the ultimate travel companion for all your Outer Rim adventures. Another treasure to take home is a custom handbuilt lightsaber at Savi's Workshop for an additional cost.