Jill Weinlein
Now there is a premium wine bottle alternative created by entrepreneur and wine enthusiast Angela Allison. She and her husband created WineSociety, quality wine in an elegant can. The 500 ml cans are inspired by the European 1/2 carafe. One can is equal to 2/3 a bottle, ideal for sharing or enjoying alone.

Wine Society
All WineSociety blends are 90 calories or less per serving and are low in sulfites and residual sugar. Each of the wines are made from notable growers in the heart of Napa Valley. The three offerings include:
TEMPT: Syrah blend with notes of dark cherry, plum & cedar spice (ABV 14%). Each sip is full and rich, yet approachable, with a smooth and balanced finish. It's aged in new French oak and neutral oak. TEMPT earned a 94-point score from the International Wine & Spirit Competition.
FATE: Chardonnay grapes with Albariño grapes offering hints of peach, bosc pear & fresh citrus (ABV 13%). Tasting notes include vibrant and fragrant with full of balanced acidity.This wine is crisp and dry. Aged in neutral oak and stainless steel tanks, it's full of appealing flavor.
CHANCE: Rose blend of Zinfandel, Syrah & Barbera, redolent of white peach & raspberry (ABV 13%). It's an ideal summer wine that was aged in neutral oak and stainless steel tanks.
All WineSociety blends are $9.99 a can.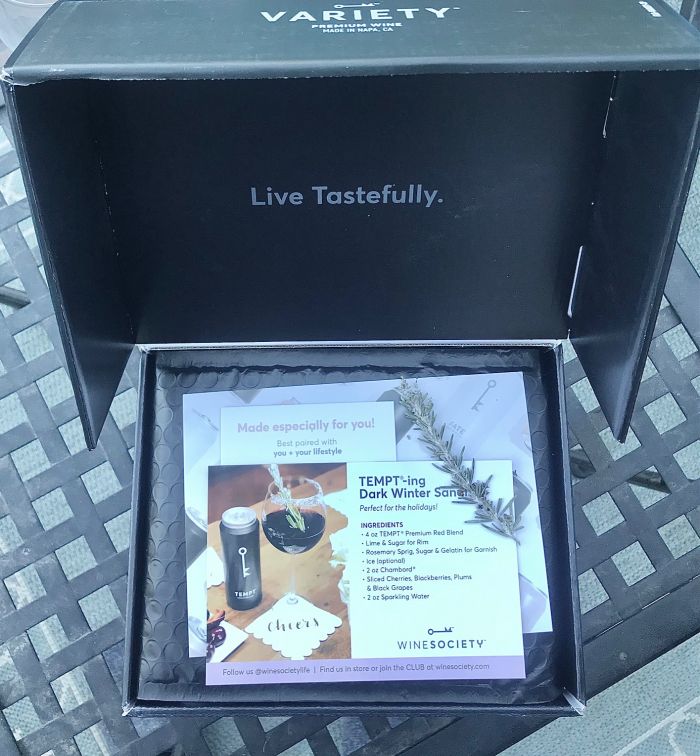 Jill Weinlein
Join the Club WineSociety for a quarterly wine subscription. Delivery to your door is four times a year starting February, May, August and November. Each sparkling wine box arrives with a recipe inside for a festive wine cocktail.
No more sharing bottles or finding a corkscrew. The Quarterly Club Price is $39.20 four times a year. Gifts will be billed quarterly.
Currently, they can ship to every state except Arkansas, Kentucky, Mississippi and Utah. WineSociety is available at the following retailers including BevMo!