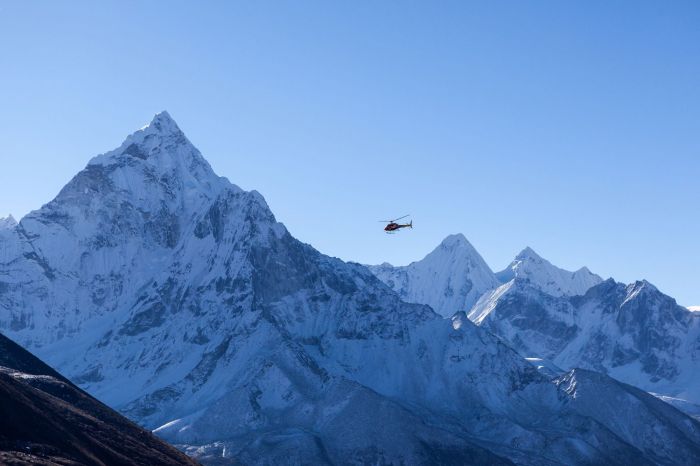 Here is a way to visit Everest Base Camp in sheer luxury and in a short time-frame.
Bookings are open for the upcoming season, starting mid-September, for this new, unique, and definitely luxury way see Mt Everest and the surrounding countryside. If this year is too soon for your busy schedule, these tours run throughout the winter and spring too.
What is this luxury way to see the world's highest mountain and its neighbors? The answer is not by trekking up the mountains for 14 days. The answer is taking your own B3 helicopter from Kathmandu, the capital city of Nepal, up into the Himalayas to enjoy an opulent morning's sightseeing.
Fly in Comfort to Nepal
Nepal is a small country situated between India and the Tibetan plateau. This gives it a unique topography ranging from hot and flat lands in the south to the world's highest mountains in the north. Reaching this country still remains half the adventure. We can suggest Qatar Airlines or Singapore Airlines as providing the best amenities on board for your flight into Nepal.
Relax in Comfort
If you are worried about the standard of accommodation in this up-coming country, things have definitely improved over the past 15 years or so. There are a number of international hotels such as the Marriott, the Marriott's Aloft brand, the Hyatt, and newly opened Dustin Princess Kathmandu and the extravagant Dustin Thani Himalayan Resort in Dhulikhel, about an hour's journey from Kathmandu. If you are looking for luxury accommodation in a more traditional Nepali setting we can recommend Dwarika's Hotel which reflects the ancient architecture and history of the country in great style and sophisticated comfort.
Helicopter Tour to Everest Base Camp
This is something quite exciting and unique. If you are alone, it is possible to reserve a seat on a group tour. But this is no ordinary group tour! First of all, the high altitude helicopter only seats 5 or 6 passengers, so perhaps it is misleading to say, 'group'. Alternatively, for the ultimate indulgence, why not charter the whole helicopter for your small group or yourself and a loved one. We have known people who have also hired a professional photographer to accompany them in order to get the most wonderful photographs of their trip. What a great way to celebrate a special occasion!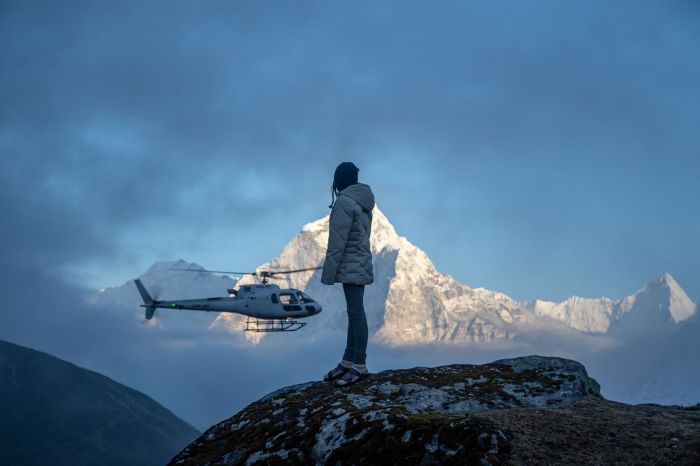 The Logistics
After being collected from your hotel, you are driven to the airport in the early morning and introduced to the pilot. There is no guide on this trip, unless you specifically request one. The pilot is not only experienced in flying at high altitude in mountain conditions but is also familiar with the surrounding mountains and countryside and can point out landmarks of interest for the passengers.
Flying out of the Kathmandu Valley, the urban scenery soon changes to low hills, then to the high mountains. Stopping to refuel in Lukla's airport, named the Tenzing Hillary Airport after those famous pioneer summiteers, you get your first taste of cold mountain air.
The pilot points out places you may have heard in films or news reports: Namche Bazaar, Tengboche Monastery, the Khumbu Ice Falls, glaciers, and of course Everest Base Camp.
Landing at a spot, strategically provided by Mother Nature, which gives the best views of Mount Everest is simply spellbinding. This is Kalapathar. With the best views of Everest that can be had. This great mountain is surrounded by other high peaks in a panorama that cannot fail to delight even the most well-travelled explorer.
Pièce de Réistance
Having been stunned by the beauty of the Himalayas time is required to digest the experience. And what better way to do so than to fly on to a high altitude hotel for some sustenance, and perhaps even a glass of champagne. Once again the views of Everest are stunning from the hotel's terrace where you can enjoy a simple breakfast, coffee or a second glass of bubbly!
The return flight gives you more opportunity to gaze at the mountains and the landscape below before reaching Kathmandu and being returned to your hotel.
Options and Final Words
Should you charter the whole helicopter, you can discuss with the local agent, Magical Nepal, if there are any alternative stops you wish to make on this tour. Subject to feasibility.
Please also discuss with the agent on the best way to dress – warm clothing and sturdy walking boots/ shoes - on this tour, and what to carry with you.
While the tour is suitable for most people, small children cannot be carried due to the configuration of the helicopter seats. If anyone in your party has mobility issues, please also discuss this at the time of booking.
And finally, we cannot recommend this trip highly enough for its exclusiveness and magnificence. Same as can be said for the Himalayan mountains!