Elisabeth Rushton
Like many gym bunnies, one of the things that I have missed most during the Covid-19 (Coronavirus) pandemic, family and friends aside, is my sports club. Exercise is essential for my mental and physical wellbeing, and I am hooked on my daily endorphin hit. At first, running around my local park was a stopgap solution, but not a sustainable one. First, it is weather dependant, and the British climate is far too fickle for routine running. Second, an old skiing injury has left one of my knees more susceptible to damage from pavement pounding. All the injection-wielding orthopedic surgeons I've spoken with over the years have told me that running really isn't that good for a lot of us – even those without rickety joints. My facialist advises against it, too – it is "terribly aging". I emailed her at the start of lockdown and mentioned my new running regime, and she warned me that, "any high-impact exercise, such as running, causes a jolt to the skin, which can tear up the collagen". Not to mention, alfresco exercise can lead to premature aging due to overexposure to the sun's damaging radiation, leading to uneven pigmentation, thickened skin, wrinkles, loss of volume and skin cancer.
After much internal debate, I realized that the running had to stop. I was in a quandary, though; how to replicate the endorphin rush at home with a low impact workout? The question became a preoccupation. I live in a two-bedroom apartment in central London; I don't have room for an elliptical machine (my go-to at the gym), or access to a pool. For a few weeks I overdosed on a POPSUGAR workout class online, led by a preposterously peppy trainer, but this was little different from the running in terms of the impact it was placing on my joints.
Whilst I love both yoga and pilates, for me these are ancillary activities. They don't give me the opiate-like whoosh of a run. Funnily enough, my three-year-old daughter ended up supplying the answer to my conundrum. She had been beseeching me for a toddler trampoline ever since she encountered one at her friend's house. As I began researching mini trampolines, it quickly became clear to me that they are not created equal – far from it. I had owned a rebounder as a teenager and used it a mere handful of times. It was uncomfortable, squeaky, and pathetically unsatisfying, so I eschewed the idea of buying a cheap one, as I knew it would end up unused. Instead, I decided to try to buy the best rebounder I could find – one that my daughter and I could use and enjoy for years to come.
The Rolls-Royce of rebounders, it emerged from my exhaustive investigations, are made by a German company called bellicon. The company builds bespoke, highly elastic trampolines, which are distinguished by their special, patented bungee cord rings. Thanks to this system, exercising on the bellicon mini trampoline is superior to all other types of mini-trampolines available on the market, which utilize much harder spring systems.
Each trampoline is tailored precisely to an individual customer's specifications – from the color of the mat and bungees, to the tension of the clips. It is also possible to choose your mat size (100cm, 112cm or 125cm) and whether you want folding or screw-in legs. There are optional extras, such as comfort frame cushions, carry bags and support handles. After some deliberation, I plumped for the bellicon Classic 112cm with folding legs. This size is the most popular, and for me was the perfect balance considering the amount of space I have in my home and my height (I am 5'3). The smaller, 100cm model is best for those with more limited space, or those preferring portability. The larger, 125cm frame is best for taller people. When it comes to trampolines, the bigger the better, so if space allows, the 125cm is the optimum choice.
I spent more time than I care to admit choosing the color of the mat and the bungees. Initially, I considered going for the grey, to match my apartment's muted aesthetic, but in the end, plumped for the signature bellicon orange color for both bungees and mat. I'm glad that I did: the vibrant color boosts my mood even before I set foot on the trampoline, and on a practical note, glimpsing the flash of orange does make it a little easier to see the perimeter of the jumping surface out of the corner of my eye. There is a helpful chart on the website to help you choose your bungee strength; I opted for blue clips taking into account my weight (53kg) and desired usage. For reassurance, you can exchange the clips post purchase if you wish. I found the design process thoroughly enjoyable. Upon receipt of my order, my trampoline was hand assembled in bellicon's factory in Cologne, Germany. Ten days later, I was immensely excited to take delivery of my new trampoline.
One month in, I am rebounding on my bellicon every other day for around 45 minutes. I like to do it just after I wake up (I prefer to bounce on an empty stomach!) I either bounce outside in my garden, or indoors facing a wide-open window. I generally listen to audio books, music, or podcasts as the mood takes me, and it is supremely enjoyable. Unlike the slap of tarmac, the sensation you get with bouncing is elongating and expanding. It confers so many benefits: I can feel my core strengthening and my pelvic floor tightening (especially helpful after two children!) There are innumerable health benefits associated with rebounding – most notably better lymphatic drainage, strengthened bones and improved posture. After my workout, I feel invigorated, buoyant, and blithe. It is the most mood-enhancing way in which to start the day; I'm an endorphin junkie and I've never experienced anything like this before. My three-year-old daughter – the instigator of the trampoline-acquiring idea - is also a huge fan, and bounces on it multiple times a day (under close supervision).
I cannot recommend bellicon more highly. If you would like to feel totally uplifted, both mentally and physically, buy one. You'll be delighted that you did. For further information, and to purchase your personalized bellicon, please visit: https://www.bellicon.com/gb_en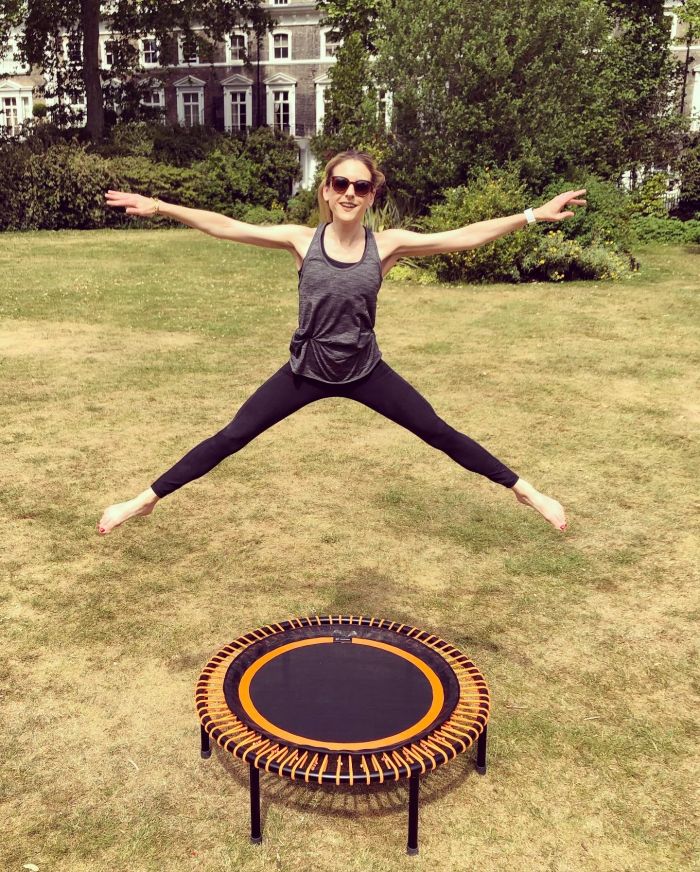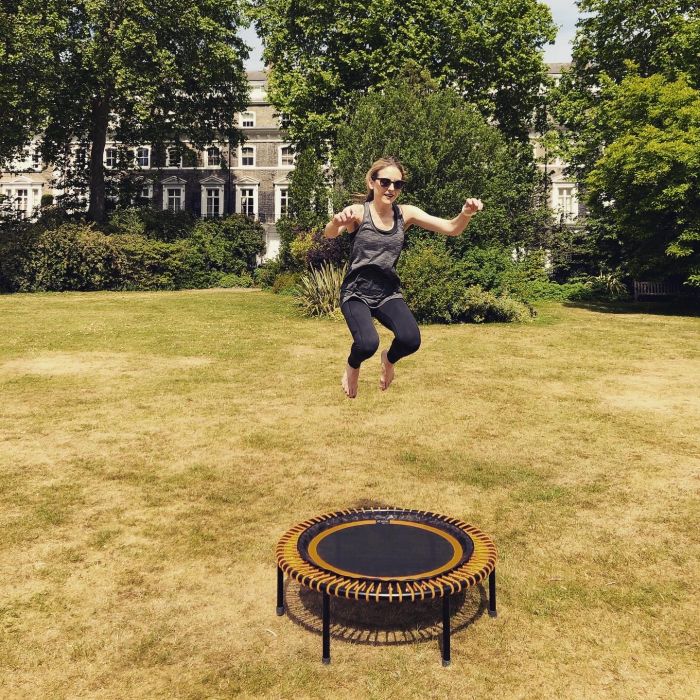 Elisabeth Rushton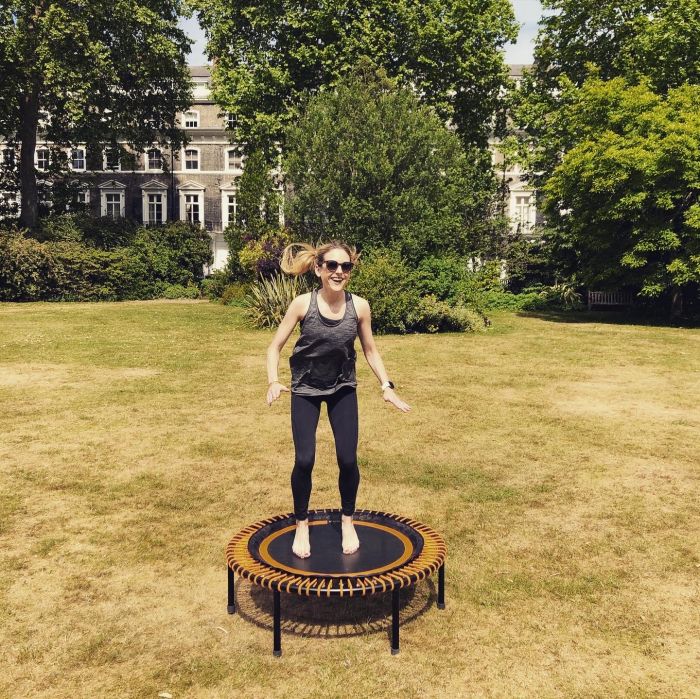 Elisabeth Rushton
Elisabeth Rushton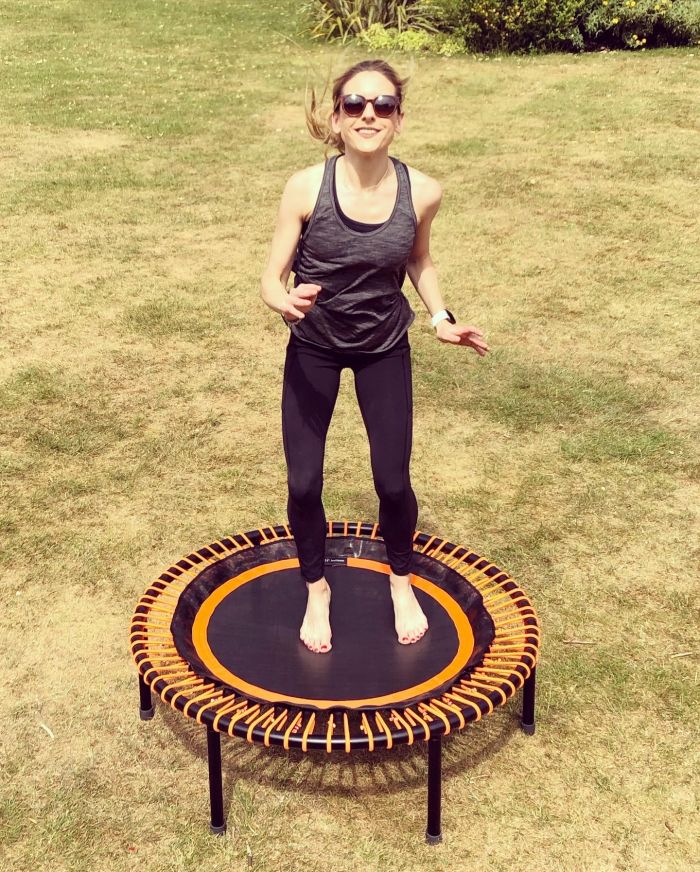 Elisabeth Rushton