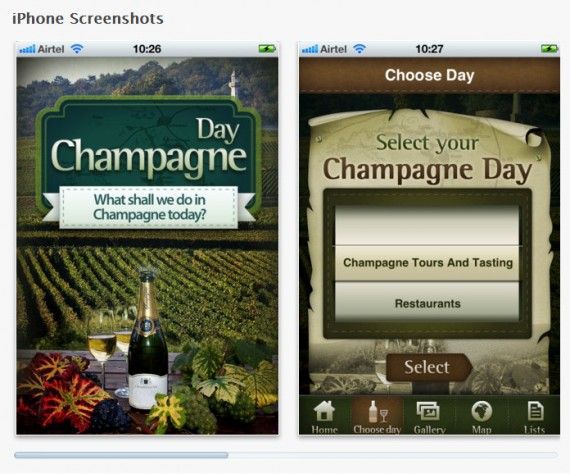 Les Molyneux
There is no time that you are more on-the-go than when venturing into the Champagne region of Northern France—and with this one-of-a-kind app you can get to know this one-of-a-kind place more intimately. Ditch the map, leave your computer behind, grab your smartphone and download
« Champagne Day »
prior to hitting the sparkling trails…
The « Champagne Day » app literally becomes your right-hand man by providing you with your own personal collection of contacts in the Champagne region, including small champagne producers, large international Champagne brands, where to eat, where to stay, what to do and who to see when you're in Champagne.
Plan your trip in advance by browsing regional favorites and lesser known gems, or head out on the road and wing it with your new mobile Champagne Day map complete with directions, contact details and web addresses. What makes this app like no other is that it is brought to you by experts living in the region—packed with videos featuring the impassioned people responsible for keeping the magic of Champagne alive and well—and they are eagerly awaiting your arrival so that they can share their passion with you… yes, you'll actually have an opportunity to virtually "meet" them before you even get there!
So, before asking "What Shall we do in Champagne Today?" arm yourself with the knowledge that with « Champagne Day » in your pocket, you are going to have a great experience!