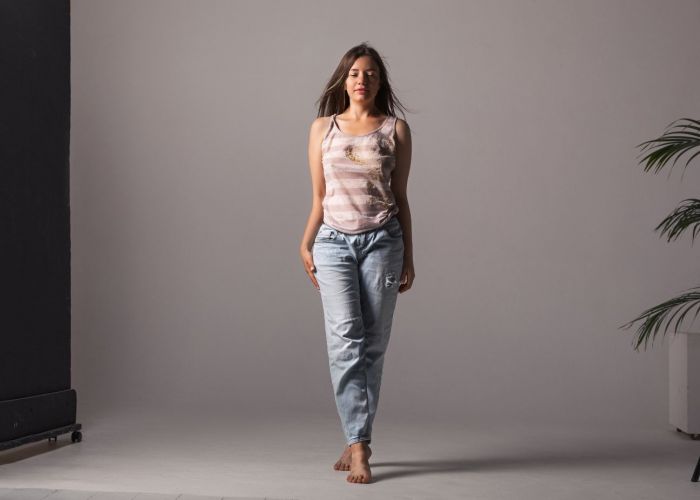 If you grew up loving nineties shows and movies like Beverly Hills 90210, Seinfeld, Friends, The Fresh Prince of Bel-Air, Pulp Fiction, Clueless, and Four Weddings and a Funeral, you're sure to love the fact that 2022 sees fashion creating an homage to this era.
This year, nineties stylings are back in a big way, and you can show your love of this decade in small ways or big ones. Here are some ways this funky fashion is back in style.
90s-Style Jeans
Jeans have been much more relaxed in recent months, which stems largely from many designers' love of the loose-fit women's 90s jeans that were such a big part of that decade. In particular, high-waisted baggy style Mom jeans are having a resurgence, and, as much as this style has been made fun of a lot since the nineties, the silhouette does actually flatter many women. Test out a few options to see if you can find such jeans that work for your body shape and size this year.
Crop Tops
Crop tops have been having a resurgence for a year or two now, and this trend continues in 2022. In particular, though, keep an eye out for those that give off a 90s sporty vibe, such as cropped hoodies from activewear brands that you can pair with either athletic pants or shorts or even with jeans or leggings for a chilled-out vibe for hanging out with friends, relaxing at home, wandering markets, etc.
An alternative style in the crop top arena is those with ruched sweetheart necklines. This more form-fitting garment can be paired with vests or flannel shirts for even more of a Mallrats nineties vibe or worn with simple jeans, long skirts, or elegant trousers for a dressier overall look. Or, if you live somewhere that will remain chilly for another few months yet, you might like to get in on the crop top trend by wearing a cropped cardigan with some of your favorite pants or skirts.
Use of Velvet
Before the weather heats up too much with the arrival of summer, you could also get in some time wearing pretty velvet pieces. Cozy yet on-trend, try out velvet tunics, pants, shirts, or skirts made from blends featuring some polyester and spandex for ultimate comfort. Another option is to buy some velour leggings that you can dress down for active days out or dress up with suitable accessories for less low-key occasions.
Sheer Tops
If you like the idea of showing some skin in a more subdued way than with strappy dresses, short skirts, and the like, you could invest in some sheer tops. Wear them over camisoles or fitted tank tops to still leave something to the imagination without adding too much bulk to the overall look, and check out products in bold prints such as florals, paisley, or polka-dot designs. Sheer tops work nicely for musical festival outfits or can help you feel sexy and confident on a date night or for drinks with friends.
If you want to go one step further, think back to the iconic sheer dress Kate Moss was famous for wearing in the early 1990s. Multiple designers have started coming out with sheer dresses in 2022, so you can go a little see-through in your complete outfit, too, if you love this kind of look.
Statement Earrings
If you love an oversized statement earring, you'll be happy to know that bright, dangling pairs are back in 2022. Choose single or double-hooped styles in bold colors that hark back to the earrings that were popular in the 1990s, but be sure to opt for those with lightweight construction, so you don't get sore ears. There are many great options made from raffia grass, resin, or clay that are worth examining.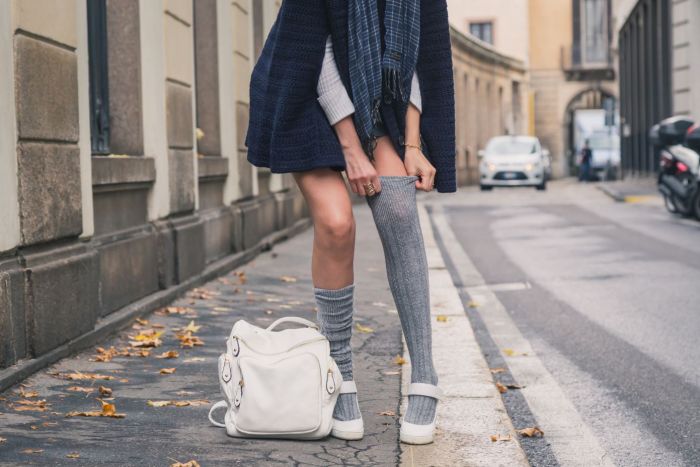 Knee Socks
If you were a fan of the main character Cher's many memorable outfits in the cult-classic 90s movie Clueless, you're sure to remember how she rocked school-girl knee-high socks many times. Many high-fashion brands, including Prada, are now releasing updated takes on this style. Choose from socks that get attention thanks to their fun, bold colors, or opt for a more subdued take by pairing sheer socks with some comfortable loafers or even trainers.
Some other 90s retro fashion styles to consider this year include color-blocking products, chokers (especially leather ones), the grunge skater look, and oversized vest suits. Plus, you can get your nineties vibe on by wearing power suits, cat-eye sunglasses, or going down the preppy fashion avenue.
Whether you test out one or multiple nostalgic trends, you're sure to enjoy trialing some new styles and playing around with your look.