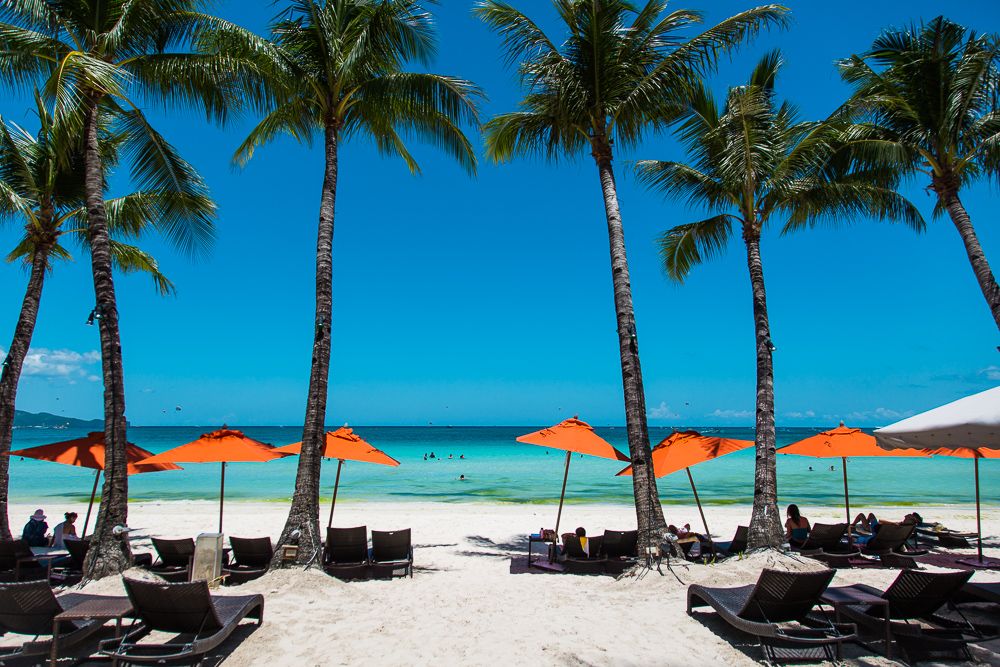 James Mills
I have been in a lot of hotel foyers in the world and I don't remember one quite like this. Guests exit the glass doors and land straight on the soft white sand of Boracay beach. I soon forget my jet lag, I have arrived, and this is precisely what I came here for.
As far as Boracay goes for a tropical holiday, the island has everything you want; stunning beaches, activities, great restaurants and bars. And as far as beach hotels go, The District Boracay has it all. Conveniently located in Station two on the most beautiful section of the beach, the hotel has 48 rooms and suites overlooking the pool or the ocean.
James Mills
This new hotel is easy to find; the striking contemporary building stands out along the promenade. After a seamless and early check in (with a complimentary welcome drink), we are shown to our premier room overlooking the pool, in a quiet area of the complex. The room is on the smaller side but is definitely adequate for two people on a tropical holiday. In room facilities were fabulous and comfortable for when we wanted to escape the heat; a queen size bed, Sony Bravia TV, luxury toiletries, double air conditioning and free Wi-Fi. The turn down service and cookies on the bed were a special touch to return to each evening. Our own private balcony overlooking the pool was perfect for drying our beach attire. The serviced sun loungers and pool provided an oasis of calm to escape from the heat of the beach – in four days we only had to share the area with other guests once.
James Mills
The District offers two in house options for dining, an Italian restaurant, Caruso Ristorante, and a café, Star Lounge. Star Lounge offers different grills each day. For dinner I devour some of the largest and tastiest prawns of my life. The hotel is within a short and easy stroll of the D'Mall which has a number of local and international food options
James Mills
Perhaps Boracay's best kept secret is the rooftop bar, which offers a 40 per cent discount during happy hour (every afternoon), and spectacular views of the sunset. Watching the amber lit sailing boats, sinking the local red lion beers and sampling the fantastic cocktails became our favourite afternoon pastime. We even try the mango shisha and are pleasantly surprised. This is the place to be for sunset, even if you are not staying at The District.
After a smooth check out and transfer to Caticlan airport, we were sad to farewell The District and the white sands and clear waters of Boracay, the perfect mix of beach and luxury.