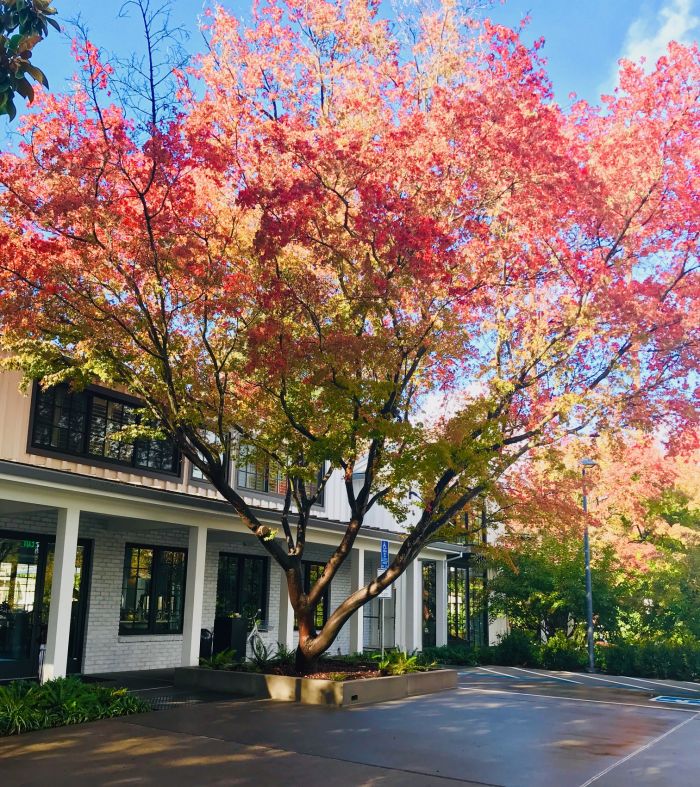 Jill Weinlein
The Estate in Yountville offers two newly renovated lush meets luxe resorts. The Vintage House was modernized into a sophisticated wine country style hotel last year in October 2017, while Hotel Villagio's updates finished last summer 2018. Situated on 22 acres along Washington Street in-between V-Marketplace, the two luxury hotels are similar in design, yet completely different in decor and spirit.
I took a tour of both properties with Kelly Kisabeth of The Yountville Estate. We started in the lobby of Vintage House admiring the two-story lobby lounge decorated in eggplant, lavender and white colors. "A complimentary elaborate wine-style country breakfast is offered in this room from 7 to 11 a.m.," said Kisabeth. "In the evenings, both properties offer a complimentary wine tasting in their lobby each Friday and Saturday evening from 5:30 to 6:30 p.m."
Walking outside of the lobby, we stopped at the large, heated pool and 103-degree whirlpool, among outdoor cabanas and chaise lounge chairs with thick pads. Next she showed me a light and bright king-bed room with a wood burning fireplace, new wood floors, and a garden terrace with a hanging wicker basket swing to sit and swirl a glass of wine.
The staff at Vintage House take guests in a Moke (little jeep) to Hotel Villagio. "We fondly call Hotel Villagio the slightly naughty sister," said Kisabeth. "She's a little bit more glamorous and sensual in decor with furs, leather and dark wood." Touring one of the guest rooms, I learned the marble bathroom offers the 'Maserati' of all bathtubs and separate large shower.
A feature Kisabeth likes is the small refrigerator stocked with beverages and items for cocktail hour. "Notice how there is still enough room for guests to place their Bouchon Bistro leftovers or a favorite bottle of wine purchased while wine tasting," said Kisabeth.
Before returning to Vintage House, Kisabeth pointed out the beautiful Hotel Villagio Spa that is under renovation and will open soon. Besides multiple treatment rooms, and a separate men and women's lounge, upstairs is an Executive Spa suite with an outdoor his and her Jacuzzi spa soaking tubs and a fireplace.
Driving back to Vintage House, we passed the historic Groezinger Estate and Barrel Room that was built in 1800's. "This was the Groezinger Estate winery until prohibition," said Kisabeth. "Today the original brick structure is now a beautiful space for wine county theme dinner parties, receptions, dancing and weddings."
Staying one night in room 709 at Vintage House, my upstairs room offered a balcony overlooking rolling hills with vineyards ablaze in colors of yellow, orange and red. The two queen size comfortable beds were fitted with high thread count sheets. Above the fireplace was a large 65" HD LCD television. Inside the closet were two luxury robes and slipper, and a steamer for de-wrinkling clothing. The marble bathroom offered a deep soaking tub with jets, and the "Big Bar" had complimentary Nespresso coffee and water. Large spirits and snacks are priced at an additional fee.
The 1.5-mile-long town of Yountville offers more Michelin stars restaurants per capita than any other destination in California. This is where esteem celebrity chefs Michael Chiarello, Philippe Jeanty, Thomas Keller and Richard Reddington put down roots and have attracted an international culinary crowd for years. Three Michelin stars have been awarded to The French Laundry and one star for Bouchon, Bistro Jeanty and Redd.
Downtown Yountville also offers 15 different wine tasting rooms. The reception desk at Vintage House is happy to offer you a map of the wine tasting partners offering special discounts for guests staying at the Vintage House or sister property Hotel Villagio. Just in Yountville, there are 8 different complimentary wine tasting pairings with the purchase of a tasting. Those partners include Chiarello Vineyards, Domaine Chandon, Hill Family Estate, Hope & Grace and JCB Tasting Salon.
While getting a tasting map, we also received a Yountville Art Walk map identifying some spectacular sculptures made by local and international arts. It's an outdoor museum of more than 40 stunning pieces displayed in front of restaurants, tasting rooms and gardens.
Next time you plan a trip to Napa Valley, be sure to visit The Estate and stay in the sophisticated Vintage House or sexier Hotel Villagio for a true wine country experience.
Vintage House at the Estate- https://www.vintagehouse.com/ and Villagio Hotel at the Estate - https://www.villagio.com/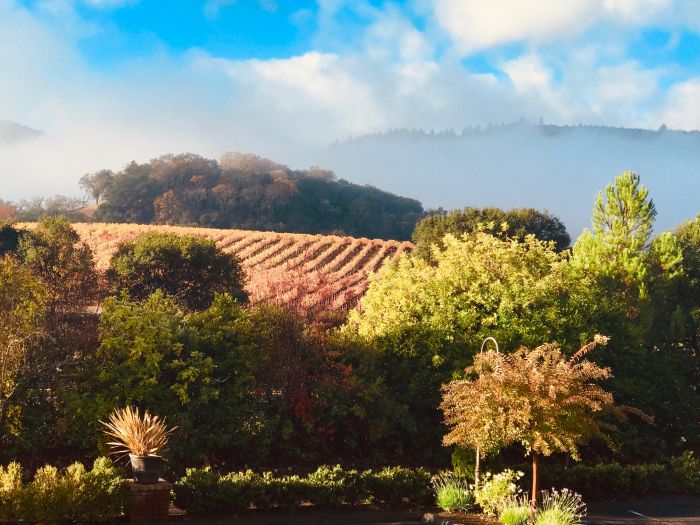 Jill Weinlein
Views from room 709.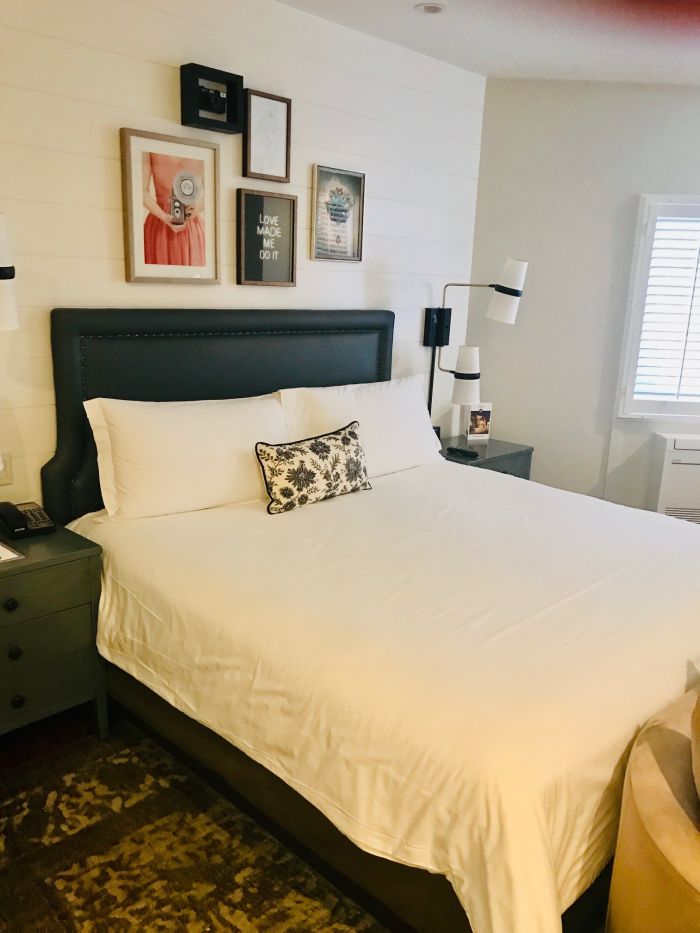 Jill Weinlein
The Vintage House offers sophisticated wine country decor.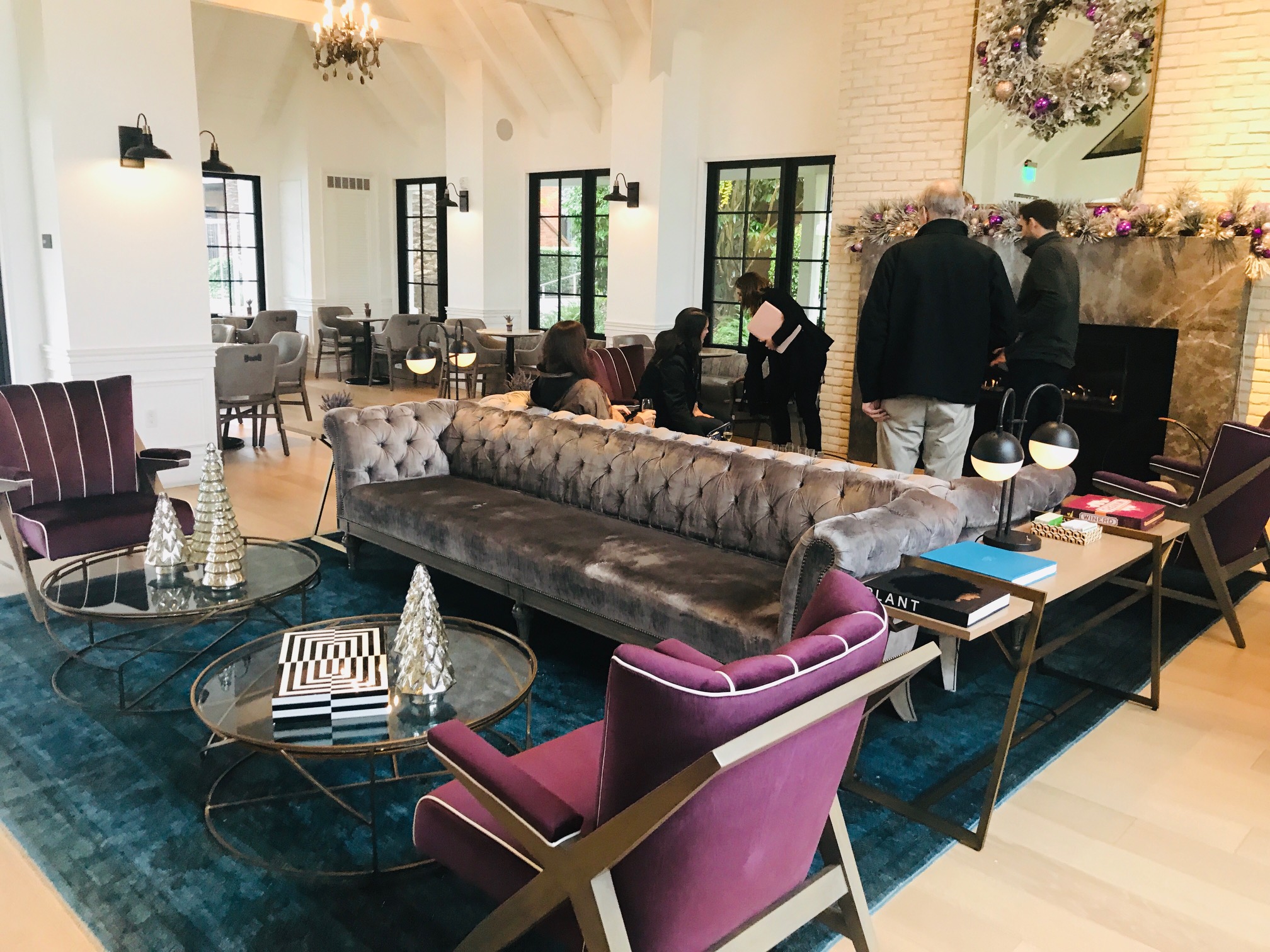 Jill Weinlein
The Vintage House lobby-lounge offers complimentary breakfast in the morning seven days a week. On Friday and Saturday evenings they offer wine tasting.
Jill Weinlein
While the Vintage House has a small jeep-like vehicle called Moke, Hotel Villagio has a red Moke to drop off guests to a restaurant or tasting room along Washington Street.