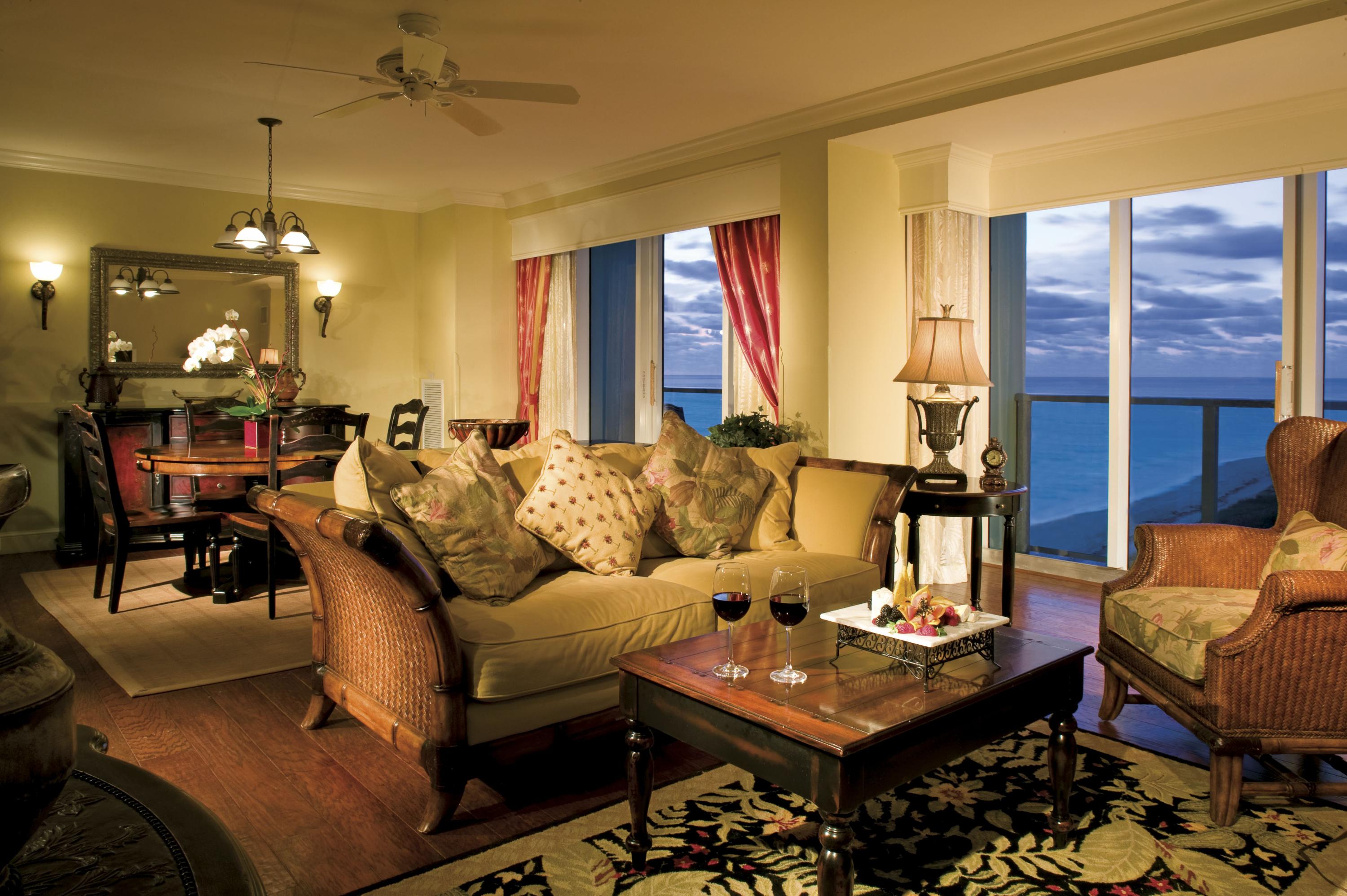 Photos Credit: Jupiter Beach Resort
One of the most beautiful getaways on earth is in Jupiter—Florida, that is. Located in breezy Palm Beach County, Jupiter is home to a picturesque and endless coastline, fine cuisine, stylish shopping and challenging golf courses. An ideal property from which to experience this all is Jupiter Beach Resort. The hotel boasts an attentive staff, a beachfront restaurant called Sinclair's, the relaxation of Opal Spa, and proximity to nearby attractions. Have the concierge reserve a standup paddle boarding session, or a kayaking eco-tour of Jupiter Inlet through BlueLine Surf and Paddle Co.
Breakfast, lunch, and dinner are savory at Sinclair's. After your eco tour (which will feature egret, heron and underwater life easily viewed from your kayak or paddleboard), have lunch at tiki-themed Guanabana's. There you can eat outdoors under a canopy of banyan trees, sampling fresh local seafood. Also close to the Beach Resort is a large, popular restaurant known as U-Tiki. Beside a marina, U-Tiki is more than a foodie experience, it is a lively hot spot complete with a bar and large screen TV's.
A short drive from Jupiter Beach Resort is Loggerhead Marine Life Center in neighboring Juno Beach, home to the only sea turtle hospital between Orlando and Miami. Meet turtles named for former local theatre workshop director Burt Reynolds and Washington Nationals' manager Dusty Baker (who swam with sea turtles 15 years ago as part of his recovery from cancer). Both men have visited their namesakes. Here, Dr. Charles A. Manire has innovated surgical procedures now used around the world, and published a new book about these methods. This is an ideal place for younger vacationers, with plaques detailing each turtle/patient, live demonstrations, a gift shop and a snack bar.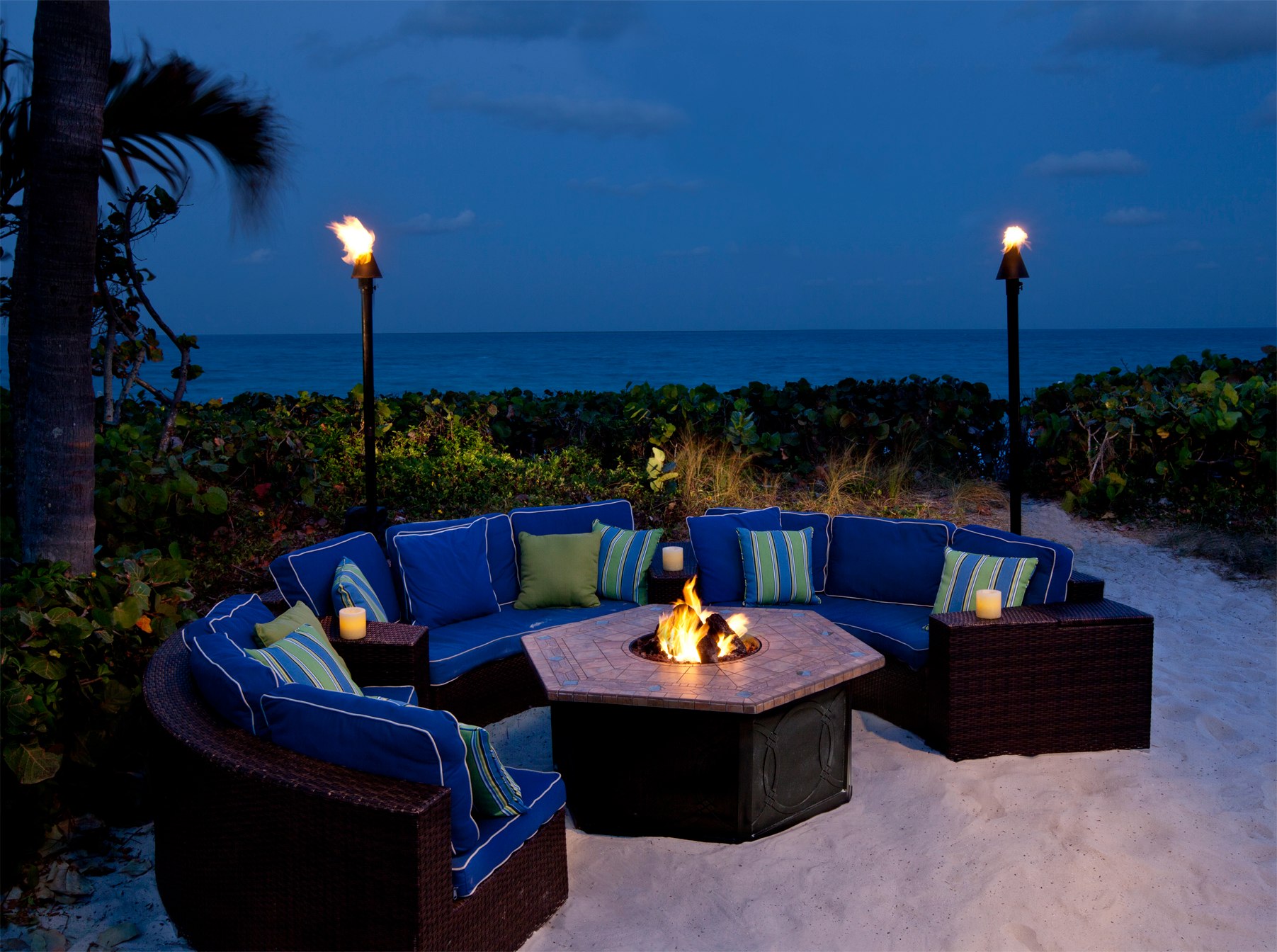 The Beach Resort is also convenient to a retail complex called Harbourside. Located only three miles from the hotel, Harbourside offers fashion choices such as Chico's, John Craig Clothier, and Tommy Bahama. There is also a variety of dining experiences available, from the many breakfast selections of Another Broken Egg Cafe (a Florida staple), to Bravo! Cucina Italiana and the swanky The Woods Jupiter restaurant. Harbourside has a calming pace, plentiful parking, and the boutiques are attentively staffed.
Back at the property, lounge in the pool, participate in a tennis lesson, or take a stroll on the beach. Have a beachside snack or cocktail at The Sandbar, or select from grilled cedar plank salmon, grilled lemon pepper mahi, or grilled rack of lamb at Sinclair's. Chef Ricky Gopeesingh is an artisan in presentation and a master of seasoning. The wine list is broadly international and domestic, the cocktails clever and tropically refreshing.
Palm Beach County has 160 private and public golf courses, and 25 current or former tour pros reside here. The PGA Honda Classic is played in Palm Beach Gardens. Palm Beach County's natural beauty, gentle breezes and soothing tide remain unspoiled by the hospitality, retail, watersports and games which attract tourists from all over the planet. Those who land in Jupiter will find all the pleasures available to unwind or be active.