Elisabeth Rushton
I can remember vividly the thrill of receiving my first bike. It was July 1988, and my father took me to Fudges Cycles in Chiswick where I picked out a red Raleigh model for my third birthday present. I named it James and it was my constant companion until I transitioned onto Heather,a larger, lilac coloured model at around the age of seven. James was my first love, and was the gateway to the wonderful world of cycling that I am so grateful to have been exposed to at a young age. Now, in my early thirties, I relish the freedom that cycling gives me, and I have no qualms about pootling all around in central London, where I live, because I have grown up doing so. I feel so confident, in fact, that I rode my bike up until my due date in both my pregnancies.
I was very keen, therefore, to give my daughter, Ophelia, the same opportunity to enjoy bikes from a young age, and began to research bicycles for toddlers in earnest when she turned two in March 2019. I discovered that the landscape of the baby bike market has changed dramatically since the late 1980s. Stabilisers have gone the way of perms and punk music, and have been supplanted by balance bikes. These are underpinned by the philosophy that stabilisers inhibit young children from learning the crucial sensation of balancing, which is an essential facet of becoming an adept cyclist.
There is a plethora of balance bikes on the market, but to me, one brand in particular stood out: Banwood. I ride a Pashley Britannia, which I adore, as much for its aesthetics as its superb design, and Banwood produces bicycles for little ones that also provide the perfect blend of a contemporary design with a touch of mid century charm. The company is a family-owned lifestyle brand with a strong emphasis on creating high-end cycling products for children.
Banwood's co-founders, Juan Manuel Torralvo Castro and Frida Jonsby, met in Germany, the home of quality, safety and sound design, and discovered that Frida's eye for design and Juan's family history of manufacturing coalesced perfectly. The bikes are influenced by Scandinavian design, with an emphasis on simplicity, minimalism and functionality. Underpinning the design process is a passion for creating the finest first bikes for kids, as safe as they are timeless, and ones that will instil a love of cycling from a young age.
Frida and Juan believe that whilst time has changed the way children play, the way they learn and develop remains fundamentally the same. Their goal is to recreate the magic of how children used to play, by encouraging toddlers to be active and supporting their growth in a fun way, all the while creating happy childhood memories. Whether it is a bike ride to the park or becoming the next star of Tour de France - Banwood aims to motivate youngsters to acquire a love of cycling.
My daughter Ophelia adores her Banwood First Go! I let her chose the colour from the range of eight beautiful shades on the website. She wanted a bike 'just like mummy's' so she selected the white one, along with a matching Banwood CE Marked matte white helmet, which is equipped with a durable ABS shell.
The ordering and shipping process was extremely smooth, and the bike was easy to assemble, with helpful, clear instructions. The bike is made of durable, high quality materials, with 12 inch wheels, a steel frame and aluminium handlebar, and weighs 4.5kg. The saddle and grips are made of high end faux leather, a material suitable for all round weathers and easy to wipe off. Ophelia's favourite feature is the detachable wicker basket in rattan for packing her essentials for a day's adventure. As a parent, it is reassuring that Banwood bikes are as practical and safe as they are aesthetically pleasing: the bikes feature an ergonomic seat and are tested rigorously to fulfil strict safety and quality standards. I also love the fact that the bike has an adjustable handlebar and saddle and will grow with Ophelia until she is ready to transition to a bike with peddles at around the age of five. Given her love of her current model I know that she will want to graduate to a Banwood Classic, which is designed for children aged five and up.
______________________________________
Banwood First Go! £139 / 159€
Banwood.com
Elisabeth Rushton
'Mummy and Me' bikes!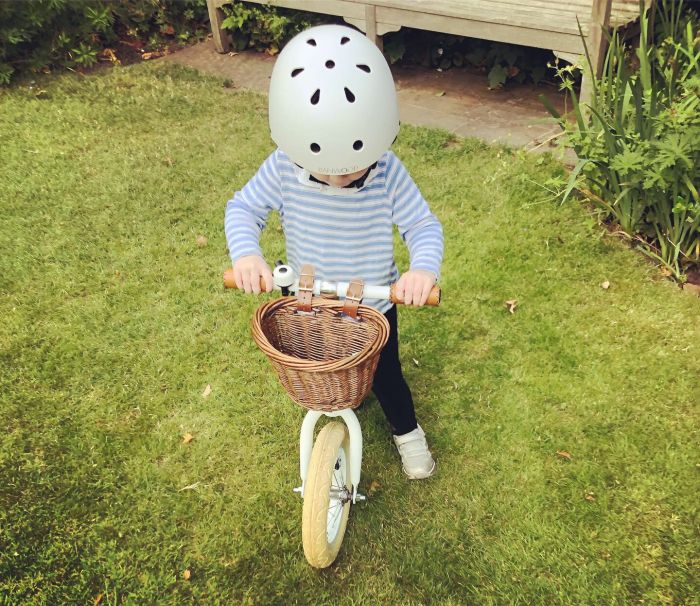 Elisabeth Rushton
Ophelia adores her Banwood First Go!