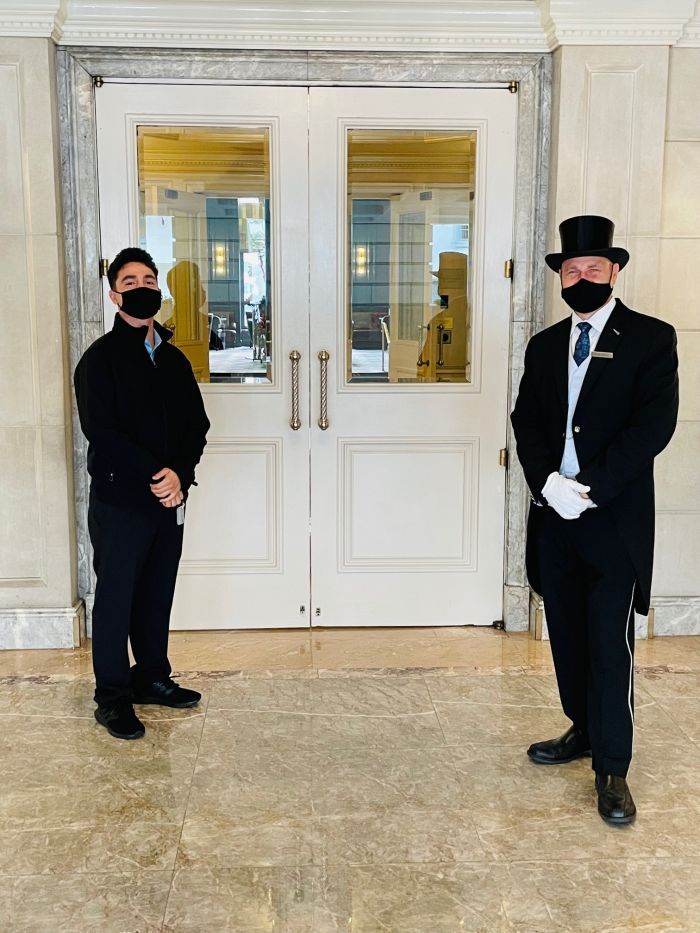 Jill Weinlein
Guest are looking for a new type of wellness vacation, a respite to provide relief from the difficulty from the last 18 months of isolation. The luxurious The Ritz-Carlton San Francisco knows this is what guests are seeking and has curated a new Respite Concierge program. Located in the prestigious Nob Hill neighborhood, guests have new opportunities for relaxation, recreation, and retail, while renewing their appreciation of one of the most beautiful cities in the world
Respite Concierge guests elevate their stay the moment they check into the white "The Temple of Commerce" hotel built in 1909, as the Metropolitan Life Insurance Company's Pacific Coast headquarters. It later became Cogswell College, and in 1984, this building was named a San Francisco City landmark and placed on the list of Architecturally Significant Structures. The Ritz-Carlton came in and extensively renovated the building before opening in April 1991.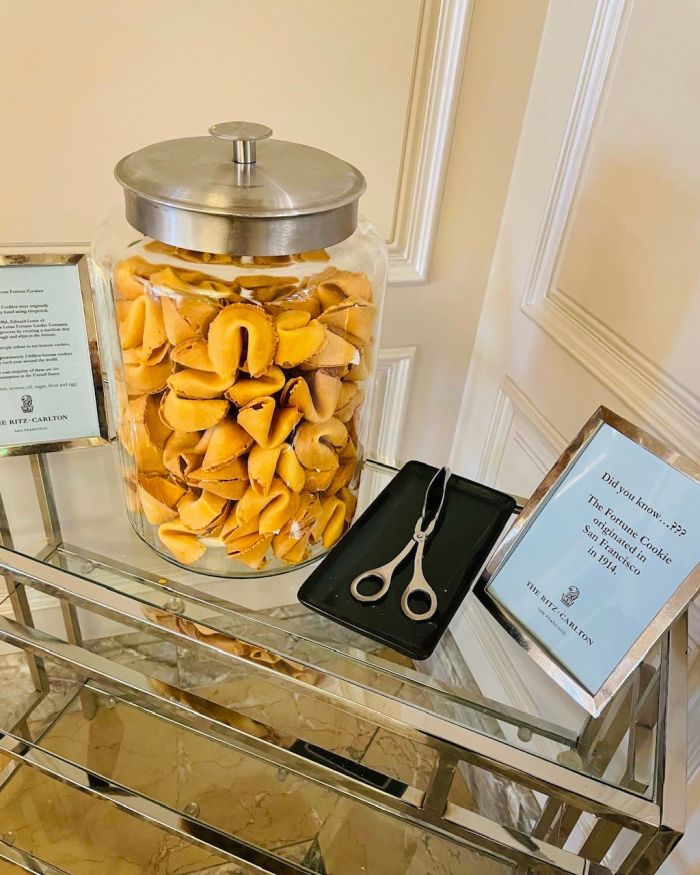 Jill Weinlein
At the reception desk is a large glass jar filled with golden colored fortune cookies. Paying homage to the fortune cookie originating in San Francisco in 1914, guests are welcome to take a cookie, crack it open and read their fortune. A sign states that Edward Louie from San Francisco opened the Lotus Fortune Cookie Company in 1946, and invented the first fortune cookie machine in the 1960s.
What makes San Francisco so unique is the distinctive neighborhoods and guests can take a 'Tasting Tour of San Francisco' featuring a map of the city's iconic neighborhoods and 7 pieces of enticing chocolate flavors. With one bite, guests will discover the chocolate on Golden Gate Park offers an essence of lavender and honey, while in Japantown it's black sesame matcha chocolate. Chinatown's chocolate offers a hint of ginger, and North Beach has olive oil and lemon.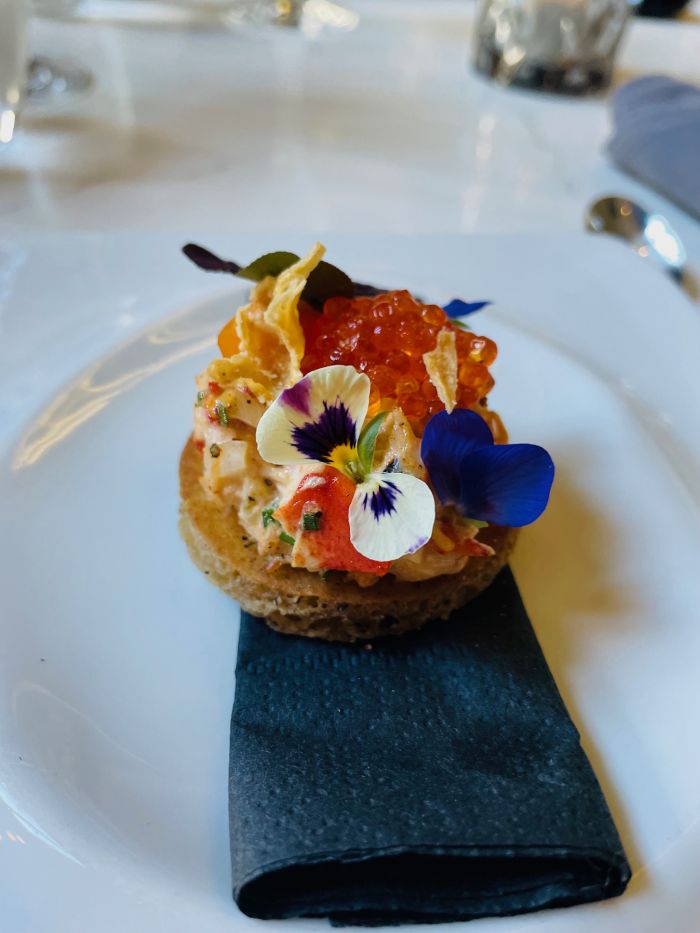 Jill Weinlein
Respite Concierge guest rooms are on the 8th floor offering exclusive Club Lounge privileges. Guests receive complimentary food and beverages including hot and cold items for breakfast, lunch and dinner. The lounge also displays hors d' oeuvres, desserts, local wines, spirits and beers.
There is a dedicated concierge desk, and a staff member is available to assist with anything guests might require during their stay.
Other dining venues inside the hotel include the Lobby Lounge offering a soaring ceiling with city views and a menu of creative fare and crafted cocktails.
In the morning, Parallel 37 near the hotel's entrance offers American breakfast and the best buttermilk pancakes in the city. They dazzle with a passionfruit compote, spiced maple syrup, cocoa nib crumble and mixed fresh berries.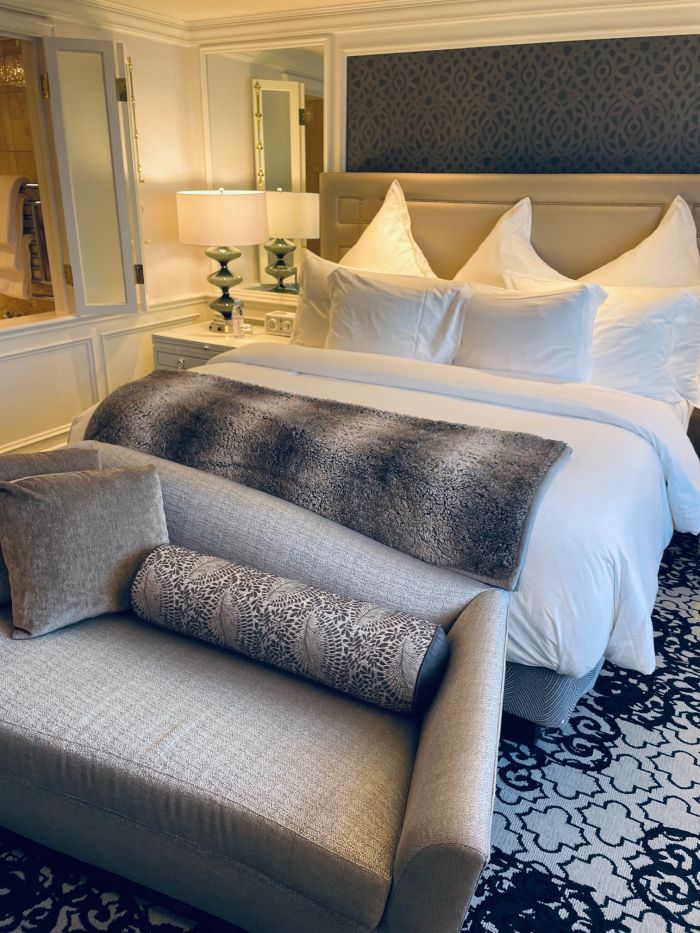 Jill Weinlein
Take a respite rest in one of the 336 modern guest rooms. Each decorated room features crisp white and deep shades of blue with a touch of gray that was inspired by the fog on the bay, and city architecture. The artwork depicts familiar spots throughout the city.
Relax on one of the comfortable beds offering 400-thread count sheets and 100% combed cotton linens.
Some of the suites offer separate bedrooms, dining rooms, expansive great rooms with extensive views of the city, and a private veranda with seating areas.
The Presidental Suite offers a private whirlpool overlooking the master bedroom and city lights.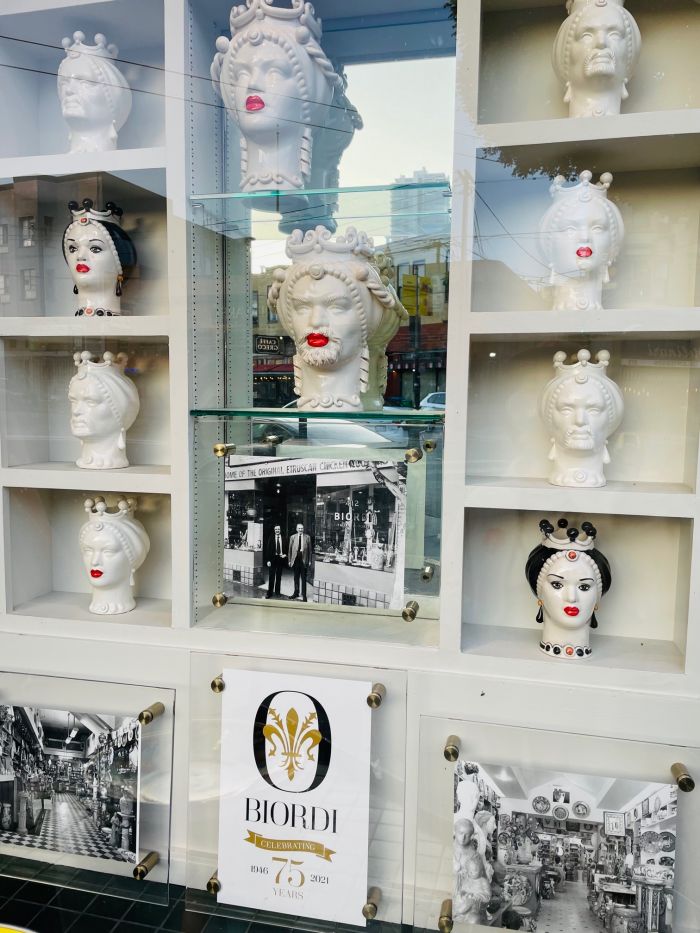 Jill Weinlein
Guests who reserve a 'Retail Respite' package receive a personalized shopping package and Club Level accommodations. Visit Saks Fifth Avenue on Union Square and receive a flute of champagne upon arrival at the Fifth Avenue Club. This package also includes a $100 gift card to use during a private shopping experience with a personal stylist. A complimentary delivery of guests' newly purchased items will be transported to the hotel.
Those seeking 'Respite Relaxation' can enjoy some Spa Time at the nearby Nordstrom Spa for a healing massage, luxurious body wrap or facial treatment while enjoying special guest perks.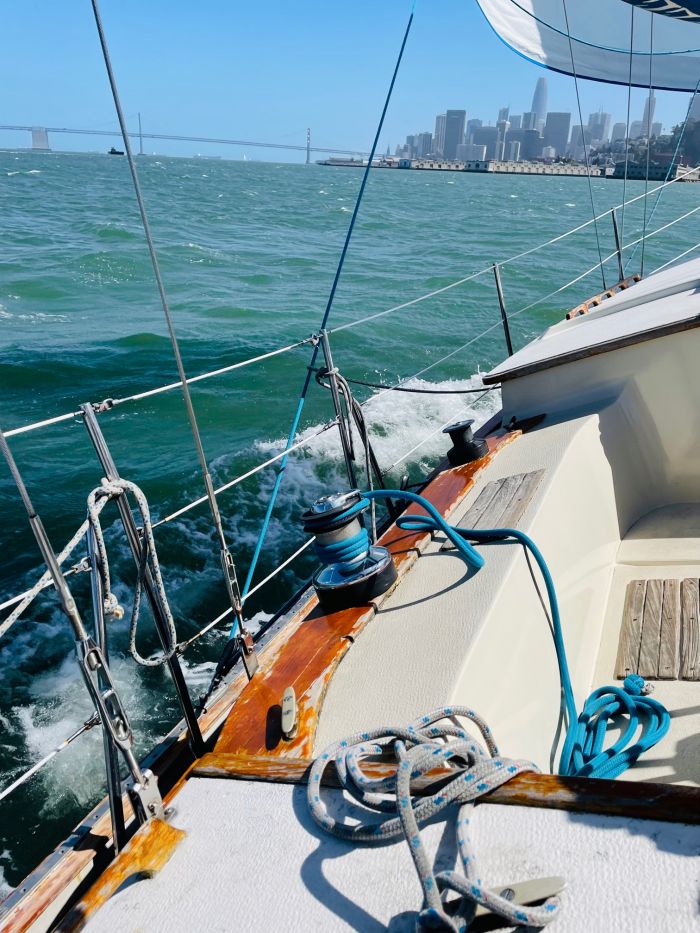 Jill Weinlein
The 'Recreation Respite' includes a 90-minute sail in the Bay from Pier 39 to the Golden Gate Bridge, around Alcatraz Island, down to the Ferry Building and back. The Captain and first mate from the San Francisco Sailing Company offer beer, wine and beverages for guests to enjoy up on deck while the sails are filled with wind.
Afterward one of The Ritz-Carlton San Francisco motor coaches will return guests back to the hotel or take a walk and explore various neighborhoods while venturing back to the hotel, including Fisherman's Wharf, Coit Tower, North Beach and Chinatown.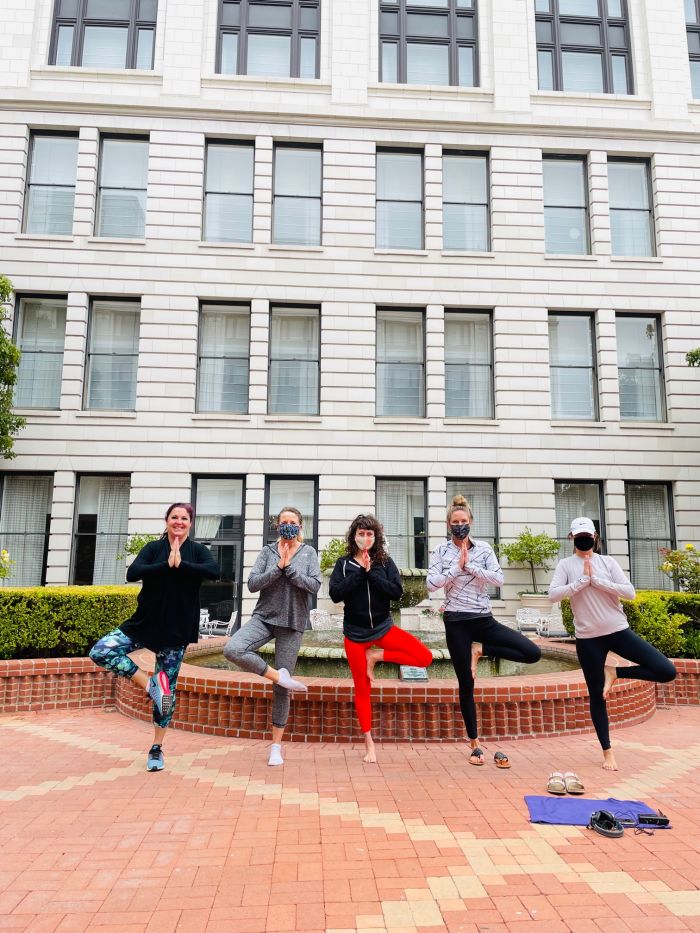 Jill Weinlein
Other 'Recreational Respite' activities include 'silent disco' yoga to breathe, pose, and meditate in the hotel's serene garden courtyard. An Outdoor Yoga SF guide leads hotel guests in this complimentary workout on weekend mornings. Headphones, towels, water, sanitizer and yoga mats are provided.
One-on-One Fitness is a unique experience at the hotel with one of San Francisco's top-rated personal trainers and local experts. Coach B from The City is Our Gym personalizes a workout while exploring the beautiful scenery with every step and movement.
Qigong and Tai Chi are available to individuals and groups of up to five staying at the hotel. Achieve inner balance and harmony through a private session led by local Qigong and Tai Chi master Rebecca Grossbard.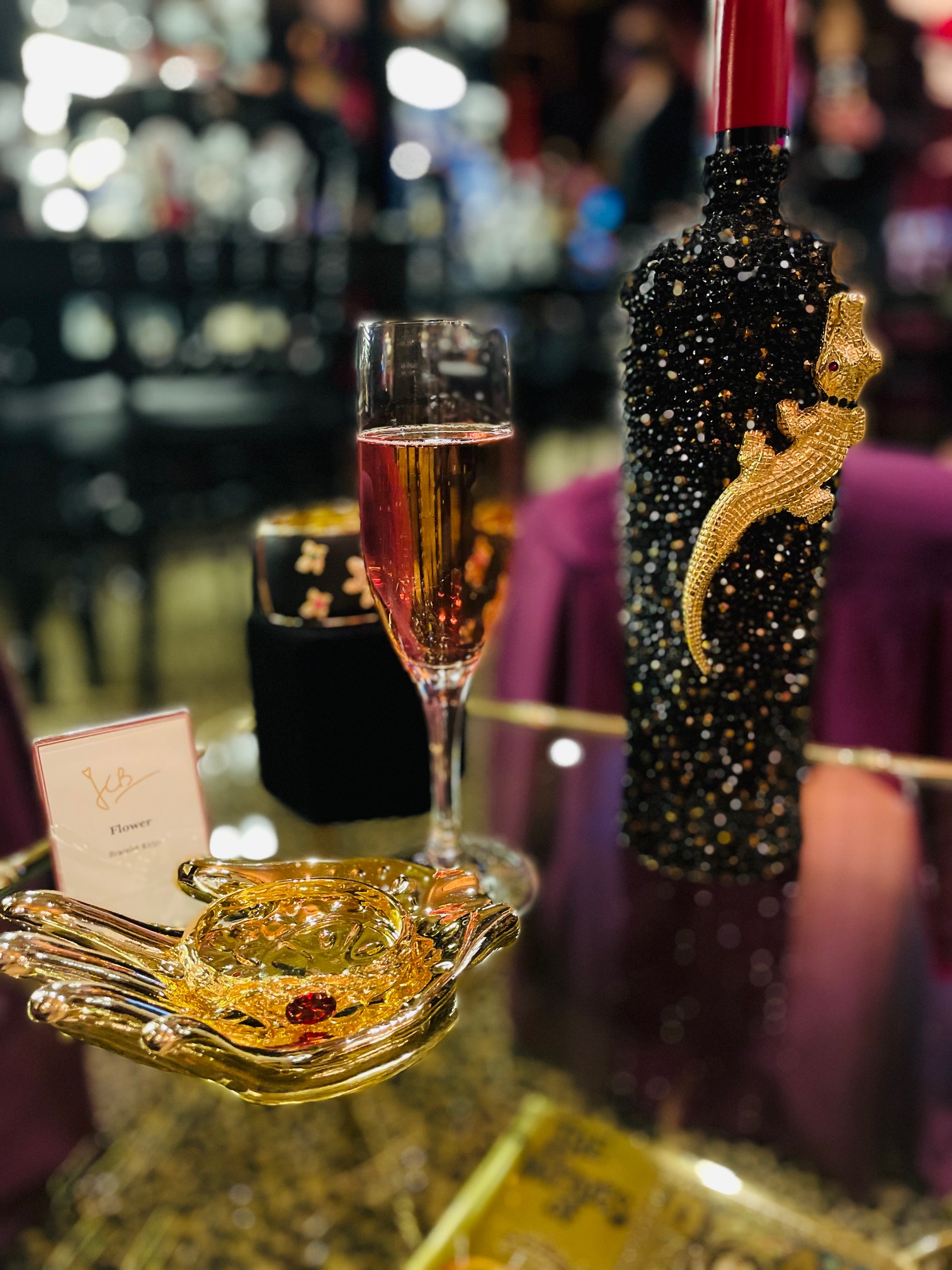 Jill Weinlein
For a 'Respite Refresh' indulge and learn about one of the most fascinating winemakers, Jean-Charles Boisset at the JCB Tasting Lounge. What was once a luggage room at the hotel, is now the city's most opulent wine tasting boutique. This legendary French winemaker owns Lyeth Estates, Domaine de la Vougeraie, DeLoach Vineyards, Raymond Vineyards, Buena Vista Winery, and JCB by Jean-Charles Boisset.
This private jewel-box looking space off of the lobby is open by reservation and available for up to 20 guests. Fine wines poured include limited wines within the Boisset Collection. Guests can pair the wines with cheese and charcuterie boards prepared at Parallel 37 and delivered to the lounge.
The vibrant interior is also a jewelry and gift shop selling JCB-branded custom-designed jewelry, candles, and perfumes, as well as Baccarat and luxury lifestyle books.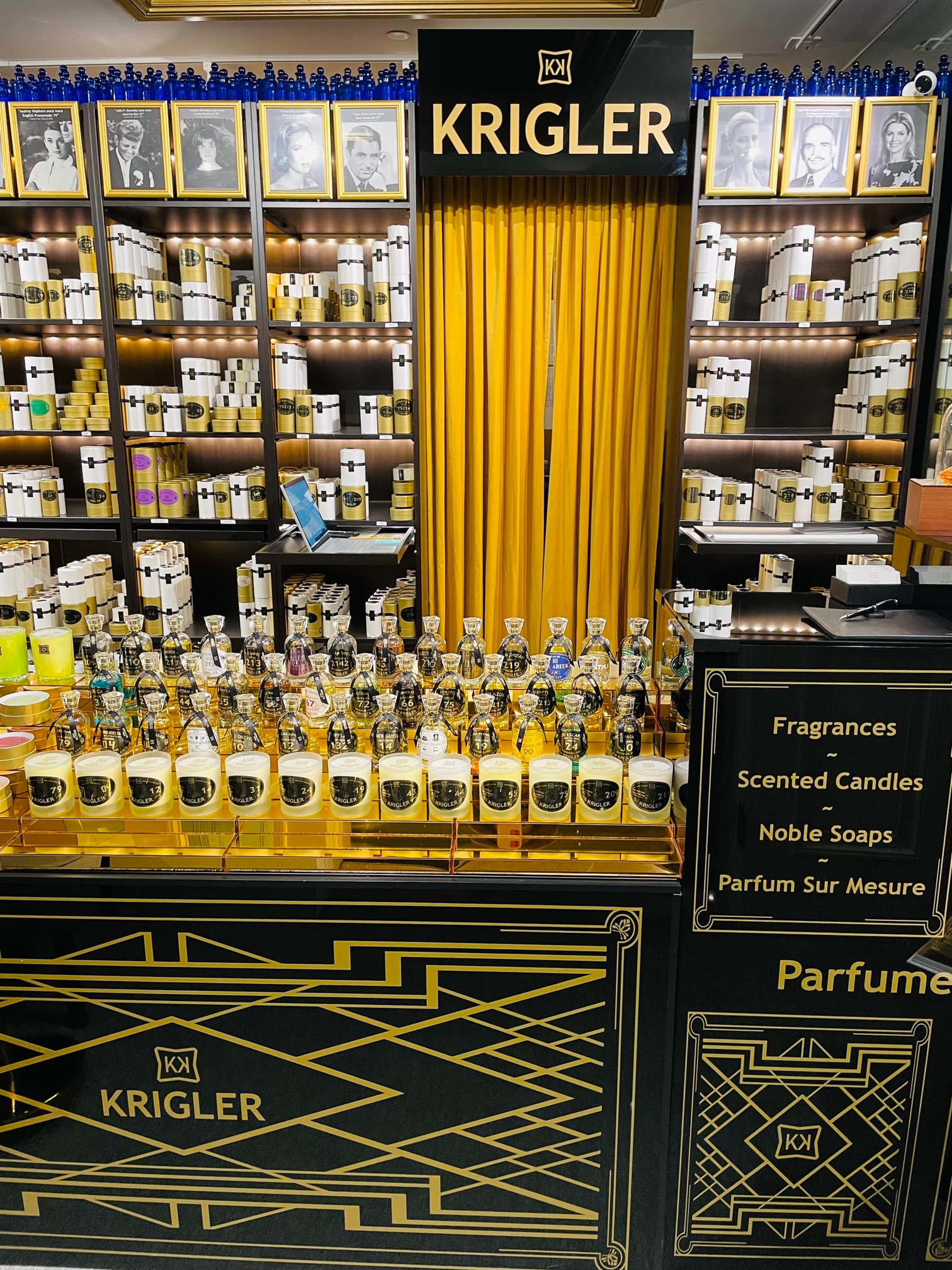 Jill Weinlein
Also off the grand lobby is the Krigler perfume shop offering memorable and fragrant scents and gifts. Step inside to learn the story about founder Albert Krigler and how he created his first perfume, Pleasure Gardenia 79, to show his dedication and love to his fiancee. This perfume is a lovely infusion of jasmine, gardenia and mimosa that he gave to his love as an engagement gift.
Krigler opened his first 'Haute Parfum' shop in 1904, and soon developed a clientele of wealthy, famous, and celebrity clients. He visited San Francisco for the first time in 1911, and now 110 years later, his great grandson Ben, the fifth generation of Kriglers continues to keep the family's honored tradition alive.
These inventive perfumes and colognes each have a number and fascinating tale. Guests can request sample fragrance cards to learn more about who inspired the scent and how it was created. Past and loyal clientele includes Princess Kate, Grace Kelly, Jackie Kennedy, Audrey Hepburn, John F. Kennedy, Ernest Hemingway, Princess Victoria of Sweden, and Princess Charlene of Monaco.
The boutique also offers soothing scented candles and delicate soaps. Other Krigler shops include Beverly Hills, New York, Palm Beach and Chicago.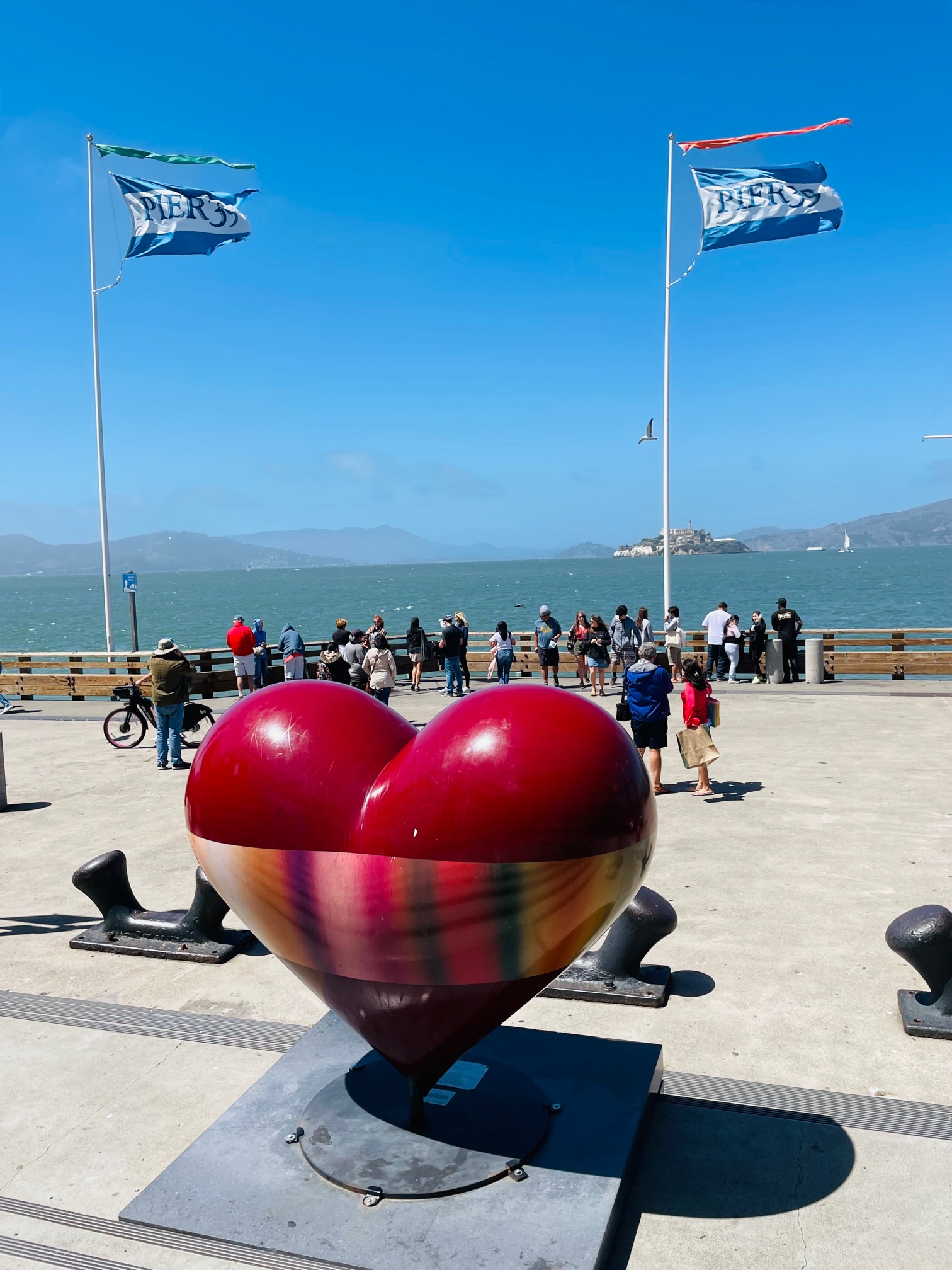 Jill Weinlein
The Ritz-Carlton San Francisco Respite Concierge provides a much needed recharge to help reset the mind, body and spirit.
To book a Retail Respite exclusive experience or Respite Concierge, contact the hotel's concierge desk at (415) 773-6189.