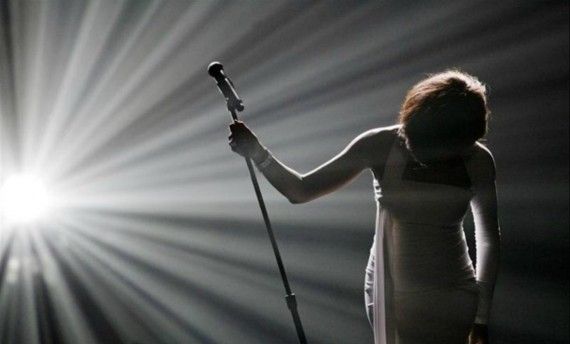 Washington Post
The Wedding of Whitney Houston: July 18, 1992
(Original Post: September 1992)

It was the wedding of the decade, the most talked-about celebrity event of the year, and the most coveted invitation of the summer social season.

On a smoldering July afternoon, superstar singer Whitney Houston and pop-soul star Bobby Brown exchanged wedding vows in a private ceremony on Houston's posh New Jersey estate. Witnessed by a small gathering of family and close friends, including dozens of celebrities and entertainment tycoons, the talented stars were pronounced husband and wife in a romantic garden gazebo adorned with 8,000 roses and hundreds of orchids, all in lavender and purple, the Grammy Award-winning bride's favorite colors.

Radiant in a form-fitting beaded, Lyon lace gown with a four-foot train and a beaded headpiece with floor-length beaded tulle, a teary-eyed Houston was escorted down the carpeted aisle--which led from a rear entrance of her $10 million home--by her father, John Houston, as a string orchestra played Mendelssohn's wedding march.

Houston's close friend, the Rev. Marvin Winans, a member of the popular gospel singing family, officiated at the 35-minute, double-ring ceremony. BeBe Winans sang "Enough Said," a song he composed especially for the couple a few days before the wedding. His brother, Daniel Winans, sang a song he had written for Houston years before he met her. Both songs were so touching that the bride and groom and many in the audience were moved to tears. Throughout the ceremony, the maid of honor, Robyn Crawford, had
to blot tears from the bride's eyes and cheeks.

Diane Johnson, who has been designing Houston's stage and personal wardrobes for years, co-designed the bridal gown with Marc Bouwer. "Whitney wanted to keep it a very simple design," says Johnson, who runs a boutique in East Orange, N.J., Houston's hometown. "The Lyon lace, imported from France, is the finest lace in the world. The lace made the dress." In addition, Johnson designed the groom's white double-breasted silk tuxedo and the bridesmaids' purple silk floor-length gowns with trains.

Among the attendants were two of Houston closest pals, recording artists Priscilla (CeCe) Winans Love and Perry (Pebbles) Reid. The best man, Brown's brother, Tommy, and the groomsmen, who included Houston's brother, Michael, were all attired in Johnson-designed purple tuxedos with matching purple alligator shoes that were custom-made in Italy. The four flower girls and three ring bearers were adorable in white and lavender.

"Purple is Whitney's favorite color," Johnson emphasizes. "She wanted everything in purple and lavender and white. She even decorates her Christmas tree in purple."

The couple exchanged identical platinum wedding bands. Hers had the words "Love, Bobby" in cut-out script, while his read, "Love, Whitney."

After Brown enthusiastically declared, "I do!!" and the couple were pronounced husband and wife, the guests were awed as seven white doves were released outside the gazebo. The couple then sealed the union with a long, passionate kiss during which Brown literally lifted his bride into the air as the jubilant guests applauded.

Afterwards, the newlyweds entertained 800 guests at a lavish wedding reception hosted in a huge air-conditioned, carpeted ballroom tent constructed on Houston's lawn above the swimming pool. Lavender and purple fabrics draped the ceiling and lined the tent, giving the illusion of an Arabian palace. Some 15,000 lilac and purple dendrobium orchids decorated support columns, entrances and exits. Each of the 84 tables in the dining tent, one of seven set up for the affair, was clothed and beribboned in three layers of lavender ribbed satin that highlighted the elaborate centerpieces. The floral arrangements included blue roses and cattleya orchids in shades of lavender and purple. Candles in hurricane glasses created a warm, romantic glow that contrasted with the elaborate and effective light and sound show. Guests identified their tables by silver-trimmed white cards with phrases, such as "Lover For Life" and "Love Obsession," scripted in lavender.

The sit-down dinner was opulent but relaxed, for in between courses the formally attired guests boogied on the purple and white oval dance floor to music programmed by David Cole and Robert Clivilles of C + C Music Factory. The menu included chilled peach soup, grilled chateaubriand, jersey chicken breasts stuffed with collard greens, and grilled herbed vegetables. For dessert, there were fresh berries, an assortment of chocolate delicacies,
as well as slices of the six-tiered, 18-layered wedding cake. The architectural confection, decorated with hand-molded lavender sugar violets, had alternating layers of strawberry lemon mousse and banana cake. An army of waiters kept glasses filled with Dom Perignon and Cristal champagne throughout the evening.

The wealthy couple had requested that in lieu of gifts, guests make donations to the Whitney Houston Foundation For Children.

Among the nuptial guests were some of the biggest and wealthiest names in show business and beyond, including Clive Davis, president of Houston's Arista Records, and Al Teller, president of Brown's MCA Records. Also enjoying the festivities were Phylicia Rashad, Patti LaBelle, Gladys Knight, Dionne Warwick (Whitney's cousin), Jasmine Guy, Antonio (L.A.) Reid, Kenneth (Babyface) Edmonds, Donald Trump, Dick Clark, Charles Dutton and his wife, Debbi Morgan, Keenen Ivory Wayans, Blair Underwood, Clifton Davis, Teddy Riley, Isiah Thomas, Gloria Estefan, Malcolm-Jamal Warner and his mother-manager, Pamela Warner, Meli'sa Morgan, Milira, Heavy D., Valerie Simpson, Freddie Jackson, and Bobby Brown's former New Edition cohorts, Johnny Gill, Ricky Bell,
Michael Bivins and Ronnie DeVoe.

Brown and Houston met three years ago backstage at the Soul Train Music Awards. Romantic sparks ignited immediately and Brown was invited to Houston's star-studded 26th birthday party at her estate in 1989. At the time, she was dating Eddie Murphy, who gave her a huge diamond ring for her birthday. Houston later dated Randall Cunningham, who also attended the wedding. About a year ago Houston and Brown became a loving twosome and wedding plans started to gel.

In the meantime, Houston recently finished filming her debut movie, The Bodyguard, in which she co-stars with handsome, acclaimed actor Kevin Costner. The film is scheduled for release during the upcoming holiday season, and initial reports predict that Houston has a very promising future in Hollywood. That is, if she chooses to focus on movies rather than, or in addition to, the successful and lucrative recording career she already has established. Houston's 1985 album became the all-time best-selling debut ever by a solo
artist, selling 13 million copies. Her three albums have sold more than 39 million copies worldwide, and she is the only artist to achieve seven consecutive No. 1 hits.

The groom also is a successful recording artist. He started his career as a teen with the popular New Edition group, and achieved worldwide star status in 1988 with his second solo CD, Don't Be Cruel, which was a groundbreaking recording in the new jack swing hip-hop genre. The CD, which included the smash hit, "My Prerogative," rose to the No. 1 spot on Billboard's charts and sold 8 million copies. Brown's anxiously anticipated follow-up CD was released in August; the first single, "Humpin' Around" in which he declares, "Ain't nobody humping around," was released within a few days of the wedding.

Many fans and acquaintances of the pair confess they don't quite understand how the elegant, sophisticated Whitney Houston romantically connected with the street-wise, Boston-bred performer who has established quite a reputation as a womanizer. But those close to the couple say the magnetism that propelled the two to marriage could not be denied. Brown says it was love at first sight. "I may be a B-boy and she's America's sweetheart, but it's love," he says. "When it happens, you have to grab it. You can't let it go, no matter what anybody else thinks...Whitney is a real Black woman. That's what really drew me to her. She's beautiful, not just outside but inside," he says, adding that his bride "has some B-girl in her as well."

The newlyweds' happiness was quite evident during the reception as they danced cheek to cheek, sipped champagne, mingled with guests and playfully squished cake in each other's faces and then licked it off. The last guests did not leave until 2 a.m., some 12 hours after the festivities began.

The following morning, Brown and Houston flew on the Concorde to Europe for a 10-day Mediterranean cruise aboard a luxurious 140-foot yacht with a crew of nine. The honeymoon was a wedding gift from Arista and MCA.

Upon their return, the talented duo directed their focus, at least partially, to their careers, for Brown has a new album to promote and a tour to plan, and Houston is finishing the soundtrack to her upcoming movie. In the months and years to come, their fans can look forward to the talented couple making harmonious music together. For as they express so well on their soon-to-be released duet on Brown's new album, Bobby, they certainly have "Something In Common."

View original post at http://www.classicwhitney.com/interview/ebony_sep1992.htm
Washington Post
Wedding of Whitney Houston