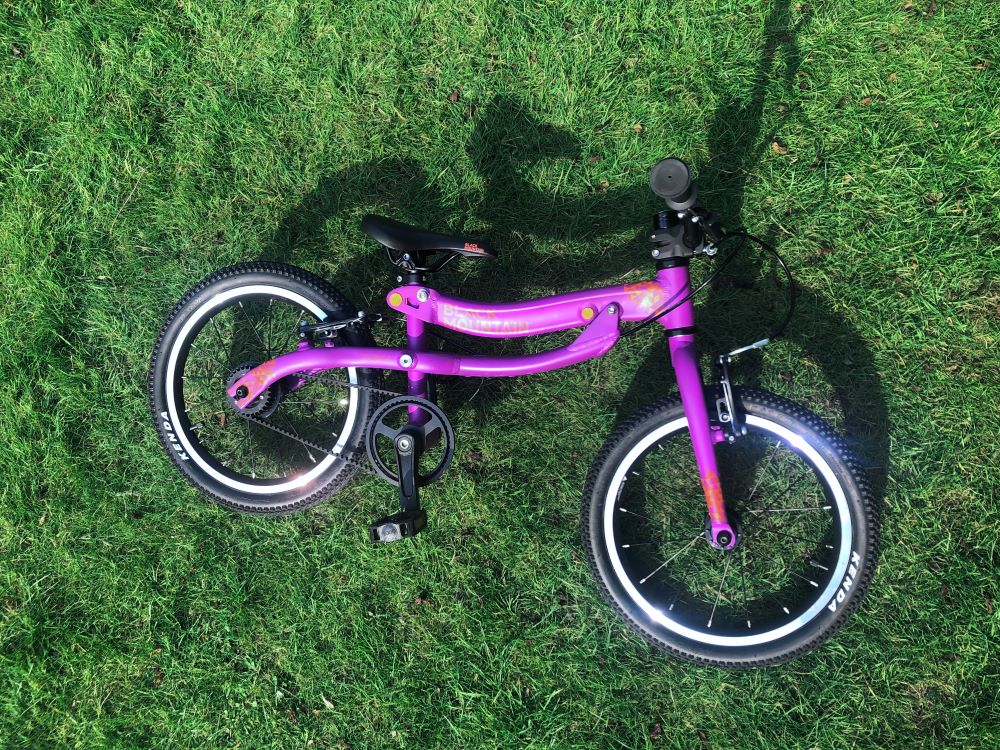 Elisabeth Rushton
One of the great joys of being a parent is teaching your child to ride a bike. It can, however, be costly: children have an irritating habit of growing, incessantly. No sooner have you shelled out for a balance bike for your toddler, you find yourself back at the bike shop for a bigger one with pedals. Not only is this an expensive predicament, it is also environmentally problematic.
Fortunately, Black Mountain Bikes, based in Raglan, Monmouthshire, has devised an ingenious solution: a bike that grows with your child, enlarging its frame as your child expands theirs. Through a series of straightforward modifications and astute add-ons, the bike can be adjusted to fit them as they get bigger.
There are four bikes in the Black Mountain EPOK™Series: the PINTO, SKØG, KAPEL, and HÜTTO, each of which use the company's unique, patented UP:SCALE growing frame system. The smaller PINTO and SKØG models begin life in balance mode. The PowerPack of pedals, gears and cranks can be used to convert them into mid-size bikes, and ultimately the frame can be reconfigured to stretch it into a larger bike. The KAPEL and HÜTTO are lightweight pedal bikes, which can be set up as balance bikes with optional balance kits. All the models are hard-wearing and colorful, with Kenda tires, scaled-down componentry and lightweight frames (the SKØG weighs 6.1kg). Micro-adjust Tektro brakes and an innovative drivetrain featuring an oil-free polymer belt mean maintenance is low, while thrills remain high. In technical terms, it is arguably the most advanced kids' bike on the market.
With each of the four models, your child doesn't need to 'grow into it' – you simply dial the bike down to fit them properly from the outset, then as they grow and get stronger, it expands and develops with them, fitting better and lasting longer than any other kids' bike. There is a helpful Bike Selector tool on the Black Mountain website that indicates which bike would be appropriate for your child (height being the key determinant). The company's customer service is second to none, and soon after we placed an order online for a SKØG for our four-year-old daughter Ophelia, I received a call from Wes, an engineer in the Black Mountain workshop. He checked that the SKØG would be the best model for her based on her age, height and previous cycling experience. Having confirmed that it was, he asked whether we would prefer to receive the bike in balance bike or pedal mode and established which day would be most convenient for delivery. The close attention to detail, and very human element in the ordering process, was really reassuring and professional.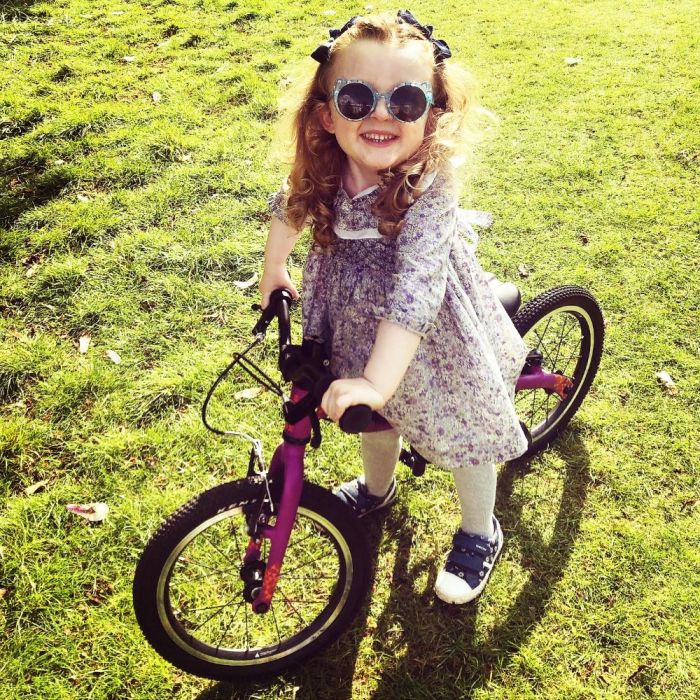 Ophelia beaming with delight on her beloved purple SKØG.
My positive pre-sale impression of Black Mountain bikes was reinforced upon the SKØG's arrival. The bike, in common with the other three models within the EPOK™ family, has been meticulously designed and comprises over 100 individual components, each of which has been specifically sourced, modified, or designed by Andy Lloyd and Greg Hampton (the Founder and Lead Designer, respectively). Andy is a manufacturer and engineer whose background lies in Formula 1 and MotoGP. Inspired by the inadequacy of his son's first dismal 'disposable toy' high-street bike, Andy'smission statement was to design and build the best bike a child can get, with the express aim to make a lightweight bike that would outlast more than one 'growing year'. His significant engineering expertise has been harnessed to create the bikes in the Black Mountain range.
The key design feature that underpins the bikes and which sets them apart from any higher-end kids' bike on the market is the 'growing triangle' frame – an idea that Andy scribbled down on the back of an inflight magazine in 2012. As well as growing the frame, you can also adjust the gearing to be more appropriate for a taller and stronger child. These patented concepts – aptly named UP:SCALE and IN:GEAR – in conjunction with all of the pioneering technology that Andy and Greg have implemented, have coalesced to produce the ultimate kid's bike.
Ophelia had spent the past year pootling around on a balance bike, but was begging for a bike with pedals. We took delivery of the SKØG in balance mode (which is recommended – to help the child get the feel of the bike and to practice using the brakes, which most balance bikes don't have). After a couple of rides, we decided to add the pedals. My husband and I watched a helpful, step-by-step video on the Black Mountain website that demonstrates how to do this. The manual included in the PowerPack was also helpful and clear, and the conversion process took around 20 minutes.
The speed with which Ophelia learned to ride was truly astounding, and I credit the state-of-the-art build of the SKØG, with its super maneuverability, for how quickly and effortlessly she got the hang of it – not a stabilizer in sight. She flies around on her beloved purple bike whilst many of her peers (she has only just turned four) are still on balance bikes. It is, without doubt, her favorite mode of transport (it has wholly supplanted her scooter) and is her pride and joy.
At £349, the initial outlay for the SKØG at first glance is high, but when you take into account that it obviates the need to buy separate balance, 14" and 16" bikes, it is actually extremely good value. In addition, the three-year warranty is "transferable" meaning that if you sell the bike on within the first three years, the warranty is valid for the new owner. Furthermore, the environmental footprint is greatly reduced, since the amount of raw material employed in production is limited, and the waste created when the bike is disposed of is also reduced. The company's eco-credentials extend to the packaging: no single-use plastic is included.
I have been impressed with every aspect of my interaction with Black Mountain Bikes: from my initial contact to the delivery, and after-sale care (Wes called up after we received the bike to make sure that we were happy with everything.) The entrepreneurship, gold-plated customer service and outstanding product make this company a real pleasure to do business with. Prior to placing my order, I had pored over the unanimously glowing reviews from delighted customers based all over the world. I am pleased to report that my excellent experience mirrored theirs.
Black Mountain are a direct to customer business, so you can only make a purchase from their website. If you're passing their headquarters in the Welsh Blac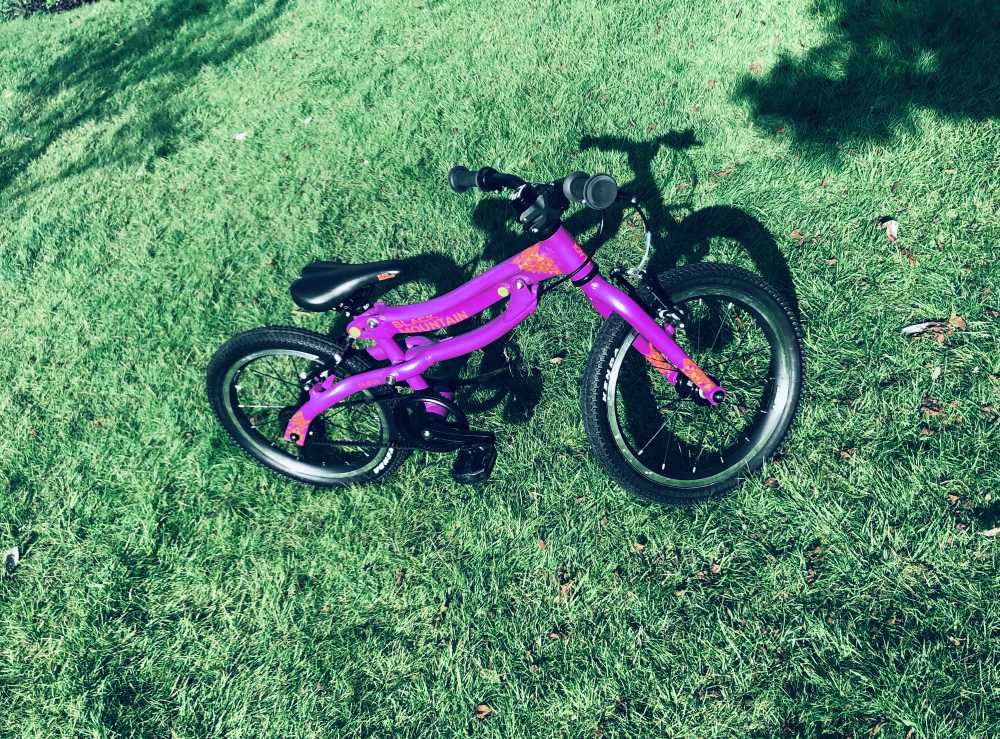 Elisabeth Rushton
Despite the fact that Ophelia has ridden this bike almost every day for the past three months (and decked it more times than I care to recall!) it looks immaculate. The paintwork quality on Black Mountain Bikes is exceptional.