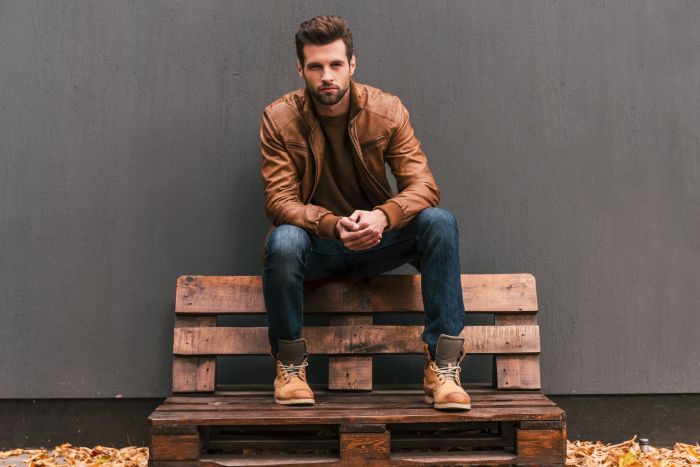 Photo Credit: Shutterstock
Fashion is timeless and this fact is proved over and over again by the variety of fashion trends that are dominating the world. It's a changing game, with trends that are constantly evolving. Outfits and articles that were considered to be 'out of fashion' last year are dominating the scene again, which eventually calls for a closet revamp.
Men's fashion trends for 2022 are everything about relaxed style, bold and bright colors, fitting in by standing out, and of course leather jacket. For a lot of males, fashion can be a bit too much to implement, hence the reason why they detach themselves from it. However, that's where we fit in. We have prepared a definitive guide for males who feel overwhelmed by the constantly evolving fashion trends.
Preppy Style
For casual wear, a preppy style outfit is a must, especially if it's summer. This particular style has effectively made quite a comeback and is one of the biggest fashion trends this year. Preppy outfits are defined as a put-together aesthetic with crisp and seemingly polished pieces such as polos, khakis, collared shirts, tailored blazers, etc. If you're looking to incorporate this American aesthetic into your wardrobe, simply pair a sun-washed striped polo with khaki shorts in grey or navy. To finish up your outfit, slide on a pair of white sneakers, and there you have it, the ultimate preppy look.
If you want to polish your outfit and dress up for an occasion that requires finesse, like weddings or a formal get-together, go for a striped button-down with slacks. Slip-on a blazer and you're ready to woo the ladies with your outfit.
Gorpcore
Worn by a wide range of celebrities, this style was first brought to light in 2017. Gorpcore streetwear for men is inspired by hiking and other nature-minded activities. It is a type of aesthetic that makes fleece jackets and hiking outerwear a style staple. A fun fact about the term gorpcore is that the phrase is derived from the staple food source for hikers all over the world: "Good ol' Raisins and Peanuts". This style is the perfect mixture of hiking gear, fashion colors, and stylish silhouettes. If you're wondering how gear meant for such tedious activities can be incorporated into your summer wardrobe, we're here for you.
The key point here is to opt for breathable, lightweight, and UV protection fabrics because of the unbearable summer heat. Go from lounging in a cafe to hiking with maximum comfort in jogger pants, any graphic tee, and of course the most important: hiking boots. Take a lightweight jacket, like a Bomber Jacket for Men's, if the air gets chilly and you're good to go.
Sweater Vests
Sweater vests, which were once referred to as the clothing of nerds, teachers, and professors, are one of the leading fashion trends for men in 2022. This nerdy styled outerwear is receiving a huge amount of attention from both the Millenials and the Gen Z'ers. For the past few decades, sweater vests were not exactly the best in reputation, especially in fashion. In the 1950's they were used as the go-to layering item for males who wanted to achieve the preppy look. In the 1970s the sweater vest became a widely popular accessory for both men and women. However, by the 1990s, the sweater vest lost its flair and was considered too outdated and grandpa-ish to be considered amongst a plethora of cooler outfits.
In addition to this, the characters on TV who wore sweater vests were often stereo-typed to be either nerdy or uncool, making the article lose its street credentials. The current obsession with sweater vests stems from the demand for androgynous fashion with stars like Jennie Kim, Harry Styles, and Taehyung Kim hopping on the bandwagon.
The best way to incorporate sweater vests into your outfit is to wear them with a button-down shirt and trousers. Depending on your personal preference, you can either tuck in the shirt or leave it out as long as the shirt is not long. Slide on loafers or boots and you're ready for the day.
90s Streetwear
Does anyone remember the 90s fashion? Tight-fitting nylon shirts, vests, bell bottoms, studded belts, varsity jackets, and much more. The 90s fashion is often referred to as the Golden Decade of Fashion because of its unique aesthetic and similarly bizarre style. Safe to say, the 90s fashion has successfully made quite a comeback in 2022, with letterman jackets and baggy jeans on the frontline. Many well-reputed fashion shows like Louis Vuitton and Balenciaga featured lettermen jackets as well as baggy jeans with both the guests and runway models adorning the 90s articles.
You can also add the 90s aesthetic into your wardrobe by pairing a varsity jacket with a cozy hoodie or a crewneck. The best way to wear baggy jeans is to pair them with a white tee and a varsity jacket. There you have it, the perfect 90s combo and the nostalgia hits in 3,2,1.
Gilets
A gilet, also known as a body warmer or vest in the US, is a sleeveless and straight-sided jacket commonly worn on chilly days to provide extra warmth. Available in a lot of different designs, ranging from woolen and padded to quilted or fleecy, gilets have caused quite a ruckus in the fashion world this year. The word 'gilet' comes from the Turkish word yelek. However, a lot of other research relates it to the French noun- le gilet - which means cardigan.
Gilet's increased popularity is mainly due to its versatility as a garment that is inherently practical and can be added and subtracted to an outfit with incredible ease. Its added charm is the fact that it's sleeveless which gives complete independence to the arms to do whatever they want.
For casual wear, incorporate a gilet on top of either a tee or a crewneck. Choosing the gilet in neutral colors like navy, beige, or brown allows you to pair it with everything in your wardrobe. However, if you plan to wear a gilet on formal occasions, simply wear it under a coat or a blazer and complete your outfit with trousers and loafers.
To Conclude
We have provided you with a list of the most popular fashion trends that are dominating the world in 2022. This year's fashion is all about standing out in a crowd but maintaining your individuality. According to your preference, you can incorporate these items into your wardrobe the way we discussed or you can add your personal touch to the outfit, that's entirely upto you.
Remember to always be creative and project that creativity and imagination into your outfits to make them unique and bold.