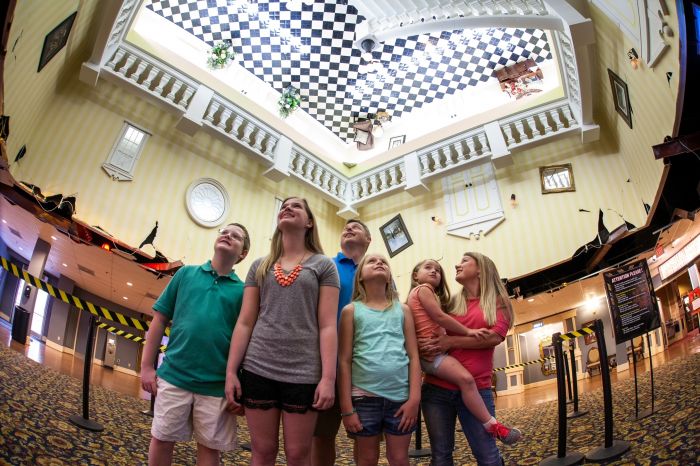 Photo courtesy of WonderWorks Pigeon Forge
Many people are considering where they should go during the holiday season, especially when the kids are out of school for winter break. There are a lot of good reasons to consider visiting the Pigeon Forge and Gatlinburg areas this December. This season, the Pigeon Forge area will give people plenty to do, see, and feel, making it the perfect destination for all.
"The more you learn about all the great things going on in this area during December, the more you will want to make it your next family destination," explains Joe Baumgartner, general manager for WonderWorks Pigeon Forge. "Whether you are coming from another state or from an hour away, you are sure to have a great time and enjoy your stay."
The atmosphere and activities are abound in the Pigeon Forge and Gatlinburg area, providing a great place to make family memories. Here are the top 5 reasons to visit the area this December:
Winterfest. Pigeon Forge Winterfest is a family fun time that is a true winter wonderland. The fest is filled with twinkling lights, events, trolley tours, holiday shows, and much more.
Holiday events. The area is filled with holiday events that are sure to please everyone, including parades, holiday light display tours, and southern winter charm. Visitors from all walks of life love experiencing the holiday season in the mountains.
Family fun opportunities. Pigeon Forge and Gatlinburg offer many opportunities for families to have fun. One of the most popular stops is WonderWorks Pigeon Forge, which is an indoor theme park, providing people with loads of interactive exhibits and attractions.
Snow activities. Many people like to experience the snow in December and will travel even from Florida to visit to be a part of it. The area offers some great snow activities in December, including ice-skating, snow tubing, snowboarding, and skiing. Another option is to rent a cabin and see the snow while cozy in front of the fireplace.
Lights galore. The area is filled with Christmas lights every December. There are lights in the parade, a festival of trees, lights over Gatlinburg, and more. Whether you want to drive around and look at lights or take a trolley tour, they are sure to delight.
"We are excited about the holiday season being upon us, and we look forward to all the families that will be making great memories in our area," added Baumgartner. "We look forward to being a part of their trip!"
There is currently a traveling exhibit at WonderWorks Pigeon Forge. The exhibit, titled Cruisin '66, features preserved artifacts and information about the famous Route 66. Visitors can learn the cultural and historical aspect of this famous route that people used to travel across the country. To get more information on the exhibit, visit the site at: https://www.wonderworksonline.com/pigeon-forge/traveling-exhibits/.
WonderWorks in Pigeon Forge offers 35,000 square feet of "edu-tainment," billing itself as an amusement park for the mind. It offers over 100 hands-on exhibits covering natural disasters, space discovery, imagination, physical challenge, a far-out art gallery and a light and sound zone. For more information, visit: https://www.wonderworksonline.com/pigeon-forge/.