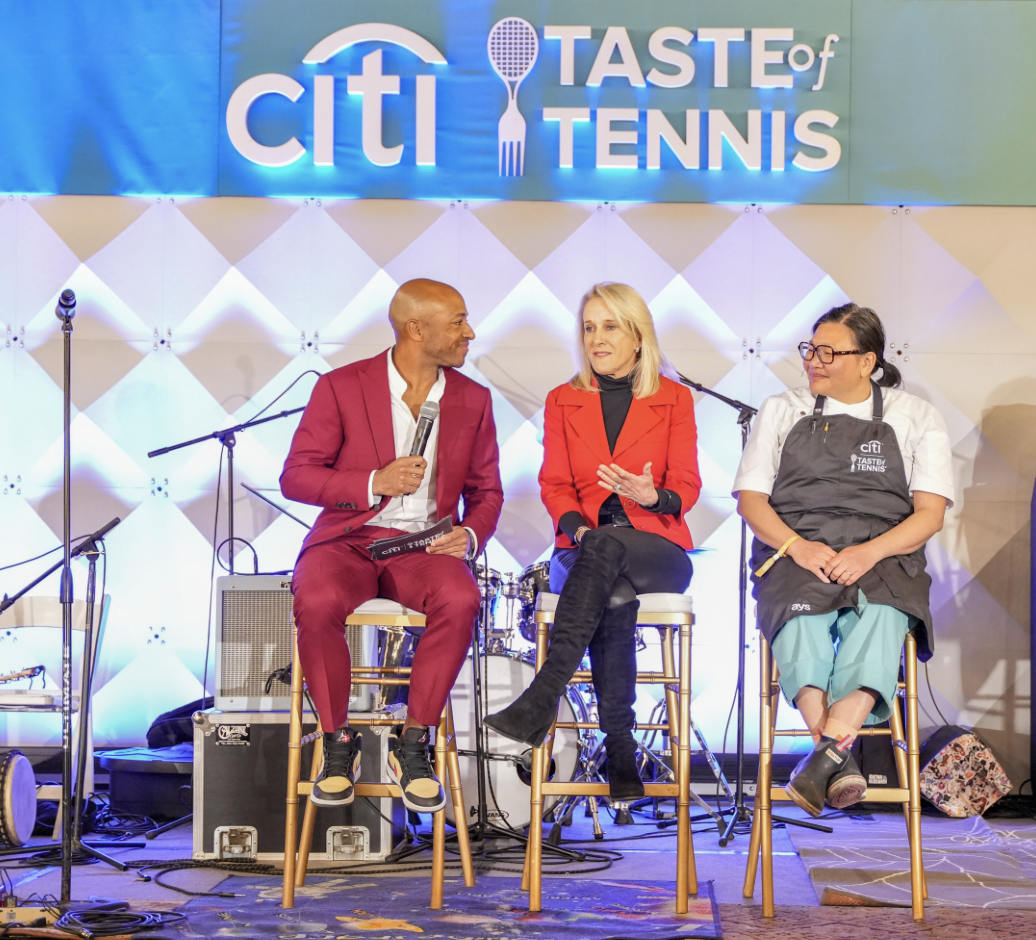 Photo of Citi Taste of Tennis
Citi Taste of Tennis is a culinary kick off event that brings the world's top tennis players and leading chefs together before a major tennis tournament.
The first night of the BNP Paribas Open at the Indian Wells Tennis Garden, some of the most talented culinary teams, beverage and spirits representatives provided a festive and entertaining feast for tennis players and tennis fans.
Located on the back lawn of the Hyatt Regency Indian Wells Resort & Spa, tennis legend Tracy Austin was one of the invited hosts of the event. Besides attending a cooking demonstration with Michelin Star Chef Minh Phan, Austin enlightened guests at a Fireside Chat. This three-time Grand Slam winner, and former world #1 tennis player earned the women's singles titles twice at the age of 16 and 18.
She shared in an interview that the key to her success was her mental game. "My serve wasn't the best, but I had a mental toughness," she said. "Life was busy for me, I was on the cover of Sports Illustrated in 1979, as the youngest Open winner. When you are a champion, there are a lot of demands on your life. There is more pressure and expectations."
When asked about the tennis sensation Coco Gauff, who won her first WTA Tour singles title at the age of 15, Austin replied, "She has such promising talent."
Austin got her start in tennis at a very young age, while her mother worked at the Jack Kramer Club in Rolling Hills Estates. "I was the youngest of five kids and picked up a racquet early," said Austin. Other tennis champions who were members of the club included Pete Sampras and Lindsay Davenport.
She owes her success to her mom. "My mom helped me become a champion. She would drive me to tournaments and offered encouragment."
Even though her championship career was derailed at the age of 25 from a car accident, she said, "It changed my life perspective." She became a tennis commentator and a mother to three boys. Her son Brandon Holt is rising in professional tennis, having played on the USC Tennis Team. Practicing with him earlier in the day before an upcoming match, she is excited he is playing at BNP Paribas Open in Indian Wells. "As a mother, there is only so much I can say. It's a fine line offering advice."
When asked what advice she gives to people looking to take up tennis, Austin said, "Tennis is a life long sport. It's social and the best way to get started is taking some lessons to develop good technique and then practice. Playing on a high school team gets you out playing three to four times or more a week."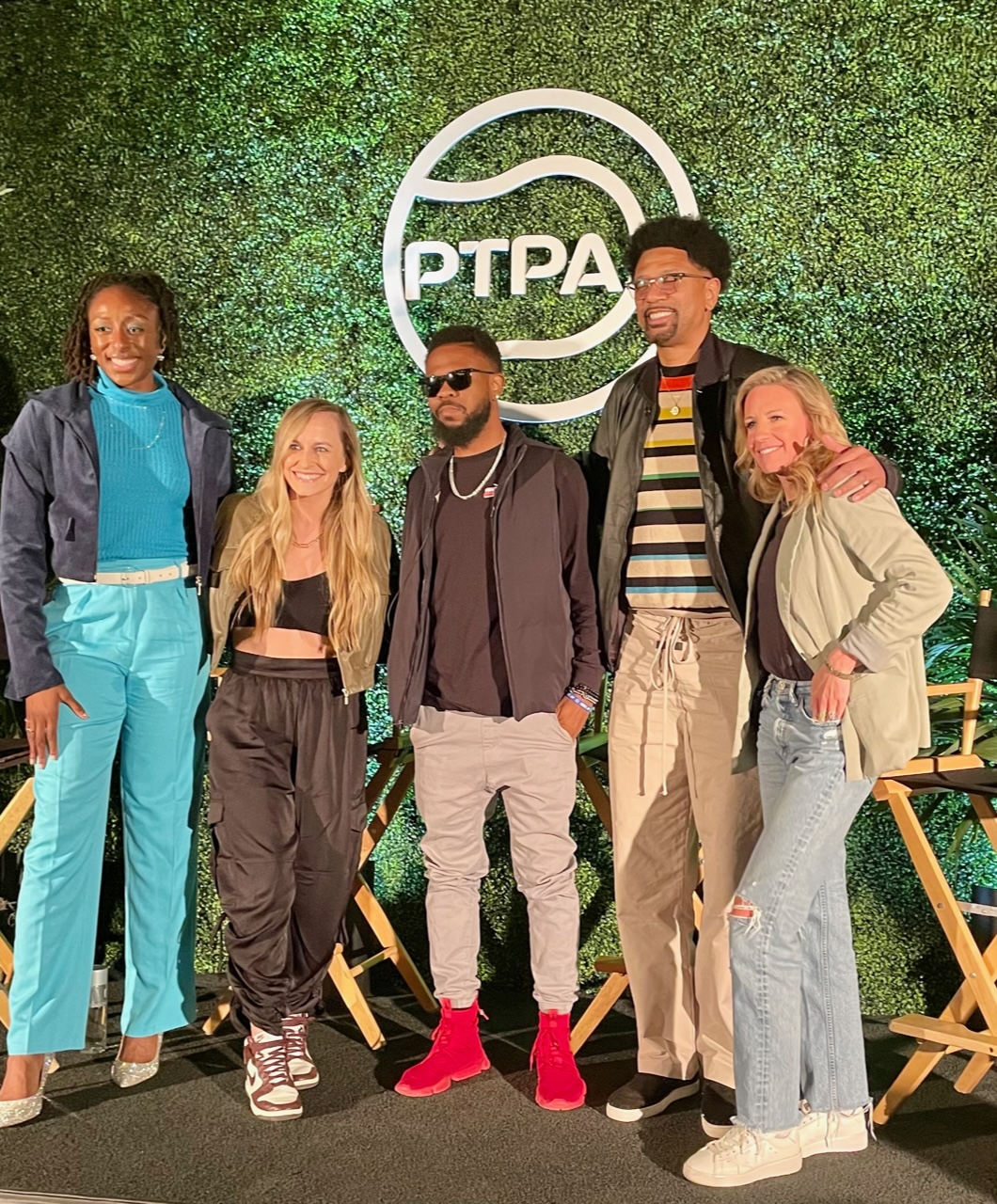 Jill Weinlein
Another part of the evening festivities included a VIP hour presented by PTPA (Professional Tennis Players Association) that enlightened players and fans by providing throughtful advice about the game, and how to plan ahead for when you retire.
US Women's National Team legend Aly Wagner, broadcaster for CBS Sports and Fox Sports, and co-owner of Queensboro FC (USL soccer team) moderated the presentation.
Featured speakers included Grammy Award-winning rapper Chamillionaire, the CEO of Access Club and investor in 60+ tech companies; Jacquelyn Dahl, founder and CEO of 1UP Sports Marketing, and marketing agent for premier athletes including Patrick Mahomes and Alex Morgan; Nneka Ogwumike, 2016 WNBA MVP and Champion basketball player, and President of the WNBA Players Association; and NBA basketball legend Jalen Rose, ESPN analyst, Founder of Jalen Rose Foundation/Charitable Fund and Jalen Rose Leadership Academy.
This dynamic panel urged players to take advantage of their success. 'When you are on the top of your game, market yourself and get as many sponsorships that you can. The minute you stop winning, opportunities will drop.'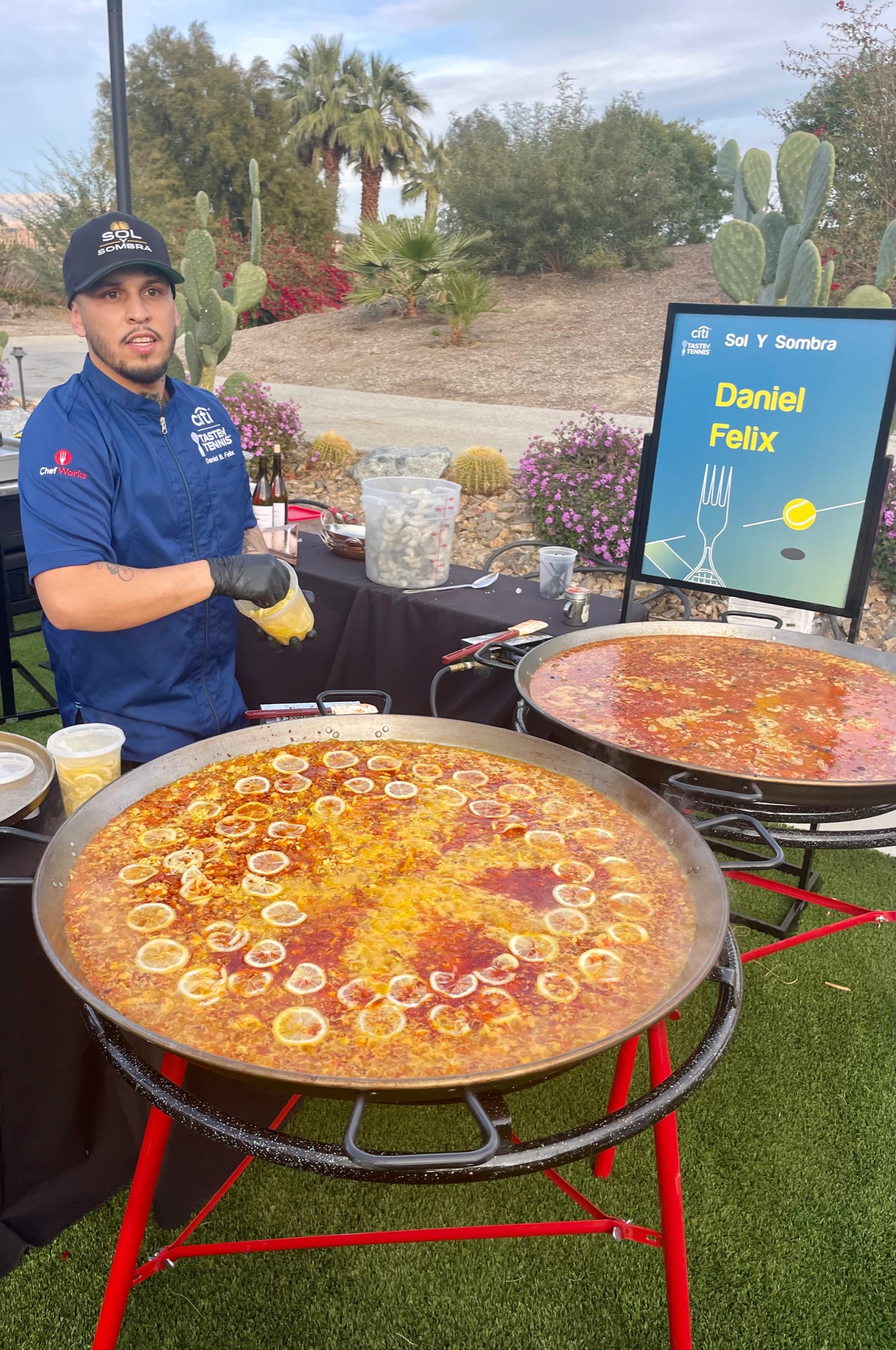 Jill Weinlein
The party site was filled with appealing aromas from some of the best chefs in the Coachella Valley. They were preparing their favorite dishes out in the open desert air. Ticket holders and invited guests enjoyed small Servin' It Up Citi Style plates. Chef Daniel Rodriguez from Sol Y Sombra was making Paella Tierra y Mar (Surf & Turf); Andie Hubka from Cork & Fork served Blue Cheese stuffed Dates and Mexican Street Corn Salad. Juan Leon from VUE made a vegan bowl and meaty brochettes.
Other favorite chefs included Hervé Glin from PGA West Golf and Resorts making a delicious French inspired cheese ravioli and watercress and pear salad with cream of gorgonzola dressing. Jon Butler from The Penney & Parlour made Japanese sweet potato and embered seaweed and cured sea bream.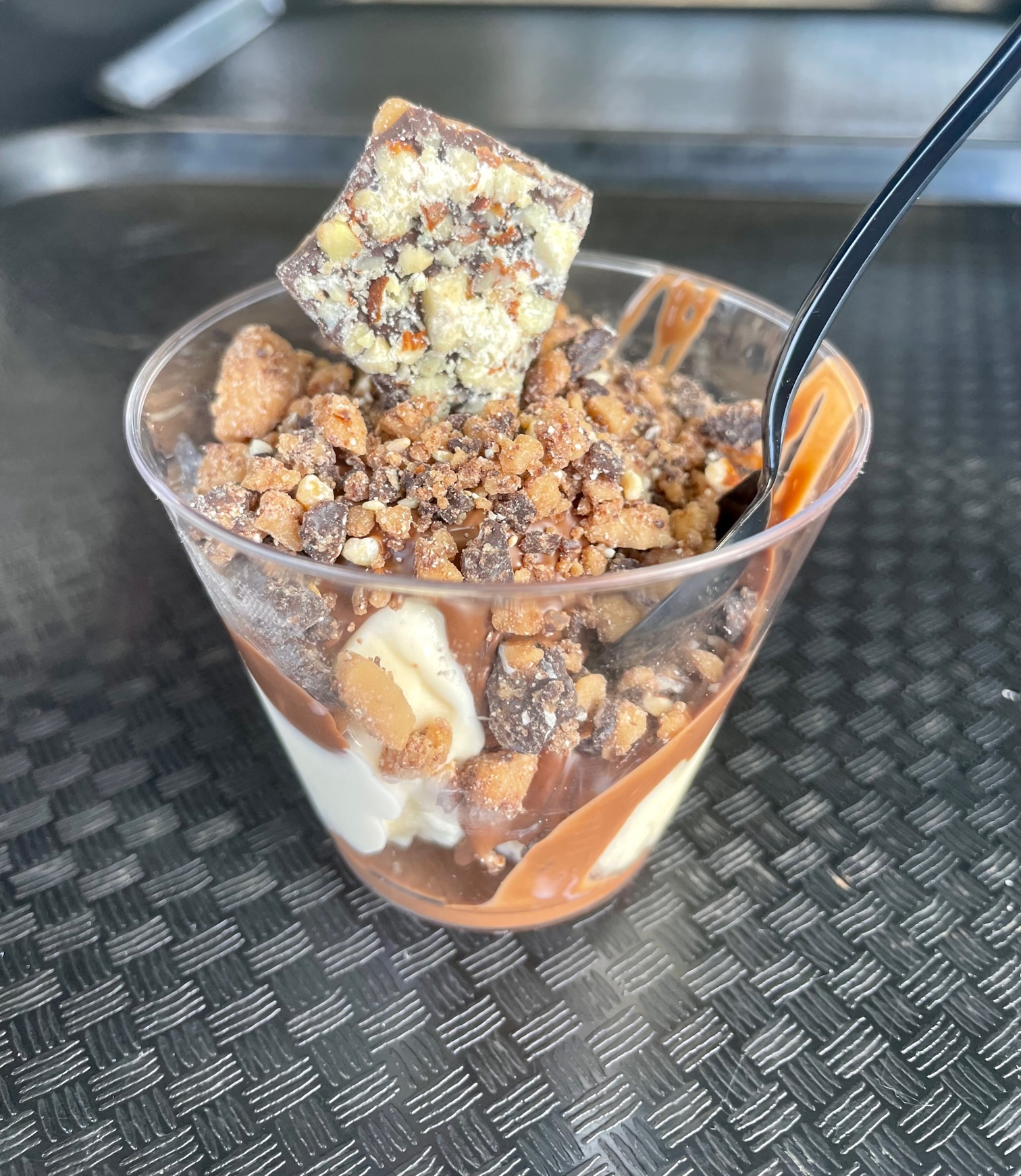 Jill Weinlein
Sweet treats included Brandini Toffee ice cream sundaes served from a classic retro trailer. Brandon Weimer's Brandini Toffee created his local Greater Palm Springs almond toffee company back in 2006. He was a high school student at La Quinta High School and made toffee as a fundraiser for a school trip. Now he has a factory in Rancho Mirage making 100 pound batches of his delicious almond toffee, almond toffee popcorn and other sweet delights.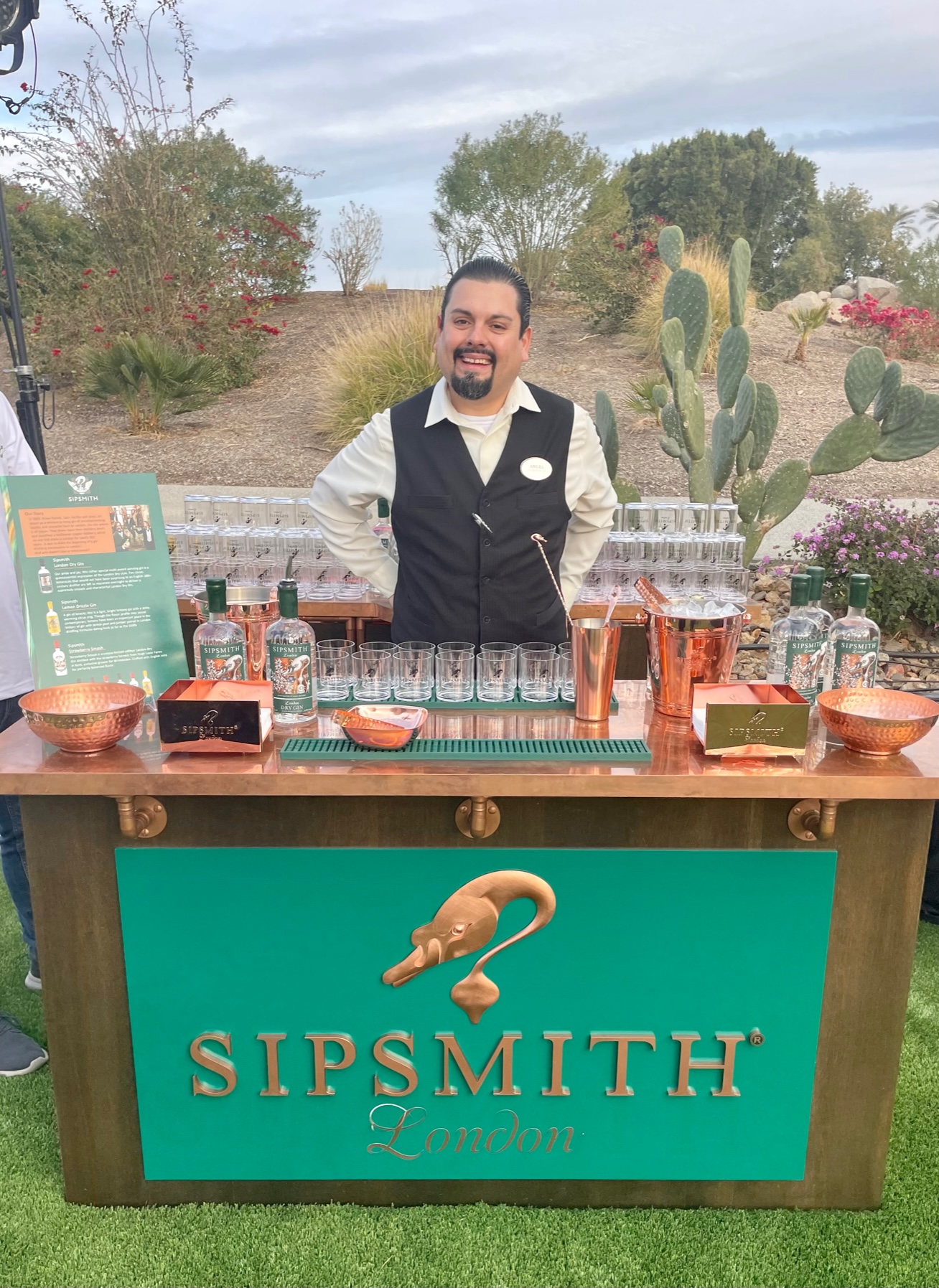 Jill Weinlein
A selection of fine wine provided by Zonin and signature Gin & Tonic cocktails by Citi Sponsor Sipsmith. In 2009, three friends, Sam, Fairfax and Jared brought back the uncompromising quality and character of Gin back to London, the city where it all began. They launched Sipsmith gin bringing back a traditional copper distillery, which no one had done in nearly 200 years. This exciting gin distilling renaissance in London makes Sipsmith London Dry Gin, but a Lemon Drizzle Gin and Strawberry Smash.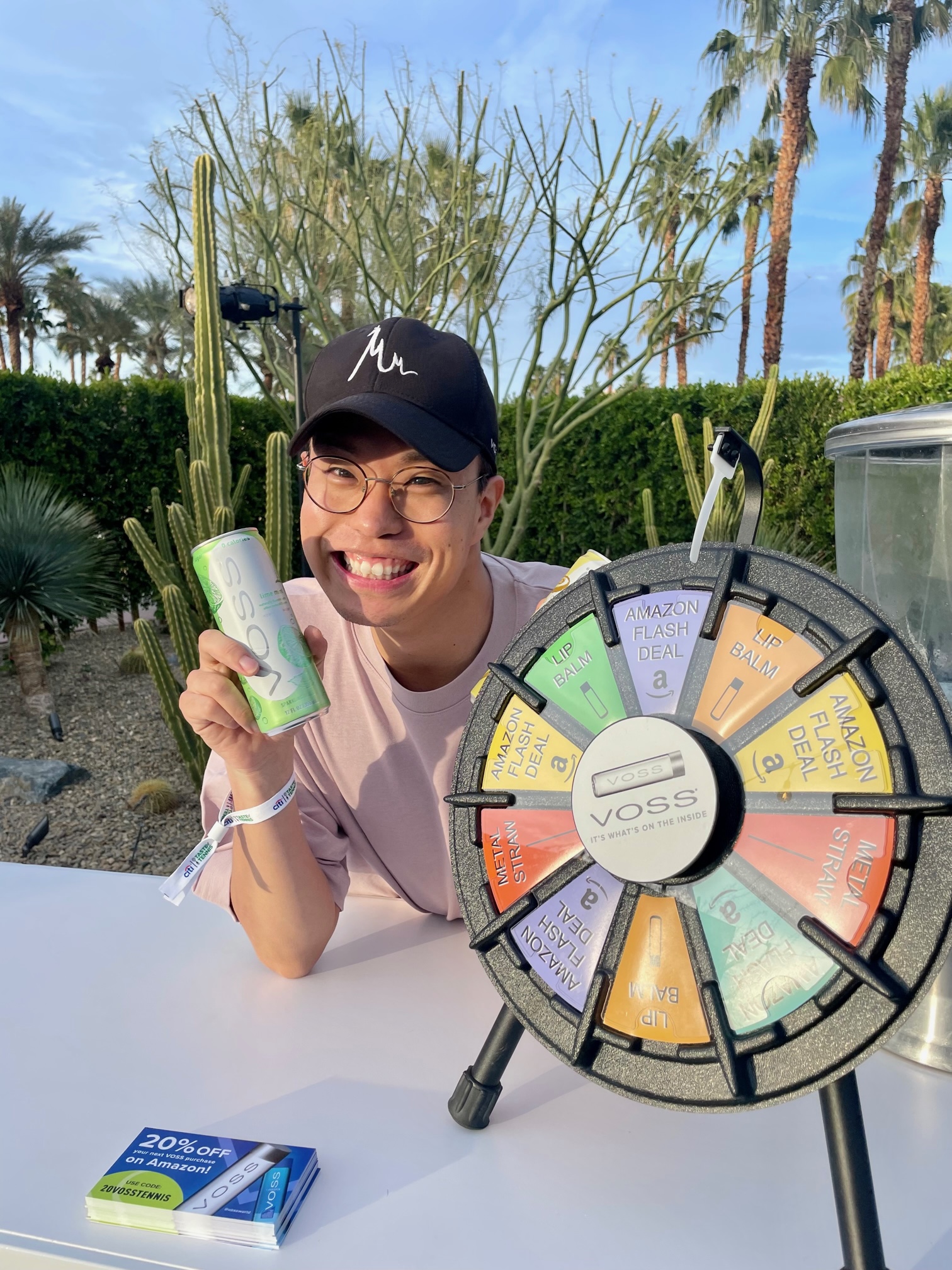 Jill Weinlein
Voss water hydrated guests and also offered a spin wheel for giveaway items. As a sponsor in the event, they offered their 'Kick Serve' cocktail and bedazzling bling bottles for souveniers.
Other sponsors besides Citi and Hyatt Regency Indian Wells Resort & Spa were Lucky in Love, Vokl, Chef Works, Cliff Drysdale Management, TopCourt and KDGL-FM.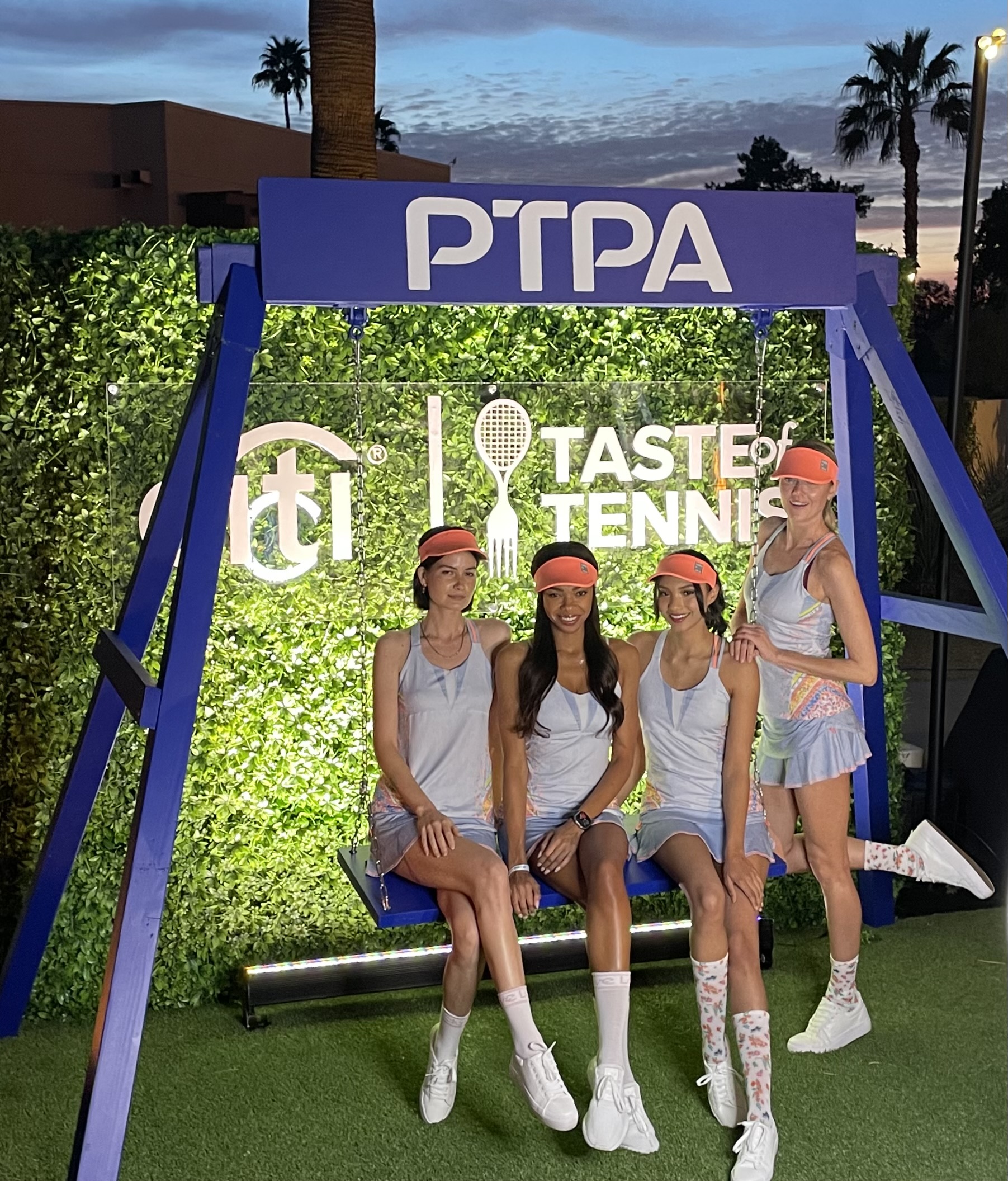 Jill Weinlein
Upcoming Citi Taste of Tennis events will take place in Miami on March 20, 2023 at JW Marriott Miami. Citi Taste of Tennis in Washington DC is on July 30, 2023, and Citi Taste of Tennis New York is on August 24, 2023 at Gotham Hall.