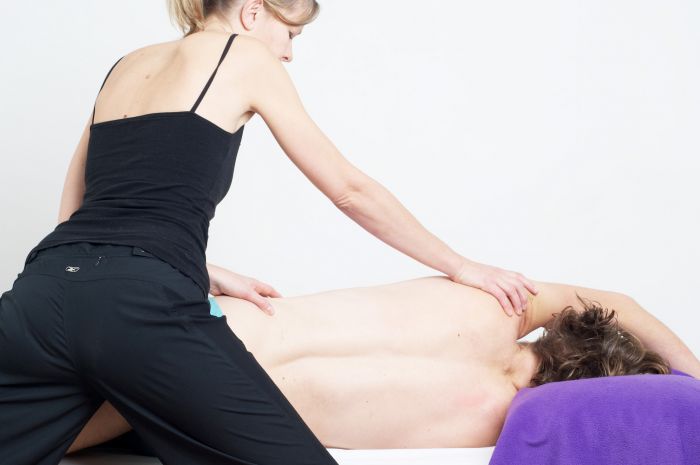 Sibyl Darrington
Having recently given birth to my second baby, my body was feeling out of kilter. I had tried the remedies that had helped me recover after the birth of my elder daughter – physiotherapy, osteopathy, massage – all of which provided temporary relief, yet I felt that I needed something that would alleviate my assorted postpartum aches and pains on a more permanent basis. Whilst researching alternative options I came across Rolfing® Structural Integration, a form of hands-on bodywork and movement training named after the American biochemist founder of the practice, Dr. Ida Rolf (1896 – 1979). A pioneer in the fields of soft tissue manipulation and movement education, Dr Rolf asked a question which became integral to her life's work: "what conditions must be fulfilled for the human body's structure to be organised and integrated in gravity so that the whole person can function in the most optimal and economical way?" Dr. Rolf observed that to achieve a lasting improvement and overall sense of wellbeing, one needed to examine the effects of gravity on the body. She believed that imbalances in structure placed demands on the body's pervasive soft tissue network – muscles, fascia, tendons and ligaments - resulting in compensations throughout the body structure. In order to counteract these imbalances, Dr. Rolf devised a series of ten sessions now called The Ten Series. She referred to this methodology as 'Structural Integration' which has since gone on to inspire generations of bodyworkers around the world as the internationally registered movement – Rolfing® Structural Integration. Despite the fact that Rolfing® has been around since the 1960s, it is only relatively recently that its profile is beginning to rise, as Olympic athletes and celebrity aficionados, such as Gwyneth Paltrow, help to spread the word.
Rolfing®, like massage, involves hands-on manipulation of soft tissue, but with different goals. Whereas the objective of massage therapy is relaxation and the release of tension, Rolfing® aims to provide long-term overall improvement in the body's alignment and functioning by focusing on the fascia. The benefits of a Rolfing® session endure long after the session. Similarly, whilst Rolfing® and chiropractic work both seek to align the body through hands-on manipulation, only Rolfing® lengthens and balances the fascia systematically to remove restrictions and correct imbalances. Chiropractors focus primarily on the alignment of bones and joints by moving the bone to its proper position, but if the fascia isn't addressed bones can become misaligned again. The fascia is the thin membrane that surrounds individual muscle fibers, nerves and blood vessels, connects muscle to bone and forms tendons and ligaments. It looks a bit like cling-film or that thin, white layer you often see in raw chicken or steak. It prevents friction by allowing the muscles, tendons and so on to glide over each other on movement. Over time, poor posture, injury, stress and repetitive movements can cause the fascia to become tight and pull the muscles out of alignment. This is usually felt in the body as chronic pain, knots, pain, tension or stiffness, with decreased flexibility. One of the remarkable qualities of connective tissue is its plasticity, which is why it is so responsive to Rolfing® treatment
I went to experience Rolfing® for the first time at Evolve Wellness Centre in a secluded mews in the heart of South Kensington. Sibyl Darrington, my therapist, practices there two days a week (Monday and Wednesday afternoons and evenings). My appointment was 75 minutes, and comprised a short interview about my general health and previous life experience before Sibyl began to work on my body. I was rather taken aback by some of the questions; for instance, I wondered what the relevance was that I had worn braces as a teenager, or that I had once had an operation under general anesthetic. Sibyl explained that both of these experiences will have left a lasting impression on my body; my jaw will have been impacted heavily by the orthodontic work that I had at age 14, and the general anesthetic will still be embedded in my body on a cellular level. Sibyl told me fascinating a story about a client of hers who had had open-heart surgery as a baby. She underwent Rolfing® as an adult, and after just one session, the smell of the general anesthetic leaving her body could be detected.
After the verbal questionnaire, Sibyl asked what I would like to achieve from my sessions. I told her that I have two main aims: first, relief from my post-pregnancy pains, and second, better posture. She then asked me to strip down to my underwear and walk up and down in front of her to assess my current posture and gait. It's not every day I undress in front of a stranger, and so it was very important to me that I felt comfortable with my Rolfing® practitioner. Rolfing® is a very physical and intimate process that involves a lot of trust. As with any form of therapy, you're in a vulnerable position which is why it's so important to choose a practitioner that you like and feel comfortable with. Fortunately, I felt that immediately upon meeting Sibyl, who has a lovely gentle, sincere manner which put me at ease and made it easy to trust and work with her.
One of the things I like about Rolfing® is that it has a structure and it is finite. Unlike some forms of therapy which can carry on for years with no end in sight, Rolfing® is based on ten sessions, each of which is dedicated to different parts of the body. It's a clear, defined program of treatment and obviously within that framework, there is scope for the Rolfer™to adapt the programme to your body and your particular needs in that session. The first session focuses on breathing, and Sibyl focused on opening up my back, shoulders and arms to improve the flow of air into my lungs. Subsequent sessions focus on the jaw, the hips, and the feet.
Rolfing® has a reputation for being painful, but I found the level of pressure applied by Sibyl to be perfectly tolerable. That's not to say it wasn't uncomfortable at times, but Sibyl was brilliant about checking in with me throughout the treatment. The contrast between the left and right sides of my body was quite remarkable; the side that was worked on first felt warmer, more relaxed, and lighter. After both sides have been worked on. I felt more integrated. At the end of the session, I felt stretched, less stiff and a lot more relaxed. The main physical symptom I experienced was extreme thirst. Sibyl advised me to drink a lot of fluids afterwards in order to rehydrate. I also slept extremely well which was wonderful.
After this transformational preliminary experience, I am already looking forward to my next Rolfing® session, and am looking forward to enjoying greater flexibility, more energy and a greater sense of ease throughout my body.
For more information or to find a certified Rolfer™ near you, visit www.rolfing.org.
A 75 minute session with Sibyl Darlington at Evolve Wellness Centre costs £100
Evolve Wellness Centre10 Kendrick MewsLondon SW7 3HG
020 7581 4090
http://www.evolvewellnesscentre.com/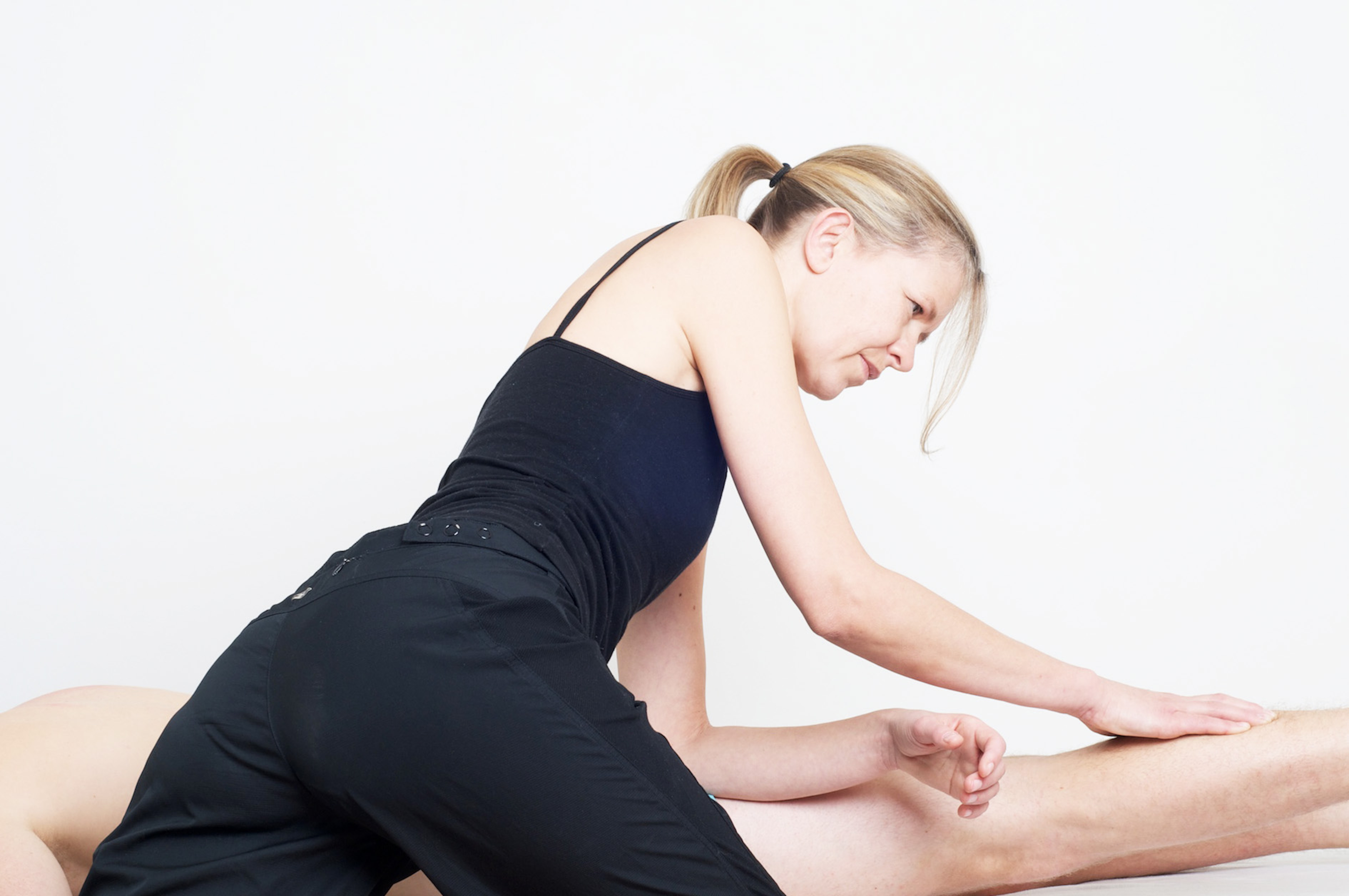 Sibyl Darrington
Certified Rolfer® Sibyl Darrington working on a client.