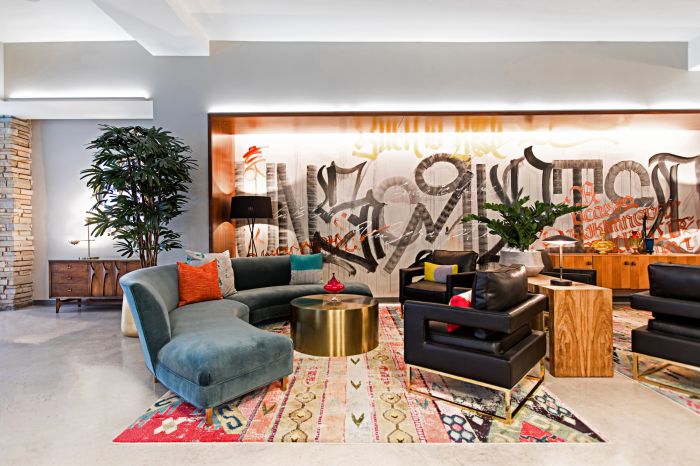 Unscripted Hotels Durham
For the business, education, or vacation traveler seeking a marriage of convenience & chic, few properties can match the bright retro decors and proximity to downtown attractions of Unscripted Durham in Durham, N.C. This is a fun hotel that tosses guests back into the 1970's in sensibility, with activities such as Trivia Night, and Sounds Of The Studio live music. There are 74 rooms, five food and beverage spaces, allergen-free feather beds, a large rooftop pool deck, and the hip lounge The Studio.
On nearby East Parish Street, local favorite Gray Brooks operates three restaurants- Pizzeria Toro (Durham is The Bull City), Jack Tar, and Littler. The latter offers beef heart tartare, chicken fried duck tongues, and roasted carrots. Closely situated on East Main is the wine and cheese Bar Brunello, for sampling varietals, world wines and orange wines, aside your cheese board.
Next morning, tour the American Tobacco Campus, in the shadow of the Lucky Strike smokestack, and learn the legacy of the city's industrial, minor league baseball, and civil rght movement history. The Campus is a million square foot entertainment hub complete with gastropubs, sushi spots, and the Bulls' ballfield Athletic Park. Remember the movie? Speaking of entertainment, the lavish Durham Performing Arts Center (DPAC) is here, where 200 performances a year include Broadway hits inside a 2,700 seat venue. It is one of the best such spaces in the U.S. Try lunch at Mateo Bar De Tapas, for savory Soanish-Southern fusion. Mateo boasts of the nation's premier offerings of sherry. The highly informative Durham Museum Of History is less than 500 feet away on 500 West Main. The recent Taraji P. Henson film "Best Of Enemies" is set in the city in the 1960's and early '70's.
Near your hotel on 320 Chapel Hill Street is the cocktail bar Alley Twenty Six. Walk the downtown streets and shops, take in a ballgame or visit Duke University, then rewind at Unscripted. So many cultures meet is this cosmopolitan and commercial university city (North Carolina Central's campus is also here, among others). An example is the German influence. Many native North Carolinians are Germans or Lutherans (racing icon Dale Earnhardt, Sr. was). Guglhupf Restaurant on Durham-Chapel Hill Road is a pastry and breakfast haven, highly popular for its traditional bakery. Take some tarts, bezels or rolls to go. Back near Unscripted, see the original building of the North Carolina Mutual Life Insurance Company, which dates to when Durham was labeled the U.S.' "Black wall Street". Not many outsiders realize Durham had a sit-in movement three years before the better known Greensboro Woolworth protests. Activists staged it at Royal Ice Cream Parlor in summer of 1957, led by the Reverend Doug Moore, who later was a member of Washington, D.C.'s first elected city council. These and other little-told stories are but steps from the aptly named Unscripted Hotels.