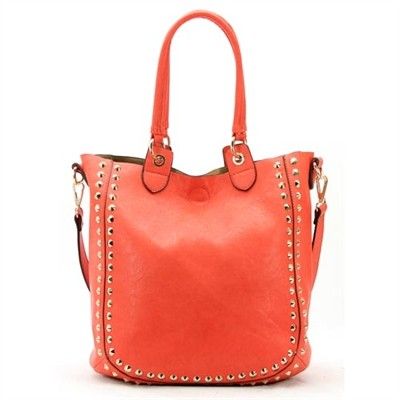 Robert Matthew
In just a few weeks, Valentine's Day will be upon us so we want to be sure you are prepared for it. If you haven't picked out anything yet for the special woman in your life, here are some great gift ideas that she is sure to love.
For the stylish woman, be sure to check out Robert Matthew's Bag Riley Shoulder Tote. Large enough to hold everything she needs, this luxe soft bag made of animal friendly faux leather has a studded design on one side and features light gold hardware. We love the Sunrise color, a beautiful light salmon tone that will be great for spring and summer fashion and can also brighten up any winter look. The tote comes with a detachable shoulder strap so it can be carried as a clutch or over her shoulder for extra convenience.
When it comes to making sure she looks her best, we recommend Instrumental Beauty's Advanced Cleansing System. The set include a compact two-speed rotary facial brush designed to not only clean but gently exfoliate skin. The brush is gentle enough that it can be used daily and tough enough to remove dirt and dead skin leaving her face glowing and feeling radiant.
If she loves to read but has been having some issues seeing the writing, ThinOptics is here to her rescue. The clear reading glasses sit gently on her nose without stems going behind her ears and can be conveniently stored inside her smartphone case so she always has them handy. The flexible glasses are super thin, comfortable and functional. The minimum strength is 1.50 and go up to 2.50.
We all know women love jewelry and the only thing better than a great jewelry collection is a rotating one. Rocksbox does just that by offering a member-based service that allows members to pay a flat rate of $19 a month for access to designer jewelry. Simply log onto the website and she can select the pieces that she likes best and a stylist will hand pick selections based on her preferences. She can swap the pieces out for new ones when she is ready for a change and if she decides to keep, each piece can be purchased for 20 percent off the original price. Designers include House of Harlow 1960, Jenny Bird and CC Skye.
Women love to smell great all the time and no one knows that better than The Body Shop. If she has a sweet tooth, instead of giving her a traditional box of chocolates this Valentine's Day, surprise her with some body butter, body polish or shower gel from The Body Shop. Their sweet scents include vanilla brulee (one of our favorites), blueberry, coconut and mango. You can still get some great deals on holiday closeouts too so be sure to check out soon.
We all know aging is a touchy subject but if she has already discussed it as she approaches middle age, then she will love Michael Todd's Wrinkle Eraser. This high powered wand works to combat unsightly lines on the face and neck using three advanced technologies: microcurrent, ion fusion and LED light therapy. This might be the easiest and fastest way to get smoother skin without injections. We love this new addition to our age-fighting regimen. The Wrinkle Eraser is a NEW launch so it's actually available January 28th (for $159).
If she loves perfume, a bottle of Hypnotic Poison eau de toilette spray by Christian Dior is a must have for her. The beautiful bottle contains a sexy strong scent ofjasmine combined with hints of amber, almond and woods. Your Valentine will love this addicting scent of love.
When it comes to breathing easier, we look to Virus Zero to provide the perfect amount of clean air. Cold and flu season is now upon us so this is the best time of year to give her the healthy gift of air purification technology. While you may not be able to see the results, this compact unit is hard at workto proactively and efficiently clean the air with disinfecting ions. The tabletop unit is designed neutralize up to 99.7 percent of all viruses, bacteria and other harmful contaminants quietly and effectively. What we love most about this cup size unit is that it doesn't require any filter changes, it has minimal noise and works effectively to neutralize any contaminants keeping the air clean around her all day long to reduce mold, dust mites, pollen, animal dander and eliminate other contaminants. To really see the unit's true effect, try using it around cooking odors that linger. We cooked up some bacon for breakfast and we all know how long that scent lingers in the house after you have had breakfast. Simply turn this unit on and you will notice an immediate difference as it eliminates the odors. What woman wouldn't love this?
Instrumental Beauty
ThinOptics
Rocksbox
The Body Shop
Michael Todd
Fragrancenet.com
Virus Zero