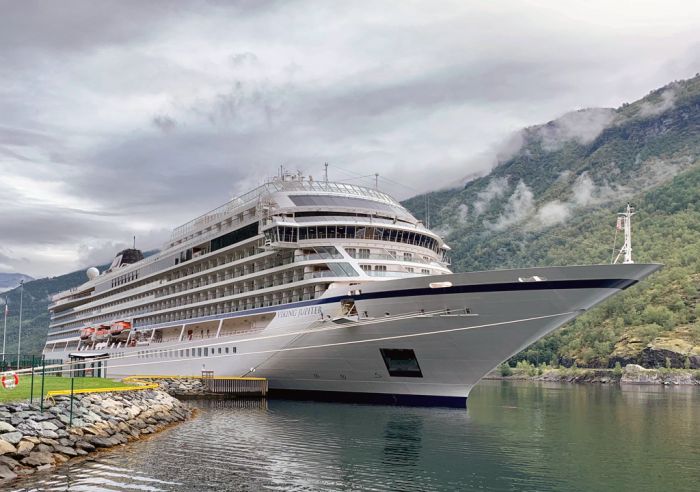 Linda Fasteson
Viking River Cruises has become a household name for its popular river cruises as well as its affiliation with the blockbuster television series and movie, Downton Abbey. Soon after the first Viking Ocean Cruises voyages set sail in 2015 with the newest fleet of small ships, this family-run company also became the world's leading small ship cruise line.
By 2016 and right through 2019 these ocean cruises have been voted #1 in Travel and Leisure. They were also named best in 11 of 13 categories by Cruise Critic members. The latest ship, the 930 passenger Viking Jupiter, was launched in 2019.
The popular Viking Homelands cruise, for example, travels between Sweden's beautiful capital, Stockholm, and the spectacular fjords in and around Bergen, Norway, visiting 11 ports and 8 countries in 15 days.
Book well in advance since sailings fill quickly.
Much of Viking Ocean Cruises' stellar reputation comes from all the features that are included when compared to others — a shore excursion in every port, open access to the spa, free wifi, alternative dining, wine and beer with lunch and dinner, 24 hour room service, specialty coffees and teas, and port taxes and fees, as well as use of laundry machines and detergent. Ground transfers are included with air purchase.
An array of additional optional tours are offered for a fee. Read the descriptions and sign up before departure to free up time onboard. Should you want to modify your choices, changes may be made easily and without penalty, generally up to 48 hours before the excursion.
Book a Viking Ocean Cruise for all that it is. Love it for what it is not. No pushing drinks or other products. No sales pressure at all. Just top-notch service.
No cacophonous sounds from a casino, no photographers interrupting dinner, no smoking. No blaring announcements for things like raffles, sales or art auctions. No hype or glitzy formal nights.
There are also no passengers under 18. Activities are appropriate to the mature traveler. Production shows generally feature music from the 50s and 60s.
Helpful staff make the embarkation process a breeze. Feel relaxed and well cared for right from the start.
A buffet lunch with beverage service and a view of the waterfront awaits in the World Cafe. Dine there or al fresco on the Aquavit Terrace.
Feel relaxed from the start amid the soft, soothing colors of the decor and the streamlined Scandinavian furnishings.
A Viking Ocean Cruise is a journey many describe as a thinking person's cruise. There are 3D presentations in the small planetarium. A Resident Astronomer gives talks in the theater. The Resident Historian covers cruise-related topics like the Vikings and Imperial Russia on Baltic cruises. Topics relating to the high-quality items, like the the Russian nesting dolls known as Matryoshka, are discussed.
When ready, explore this 930 passenger ship from top to bottom, beginning with Deck 9 Sports Deck's outdoor gym and continuing right down to Deck 1's LivNordic Spa and specialty restaurants.
Take in the two-story panoramic view from the Explorers' Lounge on Decks 7& 8. This room celebrates Norwegian navigators with a theme that includes ship models and navigation tools. Stop to look through the telescope and sit in the oh-so-comfortable leather chairs and sofas.
This space has little nooks for reading a selection from the library, areas for ideal for conversation, and reindeer pelts draped over the sofas, notably in the cozy fireplace area. A pianist performs at night.
There is a little deli named Mamsen's for what Viking Chairman Torstein Hagen and his sister called their mother. Mamsen's recipes are used for the for heart-shaped waffles topped with goat cheese, open faced shrimp sandwiches, pea soup and hearty stews served here. Look under the plates and you'll see "Tor Viking 2." Hagen's daughter, Karina, had Mamsen's china reproduced for use here.
This is an ideal spot for enjoying one of the books there or striking up a conversation with a fellow passenger. Enjoy a Swedish "fika" kind of coffee break and discover what the untranslatable kind of coziness known as "hugge" in Denmark and "koselig" in Norway is.
The adjacent Wintergarden is a light-filled site for enjoying Afternoon Tea and the sounds of a stringed quartet.
Then there's a retractable roof for year-round enjoyment of the main pool and hot tub. The hamburgers and cheese steak sandwiches are favorites at the Pool Grill. By night enjoy stargazing or, perhaps, a movie under the stars.
From there it is on to the open kitchens in World Café and to the Aquavit Terrace. Viking's ships have the most al fresco dining at sea. The infinity pool and hot tub, complete this deck.
Most of the staterooms are on Decks 4, 5, and 6 and all have private verandas. The king size beds have soft duvets and fluffy goose down pillows for a great night's sleep.
Bathrooms have and heated bathroom floors and anti-fog mirrors. Controls are intuitive and the premium Freya toiletries are easy to open. Remotes for the big-screen television are not complicated, and there are plenty of USB ports and US/EU plugs. With 24 hour room service, it's tempting to don the plush robes and slippers and stay right there.
Viking Cruises also has some of the largest suites of any fleet. The Owner's Suite is furnished with some of Torstein Hagen's collections.
Norwegian influences are evident throughout the ship. The upper atrium area on Deck 3 has a small museum of Viking artifacts and, on the opposite (port) side, there are display cases with traditional regional Norwegian costumes, or bunad.
Deck 2 is for entertainment and dining, starting with the multipurpose theater's production shows, guest lectures, and seminars. It may be divided into 2 cinemas for things like TED talks and Destination Insights.
Continuing on,Torshavn is a lively place with jazz singers, piano players, dancing and drinks. Specialty brandies are served here.
A jewelry store and a shop with Norwegian clothing and handicrafts rounds out the shopping opportunities.
Seating in the Atrium is ideal for lingering to enjoy the live music from the Steinway piano on Level 1. Tabletops stream onboard events. People read, work on a puzzle, or play a game of Scrabble or chess here.
The Atrium leads to The Restaurant, where floor-to-ceiling windows create an ever-changing view during open seating dining. Regional cuisine and American classics are served here.
Level 1 is the place to discover unique getaways, beginning with the LivNordic Spa, an oasis that even includes a unique snow grotto. Try a revitalizing and body-purifying Nordic hot to cold experience like following the sauna with a plunge into a cold pool or the snow if you dare.
Swedish massages and other fee-based treatments are available. The Fitness Center, salon and a shop with high quality regional goods rounds out this area.
This leads to the comfortable Living Room with informative and inspirational books and a bar that is clinker built of overlapping planks, like the Viking ships of yore. On a cruise in Scandinavia, for example, the resident pianist might play traditional Norwegian music while Edvard Munch's paintings are projected on the Atrium screen.
The specialty restaurants, are here, as well, at no additional cost. The Chef's Table features a changing multi-course tasting menu of regional and specialty cuisine paired with wine. Depending on the itinerary you might find Scandinavian, Asian or Mexican menus.
Manfredi's Italian Restaurant was inspired by Italian trattorias. Viking Chairman Torstein Hagen and his friend Silversea Chairman Manfredi Lefebvre D'Ovidio collaborated in testing the recipes.
Be sure to use the option to reserve a place in advance. Insider tip -- Few passengers book the specialty restaurants on embarkation night, when you might just snag a table without a reservation. Make other reservations early in the cruise to get your preferred dates and times.
Sign up for the Galley Tour to see how efficienly food is prepared and to see the Kitchen Table used for optional culinary adventures with the Chef.
When cruising aboard an exceptional ship like the Viking Jupiter, allow enough time to enjoy the amenities. Download the app for a self-guided tour of the Nordic art collection. Relax on the heated tile lounge chairs or in the snow grotto. Make this a true and enriching vacation.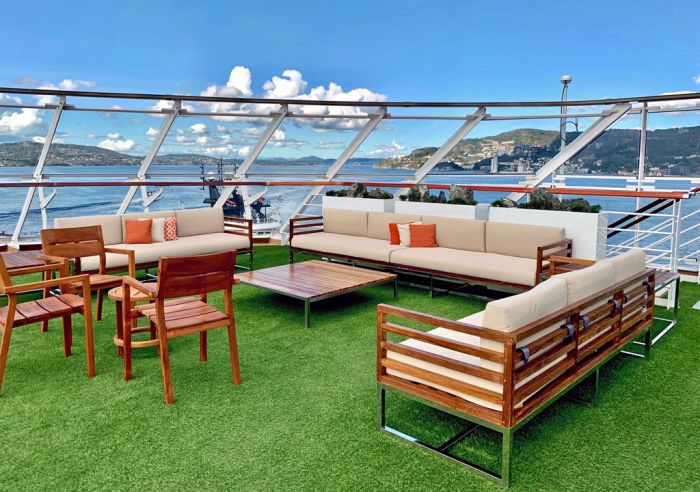 Linda Fasteson
Deck 9's Sports Deck, Viking Jupiter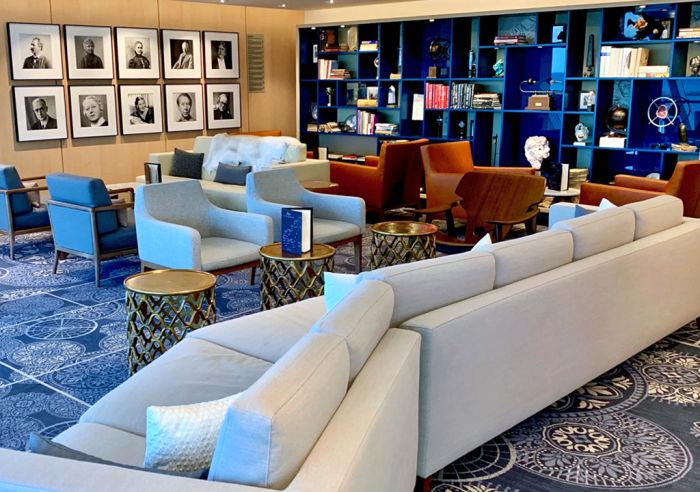 Linda Fasteson
Explorers' Lounge, Viking Jupiter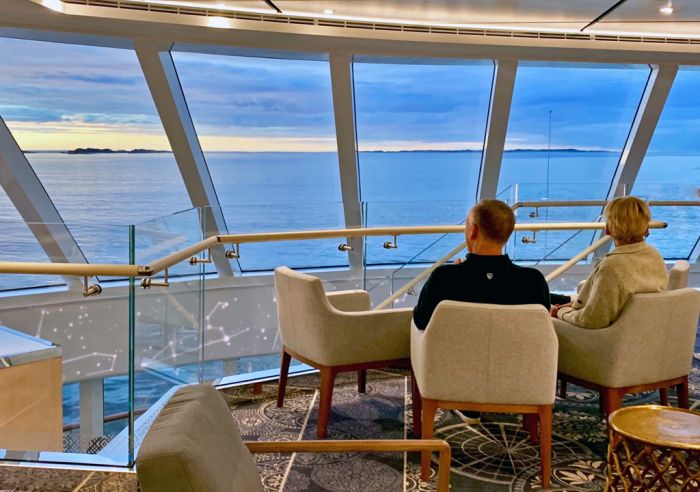 Linda Fasteson
View from Deck 8 in the Explorers' Lounge, Viking Jupiter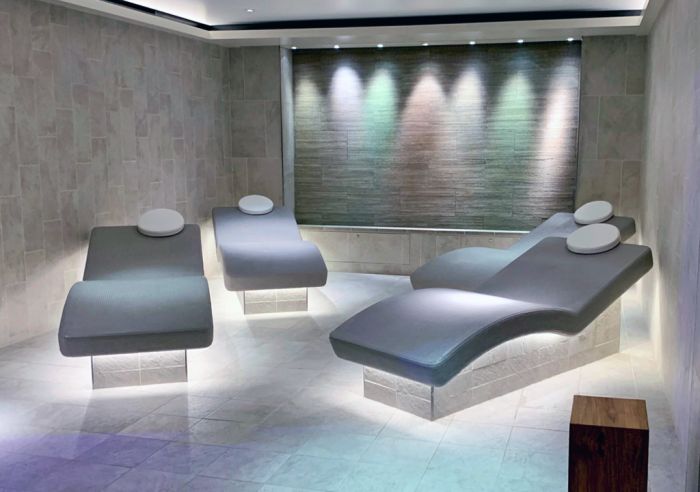 Linda Fasteson
Heated ceramic loungers in LivNordicSpa, Viking Jupiter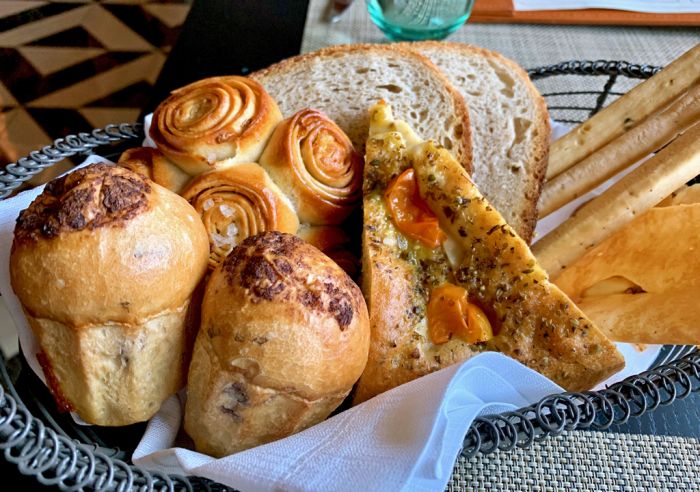 Linda Fasteson
bread basket at Manfredi's, Viking Jupiter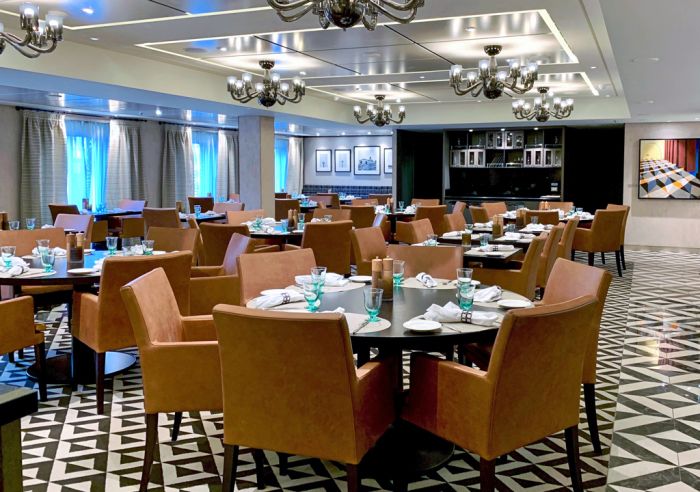 Linda Fasteson
Manfredi's Italian Restaurant, Viking Jupiter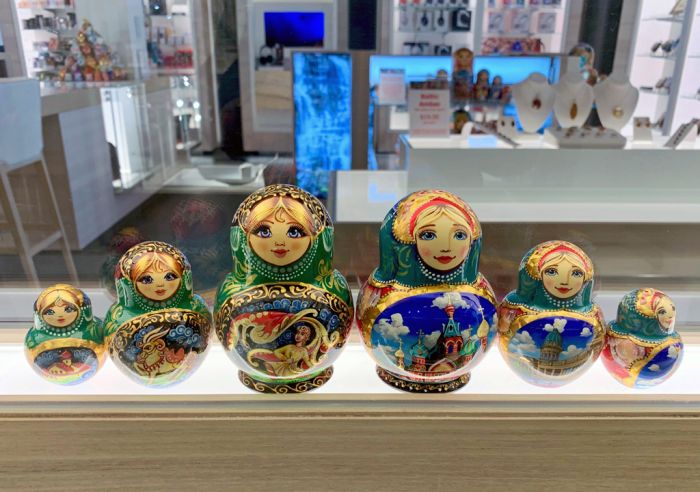 Linda Fasteson
Matryoshka dolls, Viking Jupiter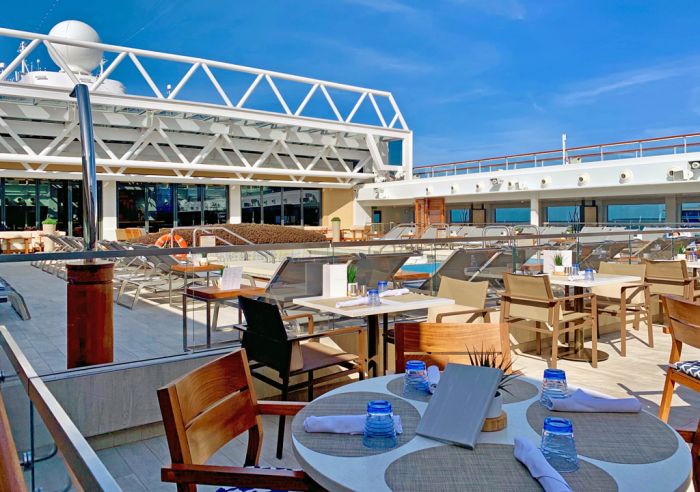 Linda Fasteson
Retractable roof pool area and Pool Grill, Viking Jupiter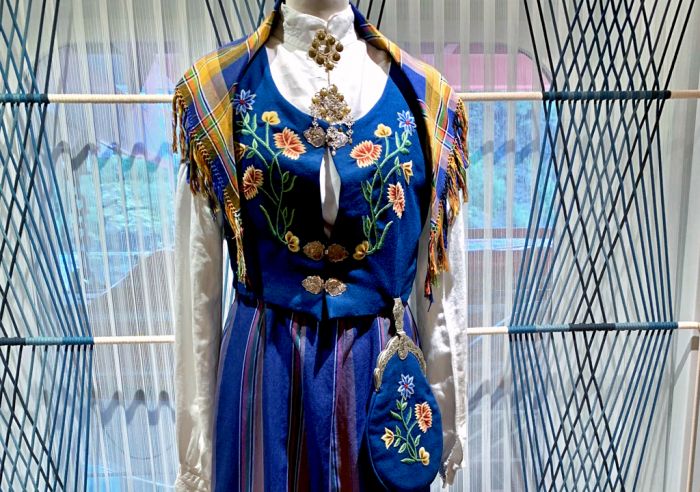 The Nordland bunad, one of the traditional regional costumes of Norway on display aboard the Viking Jupiter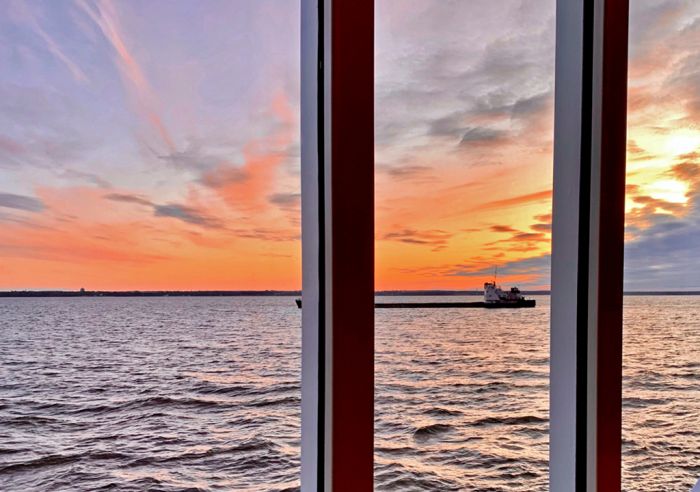 Linda Fasteson
Sunset view from The Chef's Table, Viking Jupiter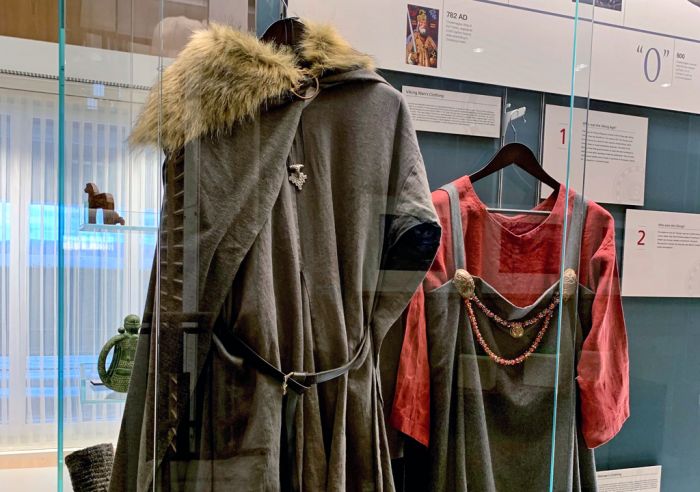 Linda Fasteson
Viking clothing at the Viking Museum on the Viking Jupiter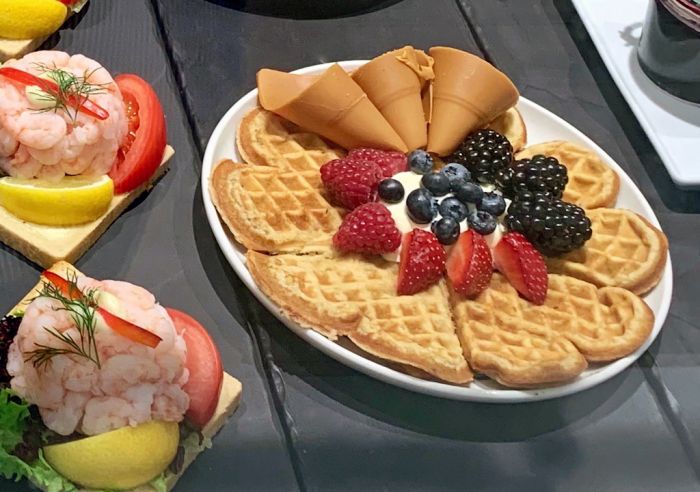 Linda Fasteson
waffles at Mamsen's, Viking Jupiter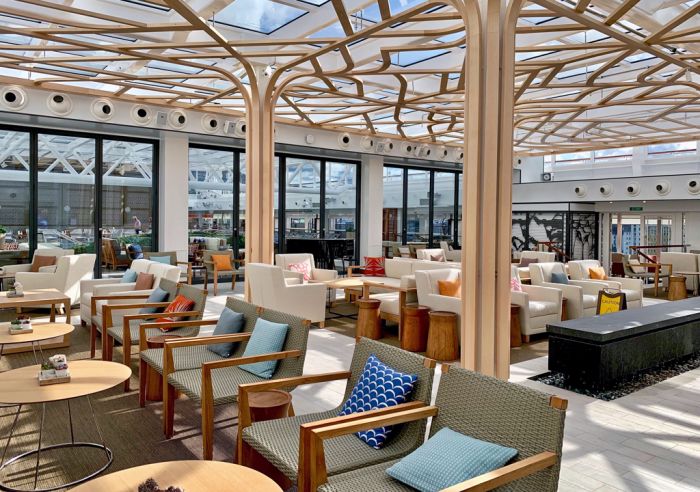 Linda Fasteson
Wintergarden, Viking Jupiter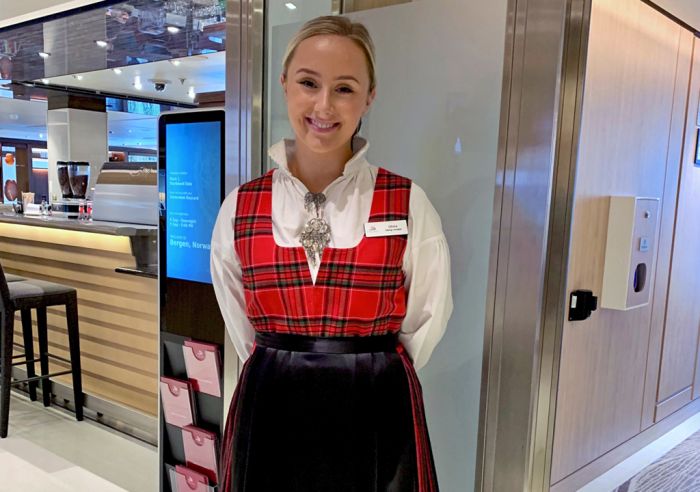 Linda Fasteson
Olivia in traditional Norwegian-style dress welcoming guests aboard the Viking Jupiter