Photos Credit: Viktor Mitic
Yugoslavian-born, Canadian-based artist Viktor Mitic is no stranger to guns. He learned how to use firearms by serving time in the Serbian army. But these days, he is more interested in drawing attention to senseless acts of violence with his signature bullet hole paintings. His other pieces, including acid rain works and sculptures, have a similar message about the destructive nature of things, whether deliberate or accidental. Recently Mitic's bullet-riddled painting of Justin Bieber was stolen, after making its debut at a Toronto International Film Festival event. His artwork, appraised at $18,000, was missing from the Campbell House Museum at Queen St. W. and University Ave. The thief was arrested and charged with theft over $5,000 and the police returned the painting to the museum. He later revealed he had admired the painting and had taken it on a dare. The painting did receive some damage and will be in need of repair. Police are pressing charges even though Viktor decided not to pursue it further. Just another day in the life of Viktor Mitic.
JustLuxe talked to Viktor about his foray into bullet hole paintings, and the controversy and the crimes that have arisen as a result of his creations.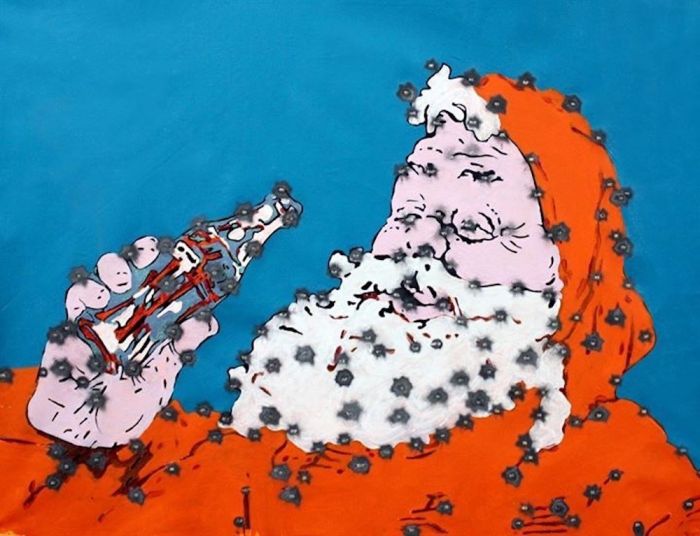 JustLuxe: What are bullet hole paintings?
Viktor Mitic: Bullet hole paintings are a term coined by a friend, writer. It's a connect-the-dots effect on a flat, painted surface done by firing a gun with live ammo onto an acrylic on canvas painting that sometimes has gold and silver leaf areas within it.
JL: How (and why) did you start doing them?
VM: Back in 2006-2007, I saw videos on YouTube of soldiers and villagers shooting up religious icons in monasteries and churches in Eastern Europe. I then watched media coverage of a Buddhist temple in Afghanistan being blown up. The effect, which was the result of the bullets being fired onto religious depictions of saints, was startling and upsetting, but also interesting. Those sites were being both desecrated and destroyed, but if, as a concept, you take away the fact that those icons are holy and revered items, and simply view the aesthetic elements of the final result, it's quite interesting, disturbing, but also fascinating. If you take away the specific intent, it can be viewed as a form of subversive art, similar to what graffiti or punk music would be if those forms were to be transcribed on canvas as objects to be exhibited in a gallery setting. I explored the concept of replicating that type of violent act, but directed it against my own art. I find both the process and result compelling. Everyone reacts differently. Some are drawn to the works, others are disturbed by them. Initially it was not supposed to be obvious that the paintings were literally riddled with bullet holes. I kept that a secret for a couple years. I simply presented them as black dots on canvas. Initially people thought they were airbrushed on, but, eventually, someone figured it out.
Over ten years of creating bullet hole art, I figure (based on my Visa bill) that I've shot over 2 million rounds of ammunition. In the process, I found that different ammo gives me different effects on canvas. Some would be just hole, others would be light gray disbursement of molten gases and metal particles that get embedded on the surface and still others would give me an interesting concentric circle of dark grey, almost black with several silver circles that would be within it. There is a whole anatomy to this that I've developed over the years.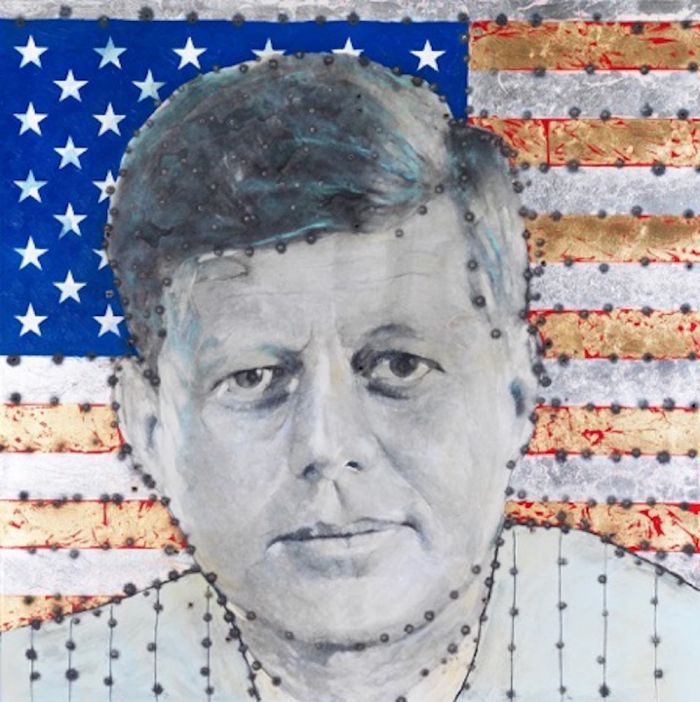 JL: Some of your works have been very controversial, tell me about the type of response you've received.
VM: The first piece I did was titled Hole Jesus, a depiction of Jesus Christ on a blue background with gold leaf and it was shown at the St James Cathedral in Toronto first and then at a cool Trias gallery in the same city in Canada. It ended up (which was a total shock to me) on FrontPage of the Toronto Sun. Apparently, according to the reporter, people called and screamed at them for running the picture. I received numerous anonymous threats. One threatened to come to the gallery and destroy the painting, so we had the painting under protective glass for the duration of the show.
Another controversial piece was a yellow school bus titled Incident. I shot about six thousand rounds of various ammo into the bus. It was a piece that I did several months before Sandy Hook. I created the piece to highlight the senselessness and futility of gun violence. We took that to Washington DC, toured it around town, recorded responses, and, eventually, wheeled it in front of White House. I wanted it to be viewed as an actual example of gun violence. There were no signs that it was an art piece. As you can imagine, upon seeing it, people quite literally freaked out. Once we explained that it was an art piece meant to show the senselessness of gun violence, people's reactions shifted. Some wanted to know what caliber I used. It was a strange juxtaposition.
The result was a short video titled Gun Porn by Brahm Rosensweig that ended up in some film festivals. Another one titled Art or War-Point Blank by a brilliant young movie director, Nora Stankovic, was shown at Cannes a couple years ago
JL: Is there a message behind this type of art?
VM: It's anti-violence. It's made to highlight the absurdity and senselessness of those acts and at the same time transform those acts into art. I realize we live in violent times and art and violence coexist in a weird twisted way and that's the way it is. I suppose I could elaborate on this forever...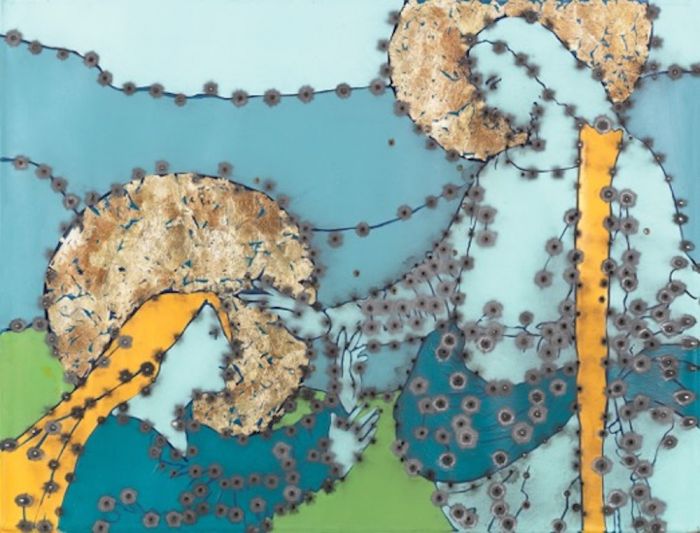 JL: You also do acid rain paintings, how did that process come about?
VM: It was an accidental discovery back about the same time when I did my bullet art. I left some of my non- representational experiments (a.k.a. oils on canvas) out in the open outside my studio while I went upstairs for lunch. There was a short, powerful rain storm and I went back to see all my work "ruined." I threw those pieces in my garage as defects. Next day I saw them again and realized there were some really interesting effects, these oils on canvas were altered in a way that was hard for me to imagine I could do manually. I tried replicating the effect by spraying water on them from a water hose and nothing happened. I thought higher altitude would work better so I climbed a third story roof, where I was living at the time, and tried again and I still could not get the same effect. When I knew it was going to rain, I took a canvas, still fresh with oils, outside again. Oils and mediums I was using were interacting with rain in such a way that I became completely fascinated by the process. I spent about eight years working on those. Every time it rained I was out there painting. It became sort of a fight against time and elements. I had to work fast and quickly decide when to bring my paintings in, especially since the rain could wash away the paint. It's a very subjective, personal, process-driven type of art. I ended up getting quite ill for a time and came down with pneumonia as a result of one of my sessions in early March, since it was still cold in Toronto, but it hasn't stopped me from making more pieces.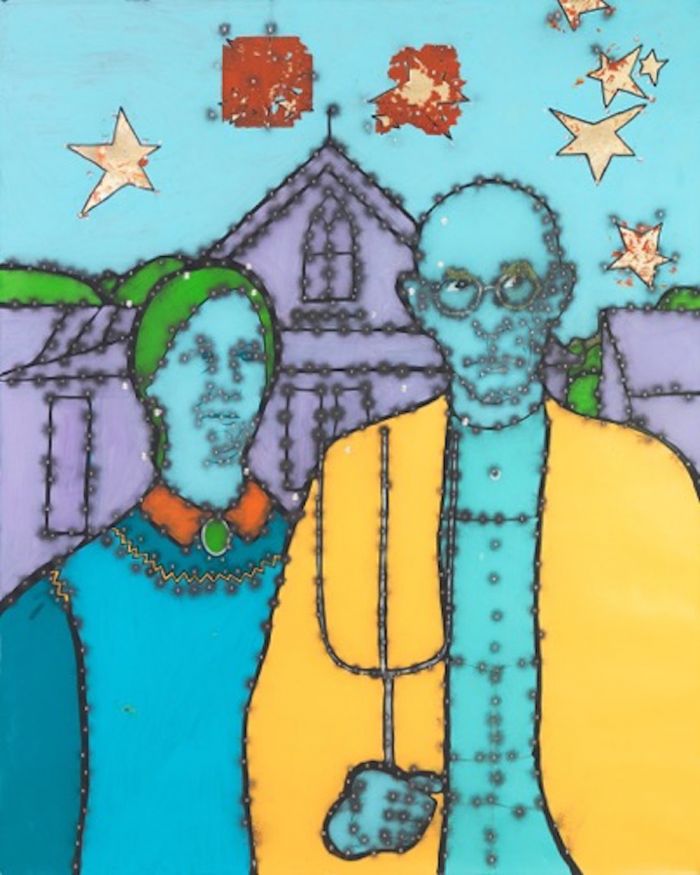 JL: How would you describe those paintings?
VM: Environment-influenced, non-representational, two-dimensional paintings on canvas.
JL: What draws you to that process?
VM: Rebuilding structures erased by nature.
JL: Do you see similarities between your bullet paintings and your acid rain paintings?
VM: Yes, I thought about that recently. I believe there is a connection between the act of violence in purposely destroying my own art, and natural forces destroying my art with me intervening. Art is an endless process of constantly destroying, building something that should be somewhat appealing and it being destroyed again.
JL: You also sculpt, tell me about that process. How would you describe those works?
VM: Same thread there. My sculptural work started with a few paint drops on my studio floor. I would photograph these minute images, enlarge them on the computer, clean them up a bit and would cut them out on a large scale using a plasma cutter. I would then take those pieces and assemble them in space to make a cohesive form that I would later paint in various, carefully-chosen colors which would erase the masculinity of a metal structure. It all started with paint drops and errors on the floor.
JL: How would you describe yourself as an artist?
VM: I'm not sure I'm the one to answer that.
JL: Where can people see your art?
VM: In the collection of Beaverbrook Art gallery which is a major museum in New Brunswick, Canada. At the Markham art center in Markham Ontario, Canada. Elizabeth Collection in Rochester, NY is the largest collection of my work in one place and it's comprised of 58 paintings. My sculptural intervention, a shot-up school bus titled Incident is in the Car Museum (currently untitled) within the same address and is in the process of being built as we speak. Deluca Fine Art gallery carries some of my work. Odon Wagner gallery also. Art of War is a website where some basic info on my work can be found and you could get in touch with me.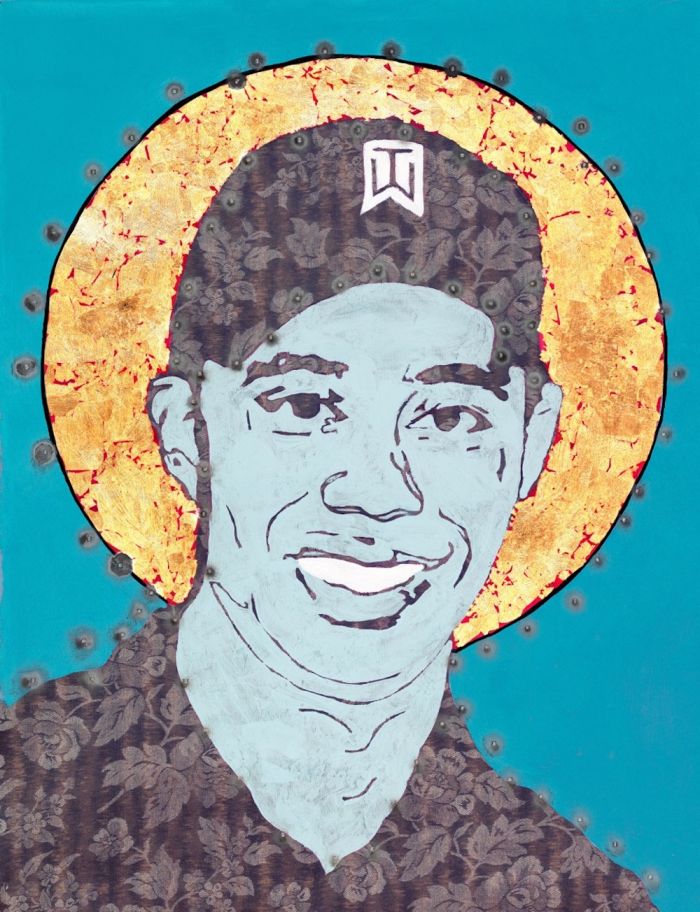 JL: One of your bullet hole paintings was stolen during an exhibit. What happened?
VM: I was invited to be a part of a group show in Campbell House Museum in downtown Toronto, Canada. The show was a part of the Toronto International Film Festival and it featured a few artists. I had 10 paintings in the show, one measuring 10' x 14', some calm beach scenes, and some celebrity-based iconic renditions with gold leaf and bullet holes. I found out on the 11th of September that one of my pieces was missing. The conversation with the organizers of the event went back and forth for the next few days with emails and texts as they were trying to figure out what happened to my painting. It was concluded last Friday that it was gone! A police report was filed and since the value of the painting was appraised at $18,000, the police had to do a site visit and a detective had to be assigned to the case. Earlier today I spoke to a police officer and gave him basic info of what I knew on the missing painting. It turns ou that a college student who had been drinking took my painting on a dare. He also wrote on the painting…to be continued.