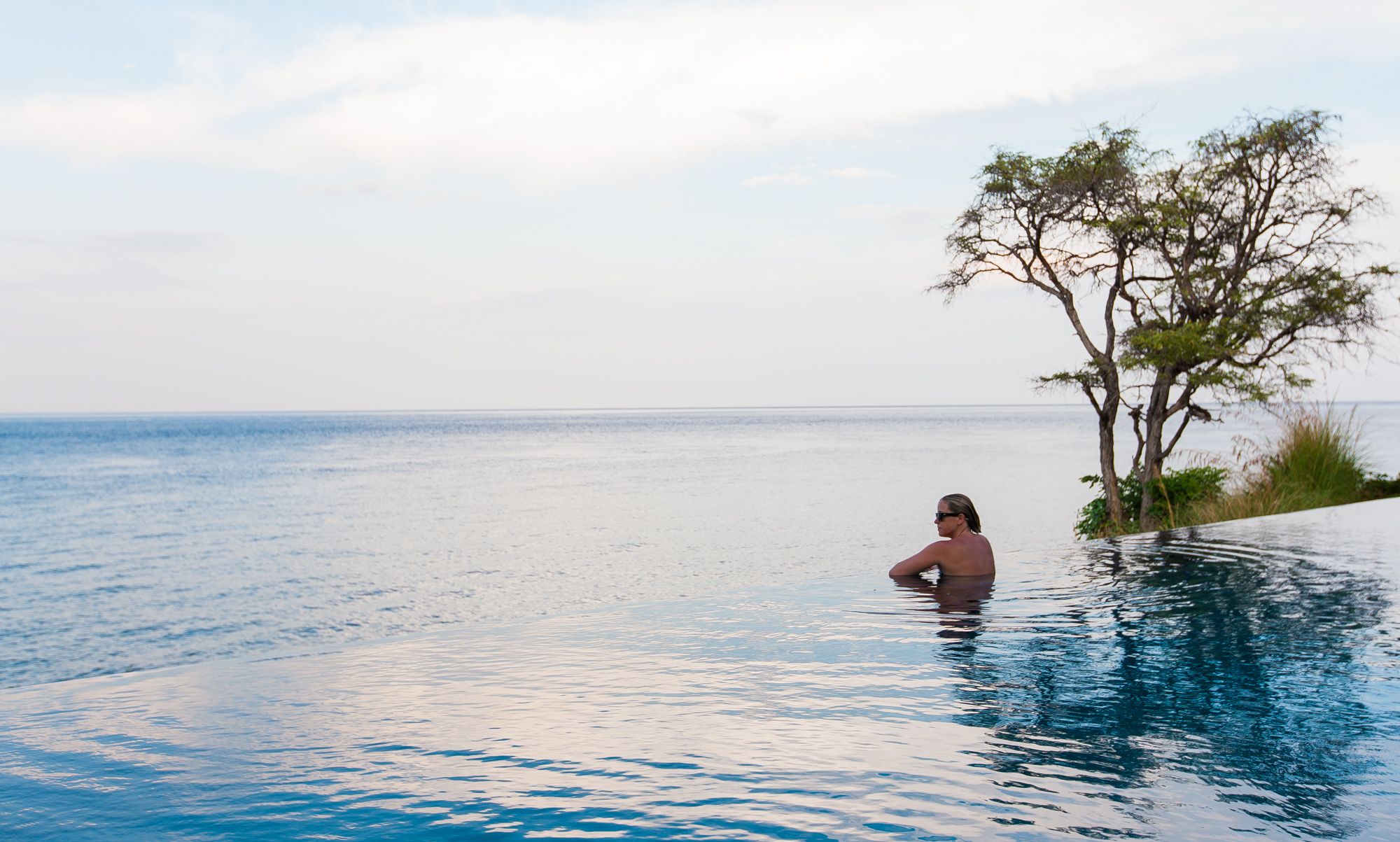 Photos Credit: James Mills
Heading north from Denpasar to the eastern side of Bali, the pace slows down, to a mix of tourism and village life. Shopping is easy without being haggled, and occasionally, you may find a hidden beach all to yourself. East Bali has not succumbed to the frantic pace of the south, and tourism has been slower to develop, with places like Amed only installing power lines in 2011. But travelling three hours north of Denpasar doesn't mean that luxury is out of reach. The area is home to a mix of small boutique hotels and villas, rather than the chains of the south.
Villa Bukit Segara in Amed, is one such villa, that offers all the amenities of downtown Seminyak, without the crowds. With attention to detail, architect Joost Van Grieken designed the tropical villa, built in 2010. The pristine property can be rented out per room or as a whole, and is an ideal location for a special event. The property boasts an infinity pool, an intimate restaurant with views over the ocean, a sailing school and a seaside bure. The owner, Derk, adds some pleasant Dutch touches, including freshly baked bread each morning and manicured gardens with some small farm animals.
With large thatched roofs, separate marble bathrooms, and unique artwork, the rooms are a delight after a day exploring in the heat. The spacious and comfortable bed with European linen is perfect to relax in after a day spent in heavy diving gear. The Villa's menu is wide with a staple of Indonesian dishes that can be brought to your room, poolside, or enjoyed with the view. Nothing is too much trouble for the staff, and poolside mojitos and grilled calamari become our afternoon ritual. Nearby eateries such as Galanga, Gusto and The Grill serve up good quality local seafood, Indonesian dishes and German.
With so few rooms, the service is spot on, from organising transport, to day trips or massages. With the bays so deep and clear, Amed is a playground for the water enthusiast. Tulamben wreck, around 20 minutes away from Villa Bukit Segara, is amazing for freedivers, divers and snorkelers alike. Much sea life can be viewed from the surface, if you don't fancy a long breath hold. In front of the villa, the snorkelling is spot on with the reef home to many creatures. Need a break from the water? Above the sea there is much to do, with nearby with palaces, villages and yoga available.
My thoughts?
The best time spent is in the infinity pool, doing nothing much at all.