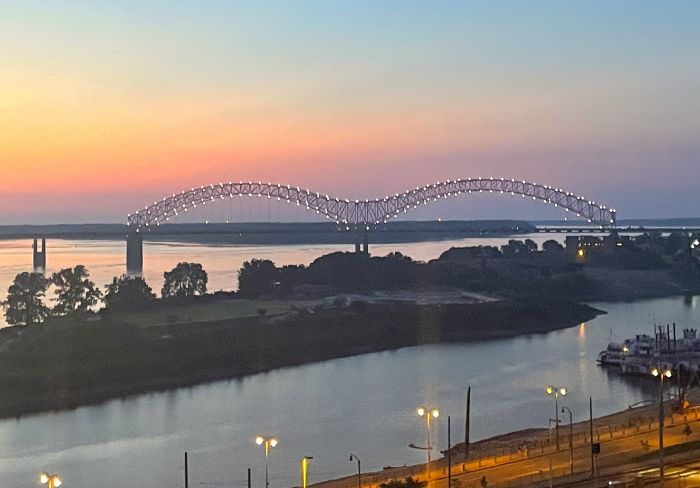 Photo by Michael Reiss
No one will ever say that Memphis plays second fiddle to its country or city slicker cousins. From its port on the mighty Mississippi to its vibey neighborhoods to its civil rights roots, Memphis is a catchy melody sure to capture your heart and soul.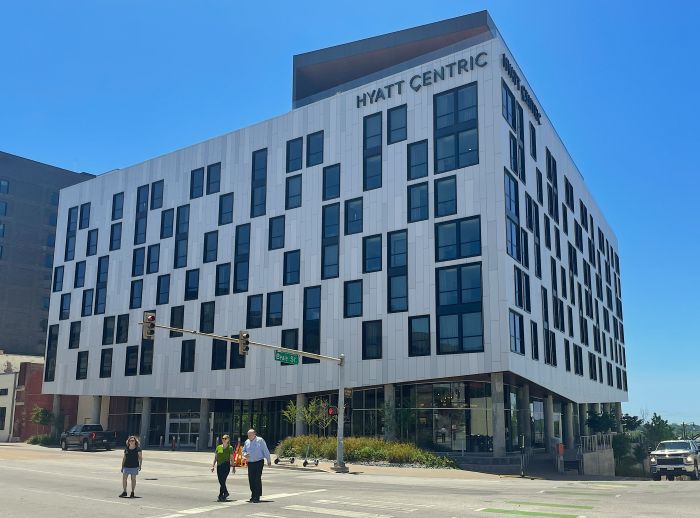 Photo by Michael Reiss
Situate yourself near the beat of Beale St. at the Hyatt Centric Beale Street downtown where you will be just steps from the sounds of music notables and up and coming artists.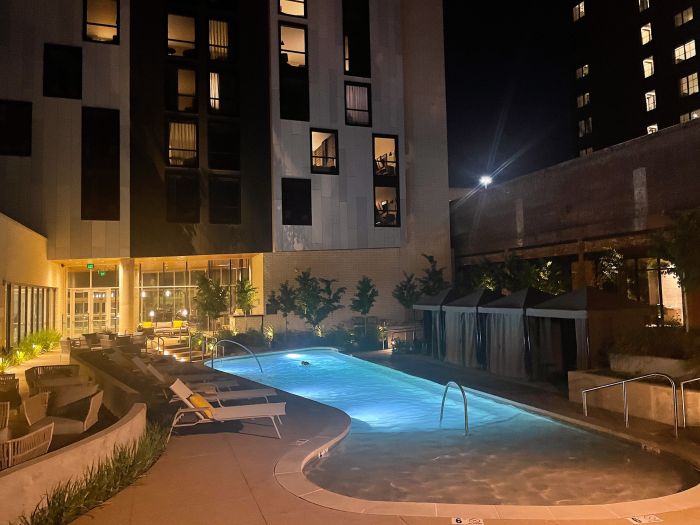 Photo by Michael Reiss
This new property boasts a contemporary design motif. Its open layout leads seamlessly from check in counter to communal work, dining and gathering spots all punctuated by inviting, comfortable seating. The rooms are spacious and well appointed.
The fitness center and outdoor pool areas offer the latest in wellness options. The rooftop bar hosts live performances and boasts sweeping city and river views. Best of all, you are steps away from some of the most prominent attractions of the city.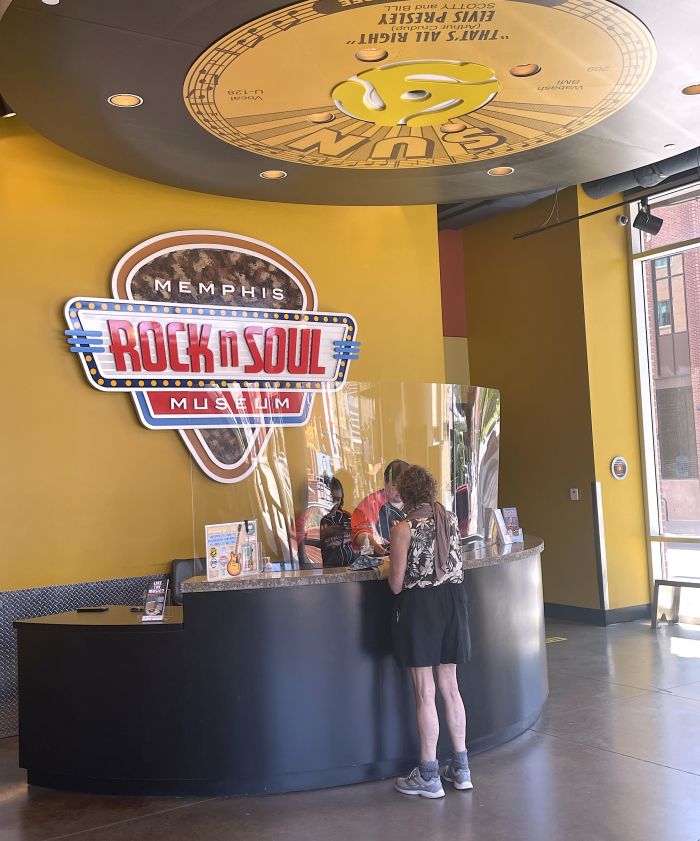 Photo by Michael Reiss
The playlist of Memphis 'musts' will keep you humming for days and nights to remember. Start with the Memphis Rock 'n' Soul Museum at the east end of Beale St.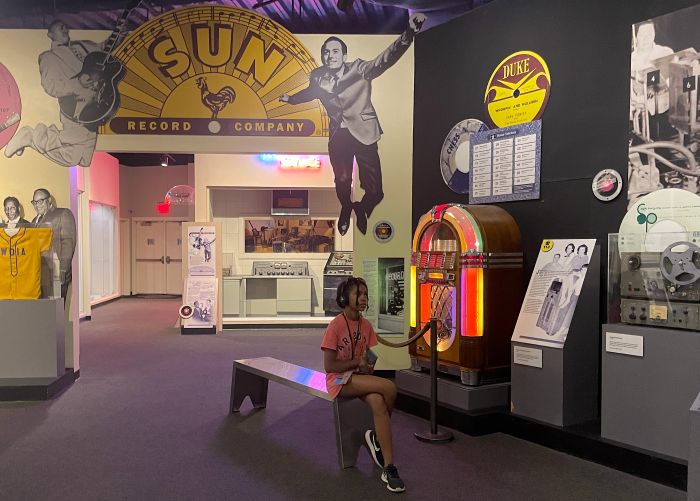 Photo by Michael Reiss
This Smithsonian affiliate is a great place to begin your musical medley of the city. Trace the trajectory of blues, soul and rock 'n' roll through visual and auditory exhibits that narrate and sing its story.
Photo by Michael Reiss
Steep yourself in the history of the blues, the musical genre that was made famous in Memphis.The memorabilia displays at the Blues Foundation's Blues Hall of Fame set the stage for understanding and appreciating this beloved genre from its roots to current day trends.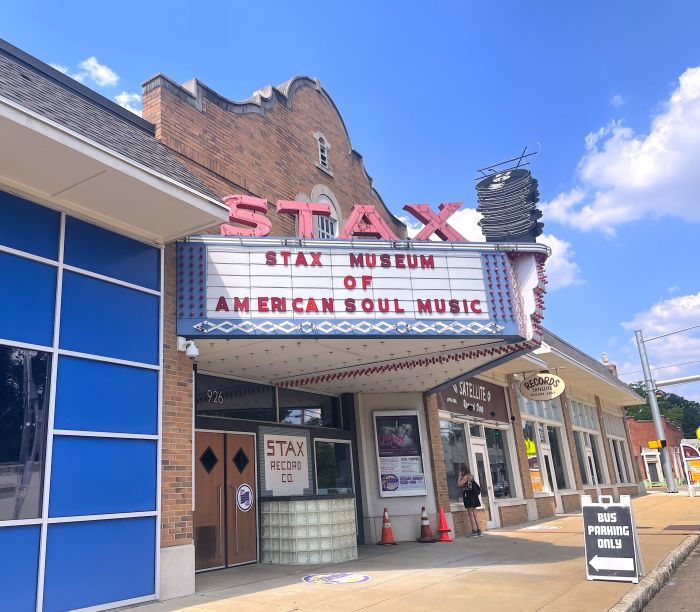 Photo by Michael Reiss
Boogie on down to the Stax Museum of American Soul Music to pay tribute to Isaac Hayes and Otis Redding-- among others who introduced the world to soul music from Soulsville in Memphis.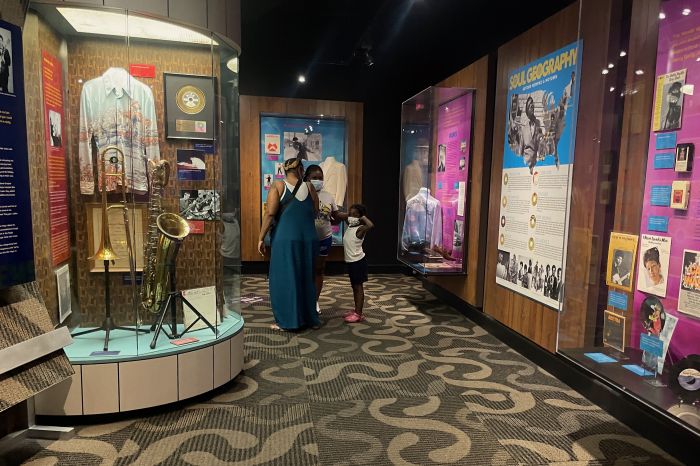 Photo by Michael Reiss
Groove to the rhythms of the gospel sound and the beat of Soul Train, as you discover how soul went from its Sunday spiritual gospel roots to its everyday place in our lives.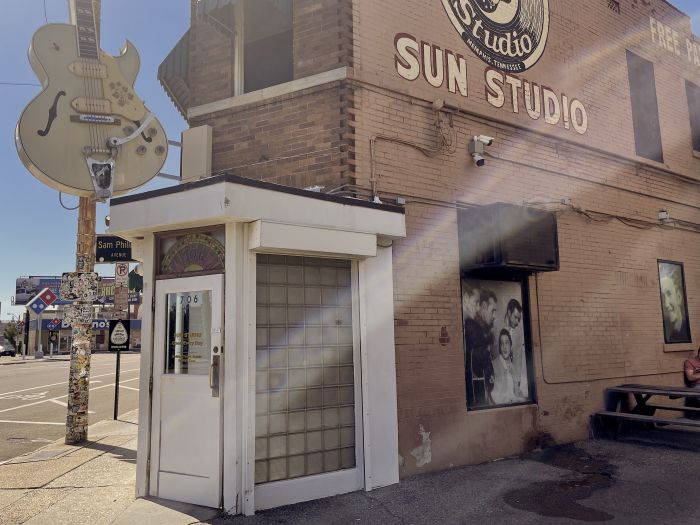 Photo by Michael Reiss
Visit Sun Studio to experience where Rock 'n' Roll and Elvis himself started his unprecedented climb to international repute.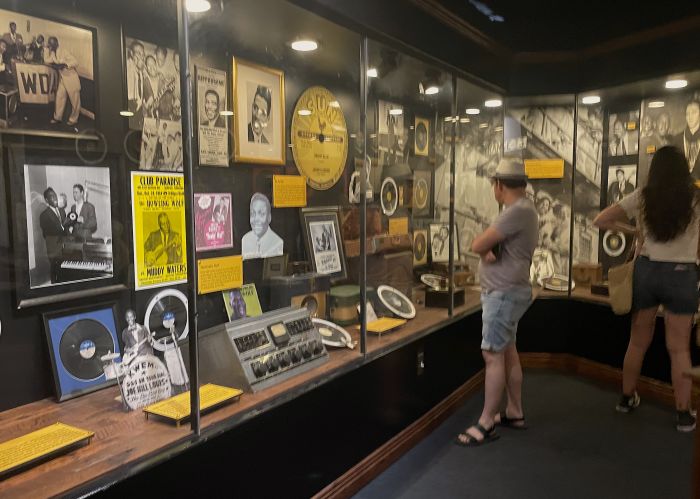 Photo by Michael Reiss
The story is skillfully told by guides who point out the highlights depicted in pictures and sound clips before they escort you into the very recording studio where history was made. Artists continue to record here today.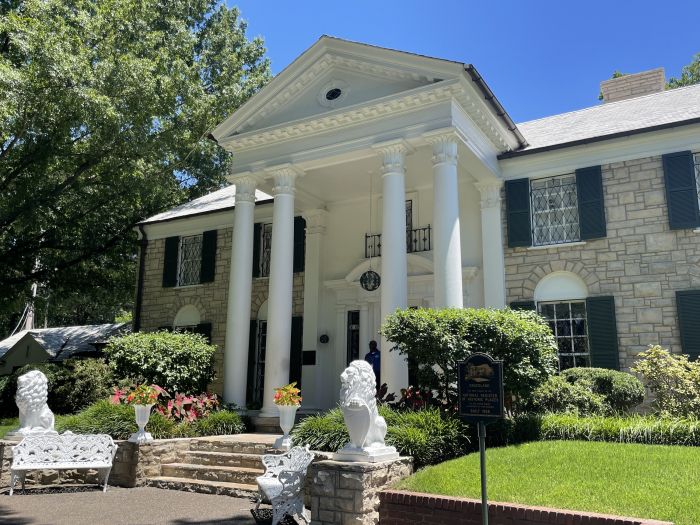 Photo by Michael Reiss
Enter Elvis Presley's private world by touring his Graceland home and immersing yourself in the 10 virtual reality experiences that make this legend come alive.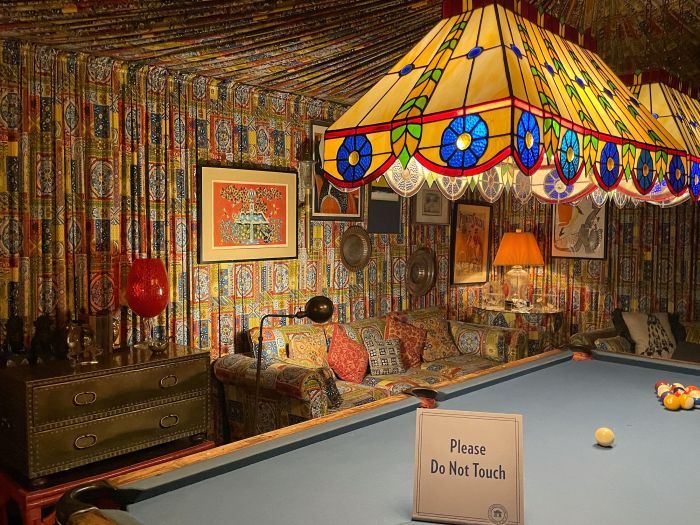 Photo by Michael Reiss
Even if you're not a fan, you will better understand his profound influence on artists and entertainment.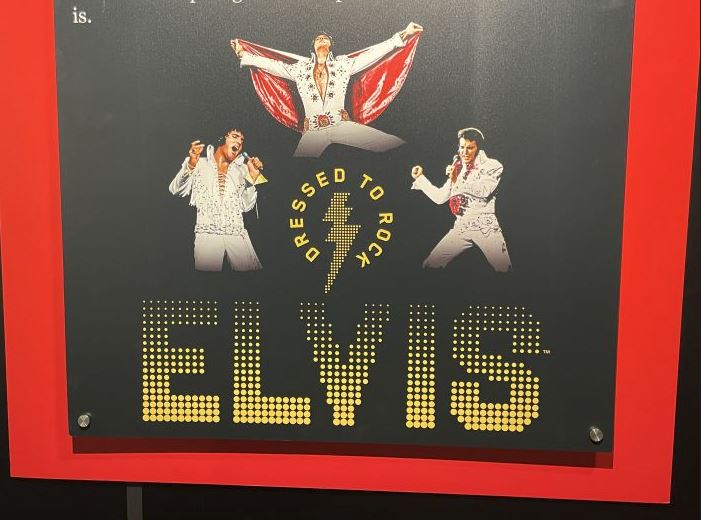 As John Lennon said, "Before Elvis, there was nothing."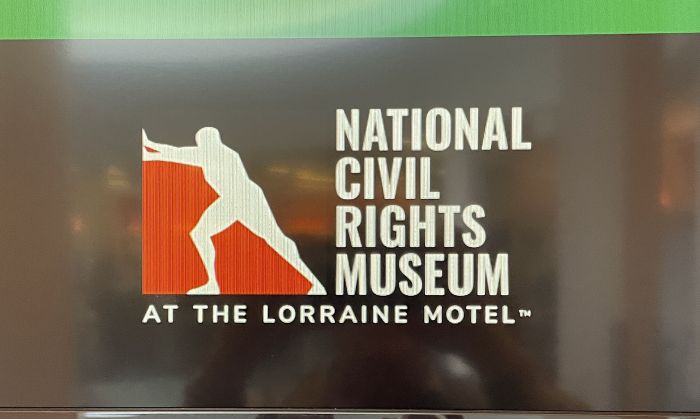 Photo by Michael Reiss
Review the historical account of slavery and the fight for freedom in America, sensitively recounted, utilizing multimedia to underscore this low point in our collective conscious at the National Civil Rights Museum.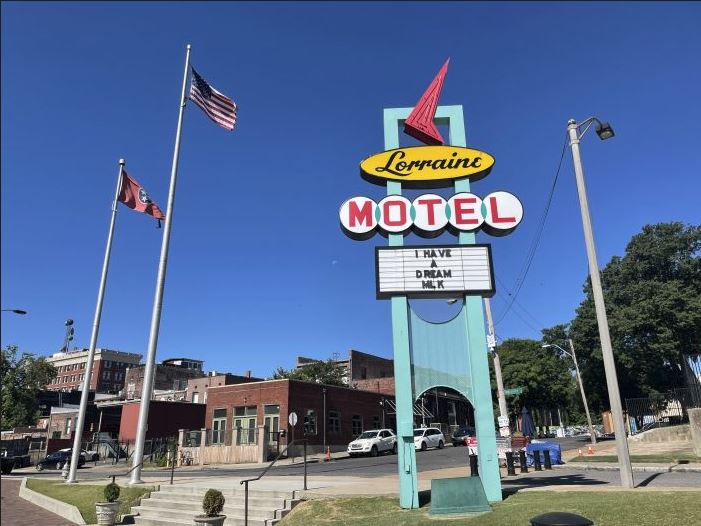 It is located at the Lorraine Hotel where Civil Rights hero, Dr. Martin Luther King Jr. was shot just hours after he delivered his famous "mountaintop" speech.
Photo by Michael Reiss
This moving, powerful and impactful visit adds perspective and understanding to past and current affairs in the United States.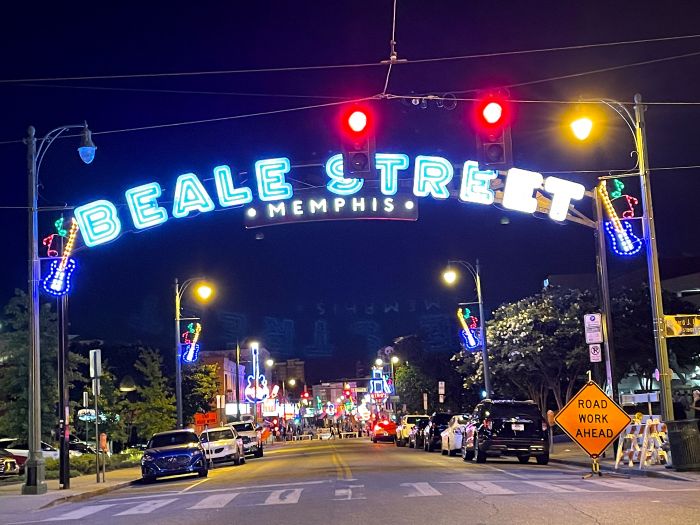 Photo by Michael Reiss
Spend countless hours strolling Beale Street as you take in the sights, sounds, smells, and tastes of the city known for its barbeque, blues, and soul. Between sets played by the city's talented artists, enjoy the legendary barbeque that makes Memphis famous.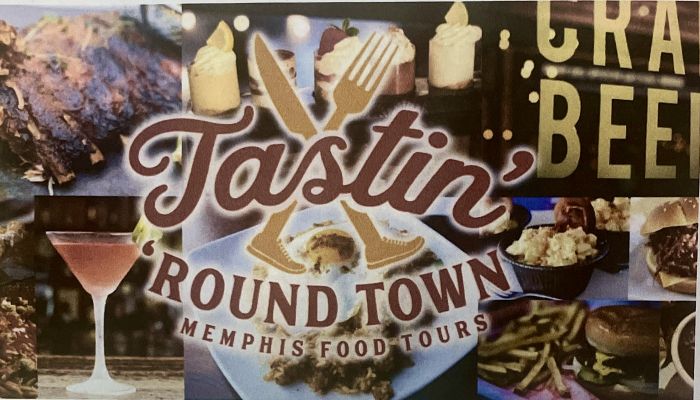 Photo by Michael Reiss
Better yet, treat yourself to a culinary tour of the city. Join a walking food tour lead by Taylor of Tastin' 'Round Town. As Taylor regals you with little known facts that make Memphis what it is today, your taste buds will be tantalized with the specialties of five downtown restaurants.
Items tasted on our tour included deep fried double cheeseburgers, award winning gumbo, chicken wings, ribs with beans and slaw, and banana pudding gelato. The food was typical Memphis, and Taylor's commentary alone was worth the price of the tour.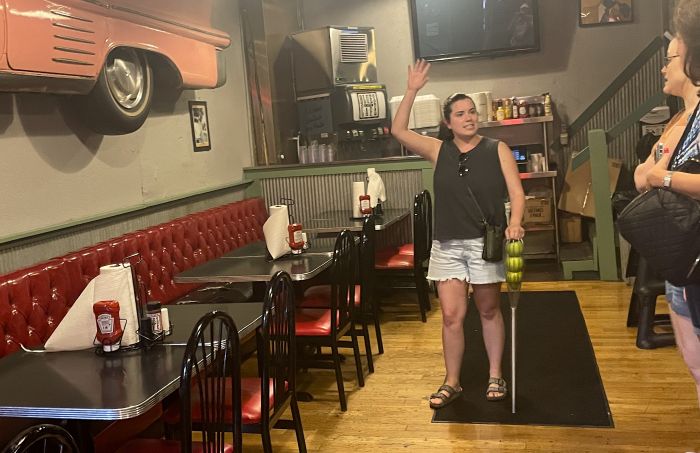 Photo by Michael Reiss
This native Memphian's background as a food historian, and barbeque competition judge made the tour a 'must-do' while in Memphis.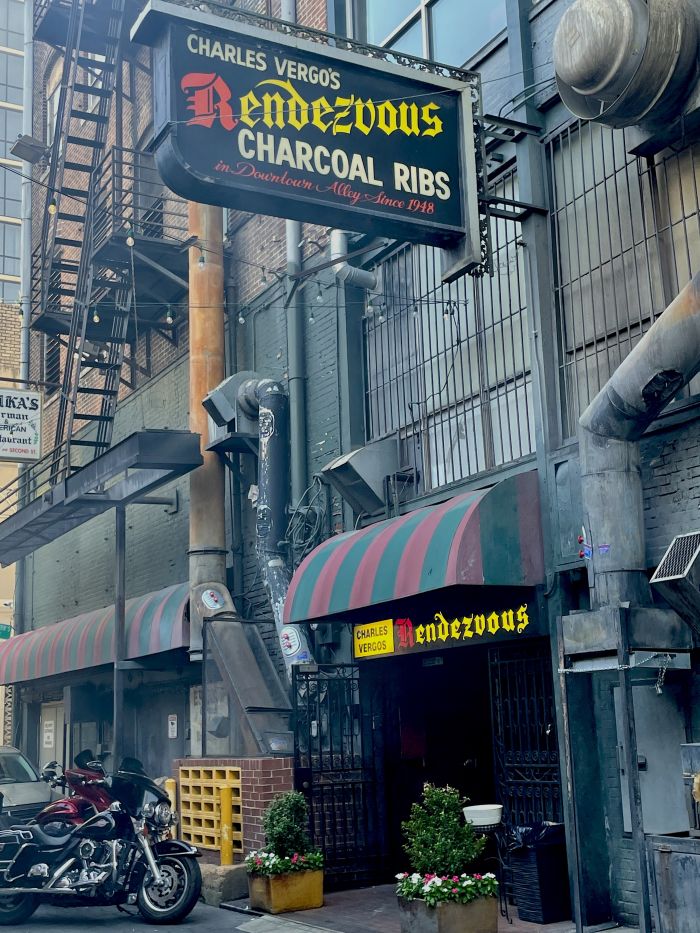 Photo by Michael Reiss
If your taste buds have not been sufficiently sated, a meal at Charlie Vargos Rendezvous for renowned charcoal grilled dry rubbed ribs will surely do the trick.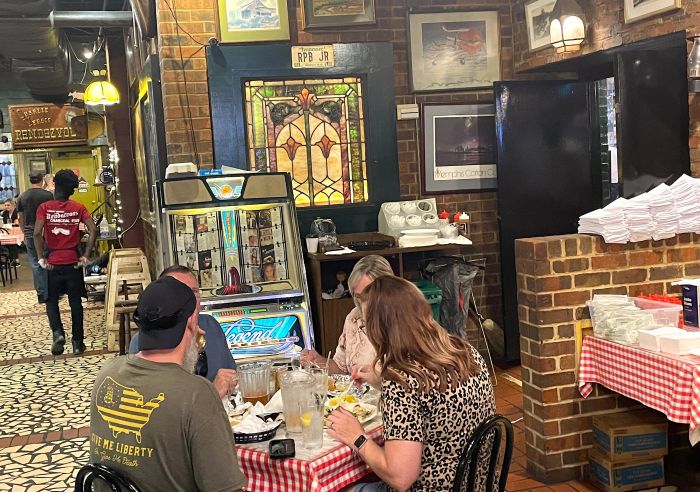 Photo by Michael Reiss
Since 1948, gourmands in the know have flocked to this quintessential Memphis establishment in the basement of an alley across from the Peabody Hotel for memorable barbeque.
Plan your meal around the notorious duck walk taking place daily in the lobby of the Peabody Hotel at 11AM and 5PM.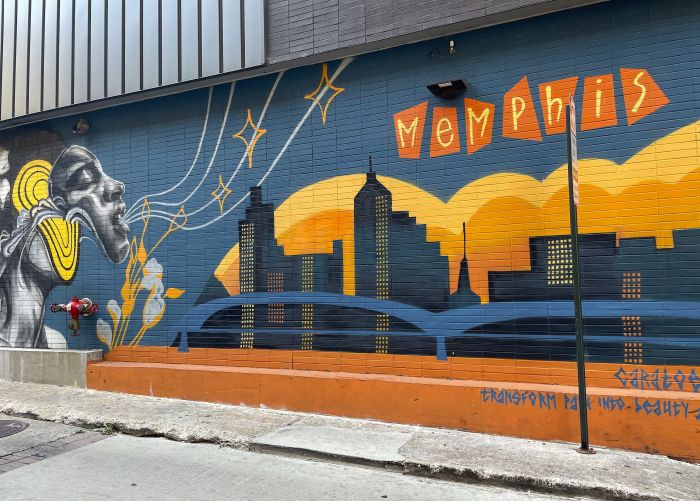 Photo by Michael Reiss
You might have to bid adieu to Memphis, but the melody of this musical city will linger on and become part of your travel playlist for a return visit.