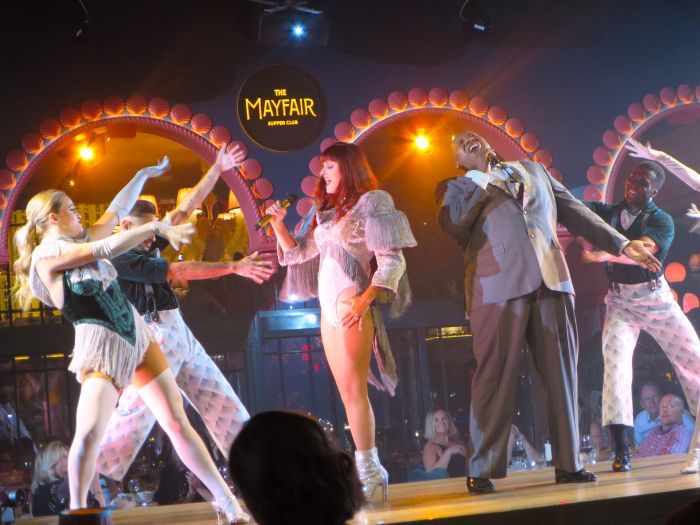 Photo by Michael Reiss
Las Vegas is alive and thriving, as the world starts traveling again. If you are ready to venture out of your home base, this is surely a destination to visit. What makes Las Vegas a perennial repeat-visitor mecca is the promise of something new under the sun, moon and stars in the city that never sleeps. Even dining has taken on new dimensions.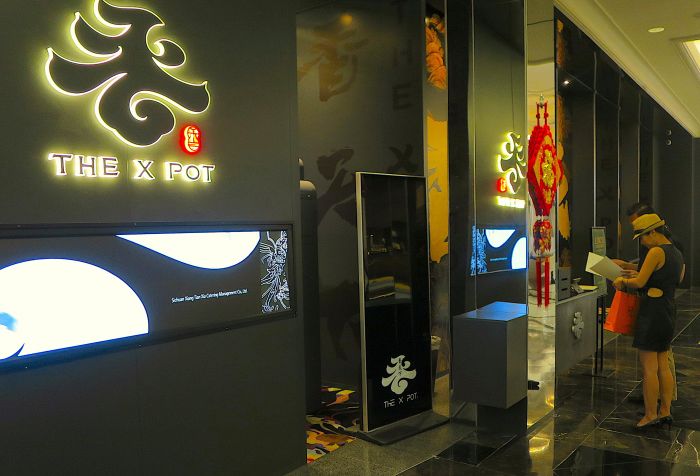 Photo by Michael Reiss
Let's start with an evening at THE X POT located in the Grand Canal Shoppes of the Venetian Resort. This immersive fine dining experience will engage all your senses. The moment you enter you are transported into an exotic world where sight, sound, smell and taste join forces to capture your attention.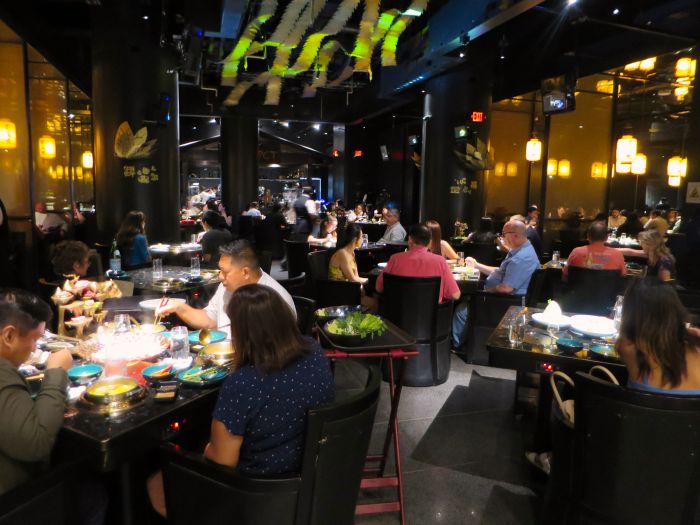 Photo by Michael Reiss
Before being seated, your hostess will escort you to the butchery, where every imaginable cut of purebred A5 Wagyu beef flown in daily from Japan.is being prepared for the table. The concept is to elevate the humble Asian hot pot tradition of familial dining to a refined, repast fit for royalty.
Photo by Michael Reiss
The multitiered menu starts with a round of appetizer bites including a torched Wagyu sushi topped with foie gras and edible gold, as well as a truffled tofu roll presented on a dramatic bubbling dry ice platter.The main course hot pot includes your choice of a soup base and comes with multiple preparations of Wagyu beef, greens, veggies and more. You then become the master chef creating your own variations of delectable morsels. All the while, an overhead light show, music and performances are designed to delight.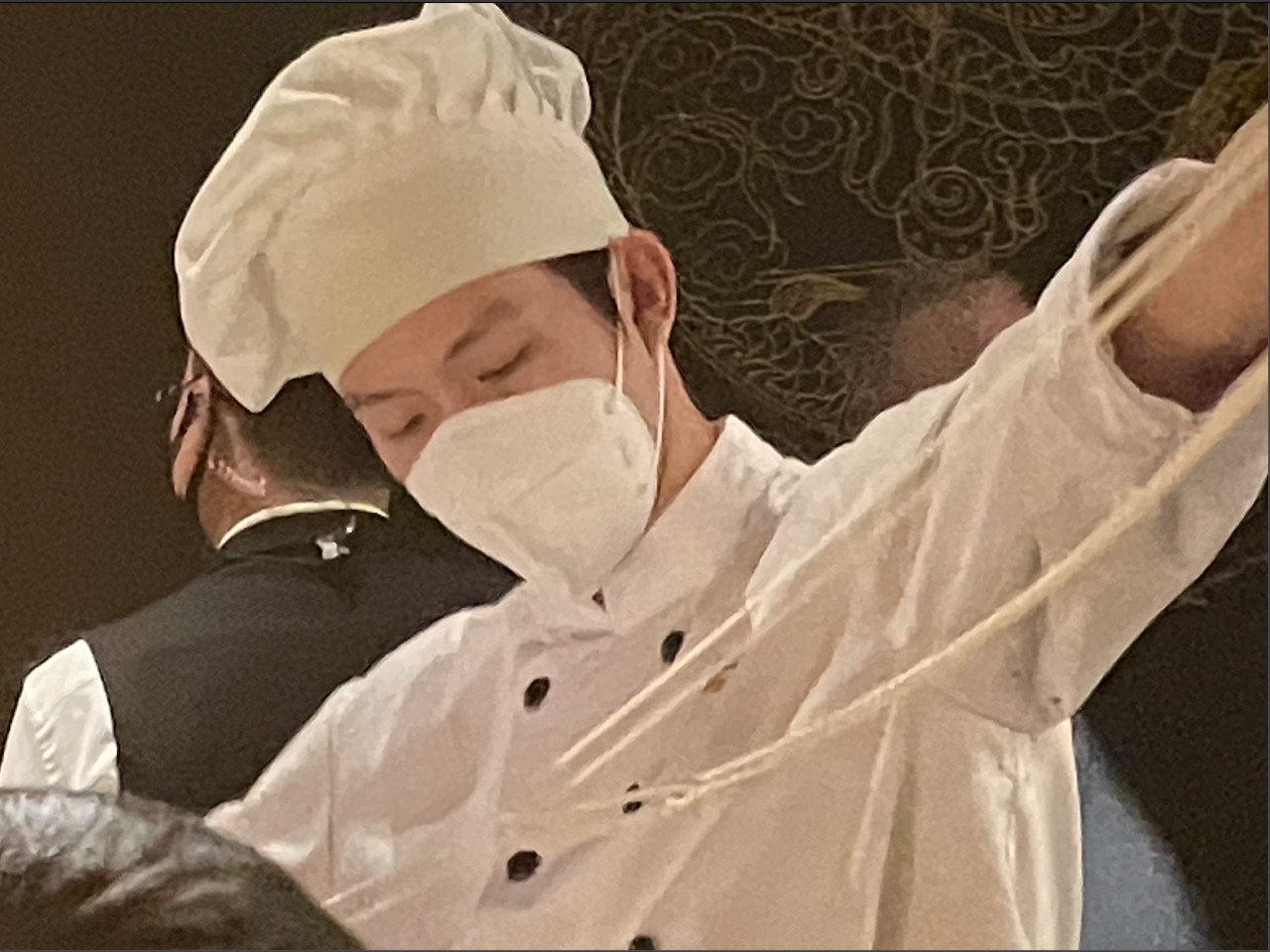 A traditional face changing artist and a hand pulled noodle demonstration entertain you between sips of signature cocktails and decadent morsels plucked from your hotpot. This is dining at its most engaging. Visit XPOT for this unique, participatory culinary adventure.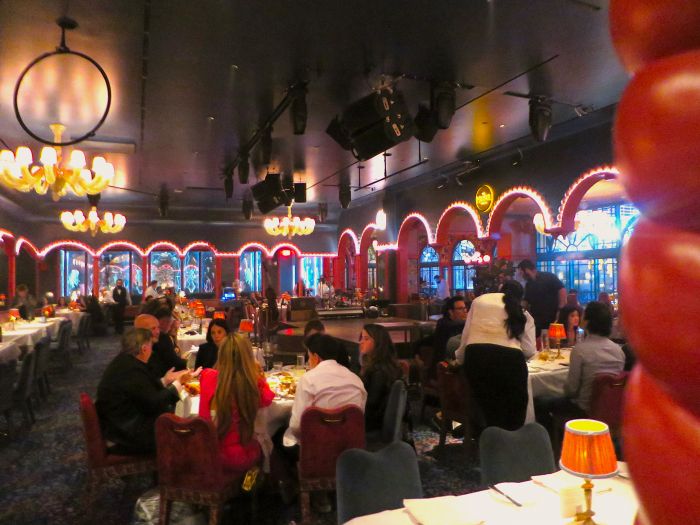 Photo by Michael Reiss
If entertainment is high on your list, The Mayfair Supper Club at Bellagio will knock your socks off! Located in view of the mesmerizing fountains and the neon lights of the Strip, you will nevertheless forget where you are, once you enter this atmospheric enclave.
The ambiance is reminiscent of the bygone era of clubby sophisticated, white tablecloth dining. All American classics are on offer with classy cocktails and an impressive wine list to pair with any of the upscale menu choices.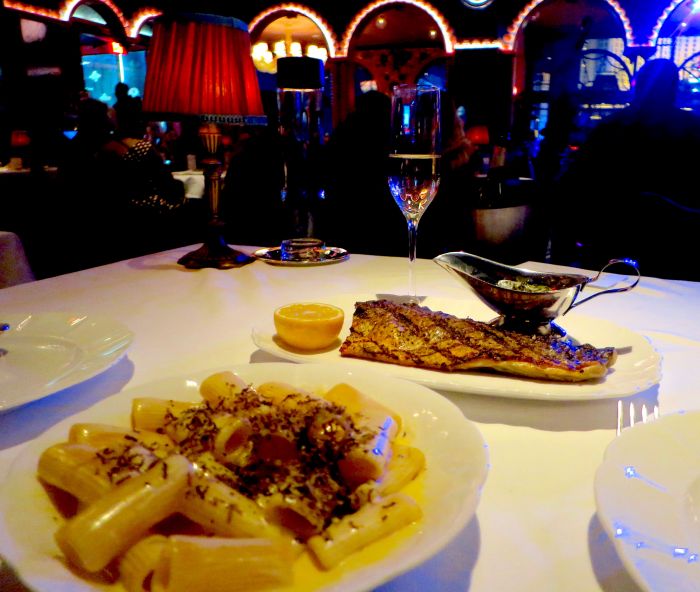 Photo by Michael Reiss
Service is superb, attentive, and anticipatory of any request, yet unobtrusive. Stand out menu items include Wagyu Prime Rib and the Striped Bass with Truffle Pasta.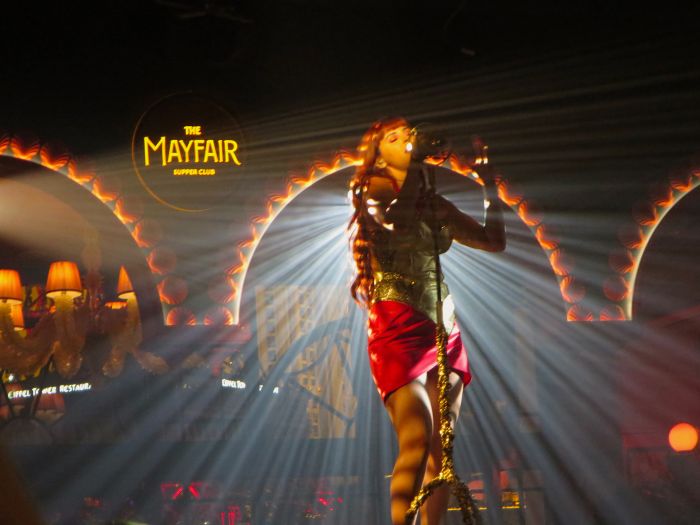 Photo by Michael Reiss
And then there's the stars of the show. These world class singers and dancers not only entertain from the stage but stroll the dining areas and playfully engage their audience as they croon, shimmy, shake and raise the rafters. The seemingly endless sets are fresh, cheeky, and thoroughly entertaining. The seating is intimate, so everyone feels connected to the action.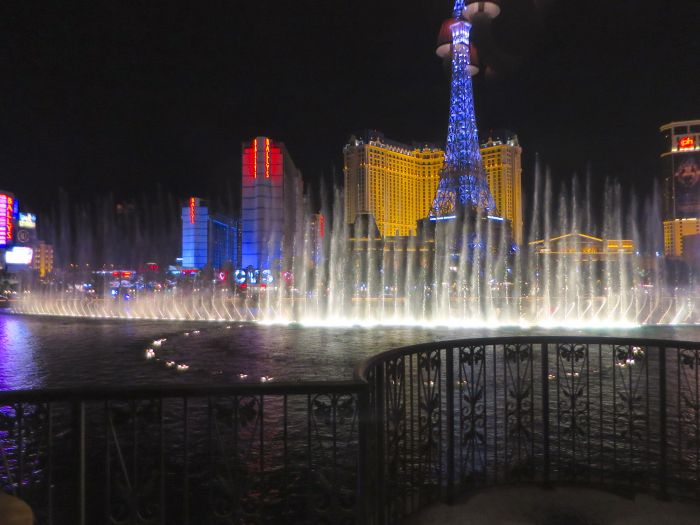 Photo by Michael Reiss
On the weekends, they turn it up a notch for late night naughty entertainment and dancing. The combination of first-rate performance and elegant, all-American fare served in a glamorous setting makes this special occasion venue a must for your next visit. And book ahead you must, so as not to be left out in the lobby.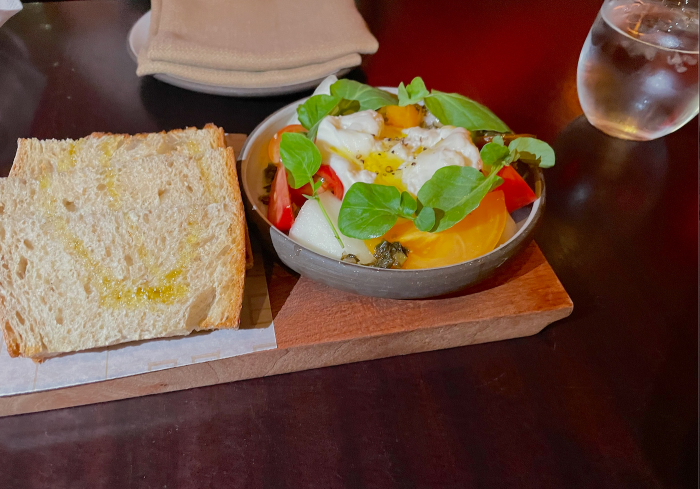 Photo by Michael Reiss
Want to do some gourmet noshing? Lip Smacking Foodie Tours has you covered. They offer several tasty options. We chose "Savors of The Strip" to gain VIP access to 3 of the city's most in-demand restaurants during prime evening time.
Our knowledgeable tour guide set the stage by sharing some juicy information about the general locale we were visiting. He pointed out the architectural and artistic highlights as we walked towards our first stop, NOMAD.
If you selected the additional cocktail package, your first drink arrived just as the food was delivered family style to you and your table mates.
We shared a Hamachi Ceviche, a Burrata Caprese Salad and a Chicken French Dip Sandwich with Truffle Jus. All were deemed yummy by the group. Our guide interjected with discussion of the finer points of what we were consuming, and we were quickly on our way to the next stop.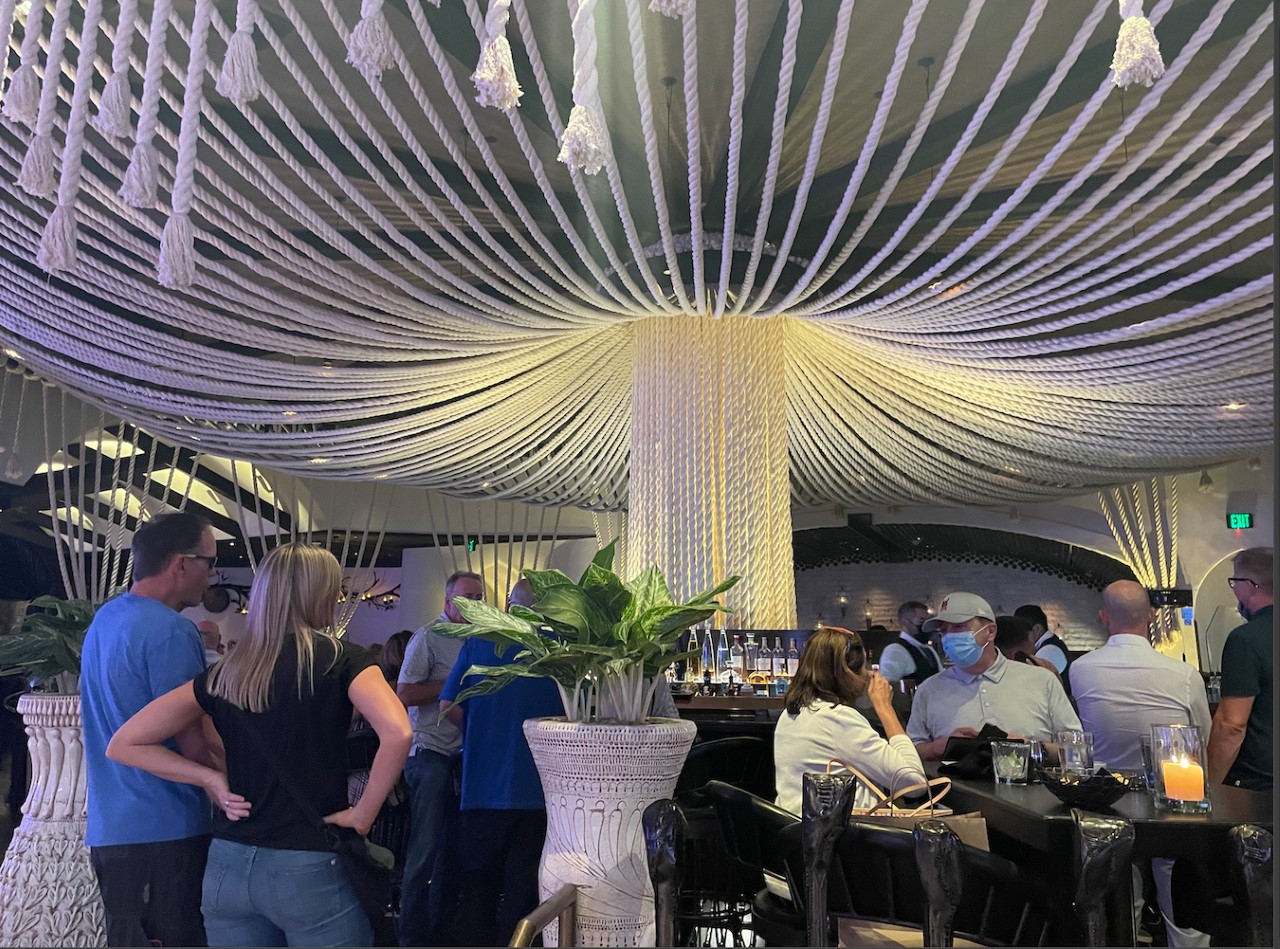 Javier's, billed as some of the finest food of Mexico, was a visual extravaganza. We were escorted into a mother of pearl studded private dining room lit by an agave chandelier.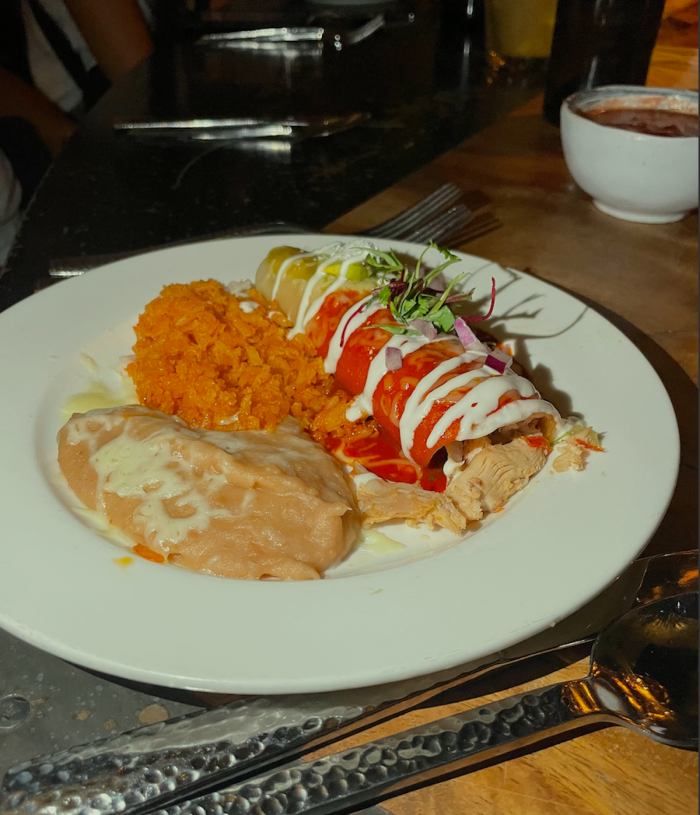 Photo by Michael Reiss
Besides homemade chips and salsas, we were treated to a fresh crab and shrimp enchilada.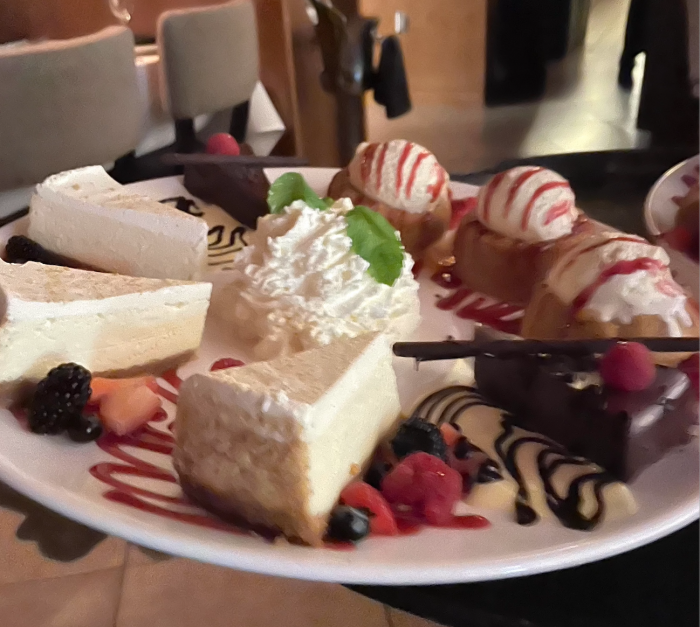 Photo by Michael Reiss
We ended our tour at Mastro's Ocean Grill where steak, creamed spinach and a tomato salad were followed by a decadent display of desserts including their famous Warm butter cake. What a sweet ending to a fun filled foodie fest.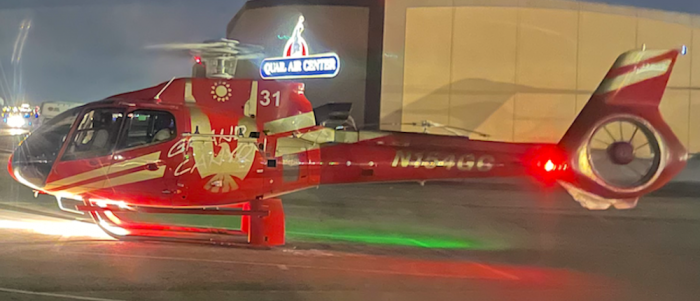 Photo by Michael Reiss
If you think you've experienced the high life of Vegas, think twice until you've tried the VIP Fly & Dine Luxury Night Out Package offered through Papillion Helicopter.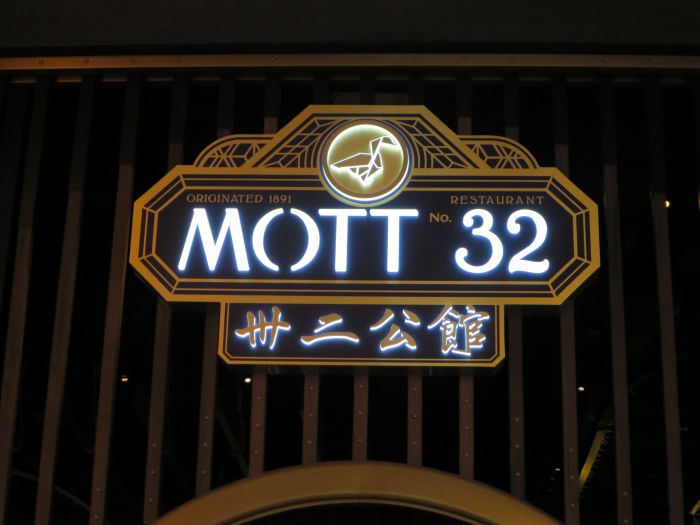 Photo by Michael Reiss
Your evening starts with a 5-course curated dinner menu at Mott 32 in the Venetian Resort. Add the additional 5 wine pairings and you've got a banquet fit for royalty.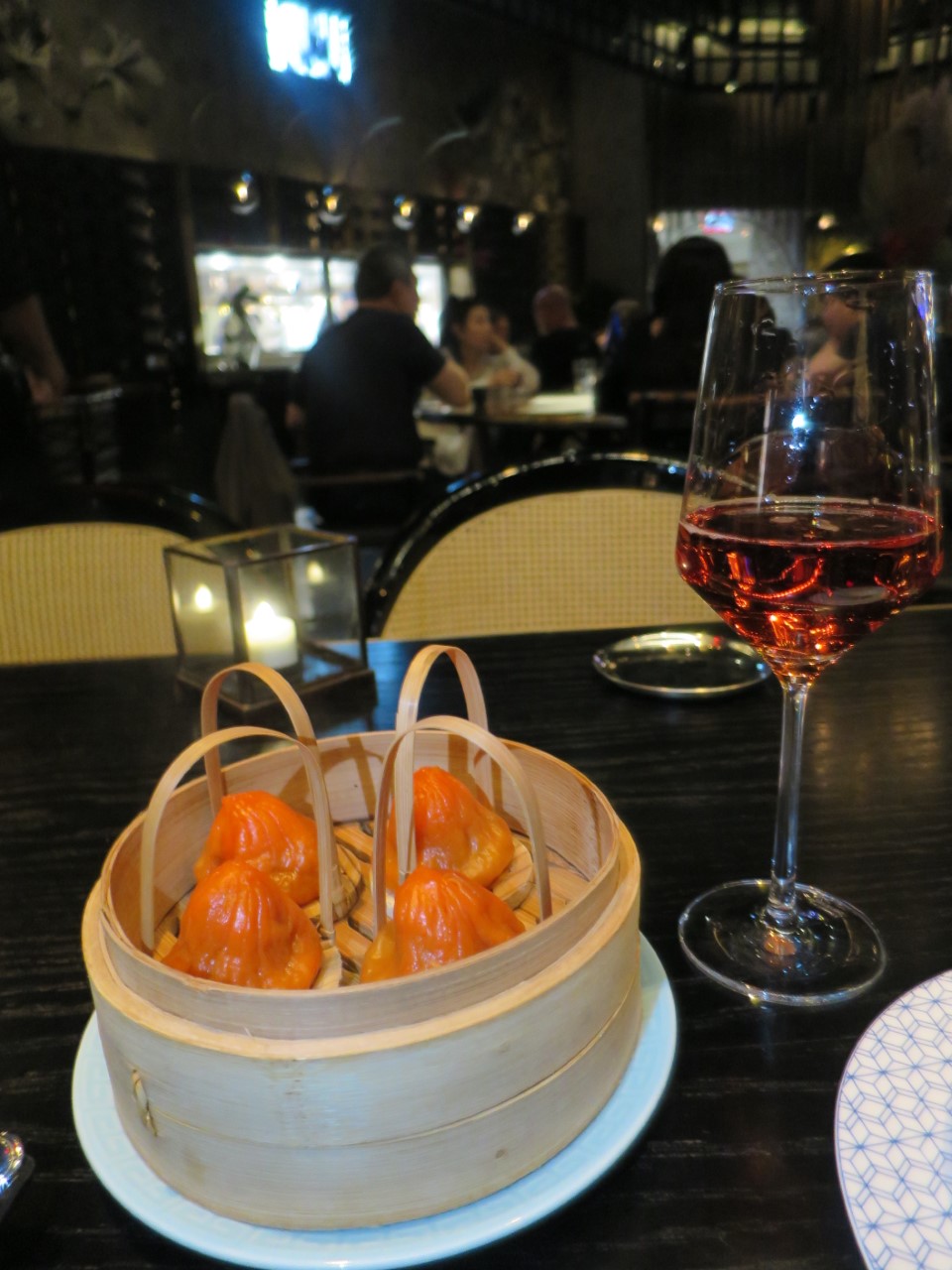 The feast starts with Hot & Sour Iberico Pork Shanghainese Soup Dumplings paired with a French Rosé Sparkling Wine.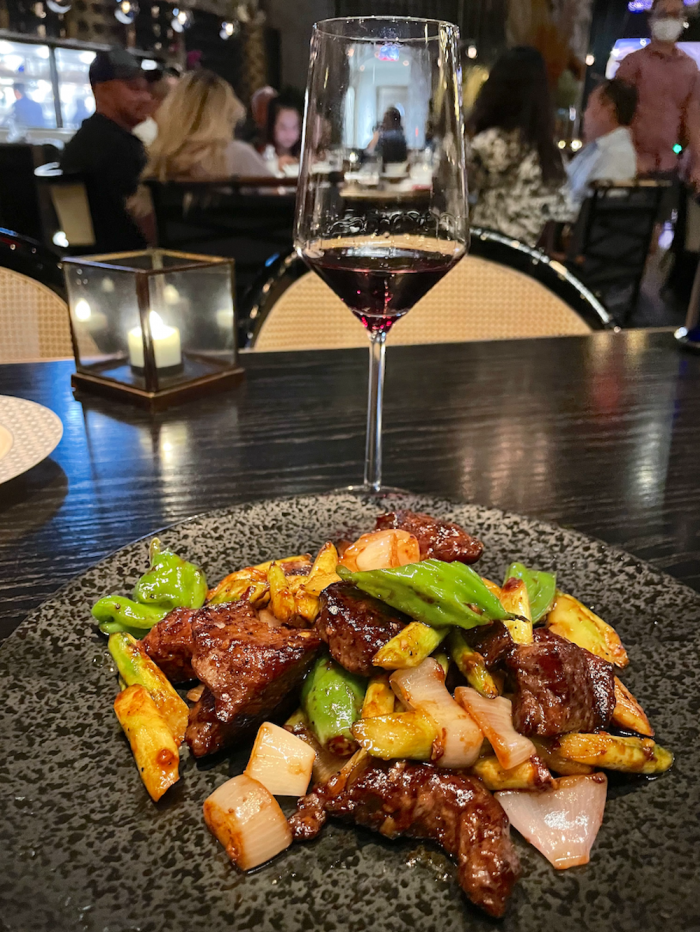 Photo by Michael Reiss
Then comes Sweet and Sour Pork, Dragon Fruit, Aged Black Vinegar paired with a German Riesling.
This is followed by Grilled Sea Bass in Sweet Miso Sauce paired with a French Burgundy or Stir Fried Australian M6 Wagyu Sirloin, Shitake Mushrooms, Baby Leeks paired with a French Bordeaux.
Then comes the Signature Maine Lobster Fried Rice, King Oyster Mushrooms, and Edamame paired with a French Grenache/Syrah. Dessert is Rose & Valhrona White Chocolate Panna Cotta, Lychee Sorbet, and Raspberries paired with an Austrian Beerenauslese.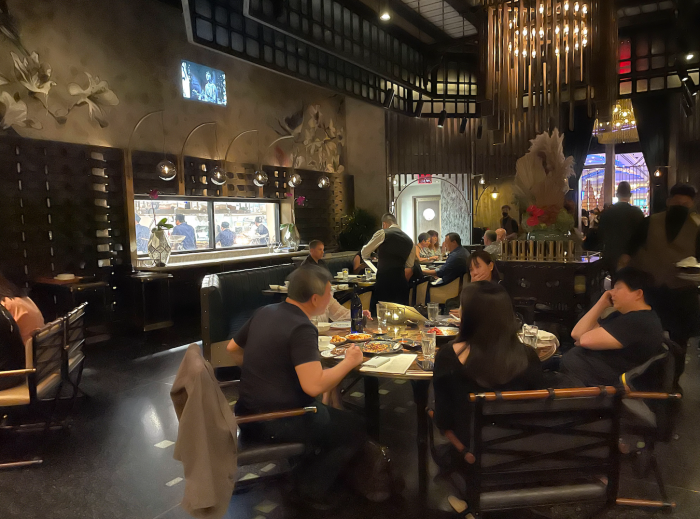 Photo by Michael Reiss
Each course was superbly executed by authentic Chinese kitchen staff and served by professional waitstaff who are personable and knowledgeable, making the dining adventure even more delectable.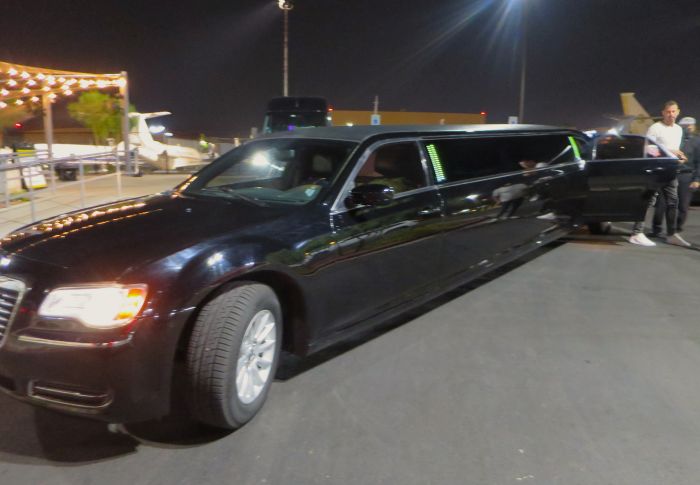 Photo by Michael Reiss
Then comes the stretch limo sent by Papillion Helicopter to whisk you away to the helipad where staff prepare you for the flight of your life over the neon lights that illuminate this world-famous strip.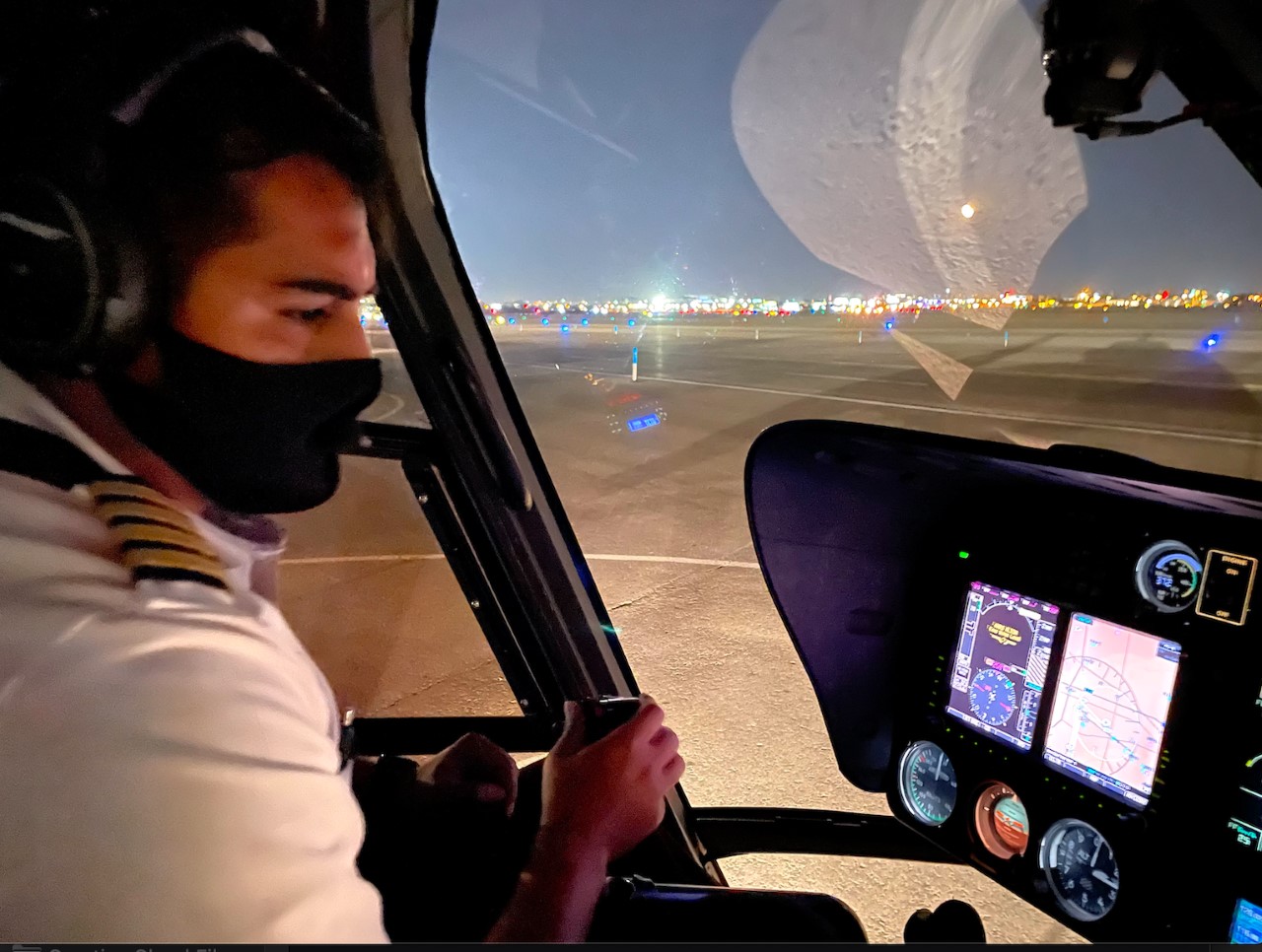 As the pilot highlights points of interest, you are mesmerized by the sights.
Photo by Michael Reiss
As this adventure all too quickly come to a close, you are again whisked back to your hotel only to slumber under the memory of this dazzling evening.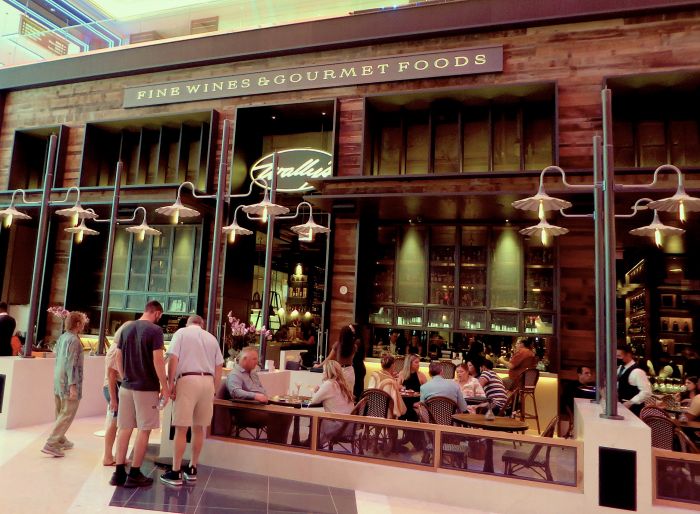 Photo by Michael Reiss
If fine wine is your passion, Wally's Las Vegas will quench your thirst. Located at Resort World, their reputation for fine wine, spirits, and gourmet food, garnered from their decades in Los Angeles, precedes them. They are the gold standard for quality and choice, offering over 100 wines by the glass including several rare finds. In addition, the entire space functions as a wine cellar from floor to ceiling with a wine list to match.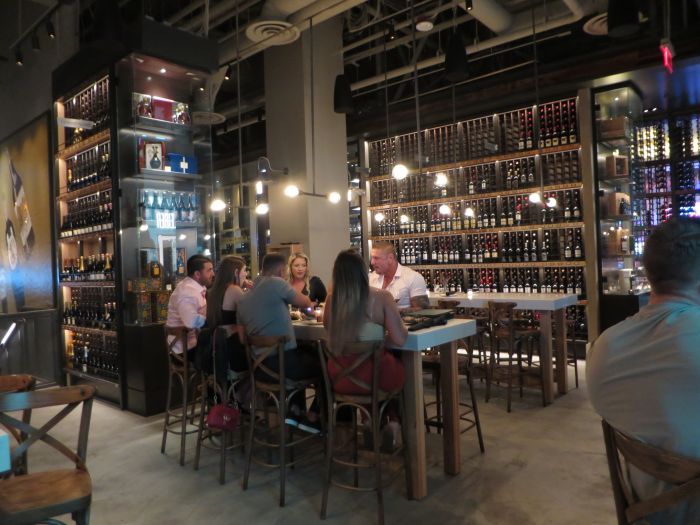 Photo by Michael Reiss
The sleek marble tables and communal dining areas along with the expansive open kitchen and market space make this an inviting convivial setting for any wine lover.
The expansive cheese and charcuterie selection is only rivaled by the gourmet menu featuring many truffle laden dishes as well as Wally's tried and true classics.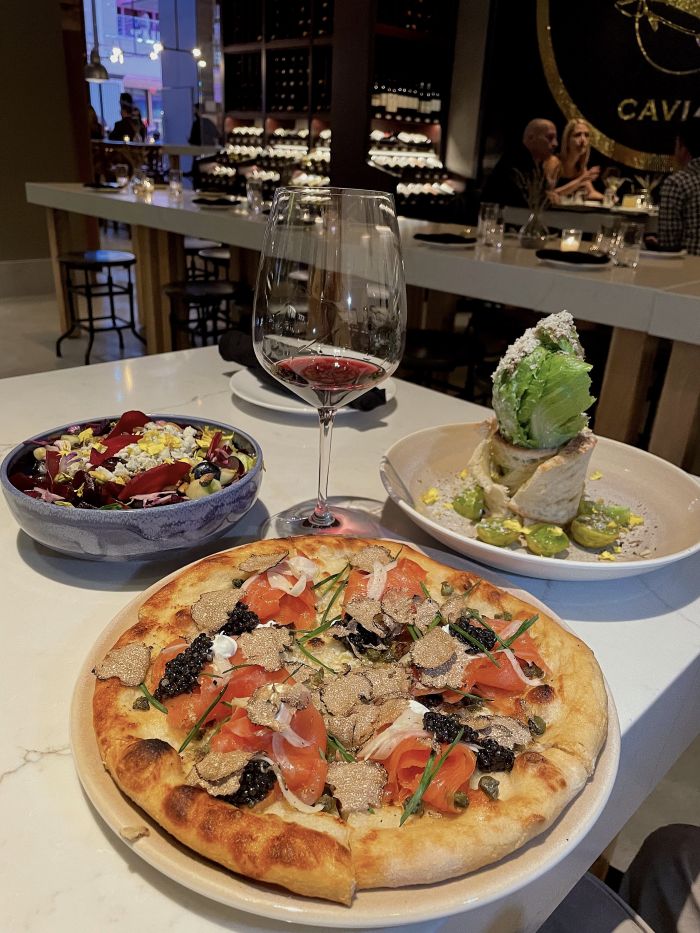 Photo by Michael Reiss
We started with the Smoked Salmon & Caviar Pizzetta sprinkled with some additional truffles for good measure. The Truffle Ceasar Salad and The Purple & Blue Salad comprised of beets, blueberries, grapes, and blue cheese were perfect accompaniments for the pizzetta and the glasses of Billecart Salmon Reserve and Laurent-Perrier Cuvee Rosé Champagnes.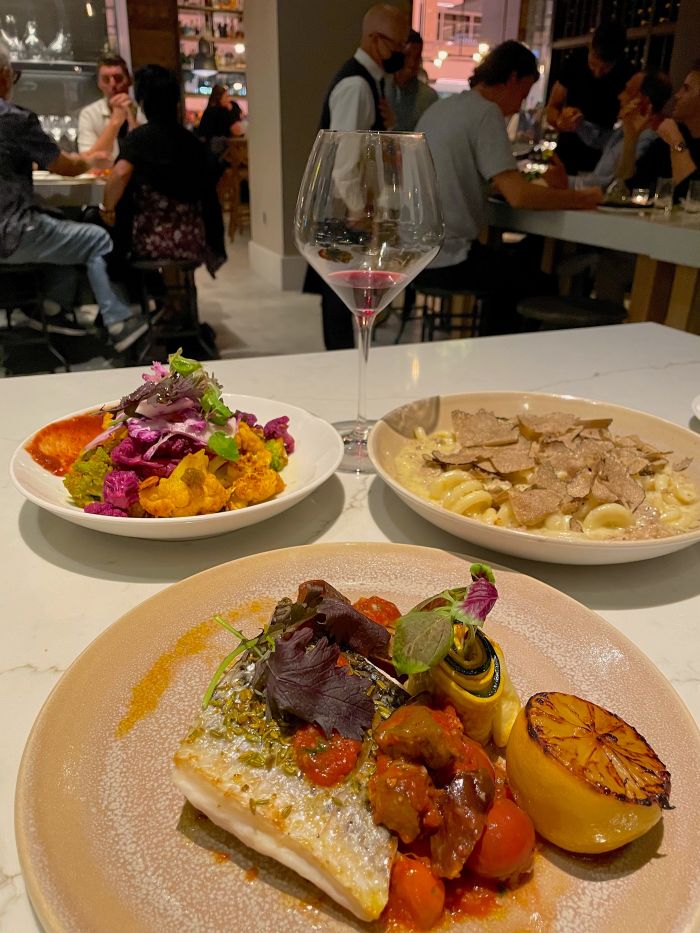 Photo by Michael Reiss
Our Entrees included Stripped Bass with a niçoise olive tapenade, summer veggies, charred heirloom tomatoes and a Truffled Veal Bolognese along with a side of Moroccan Cauliflower. We selected a red blend from Aperture in Alexander Valley, 2018 and a Shafer TD9 Napa Valley, 2018 Merlot to enhance our main courses.
The Peaches & Cream and Chocolate Caramel Craquelin Choux desserts did not disappoint. The entire meal and wine service was exquisitely executed by the kitchen staff and superb server. Wally's reputation is well deserved, and intact at this new gourmet outpost.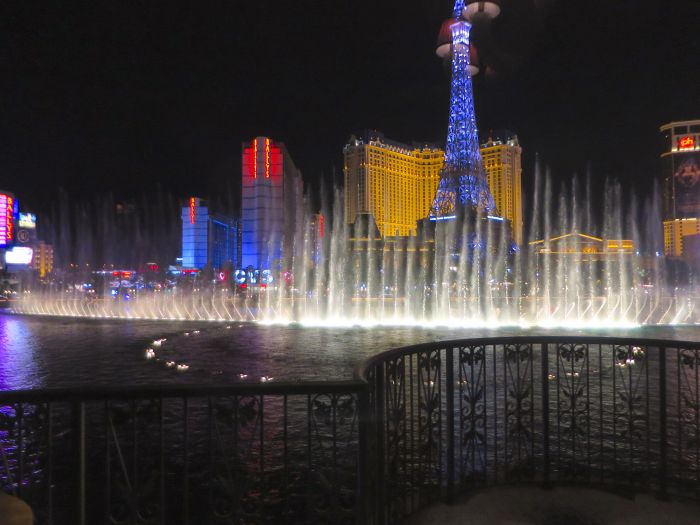 Photo by Michael Reiss
There is a reason why chefs worth their salt want to set up shop in Las Vegas. Each one raises the bar for the next, and we, Las Vegas diners, are the lucky winners of this delectable jackpot. Bon Appetit.