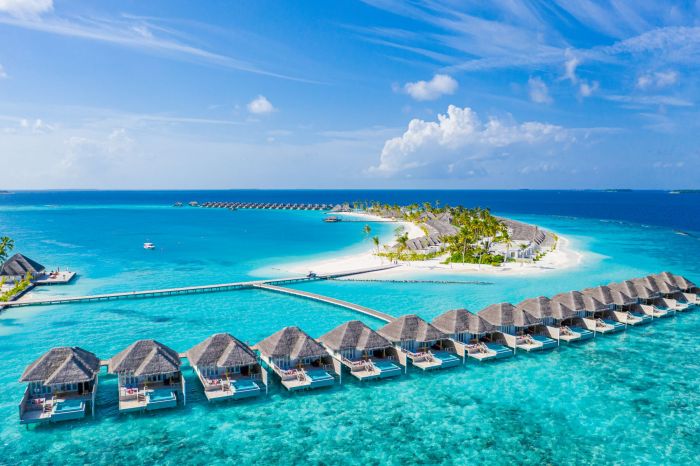 Images Adobe Stock
While the Maldives is said to be the flattest island in the world, there's nothing flat about spending a holiday on this island, especially as a couple. The mere mention of the country conjures images of fine white sand, an impressive selection of marine life, and beautiful waters in different shades of blue.
This paradise island nation has consistently ranked in the list of top honeymoon destinations, and for a good reason. Its natural and unique wonders, boosted by its remote location, make it a perfect spot for couples looking to ignite or rekindle their passion for each other.
And if you're not booked in any of the water villas in the Maldives, you haven't actually stayed on this breathtaking island.
What Are Maldives' Water Villas?
Water villas in the Maldives are posh wooden houses, typically with open front walls, built on water and supported by long stilts. Bungalows built over the water, like these structures featured on Dreamoverwater, are the epitome of romantic accommodation for couples seeking privacy amid stunning views.
However, the concept for water villas did not originate in the Maldives but rather in another tropical paradise, the French Polynesian island of Tahiti. These bespoke over-water houses have been around since the 1960s, with about 7,000 water villas now scattered worldwide.
Like hotel accommodations, luxurious over-water homes come in different styles, inclusive amenities, and prices. And Maldives has the right water villa for honeymooners, long-term couples, young families, friends, and adventure-seekers who want to experience the best and most unique stay on the island.
Why Are Water Villas In The Maldives The Best For Couples?
Traveling together can positively impact a relationship, and going to the Maldives can give you and your partner ample time to enjoy each other's company. According to estimates, traveling one way from the United States can take at least 25 hours. This lengthy travel time, however, is more than worth it. You'll undoubtedly fall in love with the island as the plane lands. Moreover, you'll become enamored with its magical allure on the way to your posh and bespoke water villa.
Here's a look at how water villas in the Maldives offer the ultimate romantic experience:
Maldives' Water Villas Provide Stunning Views That Boost Your Mood
Science claims that being close to nature boosts productivity and credits biophilia for this phenomenon. According to research, staring for 40 seconds at a natural scenery is powerful enough to put humans in a relaxed state.
Staying in the Maldives with your loved one offers you with 24/7 view of the ocean. An endless stretch of azure-hued waters punctuated only by an equally impressive powder-white sand. However, it's not all blue and white. Most water villas have sections of glass floors where you can view numerous marine life in all their glorious hues.
And as the night falls, feast on the lovely sunset as it lights up the sky in vibrant shades of bright yellow, regal purple, calming pink, and fiery amber. Take out a bottle of champagne as you celebrate life together as a couple, and show your productivity, in or out of bed—if you know what we mean.
Maldives' Water Villas Help Rekindle Romance Without The Stress
Staying in a water villa typically includes access to all-day meals on a floating cottage and 24/7 access to entertainment and impeccable service. Wellness and total relaxation are big in this tropical paradise, with most hotels, including adult-only resorts, offering romantic massages after a long day.
Want to surprise your beau? Hire a personal butler to plan and execute the most romantic getaway ever. This professional service personnel ensures guests remain comfortable, enjoy their stay in the villa, and get everything they need without leaving the premises. It's like renting a private island for the holidays.
Stepping Out Strengthens Your Connection
Doing things together can help build or cement your bond, whatever your status as a couple might be. And bonding in such a calming and private environment, like a water villa, can further boost your connection with your partner.
But staying in a secluded over-water bungalow doesn't mean you can't do anything but dip into the cool, clear waters below you. This island nation has 26 atolls and 1190 islands, and while only a portion is inhabited and used for luxury tourism, couples can still do various things in the Maldives. Water and land activities like snorkeling, surfing, hiking, sailing, deep-sea fishing, paddle boarding, and exploring the town with a rented scooter, for instance, can be arranged for exciting adventures.
These experiences help you see your partner in a new light, and the Maldives can offer couples once-in-a-lifetime dates in underwater restaurants or on a submarine ride.
Conclusion
Maldives has been a primary destination for couples and honeymooners—a proudly held title for several years. Water villas offer exotic views in private and secluded spots, while stellar hospitality guarantees ultimate relaxation, allowing romantic partners to bask in the glory of romance and deep seduction.
These reasons make the Maldives the perfect destination for couples, whether celebrating a relationship milestone or raring to experience the most unforgettable and luxurious romantic holiday they could have.