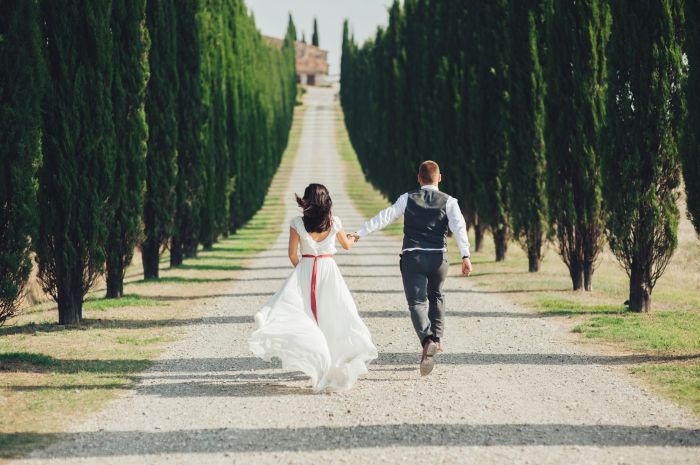 An increasing number of foreign couples are choosing Italy as their destination to celebrate their wedding. There are numerous reasons behind this choice, just as there are many unique characteristics of the Bel Paese. For these couples, Italy represents a magical place to organize their wedding ceremony, a highly sought-after option that undoubtedly brings joy to their guests.
Visiting renowned cities like Florence, Rome, or Venice is not a decision made on a whim. Being invited to a wedding in an Italian location can truly be the realization of a dream.
Foreigners love Italy for various reasons: its enchanting landscapes, gastronomy, artistic cities, and above all, the hospitality and kindness typical of Italians.
Italy proves to be an ideal place to celebrate a wedding, offering a wide range of venues suitable for any religious, spiritual, or secular preference. Churches, mosques, castles, historical residences, and even town halls for civil ceremonies provide unique settings that fascinate, captivate, and make the event unforgettable.
And what about the climate? Foreigners from colder countries can be certain of finding a mild climate in Italy, with plenty of sunshine and warmth, especially if they choose to get married in Rome, where good weather usually accompanies the months from April to mid-November.
They know they will return to their home country with a tan, and a sense of well-being in their bodies, hearts, and souls.
The couple will retain an indelible memory of the magical atmosphere, thanks to the talented Italian wedding photographers who specialize in capturing the essence of the chosen locations. It is extremely important to rely on an excellent wedding planner to organize those unforgettable moments that the couple is about to experience.
A destination wedding in Italy is a dream come true for many couples seeking an enchanting and romantic setting for their special day.
Not only big cities
A widespread custom among foreign couples is to move to locations outside urban centers after the wedding ceremony, such as agriturismi and restaurants offering local and traditional specialties.
One of the main reasons why foreigners choose Italy is closely related to food! From appetizers and finger foods to aperitifs and meat or fish-based menus, all the way to delicious cakes prepared by master pastry chefs, everyone desires to experience the rich cuisine of Italy.
Many things that we consider normal, such as freshly baked bread, focaccia, or homemade pasta, represent an absolute novelty for foreigners who wish to live it at least once in their lifetime.
They choose to celebrate their wedding in Italy precisely to blend this variety of emotions into a single dream, creating an indelible memory of a journey that encompasses culture, history, and above all, good food.
Living unforgettable moments
In Italy, there are numerous high-level professionals who offer excellent services to foreigners choosing to get married in the Bel Paese.
Professionals such as photographers, receptionists, and restaurateurs can provide services of the highest quality when managed by the right wedding planner service.
Couples who decide to celebrate the most beautiful moment of their lives in Italy do so because they know they can rely on the hospitality and joy of experiencing something unique in this country. Each person strives to create unforgettable moments for them.
Last but not least, civil marriage in Italy is also straightforward administratively. It is sufficient to provide a few documents to the embassy of one's country of origin in Italy and communicate essential information to the municipal offices where the wedding is desired to be celebrated. Thus, the dream comes true.
Which wedding planner service in Italy should you entrust with this responsibility?
Amore Wedding Italy is an Italian Wedding Agency founded by Kathrine Brenne, specializing in organizing fairytale weddings in the most beautiful locations across Italy.
We are a young and dynamic team with a high level of professionalism and extensive experience in planning both small and large-scale events. Our expertise enables us to create unique and unforgettable occasions tailored to the couple's specific requests and needs.
With a deep understanding of the enchanting landscapes and venues Italy has to offer, we curate weddings that reflect the individuality and love story of each couple. From intimate gatherings to grand celebrations, we ensure that every detail is meticulously planned and executed, resulting in a truly magical experience.
At Amore Wedding Italy, we are dedicated to crafting extraordinary weddings that exceed expectations. With our passion for creating unforgettable moments, we strive to make each couple's dream wedding a reality in the mesmerizing backdrop of Italy.