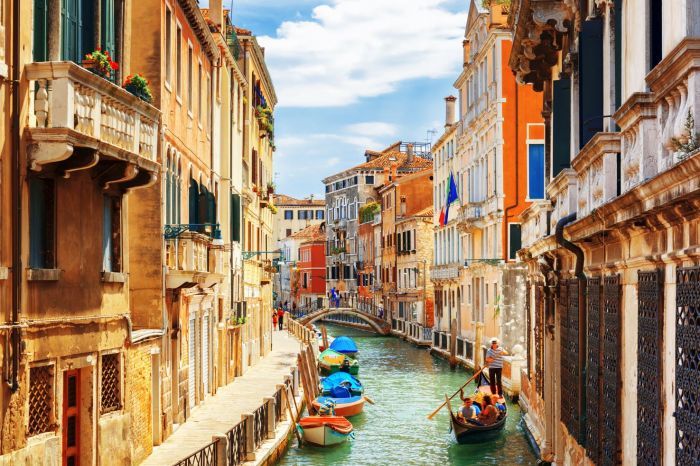 Photo Credit: Shutterstock
Europe is an amazing continent that has many countries, each with its own history, culture, architecture, and cuisine. Thanks to such a large variety, it can be difficult to choose exactly where to get the best impression of European culture.
However, such a country exists — and it has everything you need! This nation combines the architecture of different historical periods, museums with world-famous works of art, a rich cuisine that is considered to be one of the best in the world, and much more.
If you guessed Italy, you're correct!
Italy offers tourists everything they want in a vacation, with a side of atmosphere and lasting memories. Once you have your ETIAS for Europe, be sure to spend a few days (or more) in Italy — and we'll show you why.
The Center of European Tourism
Italy is full of various sights and cities that are famous all over the world: the ruins of the Colosseum where gladiators used to fight; the ornate details inscribed in the Milan Cathedral; the canals of Venice with its singing gondoliers; the Uffizi Gallery in Florence… and we're just getting started.
Italy is the heir to the great Roman Empire and the birthplace of the Renaissance. Because of its varied and lengthy history, travelers can find something to do at any time of the year.
In fact, there are 58 UNESCO World Heritage Sites in Italy, which is the largest number of Heritage Sites of any country in the world. More than 65 million visitors traveled to Italy in 2019, and the most popular Italian cities among tourists include Rome, Venice, Florence, and Milan.
World-Famous Italian Cuisine
In addition to the fact that Italy is the center of tourism in Europe, it is also the center of culinary and gastronomy in the world. Many dishes such as pizza, lasagna, risotto, and, of course, pasta have originated in this country.
Food in Italy is not just eating tasty dishes, but an entire culture, complete with organic ingredients, traditions, and recipes passed from generations. Thanks to this attitude towards food, Italy has become a place where gourmets from all over the world come together to taste the best dishes.
The country also boasts an established wine industry and offers a great number of wine tours for visitors. Besides tasting food, travelers can also learn about its history — there is an official pasta museum in Rome.
The Incredible Nature of the Alps
While many people typically think of Switzerland or Austria when they hear of The Alps, Italy also plays an important part when it comes to this mountain formation.
Although the Alps pass through the borders of eight countries, it is in Italy where their most beautiful part is located — namely, the Dolomites.
The Dolomites are listed as a UNESCO World Heritage Site due to their unique nature and incredibly picturesque views. In addition to the scenery, the Alps offer some of the best ski resorts in Italy, such as Livigno and Madonna di Campiglio, which are very popular among fans of skiing and snowboarding.
On the other hand, it is worth visiting the Alps in summer just to go hiking. The mountains offer beautiful lakes with crystal clear water, fields with alpine flowers, and panoramic train rides.
The Best Beach Holidays
In addition to its picturesque mountains, Italy has some of the best beaches in the world.
Italy has the fifth longest coastline in Europe and is bordered by four seas: the Adriatic, Ionian, Tyrrhenian, and Ligurian. Two regions of Italy are islands — Sicily and Sardinia — which have their own special atmosphere and attract millions of beach lovers every year.
Travelers can enjoy swimming in clear waters and relaxing on golden sandy beaches, or opt for adventurous activities like kayaking or underwater diving to see sunken ships or corals.
A Country Within a Country
When visiting Italy, travelers will have a unique opportunity to visit another country, all without crossing any external borders.
This unique phenomenon happens because Vatican City is technically an independent city-state that is inside Rome — or a country within a country.
The Vatican has many ancient sights to visit, including St. Peter's Basilica, the Sistine Chapel with its many frescoes, and the Vatican Library, which houses many rare and ancient books. There is also a unique opportunity to see the Pope, who often steps onto his balcony to greet visitors.
World-Class Shopping
Italy is well-known as a shopping paradise among fashionistas and is famous for having an incredible number of premium and boutique brands, such as Gucci, Prada, Dolce & Gabbana, and Missoni.
Those who love a good deal should visit Italy during the sale season, which happens in January and mid-July. The best cities for shopping are Rome, Florence, and Milan.
Of course, don't forget a few fun souvenirs for friends and family back home as well.