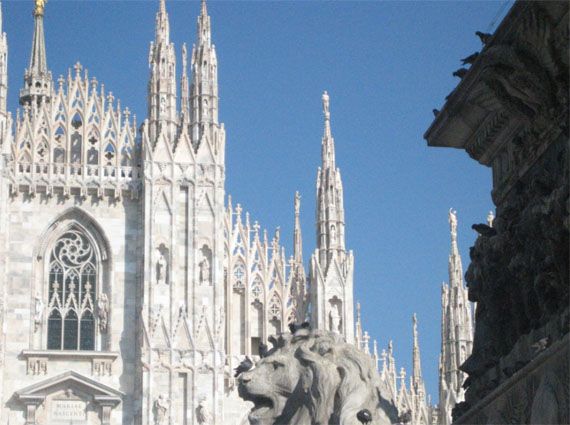 Cynthia Dial
As the last of a Lugano church's bells chimed seven times, the phone rang. Only in Switzerland I thought as I was greeted, "Good morning signora, this is your 7 o'clock wake-up." During my visit I had grown accustomed to the precision and cleanliness of the Swiss.
This date promised to be full. Earlier in the week I was given a gift – a free day, this day.
My locale was Ticino, Switzerland's Italian region. The possibilities were endless – exploring the town of Lugano, visiting lakeside villages by boat. But when I learned I was less than an hour by train from Milan, my shopping instincts derailed all other options.
So, here is how I spent my expensive "free day":
9:17 a.m. Aboard a high-speed train bound for Italy's capital of style I methodically plotted the day. I knew that to achieve my goal, shop 'til I drop Italian style, I needed a plan.
10:15 a.m. Immediately upon arrival at Milano Centrale, the starting gun sounded. My first assignment was to find an ATM to withdraw ample euros.
"Do you speak English?" I quizzed a vendor. "What is the fastest way to Corso Buenos Aires?" The reply: "Taxi."
In the taxi I narrowed my expedition to three areas:
* Corso Buenos Aires – trendy, fun fashions, tailor-made for my daughters;
* Via Monte Napoleone – the Rodeo Drive of Milan showcasing one designer boutique after another: Versace, Ferragamo, Gucci;
* Piazza del Duomo – a shopping/sightseeing combo. Its main feature is Milan's mammoth centerpiece, the Duomo cathedral. Shopping opportunities include Galleria Vittorio Emanuele II and La Rinascente, Milan's biggest and oldest department store.
10:59 a.m. On Corso Buenos Aires, I walked into a sleek store, grabbed several items and sprinted to the next aisle.
11:20 a.m. Emerging, I toted my first purchases: three blouses, two purses, a double-zip black jacket and a polka-dot scarf. Very stylish, very Italian.
12.31 p.m. After speed shopping along Buenos Aires I popped into a taxi for the short ride to the fashion world's uppercrust district, Montenapoleone. I referred to this portion of the trek as "me" time.
1:05 p.m. I entered Gucci with a goal: to purchase a purse. But I was on a time schedule. If I couldn't find a desirable item, it was necessary to move on. Then I spotted it: a small, tasteful bag with Gucci's signature green and red band.
A very attractive saleswoman stood nearby . . . doing paperwork. I patiently waited. And waited. Finally I spoke, "Scusilo, signora." Giving me a look, she quoted the price tag and continued to work.
I splurged on the several minutes necessary to locate someone sincerely helpful, purchased the designer bag and raced onto via Monte Napoleone in search of an available taxi.
1:43 p.m. Arriving at Piazza del Duomo, I could feel Milan's heartbeat. The area teemed with activity – outdoor cafes, street vendors, couples strolling. The Duomo was the scene's commanding backdrop.
La Rinascente was like a department store in any large city.
However, additional purchases did not elude this shopper. An Italian silk tie was found in a specialty shop beneath the glass-roofed arcade of Galleria Vittorio Emanuele II and a multi-colored scarf was my treat at the Missoni boutique.
2:45 p.m. I reluctantly departed the Piazza to return to the Corso Buenos Aires area and in a celebratory mood I visited an eatery for my day's first meal and last Milano experience – cappuccino and pasta.
5:54 p.m. Clutching shopping bags in each hand, I stepped onto Lugano's train platform. Nearby a Rolex wall clock marked the exact time.
Milan shopping tips
~ Do your homework in advance. Study guidebooks and develop a plan you can execute the moment you arrive in Milan.
~ Traditionally shop hours are 9:30 a.m. -1 p.m. and from 3:30 – 7:30 p.m. However, many larger stores, fashion boutiques and stores in the city center no longer close for lunch.
~ During the month of August most of Milan (many restaurants and stores) is closed.
~ Winter sales begin after Christmas. Summer sales are in June.
~ If traveling by train, be sure and ask which platform (binario) your train will depart from; the big boards posted in the stations are not always correct.