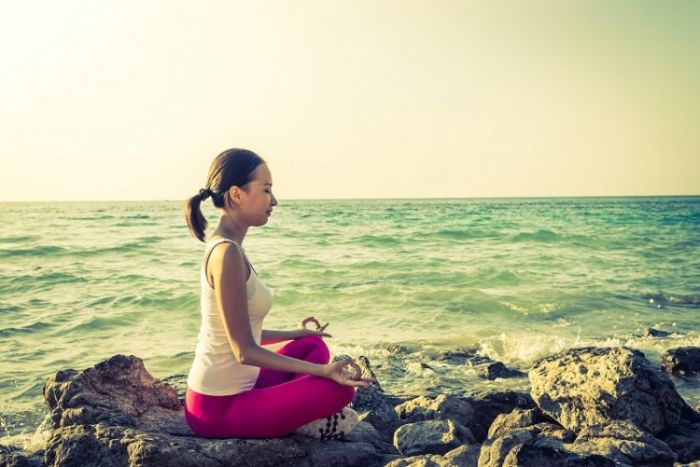 Adriatic Luxury Journeys
If your mind wanders to waterfalls, forests and sandy beaches during during Savasana pose, Croatia may be a daydream come true.
Adriatic Luxury Journeys, a boutique tour operator specializing in private guided getaways to Croatia, Slovenia, Bosnia, Montenegro, Italy and Albania, launched two new yoga tours in Croatia this month designed to promote relaxation, stress-relief, cultural immersion and reconnection with nature. Both tours – Yoga in Croatia and Escape to Korčula & Vis – feature yoga in scenic, outdoor settings like Plitvice Lakes National Park, sailing exursions off the coast of Vis, sightseeing through historic landmarks and private wine tastings.
As a signature Small Group Tour, Yoga in Croatia is available over select dates and open to a maximum of 12 guests for a personalized, intimate experience. Combining yoga, traditional spa treatments, massage and local delicacies, often right from the farmer, this 10-day tour takes travelers through the rolling hills of the Istrian peninsula, the waterfalls of Plitvice and the cultural landmarks of Split, Hvar and Dubrovnik. While perfecting your Chaturanga, you'll also walk through Pula, the most well-preserved Roman amphitheater in the world, sail through Blue Cave and Green Cave (so named for their dazzling natural light shows), and experience life as a Roman emperor, if you choose, in Split with the Diocletian Four-Handed Massage. You'll also become immersed in the culture and history of the Adriatic, with a visit to the 1,000-year-old St. Nicholas monastery, the Church of St. Lawrence and the bridge of Mostar in Bosnia.
Escape to Korčula & Vis is part of Adriatic Luxury Journeys' Private Journeys, offering flexible dates and group sizes to accommodate larger parties. (Neither tour requires a minimum number of guests.) Set on two of Croatia's most relaxing islands, Escape to Korčula & Vis erases the stress of daily life with awe-inspiring natural wonders, tastings of Croatia's finest wine, relaxing spa treatments and outdoor yoga sessions. You'll explore the lush forests and lagoons of Mljet – the island said to have seduced Odysseus in Greek mythology – hike the footsteps of Illyrian tribes to the highest point of Vis, and learn what makes Croatia's wine so distinct at local family-owned vineyards. You'll also travel 1,000 years back in time to the era of open-sea fishermen with an excursion in a traditional wooden gajeta fishing boat. Out on the Adriatic Sea, in between gourmet meals and relaxing yoga sessions, you may just forget the meaning of the word "stress" altogether.
As with all tours by Adriatic Luxury Journeys, both experiences can be fully customized to personal interests, tastes and travel goals. All tours include accommodations at luxurious hotels carefully selected for both service and location (all five-star when available) and guided tours led by licensed English-speaking locals. One of Adriatic Luxury Journeys' private chauffeurs ensures a seamless transition between cities, villages and national parks.
Other new tours this spring by Adriatic Luxury Journeys included Game of Thrones in Croatia, timed to coincide with Season 5 of the HBO series, and Albania Adventure, a luxury tour dedicated to the emerging destination.