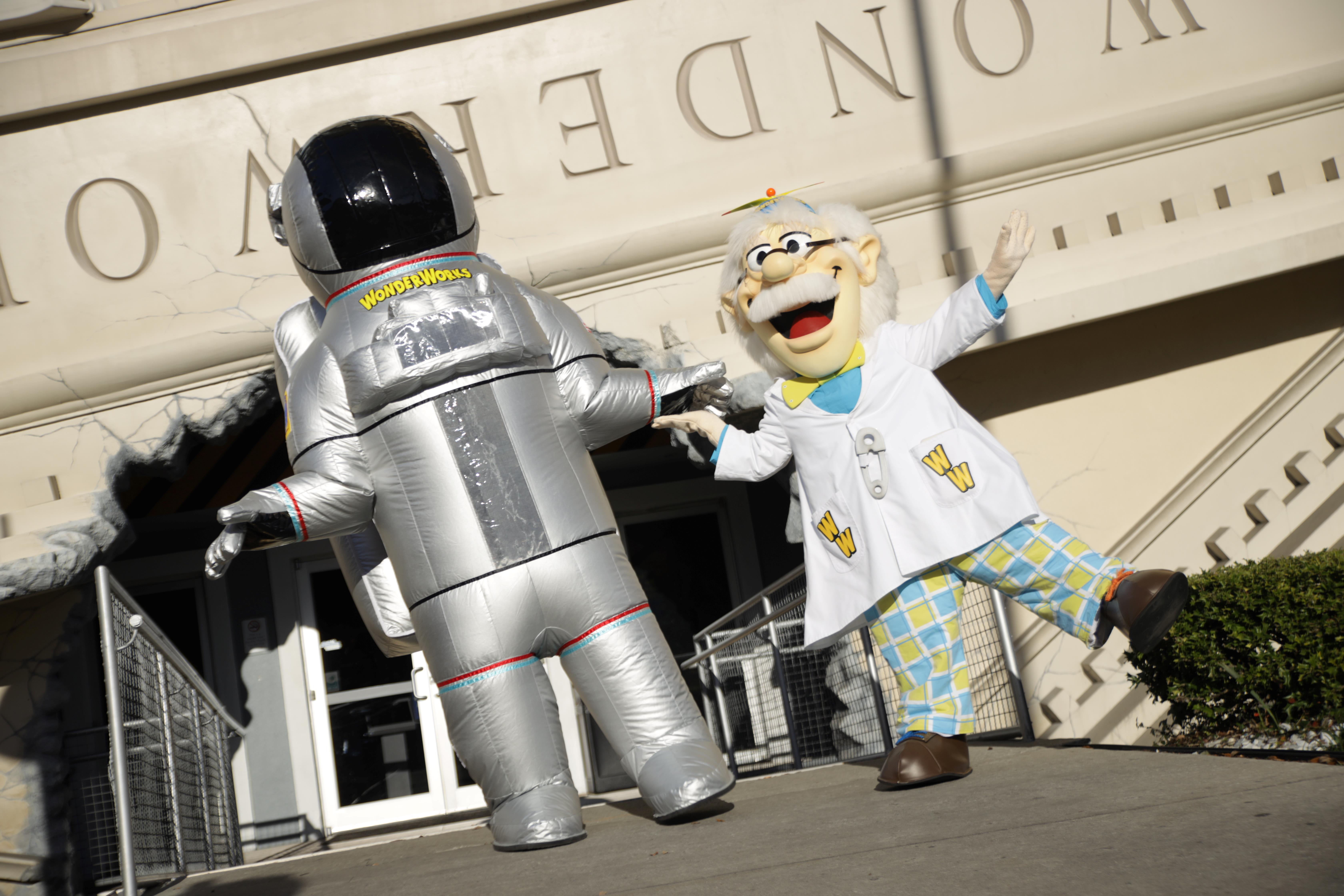 Photo courtesy of WonderWorks Panama City Beach
Many children develop a love for science in school at a young age, but they may not realize that science can be found all around them in their day-to-day lives. WonderWorks Panama City Beach is on a mission to bring this to light with its National STEM Day celebration on November 8, 2023. The day will allow guests to experience live STEM (science, technology, engineering, and math) demonstrations and learn about careers in marine biology with their new exhibit.
"WonderWorks prides itself in inspiring the next generation of scientists and leaders through our interactive exhibits, educational displays, and exciting STEM programs," says Darren Grooms, general manager at WonderWorks Panama City Beach. "Our upcoming STEM Day event will be no exception and will surely provide guests with a great opportunity to get some hands-on learning experiences!"
On National STEM Day, guests can participate in live science demonstrations all day that help them explore fascinating science topics including weather, physics, insulation, matter, and more. The experiments will be included in regular admission tickets and will be held throughout the day, giving visitors additional ways to explore, engage, and learn as they make their way through the facility. The Blubber Glove experiment is a WonderWorks favorite, demonstrating how marine mammals stay warm in cold water temperatures. Guests can channel their inner marine biologist to examine and experience insulation in action at this interactive lab.
WonderWorks has also teamed up with SeaWorld and the National Oceanic and Atmospheric Administration to bring guests a new iteration of their "I Think, Therefore I STEM" exhibit, introducing them to the marine biology field. Guests can learn about the fascinating career of a marine biologist, what it takes to become one, their specialties and responsibilities, and more. The focus on this essential science-related field may spark the interest of some young visitors who love animals and the ocean and want to find a way to help protect and care for both.
"Empowering young minds to pursue STEM careers such as marine biology is essential for our world's future. By fostering a love for marine science in the younger generations, we are cultivating the stewards our oceans and marine life need. Every budding marine biologist represents a potential solution to the challenges our seas face, from climate change to conservation. Their curiosity, dedication, and passion hold the key to safeguarding the deep and the incredible creatures that call it home", explains Dr. Joseph Gaspard, vice president of Zoological Operations at SeaWorld Orlando.
According to the National Inventors Hall of Fame, focusing on STEM education prepares future generations to be successful in their careers. Skills gained through STEM education include problem-solving, critical thinking, creativity, curiosity, leadership, decision-making, entrepreneurship, and resiliency.
WonderWorks Panama City Beach is proud to offer various STEM/STEAM programs throughout the year, including, but not limited to, science fair and event partnerships, teacher events, and educational field trips. They also host an annual youth art contest and annual student achievement awards, keeping active learning and exploration alive all year.
WonderWorks Panama City Beach offers over 100 hands-on, interactive exhibits across four floors. Each exhibit is designed to allow participants to explore themes in science, technology, engineering, art, and mathematics (STEAM). This includes extreme weather simulators, a space discovery zone, light and sound experiences, an illusion art gallery, and more. There are also several physical challenges like an indoor ropes course, a Bed of Nails, and a laser tag arena. The various activities and exhibits aim to keep guests physically active, encourage teamwork, and spark their imaginations.
WonderWorks focuses on providing year-round "edu-tainment" for locals and visitors. Activities and events include field trips, ticket deals, science fair partnerships, art contests, and more. WonderWorks is open year-round. To get more information about WonderWorks Panama City Beach, visit its website: https://www.wonderworksonline.com/panama-city-beach/