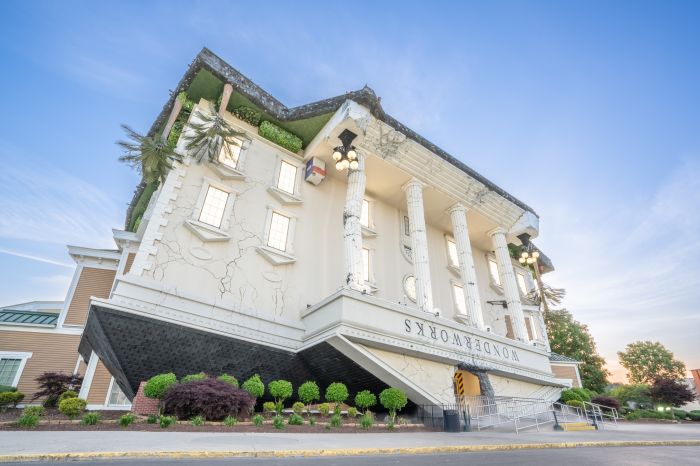 Photo courtesy of WonderWorks Pigeon Forge
One of the best ways homeschool parents can elevate their child's educational experience is to provide them with hands-on learning experiences. WonderWorks Pigeon Forge is helping homeschool families do just that this fall by hosting their annual Homeschool Days, giving homeschool students a dedicated period to visit and explore at a discounted rate. This fall, they are also offering a sensory-friendly event, live science demonstrations, and more.
"We're so excited to invite homeschool families to visit WonderWorks this fall!" says Kerensa Archer, education sales manager at WonderWorks Pigeon Forge. "From hands-on learning to team building challenges, we've got everything you need for the perfect homeschool field trip."
Homeschool Days will be held on most weekdays from September-October 2023 during traditional school hours. Homeschoolers are invited to visit WonderWorks at a discounted rate from open until 3 pm Monday through Friday, with holidays excluded. During their visit, they can explore over 100 hands-on, interactive exhibits focused on concepts related to science, technology, engineering, art, and mathematics (STEAM).
The event is open to homeschool families, teachers, students, and groups. In addition to the discounted tickets, they can also take advantage of various learning-enhancing tools upon request, such as classroom activities, lesson plans, and scavenger hunts. Walk-up tickets for Homeschool Days are $13.99, plus tax, per person. To get these event tickets, guests must show their homeschool identification or proof of homeschooling upon arrival. Homeschool groups of 10 or more can also make advanced reservations to get a discounted rate of $11.99, plus tax, per person.
For more information on Homeschool Days, visit the site at: https://www.wonderworksonline.com/pigeon-forge/homeschool/.
WonderWorks Pigeon Forge is also offering a Sensory Day event on August 27, 2023, from 2 pm to 6 pm. During these hours, WonderWorks' exhibits will be altered to create a more sensory-friendly environment for guests with special needs. The music in the facility will be turned down, and loud exhibits will be disabled. Additionally, the Inversion Tunnel will be turned off. This event was created to provide a safe and calming environment for everyone to enjoy the attraction without feeling overwhelmed. Tickets are $15, plus tax, per person during this event and can be purchased upon arrival at the door.
"Our upcoming Sensory Day event is a great option for local families looking for sensory-friendly fun. No reservation needed – just show up, purchase your tickets at the door, and get ready to have fun!" says Joe Baumgartner, general manager at WonderWorks Pigeon Forge.
To get more information about Sensory Day events at WonderWorks, visit the site at: https://www.wonderworksonline.com/pigeon-forge/sensory-nights/
Also, science lovers will not want to miss WonderWorks' Lobby Learning series, taking place October 13-22, 2023. Families can catch live science demonstrations in the upside-down lobby each day from 4 pm to 4:30 pm. Explore the science behind the Bed of Nails, make square bubbles, and attempt other gravity-defying feats and impossibilities. The Lobby Learning series is part of the Tennessee STEAM Festival taking place throughout the community on the same dates.
WonderWorks Pigeon Forge offers 42,000 square feet of "edutainment," billing itself as an amusement park for the mind. It offers over 100 hands-on exhibits covering natural disasters, space discovery, imagination, physical challenges, illusion art, and more. They also offer corporate event space and private event opportunities. For more information, visit https://www.wonderworksonline.com/pigeon-forge/.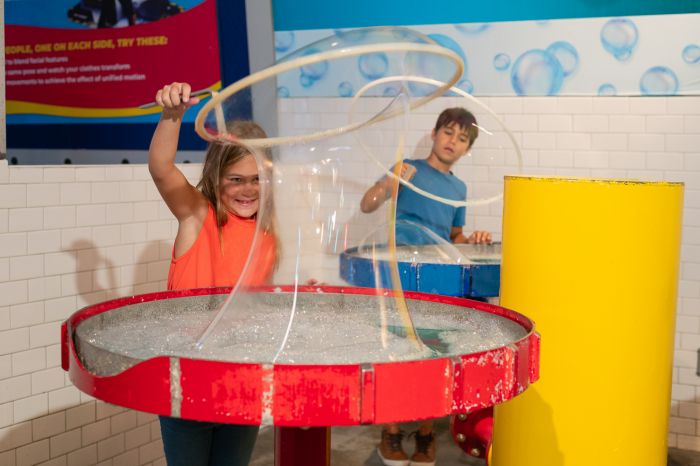 Photo courtesy of WonderWorks Pigeon Forge