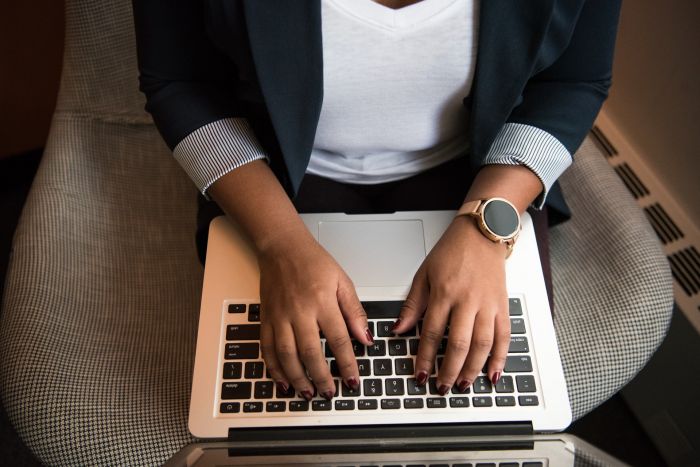 Unsplash
Work-From-Home Outfits That Will Boost Your Productivity
What you wear at home can have a profound effect on your productivity. You may not want to get up every morning to shower, put on makeup, and dress to the nines the way you do when you head to the office, but it's important to establish a routine that makes it feel like a normal workday. What you wear can help you to accomplish that while also giving you a much-needed productivity boost.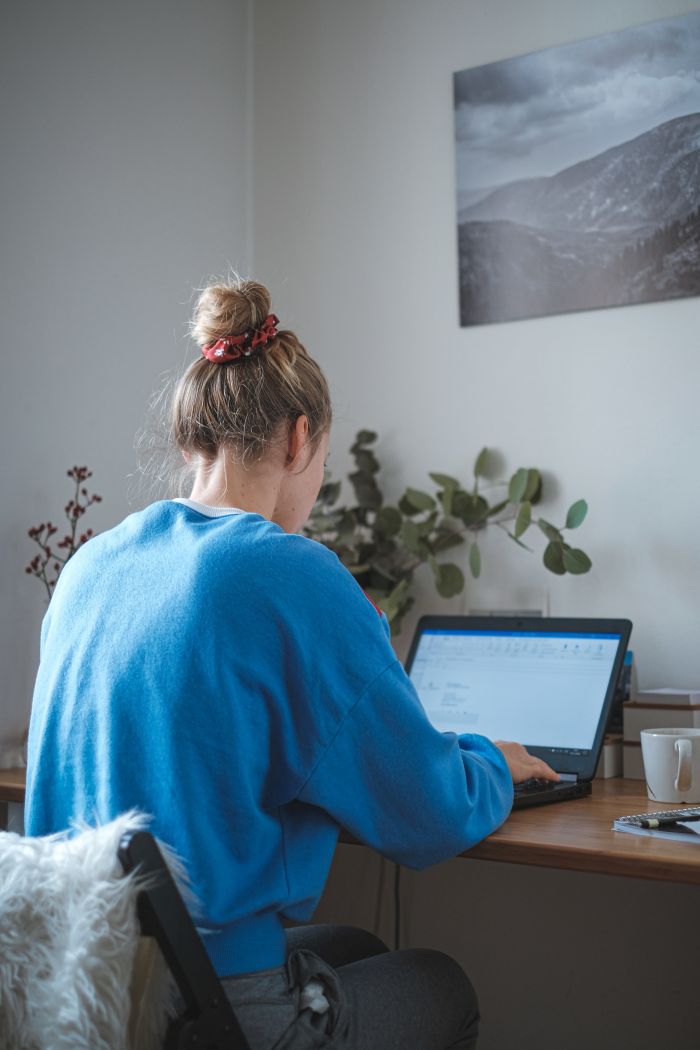 Unsplash
Get Dressed in Your Comfies
Wearing pajamas can have a negative effect on your productivity. It creates the illusion that you're not really working. If you try to work from home in your pajamas, then you may genuinely find yourself feeling lazy, sluggish, or entirely unmotivated. It could be hard to focus, let alone accomplish all of your tasks.
Getting up, showering, and getting dressed each day will trick your mind into thinking that you're going to work. That's one reason that it's essential to continue a daily routine even when you're stuck at home doing your job.
That doesn't mean that you can't wear casual clothing, however. You just need to change out of those pajamas. Feel free to change into your comfies and throw your hair into a pretty ponytail instead. These might be the clothes that you hang out in on the weekends and during your off-hours. For example, lounge pants and a nice top are perfect. Since you're at home, you can even wear your favorite pair of yoga pants or leggings with a stylish sweater or an oversize button-down.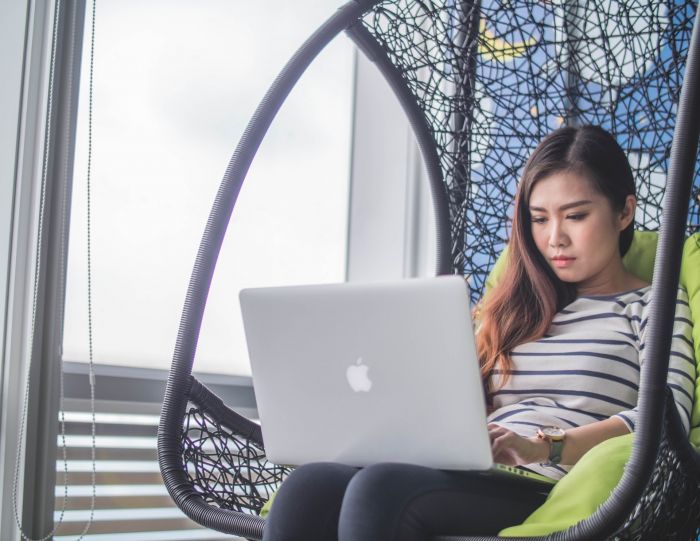 Unsplash
Layered Up for the Home Office
Layering your clothing is easily one of the most practical and productive ways to dress when you work from home. To that end, layering is a smart choice when you're at the office, too. That's because layering covers all of your bases.
It's distracting when you don't feel comfortable. There's no reason to get all the way dressed up at home, especially if you're working in your home office, sitting at the dining room table, or handling business from the couch. Layering a flannel shirt or a cardigan sweater over a tee shirt or tank top and jeans ensures that you stay comfortable. Get too warm and you can shed a layer. Start feeling cool, and you're easily able to slip into your sweater again. You can layer other ways, too. For example, consider wearing a pullover sweater or turtleneck over a cozy tee.
Sleeveless Tops All Day
As you'll see, comfort is key at home. You want to mimic the office environment in your house to ensure that you stay productive, but there's no need to follow the office dress code. Sleeveless tops are cute and comfy, plus they're perfect when it's a bit warmer outside. Better still, a short sleeve top and a nice pair of trousers, jeans, or a skirt is the perfect outfit for running errands or enjoying lunch with a friend—safely, of course.
Versatile Button-Downs
Button-downs are amazingly versatile in a similar way. Once again, they lend themselves well to layering. They're also polished and professional in a way that matches the corporate fashion aesthetic, which is a must-have for Zoom calls and other video conferences. You may choose to wear a patterned button-down with matching slacks or a pencil skirt, depending on your aesthetic. However, it's just as easy to pair them with sweats, lounge pants, or blue jeans. Ultimately, it all comes down to you, but a button-down will take you far during your WFH days.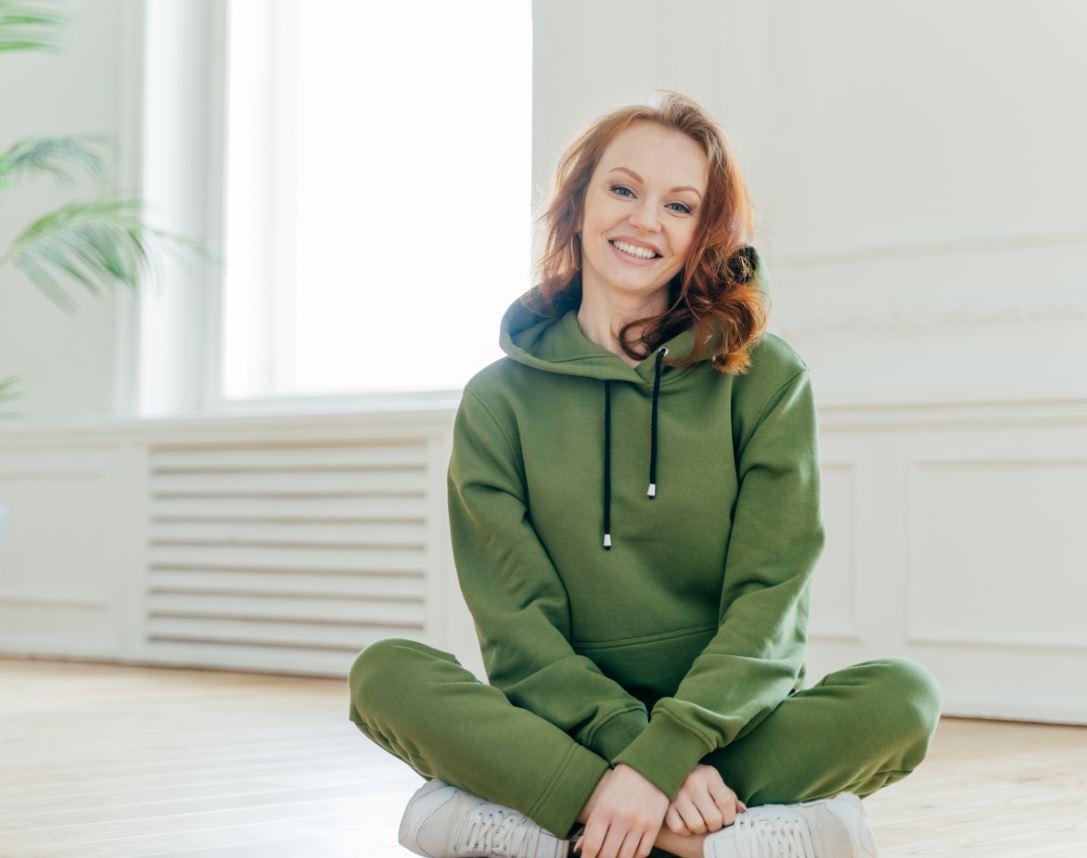 shutterstock
Sweat Suits Over PJs
It is tempting to wear your pajamas all day. We have to acknowledge that. Some days, it can even be hard to talk yourself out of your PJs. If you want to live that pajama life, then you can make compromises with fashionable alternatives. Do you have a track suit? Wear that instead!
A matching tracksuit is cute and polished. It will keep you comfortable all day, but you still get to enjoy the freedom of not wearing an office-ready outfit. You will still feel motivated to get all of your work done, but you don't have to spend the entire day in constrictive clothing.
There's Nothing Wrong with Jeans & a Tee
Speaking of freedom, you get a significant amount of it when you work from home, even if you frequently have to attend Zoom meetings and interact with your colleagues and teammates. If your office culture prefers a more polished dress code, then you may not have experienced the luxury of business casual. Fortunately, now is your chance to wear jeans and tee-shirts during the workday. Even if you can't get away with wearing casual tee shirts, you'll love the ability to dress in your favorite pair of jeans as you get down to business.
It's somewhat true that the clothes make the person, but you have a little more leeway when you work from home. What are some of your favorite WFH outfits to wear outside of the office setting? Share your tips for staying productive at home, too.