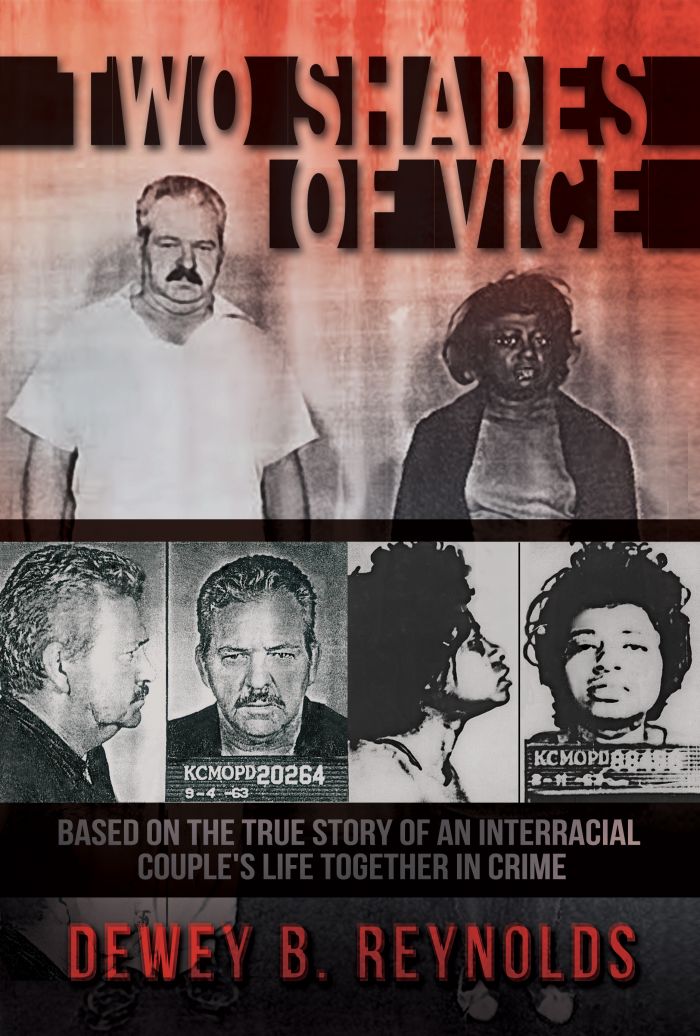 Photo Credit: Dewey Reynolds
Dewey Reynolds is good at spinning a tale or two. The author has written several fictional novels including the Stuart Duffelmeyer trilogy and Brush Creek Charlie, but has only recently tried his hand at non-fiction. Two Shades of Vice recounts the story of his parents: his African American mother and his white father who met due to their shared criminal background. As Dewey learned about his parents, he decided to put pen to paper to create a fascinating tale that is juicier than his previous works of fantasy. The page-turner is both shocking and heart-warming, and many readers may connect to Dewey's search to understand his own personal history. Dewey tells JustLuxe about what led him to discover his parents' story and what could be next in the saga of his life.
Two Shades of Vice is your first non-fiction book. Tell me a bit about your other books.
I've written five other books that fall within the genres of fantasy/sci-fi, mystery, and thriller. I wrote a fantasy trilogy in which Stuart Duffelmeyer is a college student who seeks revenge against his tormentors through a magical talisman that gives him supernatural powers over every creature and natural force on Earth; it's the story of a young college student who's been bullied and badly mistreated by his fellow collegemates. Brush Creek Charlie is about how one woman races against time to stop a psychopath who fuels a murderous cycle that has an entire city on edge, and Network of Killers is the pulsating story about a detective and a witness who are targeted by a ruthless mafia organization after obtaining information that connects them to the killing of an FBI agent.
Two Shades of Vice is a true story about your parents. Was it difficult for you to write?
I would say that it was more exciting and intriguing. I had to gather much research material to write the story. Eyewitness accounts from people who engaged in a criminal lifestyle back in the late 1950s and throughout the 1960s there in Kansas City, Missouri were very helpful. The police reports and criminal rap sheets became a very integral part of the research process as well.Having all of this at my disposal made the writing process rather smooth and enjoyable. In fact, I was blown away to learn about my parents' criminal past, since through all the years of growing up in a foster home I had no clue who they were and what they were doing. For me, the writing of Two Shades of Vice was a journey that helped me explore not only my parents' criminal history, but also a lot of history right here in Kansas City; it was also very therapeutic for me.
Your dad was white, your mother African American, and both worked on the wrong side of the law. When did you first find out about their story?
I laugh as I read over this story. Before I learned about my parents' criminal history, I first went over to the Division of Family Services in Kansas City to gain documentation about my fifteen-year stay in the foster home—the documentation revealed that both of my parents were known criminal subjects. This certainly aroused my curiosity. Weeks later, I went over to the police headquarters in downtown Kansas City to obtain the criminal records of my mother and father.The supervisor of records had me to sign a waiver and two weeks later I was given more than a hundred pages of police reports covering a period of about seven years or so, criminal rap sheets for my mother and father, and their police mug shots. Believe me, I was floored when I saw these black and white photocopies of this older white man and this younger black woman who were definitely my parents. My heart sunk to learn that my father served penitentiary time in five different states: Missouri, Illinois, Texas, California and Arizona. My mother had more than thirty arrests for the solicitation of prostitution, petty larceny, vagrancy, and resisting arrest. Many people are amazed to learn that a white man and a black woman were brave enough to come together as an interracial couple in the early 1960s and to also be involved in major crime together.
How would you describe the book?
The book can be described in so many different ways. The story takes you back to history not only in Kansas City, Missouri, but also in America. Two Shades of Vice is a story of violence, racism, love, bravery, crime, rejection, and redemption. It explores locations and landmarks that have dissolved from many people's memories. It is a true page-turner since it takes the reader deep into the souls of a troubled interracial couple who are faced with life-threatening challenges from ruthless gangsters, racist cops, the Ku Klux Klan, and rival pimps and prostitutes. But through it all, the white man and the black woman—my now deceased parents—displayed an undying love for one another.
What surprised you most as you researched this story?
There were several things that surprised me. First, to learn that my father was involved with ruthless Italian gangsters here in Kansas City—those men who controlled vice on every level—really gave me an adrenaline rush. These were men who were part of a nationally respected Mafia family, the heavyweights of organized crime who brought my father under their umbrella of protection; some very familiar names were mentioned in the police reports and my father's lengthy criminal rap sheet. Second, that my mother worked the dangerous streets of Kansas City soliciting prostitution, oftentimes robbing her tricks or setting them up to get robbed. But one of the most surprising elements that I reminisce about is how both my mother and father were arrested many times, but always returned to the streets to involve themselves in the only life that they'd ever known.
You grew up in foster care. Did you ever get a chance to meet your biological parents? If so, what was that like?
Yes, I met my father for the first time when I was about thirteen years old. He was seventy-two at the time and he was a very ill man. To meet and look upon a dying man who was the male who fathered me was a frightening experience to me. I knew nothing about him and thoughts were conjured in my mind as to who he was and where he came from. Though I'm considered black by society, it felt strange to know that my father was a Caucasian man. All the other children that I knew had black fathers.
I met my mother for the first time when I was fifteen years old, which was my sophomore year of high school. During our first meeting, I looked upon this short black woman with a sort of rotund figure. Meeting her for the first time brought about a degree of mystery within me—I wondered who she was and where she came from. Who were her parents? What were they like? Anyway, we hugged and engaged in serious conversation. She explained to me why my brother, my sister, and me were placed in foster care and why my parents never came back for us.
How do you think writing this story has changed you?
Writing Two Shades of Vice has given me personal and socially redeeming value. It has liberated me to the point of never taking anything or anyone for granted. A sort of stranglehold has been lifted from me. There are many people around the world who never got a chance to meet their mother and father since they were orphaned as babies and little children. I am truly blessed to have met and learned about both of my parents before they died. I feel so good knowing that I tapped into a story that is so rare and unique despite it being a story of both different tragedies and mayhem.
It seems like quite a startling true story, how have people reacted to it?
To say that it is a startling true story would be an understatement. At this point, the book has just been released so few people have yet had the chance to share their reaction, but lookout, everyone: this is a story that will turn the pages and bring tears to the eyes.
What would you like readers to take away from reading the book?
On a very broad level, I would like for my readers to feel a true connection to the story. I want them to relate to the characters in the book, no matter how good or bad of people they consider themselves to be. Because the book talks about social ills and injustice and discrimination, as well as many facets of crime, I believe that readers will be able to make that connection somehow.
Are you writing a follow-up to the book?
Yes, I am. Believe it or not, I wrote the manuscript before I even published Two Shades of Vice. The sequel to the story is entitled In The Care of Evil. It details the abusive and horrific experience that a group of foster children and disabled individuals face on a daily basis. I'm looking to get this book on the market in the near future.
Check out Two Shades of Vice, as well as Dewey's other books at http://www.deweyreynoldsbooks.com/