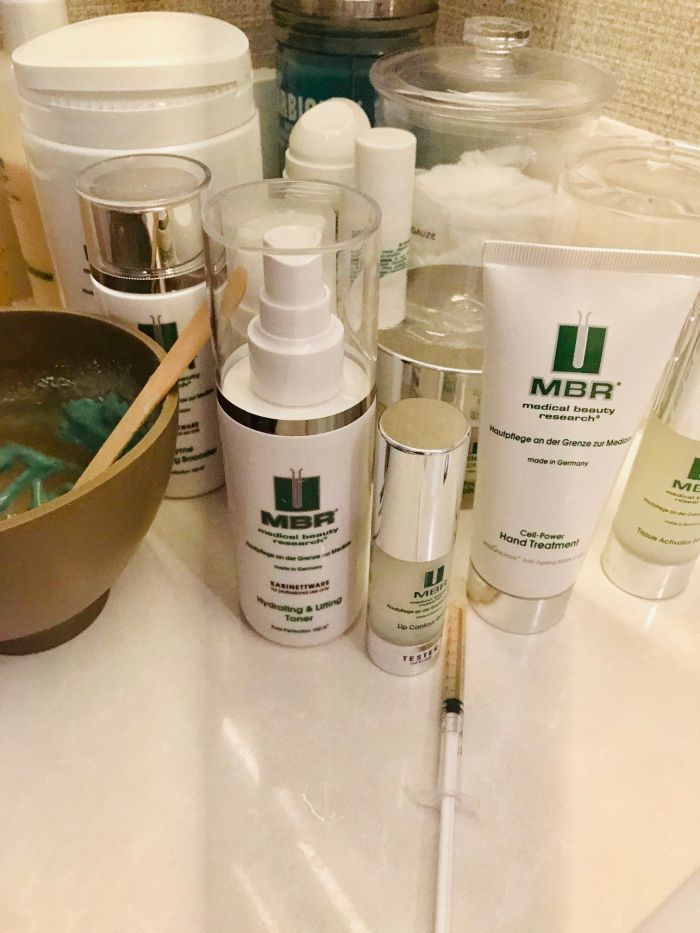 Jill Weinlein
"If I could turn back time, if I could find a way" these are the first two lines in Cher's hit song from her 1989 studio album "Heart of Stone". I think of these words sometimes when I look at my face. My skin is beginning to show some age spots, sagging, and my lines and my wrinkles are getting deeper.
Recently I was invited to the Four Seasons Hotel Los Angeles at Beverly Hills to experience a luxury $1000 Liquid Surgery facial. This is one of the most expensive and luxurious facials offered in Los Angeles.
Checking into the fourth floor Four Seasons Spa, a spa attendant led me into the women's locker room and assigned me a locker. Slipping into a plush robe and white slippers, I had full privileges in this area featuring a shower, eucalyptus steam room and hot dry sauna.
Outside of the spa is a sparkling pool and FOLIA pop-up restaurant serving healthy fare by celebrity chef Matthew Kenney. The name Folia means "from the leaves" in Latin, and Kenney is a leading plant-based chef. Under Kenney's guidance the Four Seasons chefs have created a flavorful menu for guests to enjoy on the terrace near the outdoor pool.
I sat in the quiet relaxation lounge sipping fruit infused water, while nibbling on dried pear and walnuts before my treatment.
Kathy the spa's lead esthetician, led me to one of the eight newly-refreshed treatment rooms.The comfortable room offered a heated bed, plush sheets and soft blanket. Before I crawled under the covers for a 120 minute experience, I filled out a one page form about my health, previous spa and medical treatments, and my desired outcome.
Kathy entered the room and described the various steps and procedures of this extravagant procedure. As a massage therapist and lead esthetician, she has worked at this spa for 17 years. While applying a double cleanser and tingling enzyme peel, she informed me this preparation allows the Liquid Surgery Serum to penetrate into my pores and skin. Made by German skincare brand Medical Beauty Research, the serum contains viper venom and real gold particles to promote collagen production. It also contains liquid oxygen to encourage cellular rejuvenation by plumping and stimulating the skin.
When I inquired about the viper venom, she shared "It's not from a real snake, it's synthetically made in a lab and offers Botox-like results without a needle," said Kathy.
After cleaning and nourishing my face and neck, Kathy applied a hydrating treatment toner, and hyaluronic acid serum to stimulate and rejuvenate all the skin layers. Then, with two instruments she gave me a micro-current lift to help tone, lift and firm areas of my face and neck.
While doing this 20 minute treatment, Kathy shared how she graduated UCLA in Kinesiology and went to Chiropractic school. In her twenties, she developed acne and got her first facial. Soon she changed career paths and became an esthetician, and loves her job.
When she applied a nourishing and cooling, rubber mask and algae elixir, she performed a relaxing deep tissue massage on my arms, hands, neck and shoulders to encourage lymphatic drainage and relaxation. Peeling the mask off, she applied a moisturizer on my face, lips and eye cream.
When my treatment was over Kathy handed me a mirror and pointed out my skin's firmness and reduction in wrinkle depth. What surprised me the most was my neck and under my chin. It's firmer and looks more youthful. After three days, the appearance continues to appear fresh and tighter than before. It's subtle, yet I notice.
Before leaving, I learned the spa is launching a new Bonne Vie weekend package to help travelers and guests restore their physical and mental well being. Starting May 24, 2019, the package includes staying in a specially designed Wellness Room or Suite. Guests receive a 50 minute Surrender Massage, and a welcome juice from multi New York Times bestselling author Kimberly Snyder's Solluna juice bar. Guests also receive a copy of Snyder's newest New York Times bestseller Perfectly Imperfect, book. The package also includes a group helipad yoga session with a top Alo Yoga Ambassador, a group meditation session with Audrey Slade, truffles by Matthew Kenney, and a Sleep Kit from LATHER.
The Bonne Vie package has a two-night minimum starting at $1,100. An option to upgrade to a Studio Wellness Suite is an $125 per night, or a California Wellness Suite for an additional $300 per night available upon request. For reservations, call (310)273-2222 or book online https://www.fourseasons.com/losangeles/offers/bonne-vie-wellness-package/.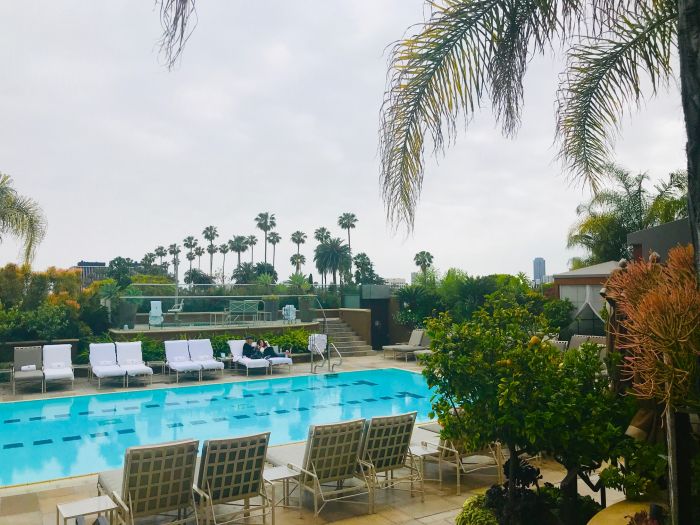 Jill Weinlein
Spa guests have privileges to the Four Seasons Los Angeles at Beverly Hills.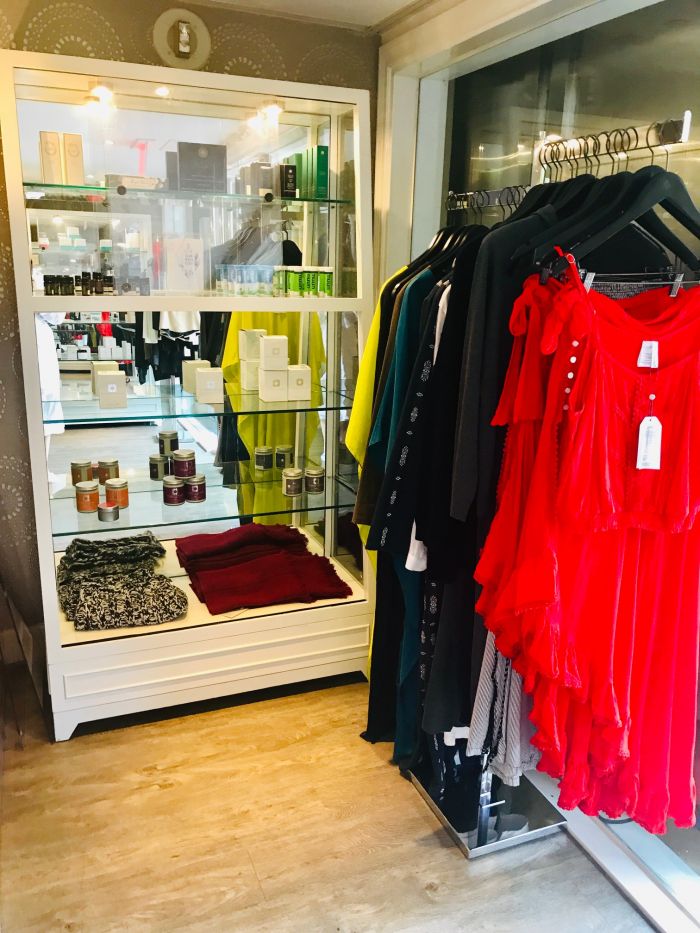 Jill Weinlein
The Spa at the Four Seasons Los Angeles at Beverly Hills has a luxury boutique.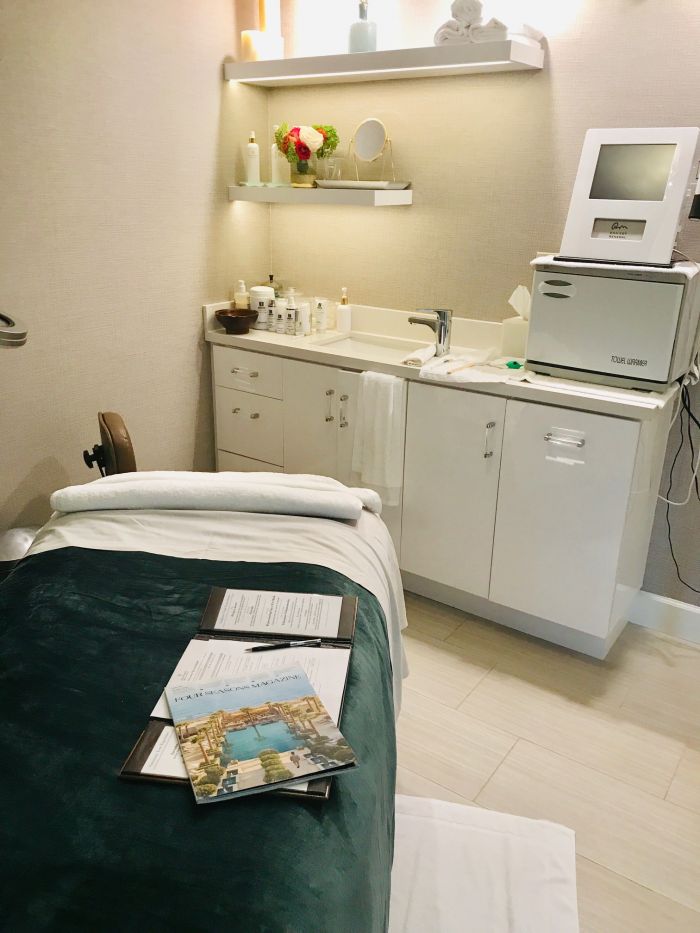 Jill Weinlein
There are eight recently refreshed treatment rooms at the spa.