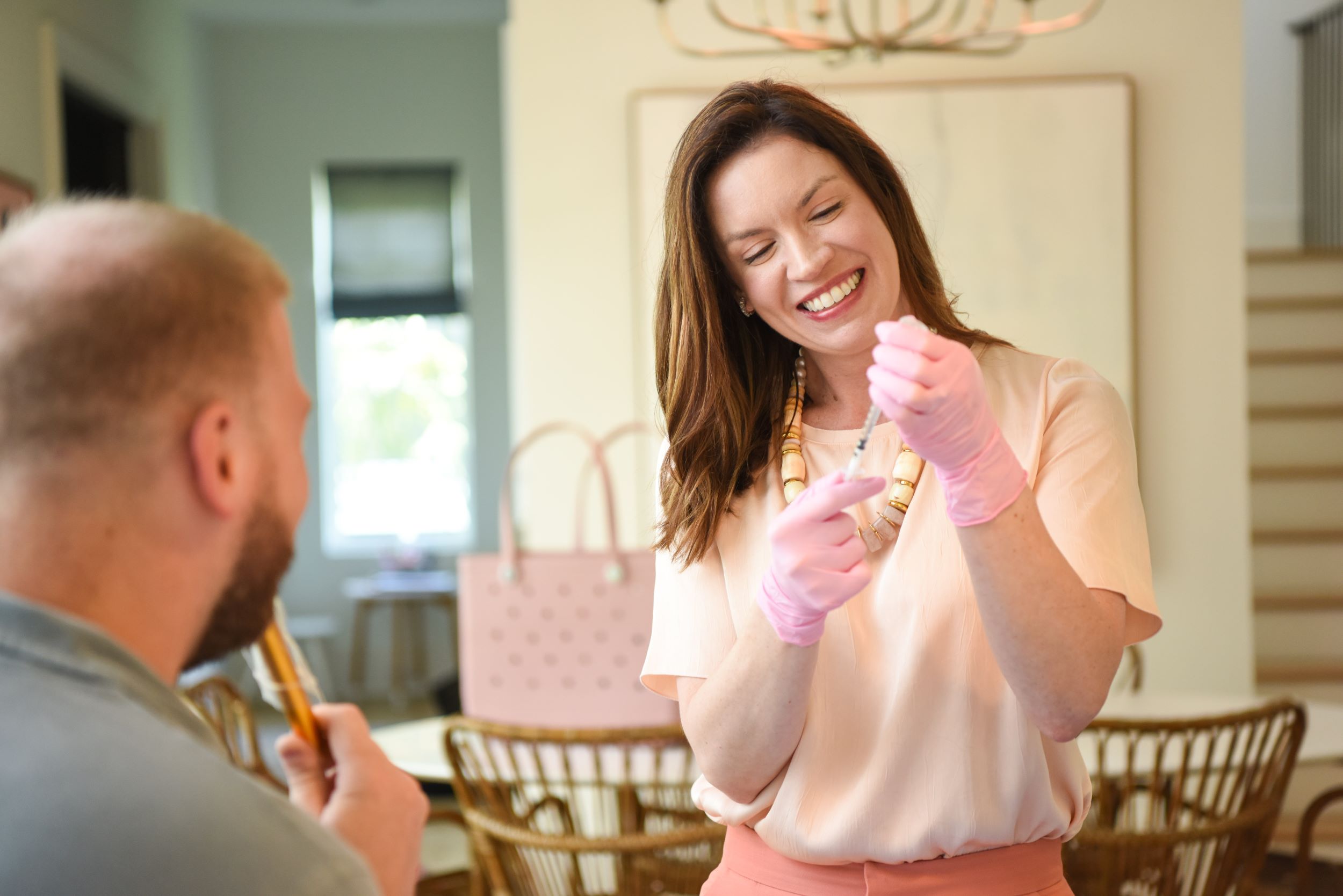 Botox at your doctor's office?
That's so yesterday.
The new trend – and the ultimate luxury – is to have medical-grade cosmetic treatments from board-certified advanced providers –at your home or office, for the utmost in comfort, personalization, and privacy. We're talking medical doctors, nurse practitioners, and physician's assistants, who are the professional injectors, who discreetly treat you – and treat you safely -- by coming to your door, and making it even safer than your visit to the dermatologist's office.
This especially applies to men, who typically wouldn't leave their office to visit a dermatologist. They are a huge part of the growing aesthetic market.
Furthermore, experts forecast that the current $90 Billion aesthetic market will reach $138 Billion by 2030.
Then put The Skin Clique on your radar screen. The Skin Clique is currently available in 32 states at this moment, and is the only national provider of one-on-one "house calls" for injectable neurotoxins, fillers, and skin peels. And they're more popular than ever.
The Skin Clique has a goal: To be the "gold standard" of the aesthetic concierge cosmetic medicine profession – and they're off to a great start. I had a treatment here in my Boston-area home, and it was a thrill from the get-go. Its two founders – Claire O'Bryan, a nurse practitioner, and Dr. Sarah Allen, an internist -- are the crown princesses of concierge cosmetic medicine.
They told me: "We want to be safer than a doctor's office – we work hard to offer that to our patients. Everything is purchased from a medical supplier and approved vendors. You would be amazed how many counterfeits are on the market. You can't order product from unapproved providers. Our goal is for you to have an exceptional experience no matter where you are located.,"
Kari Thompson, a Massachusetts board-certified injector, came with a huge bag filled with surgical gloves, syringes, plenty of Xeomin (she prefers it to Botox, as she believes it offers a softer result), and a wealth of other medical items to make this service beyond the best. First, I had a chemical peel with Obagi ZO skincare, which gave my face a glow. That only took about five minutes.
Then we got to the injections. First, Kari marked up my face with a white wax pencil, and then injected my face. She used 60 units of Xeomin, for about 35 injections, and said I would see results in about three days, full results in about two weeks. The benefits of this tony treatment last about three months. Men also comprise part of The Skin Clique's practice, as if affords them time-savings and convenience as well as privacy.
"You have to be an advanced practice provider to be an injector," Kari told me, adding that, "The way the Skin Clique trains you is phenomenal. They are hyper-focused on education."
I have to tell you what happened to me two days later. I was shopping in a warehouse club, and made contact with a man who looked at me and said, "You should be a model." In the next five minutes, I bumped into someone I know and she greeted me with, "Hello, beautiful." In the next 30 seconds, another woman walked by me, took one look at my face, and said, "You have beautiful skin." I'll see the full results in two weeks, but already I can see minor improvements. Says Kari: "It's incredible the confidence that comes with these procedures. It never ceases to amaze us – it brings us joy."
I have to tell you another story. Once, my hairdresser told me that he so loved his profession, that he was going to "die with the scissors in his hands." For me, let me say that I so love beauty treatments – well, I'm gonna die with the syringe in my face!
For more about Debbi, Follow her on Instagram at @DebbiKickham.