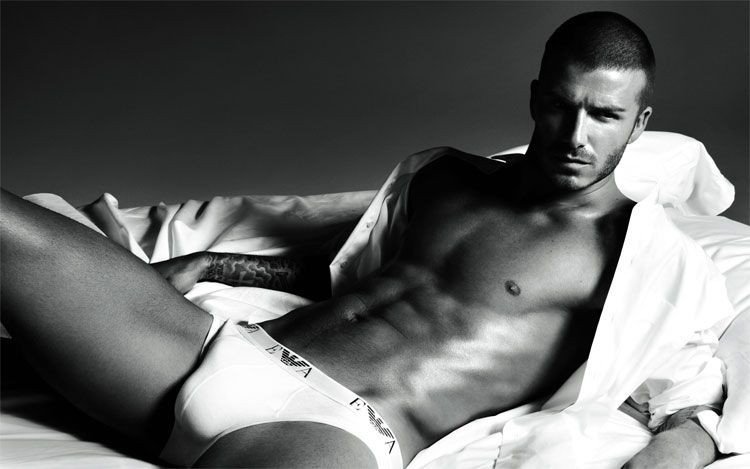 Photo Courtesy of Emporio Armani
Football star and worldwide icon David Beckham announced his retirement this morning, and as sad at it is that the athlete is bowing out after more than a decade on the professional field, we have a feeling this isn't the last we'll be seeing of old Becks. Thanks to his athletic skill, dashing good looks and business savvy, Beckham has become one of the most recognizable athletes in the world, and nearly every brand wants a piece of that (who doesn't?). We're hopeful that we'll be seeing more of those washboard abs in the future, it just may not be on the soccer field. If his past work in front of the lens can tell us anything, it's that Beckham is a star both on and off the soccer field. Here's a look at his ten best ad campaigns to date.
Photo Courtesy of Yahoo!
1.
In 2010, Beckham became the first global sports ambassador for Yahoo!, which put him at the front of the search engine's ad campaigns that were plastered to the London Underground, as well as the city's newspapers.
Photo Courtesy of Sharpie
2.
In 2008, Sharpie partnered with Beckham, who has one of the most sought-after autographs in the world, to promote the brand as the "celebrity autograph marker of choice."
Photo Courtesy of Emporio Armani
3.
Try Googling "David Beckham," and these campaign shots for Emporio Armani are among the first results you'll see. Not that we're complaining.
Photo Courtesy of Emporio Armani
They're so good that we had to show you a range of Beckham's talent.
Photo Courtesy of Emporio Armani
Just one more.
Photo Courtesy of Breitling
4.
In late 2012, luxury watch brand Breitling chose none other than Beckham to be the face of its legendary Transocean Chronograph Unitime worldtimer watch. A series of lustrous campaign shots followed.
Photo Courtesy of Adidas
5.
David Beckham is no stranger to Adidas— the star has worked both in and
for
the sportswear company on several occasions. But in 2011, Adidas released the "All Adidas" campaign, which starred Beckham and Katy Perry to show the diversity of the brand.
Photo Courtesy of David Beckham
6.
With the global social understanding that David Beckham is one of the most attractive men on the planet, one could only assume that men everywhere want to look, talk, and smell like him, too. In 2011, Beckham filled part of that void with the release of David Beckham Homme. Of course, David himself starred in the fragrance's campaign.
Photo Courtesy of EA Sports
7.
Want Becks as a fitness coach? Among David's many ventures, he was also signed as a brand ambassador for EA SPORTS Active 2, an innovative line of interactive fitness products with personalized, customizable workouts in 2010.
Photo Courtesy of Adidas
8.
For Fall 2011, Adidas's NEO label introduced a Beckham collection that included style items, athletic apparel, and accessories like shoes and hats. Appropriately, the new collection featured a campaign starring the man who inspired the line.
Photo Courtesy of H&M
9.
Ah yes, just what we've been waiting for: a bodywear collection inspired, designed, and modeled by David Beckham himself. In 2012, David Beckham Bodywear by H&M was announced, with a generous (ie: shirtless) campaign series that went viral faster than you can say "six pack."
Photo Courtesy of Burberry
10.
And just for your daily dose of cute, let's not forget one of the younger Beckhams, who is already taking after his dad in the looks department. Burberry seems to agree, as the brand featured 10-year-old Romeo alongside Edie Campbell, Charlie France and Charlotte Wiggins as the star of its Spring/Summer 2013 campaign. We bet little Romeo would be happy to take over the spotlight as his dad enjoys a little down time.