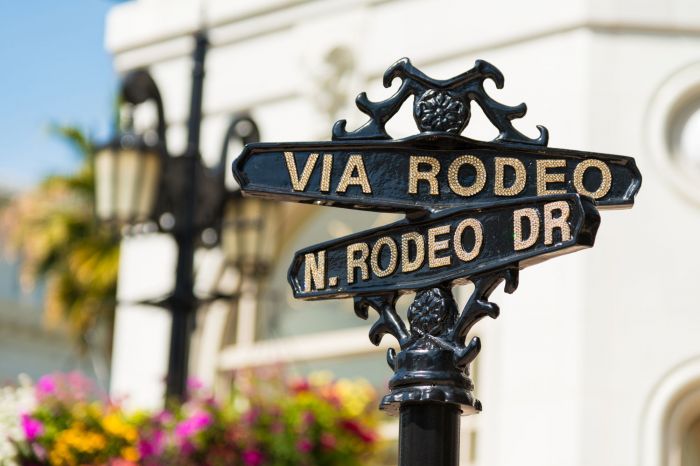 Photo Credit: Mike Flippo/Shutterstock.com
When we were teenagers we loved going to the mall for the latest and greatest styles—or whatever we saw in Seventeen magazine. But since then our tastes have matured. We've traded in the local mall for Moda Operandi, Net-A-Porter and our favorite luxury boutiques. But if you're looking to grab a few friends and relive your heydays of literally shopping 'til you dropped, then you'll want to head to one of these global hotspots. From the palm-tree lined streets of Rodeo Drive to the 22 malls of Orchard Road these are the best shopping districts around the world.
Photo Credit: Pavel L Photo and Video/Shutterstock.com
Tretyakovsky Proezd: Moscow, Russia
The opulent architecture of Russia is known around the world, so it only makes sense that their shopping districts are just as noteworthy. The entrance to Tretyakov Drive, Moscow's most luxurious shopping street, is through a medieval-looking archway designed by architect Alexander Kaminsky in 1871. Hidden inside, shoppers will find designs from Prada, Roberto Cavaill, Tom Ford and Chopard. Need to tote all your purchases home? There are also showrooms for Bentley and Ferrari along the avenue. Like Rodeo Drive in LA, Tretyakov Drive is a popular shopping spot for Russian stars and socialites, so expect not only the best service, but the newest and most exclusive pieces.
Photo Credit: Alexandre Rotenberg / Shutterstock.com
Via Montenapoleone: Milan, Italy
Milan is one of the biggest fashion destinations in the world, and with so many Italian and global designers flocking to Milan Fashion Week every six months, it's no wonder it's become such a popular spot. While amazing finds can be discovered all over the city, luxury brands all converge on Via Montenapoleone. Covering several city blocks, this district includes a number of shops, restaurants and bars, many of which have been there for several centuries. Most Italian brands have flagship stores in this district including Marni, Gucci, Valentino and Giorgio Armani. With several streets and literally hundreds of stores, shoppers could get lost for days in this luxury oasis.
Photo Credit: ColorMaker / Shutterstock.com
Abdi Ipekçi Street: Istanbul, Turkey
When one thinks of shopping in Istanbul, usually the city's many cultural bazaars come to mind. But for the luxury shopper there's one must-see destination when shopping in Turkey. Abdi Ipekçi Street, in the upscale ÅžiÅŸli district, is only about a half a mile, but in this space luxury brands like Hermès, Ermenegildo Zegna, Cartier and Dior have set up shop. The area is fairly new, having popped up only in the last decade, but already has the highest retail rent in the country. Shoppers can stop at a number of international restaurants and chocolatiers that line the street while shopping for everything from diamonds to wedding gowns.
Photo Credit: mikecphoto / Shutterstock.com
Bond Street: London, UK
Tucked inside London's ultra-posh Mayfair neighborhood, Bond Street is one of the UK's most luxurious shopping destinations. Even as early as 1811, when Jane Austin made reference to the shopping street in Sense and Sensibility, Londoners have been flocking to the district for all of their sartorial needs. The street is only half a mile long, but in this area century-old jewelers and watchmakers sit neatly beside new labels like Alexander McQueen, Dolce & Gabbana and Stella McCartney. This is also a great place to find more obscure European designers that are not as easy to access in other countries. Along the street, shoppers will also find a series of five star hotels, restaurants, bars, art galleries, auction houses and spas.
Photo Credit: DW labs Incorporated / Shutterstock.com
Fifth Avenue: New York City, NY
There's a reason Fifth Avenue has become synonymous with fashion. This is the origin of many American mainstays and major department stores like Bergdorf Goodman, Henri Bendel, Tiffany & Co. and the appropriately named Saks Fifth Avenue. In a stark contrast to the youthful glitz and glamour of LA's Rodeo Drive, NYC's Fifth Avenue is where old money goes to shop, play and lunch. Anyone who is anyone has a flagship in this fashionable district, and most, like Ralph Lauren, Giorgio Armani and Tommy Bahama, have branded restaurants in their boutiques so you don't even need to step outside to take a break from an afternoon of spending.
Photo Credit: Korkusung / Shutterstock.com
Ginza: Tokyo, Japan
Japan is known for its avant-garde fashion and eccentric designs, but luxury shoppers will still find some of their favorite labels in the heart of Tokyo. Found along the Tokyo Metro's Ginza line, the Ginza shopping district is one of the most opulent in Japan and is home to global names like Chanel, Louis Vuitton and Dior. The street has been a luxury shopping spot since the early 1900s and consists of a half-mile, tree-lined stretch along Chuo-dori. The streets here are filled with numerous multi-level boutiques, several art galleries, a few Japanese department stores and several exclusive eateries like the Gucci Café and an Armani restaurant.
Photo Credit: nodff / Shutterstock.com
Mall of the Emirates: Dubai, UAE
This mall is nothing like the air-conditioned suburban plazas we used to shop as a kid. Dubai is known for its money, and it's all housed in this multi-level wonderland. Mall of the Emirates houses over 630 retailers, 250 flagship stores and over 100 restaurants and cafés. You'll find everything from Christian Louboutin to Salvatore Ferragamo to Bugatti inside—and yes, like every other mall, there's still a Sephora. Unlike every other mall there's also a stage theater, an amusement park and an indoor ski resort—just in case you have the sudden urge to hit the slopes while you're perusing the racks at Balenciaga.
Photo Credit: tristan tan / Shutterstock.com
Orchard Road: Singapore
Named after the plantations that littered the area in the 19th century, Singapore's Orchard Road is a luxury shopper's paradise. The street is not only lined with boutiques, but is also flanked by a staggering 22 malls and six department stores which house over 2,000 brands. With so many options everyone can find something exceptional here. Stores include everything from Topshop to Prada, and include big-name flagships, specialized shops for high-end local designers, tailor shops for bespoke suits, and numerous jewelers with rare and exceptional pieces on offer. In addition to the shops, visitors will also find hotels, restaurants, nightclubs, art galleries, movie theaters and escape rooms.
Photo Credit: Ritu Manoj Jethani / Shutterstock.com
Rodeo Drive: Beverly Hills, CA
Southern California is a mecca for the sartorial savvy shopper, but it's the ultra-luxe Rodeo Drive, one of the most popular shopping destinations in the world, that draws in millions of customers each year. Covering three city blocks in Beverly Hills, the shopping district includes over 100 boutiques, restaurants and hotels. Nearly every major designer has an outpost here—Harry Winston, Chanel, Patek Philippe, Prada and Valentino all sit along the palm-tree lined avenues. This is a popular spot for celebrities, stylists and well-heeled Angelenos to shop, so designers here keep these stores well-stocked with the most on-trend and exclusive pieces.
Photo Credit: David Monniaux/Wiki Commons
Rue du Faubourg St.-Honoré: Paris, France
Since Jeanne Lanvin opened a boutique on the corner of Rue Boissy d'Anglas and Rue du Faubourg St.-Honoré in 1889, this district has been a go-to for luxury shoppers and the most fashionable women in Europe. While many love to shop the nearby Champs Elysees for the giant flagships and bustling atmosphere, the Faubourg Saint-Honoré district, a relatively nondescript street by comparison, combines the best of major brands and trendy local shops. Here you'll find Versace, Hermès and Saint Laurent flagships, but can also concept shops like Colette, which houses some of Paris' up-and-coming, on-trend designers.