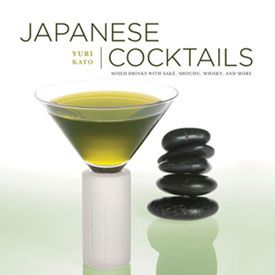 Food & Spirits:
Just as Japanese sushi has taken over food culture in America, Japanese cocktails are poised to do the same. Spirits expert Yuri Kato has just released Japanese Cocktails: Mixed Drinks with Saké, Shochu, Whisky, and More, an exploration of the history and culture of Japanese cocktails.
"It is a privilege to share my love of Japanese culture and spirits with others," says Kato. "Japanese Cocktails has been a wonderful experience and I hope that all connoisseurs of fine food and drink will find much to enjoy between its covers."
Mixed in with recipes for every season and instructions for making the perfect ice, as well as the practice of stirring whiskey, are reports on cocktail trends and information riffs on old favorites, along with new inventions.

Along with an exploration of exotic Japanese ingredients including Shichimi Togarashi Spice, Umeboshi, Yuzu fruit and Kabosu juice, the book contains recipes for cocktails that use both Japanese spirits as well as global favorites like vodka, rum and tequila. Most inventive is the emphasis on garnishes as well as food recipes that incorporate Japanese delicacies like scallops (my personal favorite).

Try it at home with these sample cocktail recipes from Yuri Kato:

Tokyo Sidecar (p.67)
2 oz (60 ml) Yamazaki 12 Year Old
1 oz (30 ml) Triple Sec
¼ tsp Yuzu Juice

Mix all ingredients in a cocktail shaker with ice. Strain into a chilled martini glass and serve.

Oyaji (p. 65)
2 oz. (60 ml) Yamazaki 12 Year Old
1 Orange Slice
2 Maraschino Cherries
½ tsp (2.5 ml) Gum Syrup
Club Soda

Muddle the orange slice, maraschino cherries and gum syrup in an old-fashioned glass. Fill the glass with ice cubes. Pour whisky into the glass, top with club soda, and serve.

Yuzu Julep (p. 69)
2 oz (60 ml) Yamazaki 12 Year Old
6 Fresh Mint Leaves
1 tsp (5 ml) gum syrup
½ oz (15 ml)
Yuzu Juice

Fresh Mint Spring for Garnish Muddle mint leaves with gum syrup in a mixing glass. Pour into a short glass with crushed ice. Add whisky and yuzu juice, garnish with a mint sprig, and serve.

Melon Cream Soda

Oyaji

Tokyo Sidecar

Yuzu Julep