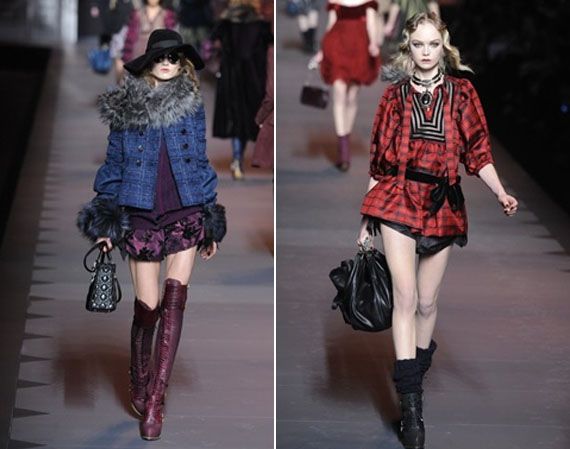 Photo Courtesy of Style.com
Dior's Fall 2011 Ready to Wear Show was anything but ordinary. In light of John Galliano's disappointing
scandal and dismissal
as head designer on March 1, the Dior show went on as planned...well, almost.
Before the show began, Dior President Sydney Toledano delivered a heart felt message to the audience: "What has happened over the last week has been a terrible and wrenching ordeal for us all." He continued, "It has been deeply painful to see the Dior name associated with the disgraceful statements attributed to its designer, however brilliant he may be."
Gone were the theatrics Galliano was so well known for and in its place, a more somber and low key show. Soft hair, pretty make-up and a more wearable, ladylike collection sashayed down the runway. Deep jewel tones and fur details anchored the feminine collection, while very few pieces offered the edgy, out-there cuts and silhouettes that made Galliano a fashion world darling.
Just what will happen next with Galliano is anyone's guess, but you can bet Dior will weather this storm with the grace that has carried them through seventy plus years as one of fashion's most esteemed houses.
See the entire collection at
www.style.com
.