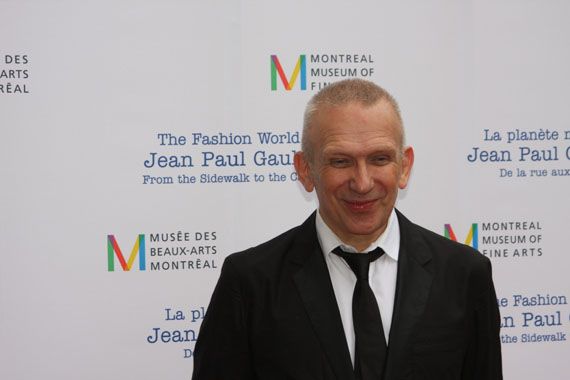 Virgins, sailors and mermaids, combined with elaborate headpieces, over-the-top cancans, and a spirit of true avant-garde genius fill the echoing halls of the Montreal Museum of Fine Arts.
With an invitation to preview The Fashion World of Jean Paul Gaultier: From the Sidewalk to the Catwalk — and the chance to meet 'l'enfant terrible' himself — I quickly packed my bags for
Montreal
and was on my way to the UNESCO City of Design.
The
Montreal Museum of Fine Arts
opened its doors earlier this month to celebrate the life's work of the Parisian courtier with an installation that marks the designer's first international exhibition. The exhibit features six thematic galleries, comprised of 140 carefully-curated pieces, photos, and sketches from 150 collections from the past 35 years.
The exhibit opens with
The Odyssey of Jean Paul Gaultier
, a unique selection of the designer's signature style, including an eclectic mix of nautical stripes and religious stereotypes. Visitors make their way up the museum's grand staircase and are greeted with what at first glance appears to be Jean Paul himself reciting French limerick. The familiar face, along with those of past models and muses, such as Eve Salvail, are in actuality state-of-the-art holograms projected onto delicately casted-mannequins.
Curator and former male model, Thierry-Maxime Loriot said the decision to introduce the exhibition with this particular collection was an obvious choice for several reasons.
"I think it's one of the most spectacular collections, but also its one of the first dresses he made (the blue one on the left that he made in 1971)," Loriot said.
"We use the sailor stripe because it's something that started his career."
He adds that Gualtier's interest in sailors, virgins, mermaids stems from his childhood fascinating with Popeye combined with the memory of his beloved grandmother, who often dressed the budding designer in striped sweaters.
Finding inspiration from the past, as well as moments of creativity encountered along the way (think, Coco Chanel in sailor stripes), Gaultier fuses two stereotypes of seductions: the corset and the sailor — two very powerful elements in his vocabulary, according to Loriot.
Stereotypes and sexuality play a very prominent role throughout Gualtier's work, which the designer often associates with his childhood.
"When I was little, it happened by accident. The fact that my grandmother allowed me to see everything on the TV. She let me do whatever I wanted, she was fabulous and open-minded," said Gaultier.
Gaultier recalls a profound moment from his childhood, a time he describes as being an insightful lesson in self-discovery.
"At school I sketched a girl with fish nets and ostrich feathers. The teacher came and she saw me, I was 9-years-old. She saw that sketch and she was furious," said Gaultier.
The teacher made him stand up, attached the sketch to his back, and paraded him around each classroom, in what he assumes was her attempt to humiliate him.
"For me, it could have been humiliating, it's true, but since I already felt rejected — not being good at football, being the fragile one — it showed all the others who rejected me that I should do my work as I do," said Gaultier.
Many would agree that it was these such defining moments which ultimately propelled a once rejected little boy into one of the most recognizable faces in the world of fashion.
Sprinkled with some of his most well-known pieces, including Madonna's cone bras (which she generously lent to the museum),
The Boudoir
, features an intimate selection of some of Gaultier's most iconic pieces.
Raised by strong female figures, Gaultier contradicts oppression through his use of lingerie and corsets, blurring the lines of sexuality and conformity.
Underneath his charming smile, Gaultier points out that a traditional men's jacket is usually designed with an extra inside pocket. After all, it is "the chief of the family," who is usually expected to carry the wallet.
"I wanted to show that a woman is strong and feminine at the same time — like Brigitte Bardot, who was modern and clever at the time. Very avant-garde" said Gaultier.
"Some people say be beautiful and shut up, but she was acting like a man in some ways. I try to show the power of the woman, and her femininity. She chooses to have it, but is not obliged to have it."
Gaultier jokes that men can also be fragile.
"At the time when I did the skirt for men, the ones that bought them more were straight and not gay — maybe they were more confident, modern, open-minded. Maybe sometimes some who were gay, were a little more fragile. Always it was clear in my purpose."
"I am gay so I choose things that are gay, or sometimes not at all," he adds.
One signature piece that's as unique to Gaultier as the iconic cone bra he created for Madonna's 1990 Blond Ambition World Tour (which is also on display, by the way) is the male skirt.
Skin Deep
offers a glimpse of the creativity resonating inside the mind of the avant-garde designer. His fascination with the human body is apparent, with ensembles designed to transform fabric into what is best described as second skin.
Another key element that lends to the exhibition's appeal is the way Gaultier, who never attended fashion school, draws inspiration from his French heritage.
The chic Parisian style — and unconventional street fashions found on the
London's
Trafalgar Square — are revealed in
Punk Cancan
, a unique display of rebellious garments that circle their way around a moving catwalk.
Before Pierre Cardin took him under his wing at the age of 18, Gaultier had never received the formal training that most find attending fashion school.
"I was only in my little suburb as a little boy," said Gaultier. "I was dreaming about fashion because I saw movies like
Falbalas
. The 40s were very romantic and beautiful," said Gaultier. I got interested in the fashion of the time."
Another prevalent theme on display is that of ethnicity. Gaultier often drew inspiration from world cultures, and in
Urban Jungle
, his open-minded philosophy and accepting nature shine.
"I like things that are different; people that are different. I realize maybe it's because, I myself, am different."
As a self-proclaimed "people-watcher," Gaultier explains the influence behind the collection.
"I was in front of a New York library and someone comes walking out in a costume. I thought it was so beautiful and strong."
"So I felt that I wanted to show a collection that shows the beauty of the culture. It made me think about minorities in general and some people hide who they are," says Gaultier.
Metropolis
, the exhibition's final theme, pays homage to Gaultier's exploration into the realm of the unknown, including some of his more futuristic pieces (think back to the days of his British series
Eurotrash
).
Each theme offers a unique glimpse into the fascinating life of Jean Paul Gaultier. Loriot describes the curating process as a "labor of love" but the amount of time and energy that went into both the catalogue and exhibition were well worth the extraordinary effort.
"It's fascinating to see it all come to life," Loriot said.
"It really gives it another dimension. When you arrive and see all the virgins singing, there is a moment when you don't know what is real and what is not real — it's close to Jean Paul Gaultier's work."
According to museum director Natatlie Bondi, The Fashion World of Jean Paul Gaultier: From the Sidewalk to the Catwalk should not be considered "a retrospective, but rather an installation."
"What he says really goes beyond fashion," says Bondi, who claims to "not be a fashionista at all," (although it sure is hard to ignore her chic Parisian style).
Both Bondi and Loriett agree that fashion influences art, each calling Jean Paul Gaultier "a true artist."
I couldn't agree more.
The Fashion World of Jean Paul Gaultier: From the Sidewalk to the Catwalk runs from June 17 until October 2, 2011 and is slated to travel from Montreal to Dallas, San Francisco, Madrid, and the Netherlands.