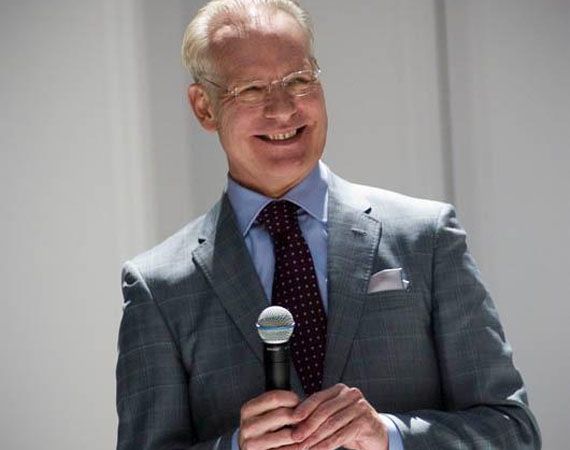 Photo Courtesy of Tim Gunn
As a part of my fabulous prize for winning the
Lucky Brand 'Denim Jean-ius' blogger contest
, I was able to chat with Tim Gunn (Chief Creative Officer of Liz Claiborne and the judge of the competition) about his impressive fashion pedigree,
Project Runway
revelations and new television projects ahead (you'll be seeing a lot more of him on another network soon!).
And for the record, Gunn is not only unbelievably insightful, but also charming, inspiring and gracious as could be. Check it out:
Did you always know you'd be working in fashion as such a powerful personality?
Tim Gunn:
No one is more shocked and surprised than I am! This was not ordained. In a matter of speaking, fashion came after me. It's unusual for me to cross faculty and administration. I was Associate Dean at Parsons. I was Mr. Fix-It. I went to the areas that were having difficulty. I would offer diagnoses of what was going wrong and then offer collaborative prescriptions to fix it all. I was running the search for a new dean and after exploring what was really needed, I knew we couldn't send someone new in, off the streets, to take care of everything. It would take them too long to understand the culture, deal with the situation, so I stepped in. A one year project turned into almost eight years!
I had to learn a huge amount about the industry. It was important to me that I taught students how to lead the industry, not just survive it. I basically threw out the entire curriculum. I'm on television now, but I see myself as an educator first and foremost. I've spent 29 years of my life teaching.
You're a natural on camera and fans around the world love your calm and collected personality in such a chaotic environment. If you weren't in the fashion industry, what would you be doing?
TG:
I'd be working in architecture and interiors. Still creative and all about lifestyle. I had a fine arts education. I spent four years as a two and three-dimensional sculptor, actually.
That is amazing! And now you're surrounded by creative talent every single day. What is the best part of Project Runway?
TG:
My interaction with the designers. I have a huge affection and respect for them. I am constantly wowed with what they do. I have no idea how they do this. Although I have to say this season, I have never ever ever witnessed so many designers gluing and pinning at the very last minute and it is against the rules, and the judges aren't even saying anything! The producers aren't whispering in Heidi's ears and reminding her of the rules. I don't interact with the judges at all.
Can you let us in on any Project Runway behind-the-scenes secrets?
TG:
What you probably wouldn't know is that after a very long day, everybody changes clothes and Heidi presents next challenge before the group after they've already completed an extremely long and arduous day finishing the last challenge. When they edit it, it looks like it's a brand new day and everyone is fresh and ready for the next challenge, but actually it's the same day and everyone is about to fall over. Also, Heidi is always saying, 'Last week on
Project Runway
...," but actually it was two days ago! I refuse to lie about the timing just to appease producers.
Who is your favorite designer from past seasons of Project Runway?
TG:
They are like my kids! I love them all. Some more than others. It's easier to test the waters because there is always a villain in the group. You're never quite certain who it's going to be, but there is always one. Last season...it was the winner! That doesn't thrill me because I think the quality of your character is just as important as your talent. That is always my message. Good behavior pays off as does hard work and playing well with others. If I had to pick one, I have to say I am so proud of Christian Siriano. He is an old soul. He hasn't become a bit of a diva, and it would have been very easy for him to have done just that.
You've seen it all. Which challenge did you think was the trickiest?
TG:
It was definitely season one, episode one. We were at Gristedes, the super market looking for food as inspiration for design. Austin Scarlett looked like he came from another planet and I thought, this poor thing, he might as well pack his bags now and go home! He was grabbing ears of corn and he ended up creating the most spectacular corn husk gown. It may have been the single most stunning design in the history of the show! He proved me wrong.
You obviously have an eye. What are the must-have items every woman should own?
TG:
A basic black dress, a good pair of dress pants, a white shirt and a blazer. Also a good day dress, great pair of jeans and a cashmere sweater. I mention cashmere because it's durable, it doesn't pill and it very affordable these days. I always say the first place you should shop is your closet. Also, please, have a sweat suit alternative! I always say, if your intention is to feel like you're never going to get out of bed, then don't!
Agreed! So what is a recommended sweat suit alternative?
TG:
A wrap dress. You throw it on, you look polished and sophisticated. And you're comfortable. What's constraining about a wrap dress? Get dressed in the morning, I don't care if you are not a fashion person; everyone will judge you and make assumptions based on what your clothing. Take responsibility for what you wear.
What is the biggest fashion faux pas you see?
TG:
I would say it's a broad sweeping statement about fit. Most women wear clothes that are too small or too big, it's like Goldilocks. You have to get it just right.
What's next for you?
TG:
I have an ABC daytime show coming out called
The Revolution
. It airs January 16 and we're taping now. It's about inspiration and education. We follow a woman and take her through a total evolution. Health, weight loss, family relationships — it's thrilling. And no, it doesn't affect my role on
Project Runway
at all!
Photo Credit:
K2 Images
/
Shutterstock.com