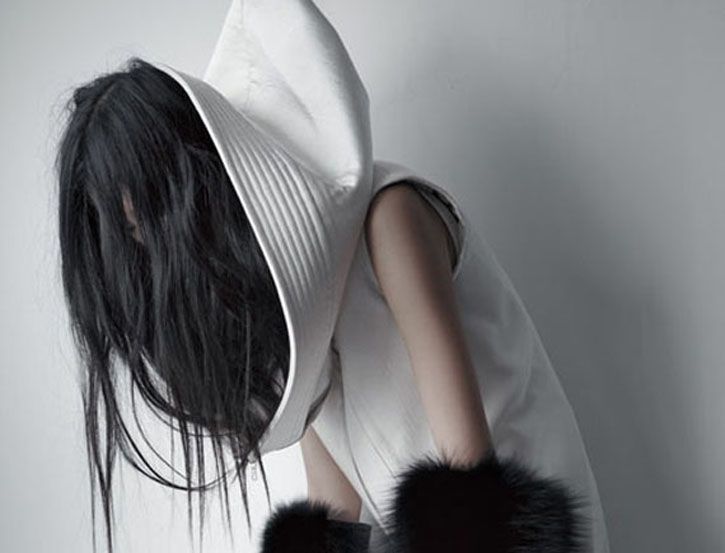 Photo Credit Matthieu Belin
Fashion designer
Qiu Hao, a fast-rising star in the design industry, has recently released his luxury F/W 2011 Serpens Collection, executed with the help of French photographer Matthieu Belin. Hao modeled his new collection after the Serpens constellation, which resembles the curving form of a snake. This grouping of stars is unique among its brother and sister constellations because it is split into two non-linear parts. Like its namesake, Hao's Serpens Collection often deviates from the uniformity of sleek lines to include a contrast in color and form.
The elements of Hao's collection mirror the mythological symbolism of the snake, the warring natures of good and evil. In Hao's newest body of work, black meets white while surprising textures such as pillowed collars and peaking hoods intersect silky outlines; velvety shapes end in soft, feathery movement. The dark and light quality of the designs, combined with the minimalism of the models' appearance allowed Belin to beautifully capture Qiu's work, giving the fabric a sinuate pulse of its own.
Hao who was born in 1978 outside of Shanghai, joined the prestigious fashion ranks in 2008 when he was awarded the Woolmark Prize, accompanying a select group of renowned designers, among them Donna Karan, Giorgio Armani, and
Karl Lagerfeld
.
The Chinese designer launched his first design line in 2003, which debuted in nine department stores throughout China, while also partnering with a fellow designer to open a Shanghai boutique. In 2006, after returning from London where he earned his MA in Fashion Womenswear, he established the QIUHAO label. In 2010 Hao was named by Forbes as one of the top 25 most influential individuals in the Chinese Fashion Industry, and most recently he was nominated by WGSN for the "Breakthrough Designer Award."
For more information about Qiu Hao, his body of work, and the Serpens Collection, visit
QiuHaoQiuHao.com
. For more of Belin's work visit
MattheiuBelin
.