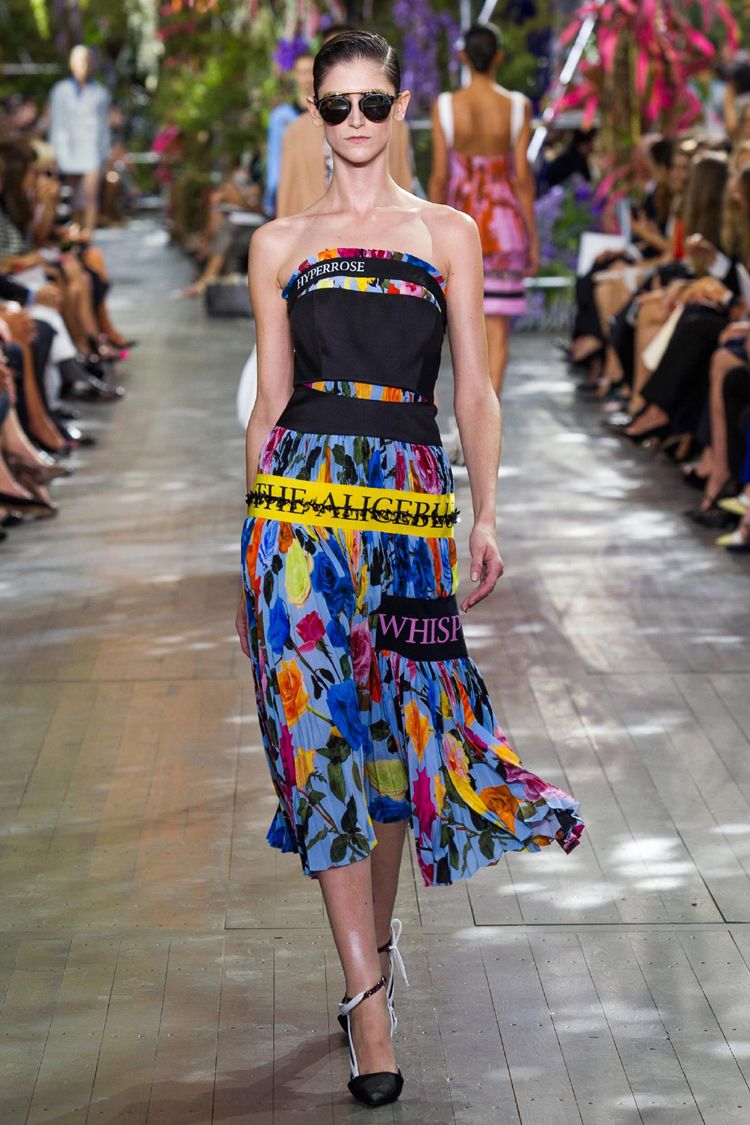 Photos Courtesy of Dior
Rich colors and patterns were all over the runway at
Dior's
Spring 2014 show during Paris Fashion Week today, and despite the intense mismatching the collection was akin to a breath of fresh air. Black and white was paired well with bright hues and left each piece looking new and modern. It was easy, chic and didn't seem to take itself too seriously. And even if it did, you couldn't tell. Current trends were done minimally and in good taste allowing things like florals and cutouts to not seem overdone.
Cutouts and crop tops were all over this runway, but most were simple, small and in modest areas, as to avoid showing too much skin. Another brilliant thing about these cutouts is the placement. They're wearable no matter your figure, as they're set on shoulders, mid back, lower hip and along the breastbone.
Dior always celebrates a feminine silhouette, and this collection focused particularly on accenting the hips through the use of billowing skirts, strategically placed wording and excess material. Reminiscent of caricatured design sketches, the hip embellishments were done quite beautifully, taking away from the androgynous look that's so popular for models right now, and giving them their femininity back.
While it is, of course, a spring collection, the colors in this line are quite amazing; the bright oranges, cerulean blues and berry reds look surprisingly good together. And the florals patterns are well balanced. If they're bright and bold, they're used as an accent and paired with black; if they are the main focus of the piece then they're subdued in color or design.
The accessories and shoes in this collection only add to the nonchalant beauty—for example, the threaded strap heels are perfect for spring, but the closed toe keeps them looking polished and less like beachwear. Bright multicolored handbags in snakeskin and bunched beaded necklaces add a little fun to the whole look. Added to wearable cutouts, modern florals and bright new color combinations for spring— and there's not a whole lot you can say no to in this collection.